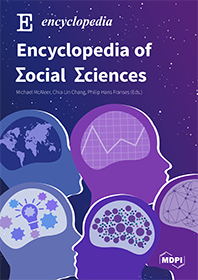 Encyclopedia of Social Sciences
Editors:
ISBN: Pending
Expected Date of Publication:
Dec 2021
About This Volume
The Encyclopedia of Social Sciences provides a comprehensive reference work covering the following disciplines and subdisciplines in the Social Sciences, highlighting Economics, Finance, Business, and Other Social Sciences, with each chapter having a designated Editor with expertise across a wide range of subdisciplines:
Chapter 1: Economic Theory and Econometrics
Edited by Michael McAleer
Coverage includes: Economic Theory, Microeconomics, Macroeconomics, Econometrics and Statistics, Mathematical Economics, Organizational Economics.
Chapter 2: Finance
Edited by Chia-Lin Chang
Coverage includes: Investment Finance, Risk and Volatility, Corporate Finance, Behavioral Finance, Energy Finance, Industrial Organization, Health Economics.
Chapter 3: Business
Edited by Philip Hans Franses
Coverage includes: Accounting, Marketing Science, Management Science, Behavioral Science, Administrative Science, Decision Sciences, Public Policy, Tourism and Hospitality.
Chapter 4: Other Social Sciences
Editor yet to be chosen
Coverage includes: Political Science, Social Psychology, Sociology, Education, Law, Library and Information Science.
Planned Papers
Title: European Monetary Union
Authors: Ralf Fendel, Andre Schmidt
WHU - Otto Beisheim School of Management, Burgplatz 2, 56179 Vallendar, Germany
Title: The Barnett Critique
Authors: William A. Barnett
Department of Economics, University of Kansas, Lawrence, KS 66045-7585, USA
Title: Financial Integration in Preindustrial Europe
Authors: Pilar Nogues-Marco
Université de Genèvedisabled, Geneva, Switzerland
Title: Outward FDI: Theories and Determinants
Authors: Mohd Nayyer Rahman; Professor Badar Alam Iqbal
Assistant Professor, Department of Commerce, Aligarh Muslim University, India; Professor Extraordinaries, School of Transdisciplinary Research and Graduate Studies, University of South Africa, Pretoria, South Africa
Title: Next Generation of AMR Network
Authors: Jane Payumo; Katy Luchini-Colbry and Evangelyn Alocilja
Affiliation: Michigan State University
Title: Sustainable Innovation Performance
Authors: Lucía Muñoz-Pascual and Jesús Galende
Affiliation: Multidisciplinary Institute for Enterprise (IME), Department of Business Administration and Management, University of Salamanca, Campus "Miguel de Unamuno", Building FES, 37007 Salamanca, Spain
Title: Migration Forecasting - Significance and Approaches
Authors: Johann Fuchs, Doris Söhnlein, Patrizio Vanella
Affiliations: Institute for Employment Research (IAB), Helmholtz Centre for Infection Research (HZI)
Title(within five words): Dense Urban Area
Authors: Wolfel Richard
Affiliation:US Military Academy, West Point