Updated time: 20 Apr 2021
Definition: Three-dimensional (3D) printing technology holds great potential to fabricate complex constructs in the field of regenerative medicine. Researchers in the surgical fields have used 3D printing techniques and their associated biomaterials for education, training, consultation, organ transplantation, plastic surgery, surgical planning, dentures, and more. In addition, the universal utilization of 3D printing techniques enables researchers to exploit different types of hardware and software in, for example, the surgical fields. To realize the 3D-printed structures to implant them in the body and tissue regeneration, it is important to understand 3D printing technology and its enabling technologies.
Updated time: 20 Apr 2021
Definition: Current environmental concerns have led to a search of more environmentally friendly manufacturing methods, thus, natural fibers have gained attention in the 3D printing industry to be used as biofilters along with thermoplastics. The utilization of natural fibers is very convenient as they are easily available, cost-effective, eco-friendly, and biodegradable. Using natural fibers rather than synthetic fibers in the production of the 3D printing filaments will reduces gas emissions associated with the production of the synthetic fibers that would add to the current pollution problem. As a matter of fact, natural fibers have a reinforcing effect on plastics. This review analyzes how the properties of the different types of polymers vary when natural fibers processed to produce filaments for 3D Printing are added. The results of using natural fibers for 3D Printing are presented in this study and appeared to be satisfactory, while a limited number of studies have reported some issues.
Updated time: 20 Apr 2021
Definition: A high-voltage AC double-circuit 400 kV overhead power transmission line runs from the city of Elk (Poland) to the city of Alytus (Lithuania). This international 400 kV power transmission line is potentially one of the strongest magnetic field-generating sources in the area. This 400 kV voltage double-circuit overhead transmission line and its surroundings were analyzed using the mathematical analytical methods of superposition and reflections. This research paper includes the calculation of the numerical values of the magnetic field and its distribution. The research showed that the values of the magnetic field strength near the international 400 kV power transmission line exceed the threshold values permitted by relevant standards. This overhead power line is connected to the general (50 Hz) power system and generates a highly intense magnetic field. It is suggested that experimental trials should be undertaken in order to determine the maximum values of the magnetic field strength. For the purpose of mitigating these values, it is suggested that the height of the support bars should be increased or that any individual and commercial activities near the object under investigation should be restricted.
Updated time: 20 Apr 2021
Definition: 4D printing is the fabrication process of 3D objects that can change their shape over time or in response to an environmental stimulus. This process demonstrates a radical shift in additive manufacturing.
Updated time: 20 Apr 2021
Definition: 6G is expected to have data rates in the order of terabits per second and a latency of less than 1ms. It is expected to drive the Internet of Everything, with 10,000,000 connections per square km.
Updated time: 28 Oct 2020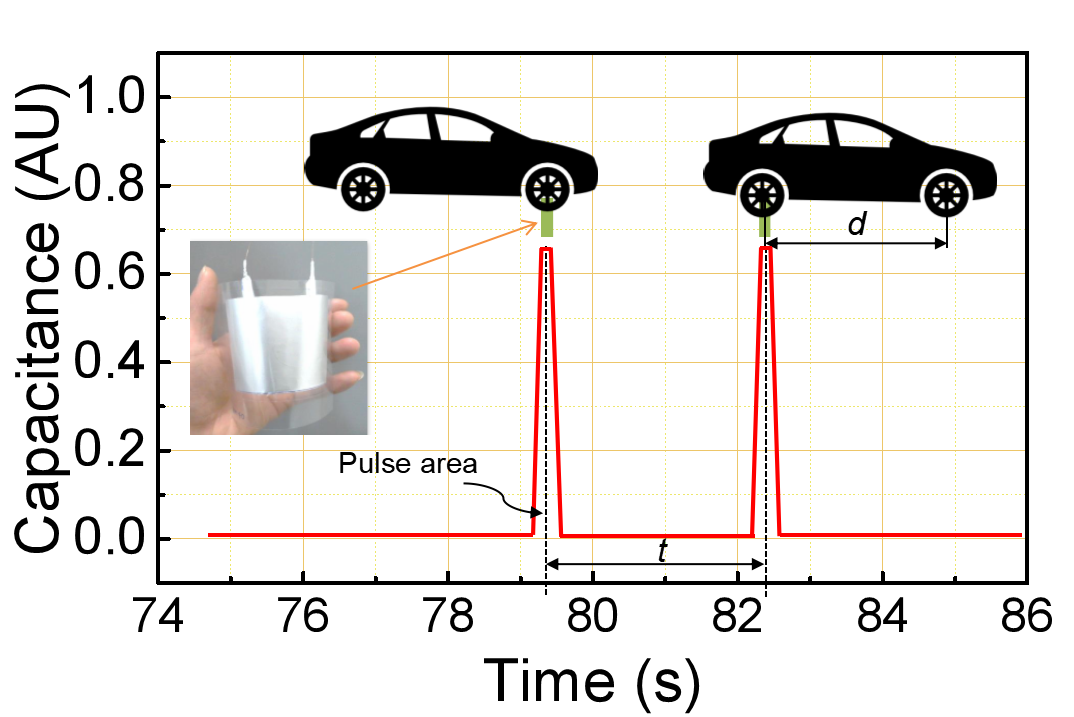 Definition: Detection of vehicles on the road can contribute to the establishment of an intelligent transportation management system to allow smooth transportation and the reduction of road accidents. Thus far, an efficient and low-cost polymer flexible pressure sensor for vehicle detection is lacking. This paper presents a flexible sensor for vehicle sensing and demonstrates a wireless system for monitoring vehicles on the road. A vehicle sensor is fabricated by sandwiching a polyurethane material between Aluminum top/bottom electrodes. The sensing mechanism is based on changes in capacitance due to variation in the distance between the two electrodes at an applied external pressure. A clear response against a pressure load of 0.65 Mpa is observed, which is the same pressure as that of the car tire area in contact with the road. Significantly, the sensor is easy to embed on the road line due to its mechanical flexibility and large size. A field test is carried out by embedding the sensor on the road and crossing the sensor with a car. Moreover, the signal displayed on the tablet indicates that the sensing system can be used for wireless detection of the axle, speed, or weight of the vehicle on the road. The findings suggest that the flexible pressure sensor is a promising tool for use as a low-cost vehicle detector in future intelligent transportation management.
Updated time: 01 Nov 2020
Definition: This entry proposes a novel parcel delivery system which consists of a drone and public transportation vehicles such as trains, trams, etc. This system involves two delivery schemes: drone-direct scheme referring to delivering to a customer by a drone directly and drone–vehicle collaborating scheme referring to delivering a customer based on the collaboration of a drone and public transportation vehicles. The fundamental characteristics including the delivery time, energy consumption and battery recharging are modelled, based on which a time-dependent scheduling problem for a single drone is formulated. It is shown to be NP-complete and a dynamic programming-based exact algorithm is presented. Since its computational complexity is exponential with respect to the number of customers, a sub-optimal algorithm is further developed. This algorithm accounts the time for delivery and recharging, and it first schedules the customer which leads to the earliest return.
Updated time: 29 Oct 2020
Definition: Product/service system (PSS) is widely considered as a promising design object with the potential to enhance environmental sustainability of industrial solutions. The state of the art of PSS design research includes several prescriptive PSS design support tools, methods and procedures. This body of literature has been extensively reviewed in the past. However, there is a lack of consolidation of the available prescriptive knowledge in a condensed and practically useful format that can be used by practitioners to guide their conceptual PSS design activities and by researchers to build their work on. Thus, to address this gap in our knowledge, we use an intra-disciplinary literature analysis and meta-synthesis approach to consolidate the extant prescriptive PSS design knowledge in the form of a schema for conceptual PSS design.
Updated time: 24 Feb 2021
Definition: Abrasive water jet machining (AWJM) is a very useful non-conventional machining for the cutting of dissimilar materials at once. It is a flexible process that generates low thermal damage to the machined surface as there is no continuous tool-material con- tact along the machining process. Compared to conventional processes such as milling, abrasive particles are used in water jet machining. These particles have cutting edges that allow the machining of the material by overlapping of small impacts that deform the material. At each instant, a quantity of abrasive particles travels in the water jet in order to perform the cut.
Updated time: 12 Apr 2021
Abstract: Acoustics (ISSN 2624-599X) is a peer-reviewed, open access journal of acoustics science and engineering published quarterly online by MDPI. Manuscripts are peer-reviewed and a first decision provided to authors approximately 11.7 days after submission; acceptance to publication is undertaken in 2.9 days (median values for papers published in this journal in the second half of 2020).