HHC-MOTES
A set of qualitative Key Performance Indicators (KPI), introduced in 2018 by Marco Remondino, PhD, partly based on literature from different topics and existing and validated sets of metrics, aiming to analyse, under the point of view of sustainability, the implementation of IT in healthcare, namely in management, organization, technology, environment and social fields.
The framework 
[1]
 qualitatively addresses sustainability within healthcare system (HHC) for 5 main dimensions, namely the managerial/organizational, technological, environmental and social ones (MOTES).
It includes a set of metrics, which can be used as a decision support tool for managerlial decisions within healthcare domain, particularly connected with the IT adoption. Here follows the main proposed indicators, divided by area.
Managerial and Organizational:
Organizational efficiency (length of stay at the hospital and bed occupancy)

Financial effectiveness (financial measures for healthcare organization)

Inter-operational synergies (possibilities to share data among different healthcare actors)
Technological (Development-Related):
Modifiability/Changeability (the ability to make changes quickly and at little additional cost)

Reusability (the level at which system components may be reusable for other systems)

Portability (the system can operate in a variety of computing environments)

Supportability (easy system configurability and linearity for subsequent maintenance)
Technological (Usage-Related):
Performances (response time to user's requests)

Reliability (ability of a system to function as expected at a given time)

Usability (features that make the system easy and friendly to use)

Accessibility (ability of the system to serve people regardless of location, experience, background, or the type of information technology used)
Technological (Process-Related):
Efficiency (the overhead of production processes on the income value perceived by the customer)
Social (patient's side):
Monitoring of population health status

Reduce costs for customers

Patient satisfaction (with healthcare service, including satisfaction with physicians, waiting time, treatment and so on)

Patient complaints (collection, processing, analysis and availability of data)

Patient safety (Incidents/errors occurred in healthcare treatment process, including medication errors, diagnosis and treatment errors and so on)

Average Waiting/Delay (the time required to recognize a pathology and/or to provide the necessary medical treatment
Social (staff's side):
Employee satisfaction (with healthcare organization, with job, colleagues, supervisors and so on)

Teamwork and multidisciplinary collaboration

Overall work conditions

Overall work efficiency versus efforts
Environmental:
Consumption of energy

Resources used in medical records (paper medical records, ledgers, rooms and so on)

Resources used in healthcare activities and training (books, training rooms, paper and so on)

Resources required to provide support (transportation, physical material and so on)

Office space utilization and use of shared resources
The framework can be used by healthcare decision-makers to make strategic decisions about introducing or updating IT systems but also to examine current systems and identify limitations and shortcomings. The next  figure is a scheme for the proposed model, in which it is clearer that the individual areas can influence each other and also the general costs for the service and other variables.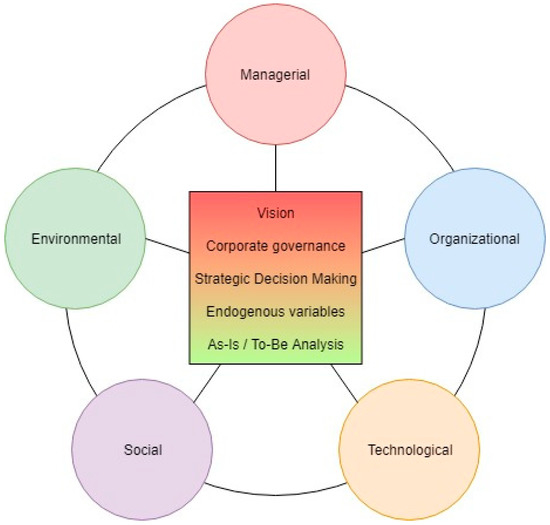 References
Marco Remondino; Information Technology in Healthcare: HHC-MOTES, a Novel Set of Metrics to Analyse IT Sustainability in Different Areas. Sustainability 2018, 10(8), 2721, 10.3390/su10082721.