Please check and comment entries here.
Definition
Biosurfactants can play a significant role in the prevention, control and treatment of diseases caused by a range of pathogenic agents through various therapeutic, pharmaceutical, environmental and hygiene approaches.
1. Biosurfactants
Biosurfactants are amphiphilic compounds synthesized by bacteria, fungi, or plants, capable of lowering the surface tension of liquids. Their hydrophilic moieties can be made of acid, cationic peptide, anion, sugar (monosaccharide, disaccharide, or polysaccharide) and hydrophobic moieties made of hydrocarbon or fatty acid chains. They are environmentally friendly and have been shown to have many industrial applications sometimes performing better than synthetic surfactants [1][2][3][4][5]. Their physico-chemical properties include; high stability in a wide range of environmental conditions such as extreme pH, temperature and also salt concentration [6][7], high biodegradability with a high rate of mineralization by soil microcosms [8], low toxicity, surface tension reduction, foaming capacity and antimicrobial activity against pathogens [9][10][11][12].
Well known classifications of biosurfactants are based on their charges and molecular structures. Biosurfactants obtained from microbes are generally anionic or neutral, while a few are cationic [5]. Long-chain fatty acids generally characterize the hydrophobic moiety, while organic acid, alcohol, amino acid or carbohydrate functional groups characterize the hydrophilic moiety [5]. They are also broadly grouped based on their chemical structures as high molecular weight and low molecular weight molecules. Low molecular weight molecules are the glycolipids, phospholipids and lipopeptides, while the high molecular weight groups are the polymeric and particulate biosurfactants [13] (Figure 1). In addition to their environmental friendliness and wide industrial applications, biosurfactants are more sustainable because they can be produced from cheap feedstock and industrial and urban waste, and can be recycled [14][15]. However, there are still challenges such as the pathogenicity of the main biosurfactant producer strains Pseudomonas and Bacillus and the relatively higher cost of large-scale production that make biosurfactants less commercially competitive than petroleum-derived synthetic surfactants [16]. Nevertheless, there is a growing scientific research interest in the improvement of the commercial competitiveness of biosurfactants. Bacterial strains are being engineered, new feedstocks are tested, and fermentation designs investigated to develop innovative ways to improve production efficiency. Amidst these challenges, it is expected that biosurfactants will occupy a significant market share, which is projected to be about USD 5.52 billion by 2022, growing at a CAGR (compound annual growth rate) of 5.6% [17].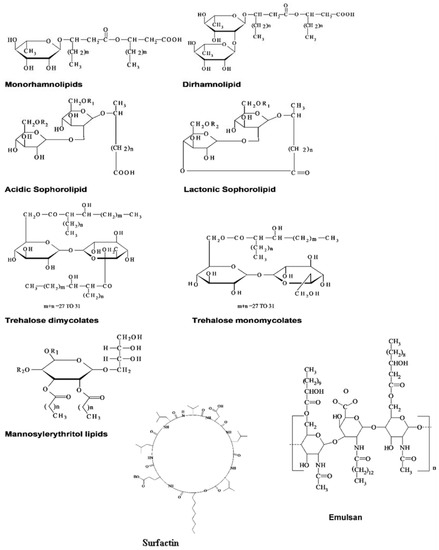 Figure 1. Representative biosurfactants produced by microorganisms utilizing water-soluble and /or water-insoluble substrates [1].
2. Pathogens and Other Agents with Outbreak or Pandemic Potential
RNA viruses are the class with the highest risks of an outbreak especially those that are airborne such as severe acute respiratory syndrome coronavirus 2 (SARS-CoV-2), because the mere act of breathing spreads the virus. Other organisms could potentially evolve or be engineered through drug resistance or human manipulation. With these factors in mind, the development of pipelines for both broad-spectrum and specific therapeutics could be important to add resilience against outbreak-causing pathogens. The first line of treatment for these emerging diseases can be broad-spectrum antimicrobials, while specific treatment options could benefit from modifications that diversify the mechanism of action of such therapeutic molecules. This can also be integrated with other environmental approaches that disrupt transmission from the common source of spread in the population [18]. According to a report by the Intergovernmental Platform on Biodiversity and Ecosystem Services, there are over 1.7 million viruses unknown to man, with 540–850 thousand that can potentially infect humans. The cost of risk mitigation for these pandemics could be 100 times less than the cost of pandemic management. If the status quo on the fight of infectious diseases is not changed, we may see more outbreaks in the future with more damaging effects [19]. Some currently known diseases with high pandemic or outbreak importance include; Crimean–Congo hemorrhagic fever, chikungunya, cholera, Ebola virus disease, influenza (seasonal, zoonotic, pandemic), Hendra virus infection, Lassa fever, meningitis, Marburg virus disease, MERS-CoV, Nipah virus infection, monkeypox, novel coronavirus (2019-nCoV), SARS, smallpox, Tularaemia, plague, Rift Valley fever, Yellow fever and Zika virus disease [20]. Important bacterial-resistant strains include Escherichia coli, Staphylococcus aureus, Klebsiella pneumoniae and Mycobacterium tuberculosis, among others [18].
3. Approaches That Can Use Biosurfactants in Outbreak Prevention and Management
There are various areas where biosurfactants can be used as alternative sustainable solutions or as innovative components applicable in outbreak prevention and management. These include uses in therapeutics (vaccine development, immune system enhancers and drug delivery and developments), environmental applications as agricultural and pest biopesticides, and various industrial sectors as surface cleaning agents, disinfectants, detergents, and the packaging industries. All these applications are summarized below in Figure 2, and further discussed in the following subsections.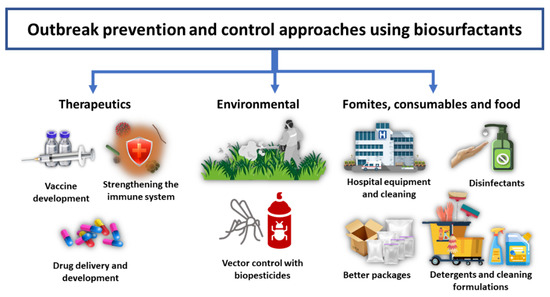 Figure 2. A summary of potential approaches for applications of biosurfactants in future outbreak prevention and control.
3.1 Therapeutics
Treatment availability is the most important element for the elimination of an outbreak, because the pathogen can be eliminated, thereby interrupting the transmission cycle and impeding the spread. However, the development of an effective drug against a disease takes years due to the required clinical trials and approval processes. Using already-approved low toxicity molecules or repurposing existing drugs to target a new pathogen can contribute to the development of effective therapy in a shorter time. Biosurfactants are one of the most promising biomolecules in the pharmaceutical industry because of their structural versatility, stability, micelle forming ability, biological compatibility and low toxicity that are useful in the design of therapeutics. They can be safely used for oral, nasal, or dermal applications [21]. Another important characteristic of biosurfactants is their ability to interact with surfaces such as the membranes of organisms or with their surrounding environment, which can be useful in intracellular targeting.
Lipopeptides, glycolipids, and Mannosylerythritol lipids produced from Candida species are the most common microbial surfactants that have been investigated for pharmaceutical applications. They are relevant in pharmaceuticals for the delivery of drugs and genes to target cells, the design of molecules to interact with components of the immune system, and as antimicrobial agents. Biocompatibility, low toxicity, and environmental friendliness are advantages that make them better options over synthetic surfactants [16][22][23][24]. Biosurfactants have various innovative applications in the development of effective therapeutics which can come in handy at times of urgent need, such as during outbreaks or pandemics.
This entry is adapted from 10.3390/app11010334
References
Banat, I.M.; Franzetti, A.; Gandolfi, I.; Bestetti, G.; Martinotti, M.G.; Fracchia, L.; Smyth, T.J.; Marchant, R. Microbial biosurfactants production, applications and future potential. Appl. Microbiol. Biotechnol. 2010, 87, 427–444.

Banat, I.M.; Makkar, R.S.; Cameotra, S.S. Potential commercial applications of microbial surfactants. Appl. Microbiol. Biotechnol. 2000, 53, 495–508.

Çakmak, H.; Güngörmedi, G.; Dikmen, G.; Çelik, P.A.; Çabuk, A. The true methodology for rhamnolipid: Various solvents affect rhamnolipid characteristics. Eur. J. Lipid Sci. Technol. 2017, 119, 1700002.

Marchant, R.; Banat, I.M. Microbial biosurfactants: Challenges and opportunities for future exploitation. Trends Biotechnol. 2012, 30, 558–565.

Sobrinho, H.; Luna, J.M.; Rufino, R.D.; Porto, A.; Sarubbo, L.A. Biosurfactants: Classification, properties and environmental applications. Recent Dev. Biotechnol. 2013, 11, 1–29.

Ben Ayed, H.; Jridi, M.; Maalej, H.; Nasri, M.; Hmidet, N. Characterization and stability of biosurfactant produced by Bacillus mojavensis A21 and its application in enhancing solubility of hydrocarbon. J. Chem. Technol. Biotechnol. 2014, 89, 1007–1014.

Perfumo, A.; Banat, I.M.; Marchant, R. Going Green and Cold: Biosurfactants from Low-Temperature Environments to Biotechnology Applications. Trends Biotechnol. 2018, 36, 277–289.

Lima, T.M.S.; Procópio, L.C.; Brandão, F.D.; Carvalho, A.M.X.; Tótola, M.R.; Borges, A.C. Biodegradability of bacterial surfactants. Biodegradation 2011, 22, 585–592.

Akbari, S.; Abdurahman, N.H.; Yunus, R.M.; Fayaz, F.; Alara, O.R. Biosurfactants—A new frontier for social and environmental safety: A mini review. Biotechnol. Res. Innov. 2018, 2, 81–90.

Hirata, Y.; Ryu, M.; Oda, Y.; Igarashi, K.; Nagatsuka, A.; Furuta, T.; Sugiura, M. Novel characteristics of sophorolipids, yeast glycolipid biosurfactants, as biodegradable low-foaming surfactants. J. Biosci. Bioeng. 2009, 108, 142–146.

Liu, J.-F.; Mbadinga, S.M.; Yang, S.-Z.; Gu, J.-D.; Mu, B.-Z. Chemical structure, property and potential applications of biosurfactants produced by Bacillus subtilis in petroleum recovery and spill mitigation. Int. J. Mol. Sci. 2015, 16, 4814–4837.

Toptaş, Y.; Çelikdemir, M.; Tuncer, C.; Şahin, Y.B.; Çelik, P.A.; Burnak, N.; Çabuk, A.; Bütün, V. Optimization of a biosurfactant production from bacteria isolated from soil and characterization of the surfactant. Turk. J. Biochem. 2016, 41.

Shoeb, E.; Akhlaq, F.; Badar, U.; Akhter, J.; Imtiaz, S. Classification and industrial applications of biosurfactants. Acad. Res. Int. 2013, 4, 243–252.

Banat, I.M.; Satpute, S.K.; Cameotra, S.S.; Patil, R.; Nyayanit, N.V. Cost effective technologies and renewable substrates for biosurfactants' production. Front. Microbiol. 2014, 5.

Henkel, M.; Müller, M.M.; Kügler, J.H.; Lovaglio, R.B.; Contiero, J.; Syldatk, C.; Hausmann, R. Rhamnolipids as biosurfactants from renewable resources: Concepts for next-generation rhamnolipid production. Process. Biochem. 2012, 47, 1207–1219.

Naughton, P.J.; Marchant, R.; Naughton, V.; Banat, I.M. Microbial Biosurfactants: Current trends and applications in Agricultural and Biomedical industries. J. Appl. Microbiol. 2019, 127, 12–28.

Markets and Markets Biosurfactants Market Analysis Recent Market Developments Industry Forecast to 2016–2022. Available online: https://www.marketsandmarkets.com/Market-Reports/biosurfactant-market-163644922.html?gclid=CjwKCAiAjrXxBRAPEiwAiM3DQmdr778lPDUjK3XChKXZDoTAKDlQHs7eTX44QDmAHOOo_t91YemOSRoC0n8QAvD_BwE (accessed on 26 January 2020).

WHO. Antimicrobial Resistance. Available online: https://www.who.int/news-room/fact-sheets/detail/antimicrobial-resistance (accessed on 24 October 2020).

IPBES. Media Release: IPBES #PandemicsReport: Escaping the "Era of Pandemics" IPBES. Available online: https://ipbes.net/pandemics (accessed on 2 November 2020).

WHO. WHO Disease outbreaks. Available online: http://www.who.int/emergencies/diseases/en/ (accessed on 24 October 2020).

Elshikh, M.; Marchant, R.; Banat, I.M. Biosurfactants: Promising bioactive molecules for oral-related health applications. FEMS Microbiol. Lett. 2016, 363.

Cameotra, S.S.; Makkar, R.S. Recent applications of biosurfactants as biological and immunological molecules. Curr. Opin. Microbiol. 2004, 7, 262–266.

Gudina, E.J.; Rangarajan, V.; Sen, R.; Rodrigues, L.R. Potential therapeutic applications of biosurfactants. Trends Pharmacol. Sci. 2013, 34, 667–675.

Rawat, G.; Dhasmana, A.; Kumar, V. Biosurfactants: The next generation biomolecules for diverse applications. Environ. Sustain. 2020.

Mandana Ohadi; Arash Shahravan; Negar Dehghannoudeh; Touba Eslaminejad; Ibrahim M. Banat; Gholamreza Dehghannoudeh; Potential Use of Microbial Surfactant in Microemulsion Drug Delivery System: A Systematic Review. Drug Design, Development and Therapy 2020, 14, 541-550, 10.2147/dddt.s232325.
Eduardo J. Gudiña; Vivek Rangarajan; RamKrishna Sen; Lígia R. Rodrigues; Potential therapeutic applications of biosurfactants. Trends in Pharmacological Sciences 2013, 34, 667-675, 10.1016/j.tips.2013.10.002.
Mandana Ohadi; Bagher Amir-Heida; Mohammad Hassan Moshafi; Ali Mirparizi; Mohammadzaman Basir; Gholamreza Dehghan-No; Encapsulation of Biosurfactant-Producing Bacillus licheniformis (PTCC 1320) in Alginate Beads. Biotechnology(Faisalabad) 2014, 13, 239-244, 10.3923/biotech.2014.239.244.
Vincent Faivre; Véronique Rosilio; Interest of glycolipids in drug delivery: from physicochemical properties to drug targeting. Expert Opinion on Drug Delivery 2010, 7, 1031-1048, 10.1517/17425247.2010.511172.
Matthew L. Smith; Stefano Gandolfi; Philippa M. Coshall; Pattanathu K. S. M. Rahman; Biosurfactants: A Covid-19 Perspective. Frontiers in Microbiology 2020, 11, 1341, 10.3389/fmicb.2020.01341.
Prakash Palanisamy; Biosurfactant mediated synthesis of NiO nanorods. Materials Letters 2008, 62, 743-746, 10.1016/j.matlet.2007.06.053.
Prakash Palanisamy; Ashok M. Raichur; Synthesis of spherical NiO nanoparticles through a novel biosurfactant mediated emulsion technique. Materials Science and Engineering: C 2009, 29, 199-204, 10.1016/j.msec.2008.06.008.
Charles B.B. Farias; Aline Ferreira Silva; Raquel Diniz Rufino; Juliana Moura Luna; José Edson Gomes Souza; Leonie Asfora Sarubbo; Synthesis of silver nanoparticles using a biosurfactant produced in low-cost medium as stabilizing agent. Electronic Journal of Biotechnology 2014, 17, 122-125, 10.1016/j.ejbt.2014.04.003.
G. Seghal Kiran; A. Sabu; Joseph Selvin; Synthesis of silver nanoparticles by glycolipid biosurfactant produced from marine Brevibacterium casei MSA19. Journal of Biotechnology 2010, 148, 221-225, 10.1016/j.jbiotec.2010.06.012.
C Ganesh Kumar; Suman Kumar Mamidyala; Biswanath Das; B Sridhar; G Sarala Devi; Mallampalli Srilakshmi Karuna; Synthesis of biosurfactant-based silver nanoparticles with purified rhamnolipids isolated from Pseudomonas aeruginosa BS-161R.. Journal of Microbiology and Biotechnology 2010, 20, 1061-1068, .
Yingwei Xie; Ruqiang Ye; Honglai Liu; Synthesis of silver nanoparticles in reverse micelles stabilized by natural biosurfactant. Colloids and Surfaces A: Physicochemical and Engineering Aspects 2006, 279, 175-178, 10.1016/j.colsurfa.2005.12.056.
Mohammad Asaduzzaman Chowdhury; Nayem Hossain; Mohammod Abul Kashem; Abdus Shahid; Ashraful Alam; Immune response in COVID-19: A review. Journal of Infection and Public Health 2020, 13, 1619-1629, 10.1016/j.jiph.2020.07.001.
Mehfuz Ezaman; Istvan Toth; Immunostimulation by Synthetic Lipopeptide-Based Vaccine Candidates: Structure-Activity Relationships. Frontiers in Immunology 2013, 4, 318, 10.3389/fimmu.2013.00318.
Karl Deres; Hansj; [Ouml]; Rg Schild; Karl-Heinz Wiesmüller; In vivo priming of virus-specific cytotoxic T lymphocytes with synthetic lipopeptide vaccine. Nature 1989, 342, 561-564, 10.1038/342561a0.
Brenda Kischkel; Suélen A. Rossi; Samuel R. Junior Santos; Joshua D. Nosanchuk; Luiz R. Travassos; Carlos Pelleschi Taborda; Therapies and Vaccines Based on Nanoparticles for the Treatment of Systemic Fungal Infections. Frontiers in Cellular and Infection Microbiology 2020, 10, 463, 10.3389/fcimb.2020.00463.
Henrik Garoff; Roger Hewson; Dirk-Jan E. Opstelten; Virus Maturation by Budding. Microbiology and Molecular Biology Reviews 1998, 62, 1171-1190, .
Luis F. García; Immune Response, Inflammation, and the Clinical Spectrum of COVID-19. Frontiers in Immunology 2020, 11, 1441, 10.3389/fimmu.2020.01441.
Mohana Devi Subramaniam; Dhivya Venkatesan; Mahalaxmi Iyer; SarathBabu Subbarayan; Vivekanandhan Govindasami; Ayan Roy; Arul Narayanasamy; Siva Kamalakannan; Abilash Valsala Gopalakrishnan; Raviminickam Thangarasu; et al. Biosurfactants and anti-inflammatory activity: A potential new approach towards COVID-19. Current Opinion in Environmental Science & Health 2020, 17, 72-81, 10.1016/j.coesh.2020.09.002.
Nicholas D. Weber; Martine Aubert; Chung H. Dang; Daniel Stone; Keith R. Jerome; DNA cleavage enzymes for treatment of persistent viral infections: recent advances and the pathway forward.. Virology 2014, 454, 353-61, 10.1016/j.virol.2013.12.037.
Yunshan Liang; Xingzhong Yuan; Guangming Zeng; Hua Zhong; Hui Li; Weiwei Wang; Effects of surfactants on enzyme-containing reversed micellar system. Science China Chemistry 2011, 54, 715-723, 10.1007/s11426-011-4266-2.
Hamidreza Hajfarajollah; Parisa Eslami; Babak Mokhtarani; Kambiz Akbari Noghabi; Biosurfactants from probiotic bacteria: A review. Biotechnology and Applied Biochemistry 2018, 65, 768-783, 10.1002/bab.1686.
Eduardo J. Gudiña; José A. Teixeira; Lígia R. Rodrigues; Isolation and functional characterization of a biosurfactant produced by Lactobacillus paracasei. Colloids and Surfaces B: Biointerfaces 2010, 76, 298-304, 10.1016/j.colsurfb.2009.11.008.
P. Saravanakumari; K. Mani; Structural characterization of a novel xylolipid biosurfactant from Lactococcus lactis and analysis of antibacterial activity against multi-drug resistant pathogens. Bioresource Technology 2010, 101, 8851-8854, 10.1016/j.biortech.2010.06.104.
Deepansh Sharma; Baljeet Singh Saharan; Functional characterization of biomedical potential of biosurfactant produced by Lactobacillus helveticus. Biotechnology Reports 2016, 11, 27-35, 10.1016/j.btre.2016.05.001.
Muthu Irulappan Sriram; Kalimuthu Kalishwaralal; Venkataraman Deepak; Raja Gracerosepat; Kandasamy Srisakthi; Sangiliyandi Gurunathan; Biofilm inhibition and antimicrobial action of lipopeptide biosurfactant produced by heavy metal tolerant strain Bacillus cereus NK1. Colloids and Surfaces B: Biointerfaces 2011, 85, 174-181, 10.1016/j.colsurfb.2011.02.026.
Eduardo J. Gudiña; V. Rocha; J. A. Teixeira; L. R. Rodrigues; Antimicrobial and antiadhesive properties of a biosurfactant isolated fromLactobacillus paracaseissp.paracaseiA20. Letters in Applied Microbiology 2010, 50, 419-424, 10.1111/j.1472-765x.2010.02818.x.
Deepansh Sharma; Baljeet Singh Saharan; Simultaneous Production of Biosurfactants and Bacteriocins by ProbioticLactobacillus caseiMRTL3. International Journal of Microbiology 2014, 2014, 1-7, 10.1155/2014/698713.
Surekha K. Satputea; Nishigandha S. Mone; Parijat Das; Ibrahim M. Banat; Arun G. Banpurkar; Inhibition of pathogenic bacterial biofilms on PDMS based implants by L. acidophilus derived biosurfactant. BMC Microbiology 2019, 19, 1-15, 10.1186/s12866-019-1412-z.
Surekha K. Satputea; Nishigandha S. Mone; Parijat Das; Arun G. Banpurkar; Ibrahim M. Banat; Lactobacillus acidophilus Derived Biosurfactant as a Biofilm Inhibitor: A Promising Investigation Using Microfluidic Approach. Applied Sciences 2018, 8, 1555, 10.3390/app8091555.
Liisa Lehtoranta; A. Pitkäranta; R. Korpela; Probiotics in respiratory virus infections. European Journal of Clinical Microbiology & Infectious Diseases 2014, 33, 1289-1302, 10.1007/s10096-014-2086-y.

Yang, Jaemoon. Deuterium; Elsevier: Amsterdam, The Netherlands, 2016; pp. 116.

Thomas J. Smyth; Amedea Perfumo; Roger Marchant; Ibrahim M. Banat; Minglei Chen; Robert K. Thomas; Jeff Penfold; Paul S. Stevenson; Neil J. Parry; Directed microbial biosynthesis of deuterated biosurfactants and potential future application to other bioactive molecules. Applied Microbiology and Biotechnology 2010, 87, 1347-1354, 10.1007/s00253-010-2592-5.
Tomasz Janek; Anna Krasowska; Żaneta Czyżnikowska; Marcin Łukaszewicz; Trehalose Lipid Biosurfactant Reduces Adhesion of Microbial Pathogens to Polystyrene and Silicone Surfaces: An Experimental and Computational Approach. Frontiers in Microbiology 2018, 9, 2441, 10.3389/fmicb.2018.02441.
Abulaziz Juma; Patrick Lemoine; Alistair B. J. Simpson; Jason Murray; Barry M. G. O'Hagan; Patrick J. Naughton; James G. Dooley; Ibrahim M. Banat; Microscopic Investigation of the Combined Use of Antibiotics and Biosurfactants on Methicillin Resistant Staphylococcus aureus. Frontiers in Microbiology 2020, 11, 1477, 10.3389/fmicb.2020.01477.
Benjamin D. Brooks; Amanda E. Brooks; Therapeutic strategies to combat antibiotic resistance. Advanced Drug Delivery Reviews 2014, 78, 14-27, 10.1016/j.addr.2014.10.027.
Yuan Liu; Dr. Shuangyang Ding; Richard Dietrich; Dr. Erwin Märtlbauer; Kui Zhu; A Biosurfactant‐Inspired Heptapeptide with Improved Specificity to Kill MRSA. Angewandte Chemie International Edition 2017, 56, 1486-1490, 10.1002/anie.201609277.
Dirk Vollenbroich; Muhsin Özel; Joachim Vater; Roza Maria Kamp; Georg Pauli; Mechanism of Inactivation of Enveloped Viruses by the Biosurfactant Surfactin fromBacillus subtilis. Biologicals 1997, 25, 289-297, 10.1006/biol.1997.0099.
Madiha Basit; Muhammad Hidayat Rasool; Syed Ali Raza Naqvi; Muhammad Waseem; Bilal Aslam; Biosurfactants production potential of native strains of Bacillus cereus and their antimicrobial, cytotoxic and antioxidant activities.. pakistan journal of pharmaceutical sciences 2018, 31, 251-256, .
Lvfeng Yuan; Shuai Zhang; Jie Peng; Yuchen Li; Qian Yang; Synthetic surfactin analogues have improved anti-PEDV properties. PLoS ONE 2019, 14, e0215227, 10.1371/journal.pone.0215227.
Lvfeng Yuan; Shuai Zhang; Yongheng Wang; Yuchen Li; Xiaoqing Wang; Qian Yang; Surfactin Inhibits Membrane Fusion during Invasion of Epithelial Cells by Enveloped Viruses. Journal of Virology 2018, 92, JVI.00809-18, 10.1128/jvi.00809-18.
Grażyna Anna Płaza; Joanna Chojniak; Ibrahim M. Banat; Biosurfactant Mediated Biosynthesis of Selected Metallic Nanoparticles. International Journal of Molecular Sciences 2014, 15, 13720-13737, 10.3390/ijms150813720.

67. Katariya, H.B. the concept of microbubble as a drug delivery system: An overview. Int. J. Pharm. Sci. Res. 2012, 3, 3058–3063

Qingyi Xu; Mitsutoshi Nakajima; Zengshe Liu; Takeo Shiina; Biosurfactants for Microbubble Preparation and Application. International Journal of Molecular Sciences 2011, 12, 462-475, 10.3390/ijms12010462.
Khaled Al Huraimel; Mohamed Alhosani; Shabana Kunhabdulla; Mohammed Hashem Stietiya; SARS-CoV-2 in the environment: Modes of transmission, early detection and potential role of pollutions. Science of The Total Environment 2020, 744, 140946-140946, 10.1016/j.scitotenv.2020.140946.
I. Michael-Kordatou; P. Karaolia; Despo Fatta-Kassinos; Sewage analysis as a tool for the COVID-19 pandemic response and management: the urgent need for optimised protocols for SARS-CoV-2 detection and quantification. Journal of Environmental Chemical Engineering 2020, 8, 104306-104306, 10.1016/j.jece.2020.104306.
M. Perez-Ameneiro; Xanel Vecino; Jose M. Cruz; Ana Belén Moldes; Wastewater treatment enhancement by applying a lipopeptide biosurfactant to a lignocellulosic biocomposite. Carbohydrate Polymers 2015, 131, 186-196, 10.1016/j.carbpol.2015.05.075.
Hillel Shuval; Estimating the global burden of thalassogenic diseases: human infectious diseases caused by wastewater pollution of the marine environment. Journal of Water and Health 2003, 1, 53-64, 10.2166/wh.2003.0007.
Thando Ndlovu; Sehaam Khan; Wesaal Khan; Distribution and diversity of biosurfactant-producing bacteria in a wastewater treatment plant. Environmental Science and Pollution Research 2016, 23, 9993-10004, 10.1007/s11356-016-6249-5.
Amesh A. Adalja; Matthew Watson; Eric S. Toner; Anita Cicero; Thomas V. Inglesby; Characteristics of Microbes Most Likely to Cause Pandemics and Global Catastrophes. Current Topics in Microbiology and Immunology 2019, 424, 1-20, 10.1007/82_2019_176.
Kelly B. Wyatt; Paula F. Campos; M. Thomas P. Gilbert; Sergios-Orestis Kolokotronis; Wayne L. Hynes; Rob DeSalle; Peter Daszak; Ross D. E. Macphee; Alex D. Greenwood; Historical Mammal Extinction on Christmas Island (Indian Ocean) Correlates with Introduced Infectious Disease. PLoS ONE 2008, 3, e3602, 10.1371/journal.pone.0003602.
Mnif Inès; Dhouha Ghribi; Potential of bacterial derived biopesticides in pest management. Crop Protection 2015, 77, 52-64, 10.1016/j.cropro.2015.07.017.
A.M. Manonmani; I. Geetha; S. Bhuvaneswari; Enhanced production of mosquitocidal cyclic lipopeptide from Bacillus subtilis subsp. subtilis. Indian Journal of Medical Research 2011, 134, 476-482, .
I. Geetha; A.M. Manonmani; K. P. Paily; Identification and characterization of a mosquito pupicidal metabolite of a Bacillus subtilis subsp. subtilis strain. Applied Microbiology and Biotechnology 2010, 86, 1737-1744, 10.1007/s00253-010-2449-y.
Kishore Das; Ashis K. Mukherjee; Assessment of mosquito larvicidal potency of cyclic lipopeptides produced by Bacillus subtilis strains. Acta Tropica 2006, 97, 168-173, 10.1016/j.actatropica.2005.10.002.
Muthukumar Abinaya; Baskaralingam Vaseeharan; Mani Divya; Aruna Sharmili; Marimuthu Govindarajan; Naiyf S. Alharbi; Shine Kadaikunnan; Jamal M. Khaled; Giovanni Benelli; Bacterial exopolysaccharide (EPS)-coated ZnO nanoparticles showed high antibiofilm activity and larvicidal toxicity against malaria and Zika virus vectors. Journal of Trace Elements in Medicine and Biology 2018, 45, 93-103, 10.1016/j.jtemb.2017.10.002.
Ibrahim M. Banat; Mayri A. Díaz De Rienzo; Gerry A. Quinn; Microbial biofilms: biosurfactants as antibiofilm agents. Applied Microbiology and Biotechnology 2014, 98, 9915-9929, 10.1007/s00253-014-6169-6.
C. Ceresa; L. Fracchia; M. Williams; Ibrahim M. Banat; Mayri A. Diaz De Rienzo; The effect of sophorolipids against microbial biofilms on medical-grade silicone. Journal of Biotechnology 2020, 309, 34-43, 10.1016/j.jbiotec.2019.12.019.
Karthik Sambanthamoorthy; Xiaorong Feng; Ruchi Patel; Sneha Patel; Chrysanthi Paranavitana; Antimicrobial and antibiofilm potential of biosurfactants isolated from lactobacilli against multi-drug-resistant pathogens. BMC Microbiology 2014, 14, 197-197, 10.1186/1471-2180-14-197.

84. Salman, J.A.S.; Al Kadhemy, M.; Jaleel, M.; Abdal, A. Effect of PVA, PVA/biosurfactant on some pathogenic bacteria in glass and plastic plates. Int. J. Curr. Microbiol. Appl. Sci. 2014, 3, 301–309.

Marcia Nitschke; S.G.V.A.O. Costa; Biosurfactants in food industry. Trends in Food Science & Technology 2007, 18, 252-259, 10.1016/j.tifs.2007.01.002.
86. Vandini, A.; Frabetti, A.; Antonioli, P.; Platano, D.; Branchini, A.; Camerada, M.; Lanzoni, L.; Balboni, P.; Mazzacane, S.; Reduction of the Microbiological Load on Hospital Surfaces Through Probiotic-Based Cleaning Procedures: A New Strategy to Control Nosocomial Infections. Journal of Microbiology & Experimentation 2014, 1, 27, 10.15406/jmen.2014.01.00027.
Sagheer A. Onaizi; Lizhong He; A. P. J. Middelberg; Rapid screening of surfactant and biosurfactant surface cleaning performance. Colloids and Surfaces B: Biointerfaces 2009, 72, 68-74, 10.1016/j.colsurfb.2009.03.015.
Focus on Surfactants; Evonik commercializes biosurfactants. Focus on Surfactants 2016, 2016, 3-4, 10.1016/j.fos.2016.07.046.
Unilever and Evonik Partner to Launch Green Cleaning Ingredient . Unilever.com. Retrieved 2021-1-27
Live Coronavirus Found on Frozen Food Packaging in China . The Guardian. Retrieved 2021-1-27
Luca Fiorillo; Gabriele Cervino; Marco Matarese; Cesare D'Amico; Giovanni Surace; Valeria Paduano; Maria Teresa Fiorillo; Antonio Moschella; Alessia La Bruna; Giovanni Luca Romano; et al. COVID-19 Surface Persistence: A Recent Data Summary and Its Importance for Medical and Dental Settings. International Journal of Environmental Research and Public Health 2020, 17, 3132, 10.3390/ijerph17093132.
Gabriele Cervino; Luca Fiorillo; Giovanni Surace; Valeria Paduano; Maria Teresa Fiorillo; Rosa De Stefano; R. Laudicella; Sergio Baldari; Michele Gaeta; Marco Cicciù; et al. SARS-CoV-2 Persistence: Data Summary up to Q2 2020. Data 2020, 5, 81, 10.3390/data5030081.
Jie Han; Xue Zhang; Shanshan He; Puqi Jia; Can the coronavirus disease be transmitted from food? A review of evidence, risks, policies and knowledge gaps. Environmental Chemistry Letters 2020, , , 10.1007/s10311-020-01101-x.
Foodborne Illnesses and Germs . CDC. Retrieved 2021-1-27
Jenyffer Medeiros Campos; Tânia Lúcia Montenegro Stamford; Leonie Asfora Sarubbo; Juliana Moura De Luna; Raquel Diniz Rufino; Ibrahim M. Banat; Microbial biosurfactants as additives for food industries. Biotechnology Progress 2013, 29, 1097-1108, 10.1002/btpr.1796.
Jenyffer Medeiros Campos; Tânia Lúcia Montenegro Stamford; Leonie Asfora Sarubbo; Juliana Moura De Luna; Raquel Diniz Rufino; Ibrahim M. Banat; Microbial biosurfactants as additives for food industries. Biotechnology Progress 2013, 29, 1097-1108, 10.1002/btpr.1796.
More