2. FGFRs as Oncogenic Drivers
FGFRs' signaling pathways deregulation can work as cancer driving oncogenes, as evidenced by large series of experimental results gathered from experiments conducted with several types of tumors [12][13]. Therby, deregulation of FGFR's cascade leads to a blockade of apoptosis, an increase of mitogenesis and fosters epithelial-to-mesenchymal transitions [29]. Mechanisms of deregulation are the following ones: (i) expression of fusion proteins with FGFR resulting from gene-translocations that constitutively activate the kinase activity of FGFR [30]; (ii) overregulation of genes and post-transcriptional events, ultimately increasing protein FGFR levels [31]; (iii) high expression levels of FGF outside the cellular matrix, inside the stromal and tumour cells, activating the paracrine/autocrine pathway [32]; (iv) FGFR alternative splicing, change of its isoform, processes that ultimately change the ligand-to-receptor specificity, increasing therefore the range of FGFs that are capable of inducing cellular growth [33]; and (v) constitutively activating mutations of FGFR (Figure 2). Sarabipour et al. proved that the mutations constitutively activating the receptors give them the capacity to dimerize without ligands triggering them at physiological conditions, as described in (v) [34]. The stabilization of such unbound dimers takes place by a connection between the transmembrane and intracellular domains [35]. It is important to note that the phosphorylation of FGFRs that did not bind is retained, explaining thereby how the high expression level of FGFR leads to cancer formation [10][36][37][38]. However, changes in the structure induced by the binding of the ligand to receptors that had dimerized inside the intracellular region of the membrane can change the transmembrane structure, which will switch its structural conformation into a specific one [39]. Based on transmembrane configuration of dimers, the activity of the receptor is concerted [40]. Quite different are the FGF1 and FGF2 ligands-induced conformational changes. Those ligands modify the distances between the intracellular domains, changing therefore the amount dimers become phosphorylated [41]. For this reason FGFRs are found in different configurational states, even after being bound by the ligand, some of them form an active state while others are intentionally inactivated [34]. Such series of mechanisms inside the cells fine-tune the FGFR signaling cascade of events, leading to apoptosis, mitogenesis, proliferation, epithelial-to-mesenchymal-transitions, and oxygen deliver vessels formation in embryogenesis or tumorigenesis. There are different FGFR germline mutations in humans. Mainly they are GOFs in genes that give rise to hereditary diseases, such as osteochondrodysplasias, and tumorigenesis [42]. Fascinatingly, there are mutations all over the gene encoding for FGFR, and are not limited to the kinase region [43]. A peculiar aspect of the signaling pathway involving this receptor is the dependency on the type of tissue [44]; each tumor type has different aberrations in different FGFRs [45][46][47]. Here we focus on breast cancer fibroblast growth factors genes aberrations.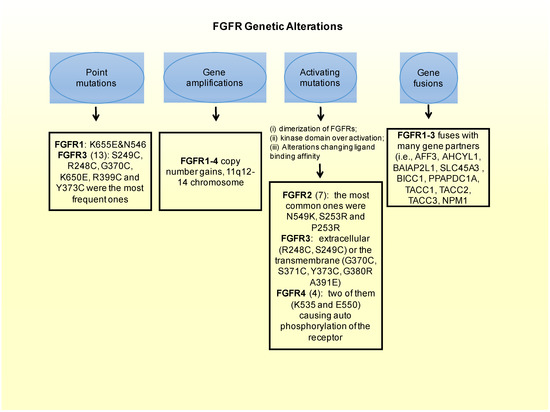 Figure 2. FGFR genetic alterations leading to breast cancer.
3.
FGFR

Genetic Alterations in Breast Cancer

In 1991 Adnane et al. discovered for the first time amplifications of the genes encoding for the fibroblast growth factor receptors in the context of BCs [48]. Since then, several studies confirmed this data proving that the receptors have oncogenic roles and they were further able to explain—to an extent—through which mechanisms these molecules that sit on the cell membranes achieve this purpose. Additionally, point mutations (single nucleotide polymorphisms), high expression of ligands and FGFRs had also identified in previous studies, paving the way for an hypothesis where multiple molecular mechanisms could be leading to an overactivation of the receptors [49]. Deregulation of the fibroblast growth factor molecular cascade in human cancers is frequent. Interestingly, the most common alteration for these receptors is related to the first receptor –FGFR1 (located on the 8p11-12 region of the chromosomal)-while the other five receptors are barely found over-amplified [10][50].
4. Anti-FGFR Therapies
There is a growing interest in FGFR/FGF inhibitors to block the formation and progression of BC in developing new targeted therapies against this pathway [75]. Clinical evaluations have been conducted over small FGFR inhibitors, selective or nonselective, even though many are early clinical trials [57]. Novel drug development should be focused in the attainment of an increased selectivity to the FGFRs ATP-binding domain located in the intracellular region in order to reduce to the maximum extent the toxicity [45]. BGJ398 (infigratinib) is a pan-FGFR inhibitory molecule that has been evaluated on its own (NCT01004224)—to establish its maximum tolerated dose (MTD) for primary outcome and ORR together with pharmacokinetics and pharmacodynamics for secondary outcome measures [76], respectively—was recently completed. In the 67 enrolled patients, ORR was 25.4% and DCR 64.2% [77]. Additionally, MTD for BGJ398 with BYL719 was investigated in another clinical investigation on phase I (NCT01928459) FGFR 1–3 and PIK3CA mutations bearing solid cancers, which was recently completed and whose results have not been posted yet. AZD4547 is an additional tyrosine kinase inhibitor, whose activity had been previously shown to be strong for FGFR-3. On the other its activity against FGFR4 was very low. A phase I is currently investigating safety and efficacy of this compound in endocrine progressing BC patients bearing polisomy or amplification of the FGFR1 gene (NCT01791985), which was recently completed and whose results are eagerly awaited. Another phase I study (NCT03238196) has been evaluating in ER+ HER2- MBC patients the FGFR inhibitor, called erdafitinib, together with palbociclib and hormone therapy fulvestrant.
A phase 2 clinical trial (NCT04125693) investigates the oral pan-FGFR inhibitor rogatanib as second line medication of solid tumours, including BC. A phase 1 and 2 dose expansion clinical trial (NCT02052778) investigates the oral selective irreversible pan-FGFR inhibitor futibatinib as second line treatment of advanced solid tumours, including metastatic breast cancer. A phase 2 clinical trial (NCT0402446) investigates the oral pan-FGFR inhibitor rogatanib as second line treatment as monotherapy or together with fulvestrant.
In preclinical studies multi-kinase inhibitors, capable of targeting also FGFRs together with other tyrosine kinases, have been showing promising results [7]. A phase I trial investigating such inhibitors has shown great positives as to safety and tolerability of this drug type. Dovitinib (TKI258) showed its effectiveness in targeting FGFR1-3, PDGFR and VEGFR1-3 [78], and it has been experimentally used for the treatment of HER2-negative MBC in combination with fulvestrant. However this clinical trial was too slow and had to be therefore terminated (NCT01528345).
E3810 (lucitanib), against colony stimulating factor 1 receptor (CSF1R)—3, FGFR1, FGFR2 and VEGFR1 have been studied on their own in two phase II clinical trials involving MBC patients with the presence or absence of FGFR1 amplification; one of them was a phase 2 study (NCT02202746), which was terminated by the sponsor of this clinical trial. Recently, the safety and tolerability of a triple kinase inhibitor (FGFR, PDGFR and VEGFR) was investigated in a phase 1 study made of 19 estrogen receptor positive MBC postmenopausal women (NCT02619162). At PR2D (nintedanib with letrozole) there was a 55% mean increase in the plasma levels of FGF23 and there were no detectable levels of 17-B-estradio in the plasma of patients [77].
Other undergoing strategies inhibiting FGFR/FGF inhibitors together other signaling pathways exist [79], but these were not the main focus of this review. For a reference to such combinatorial strategies refer to our previous publication [2]. Antibodies against FGFR isoforms represent a valid therapeutic strategy to intervene in BC. As a matter of fact, GP369 recognizes FGFR-IIIb isoform and has exhibited good results in blocking breast cancer cell line proliferation [80]. Such positive preliminary results warrant further research. Lastly, another approach against the FGFR/FGF axis concerns the use of inhibitors of FGF ligands. Long pentraxin-3 (PTX3) is an inhibitor of various FGFR ligands, among them FGF2 and FGF8b, which have both been found to be implicated in breast cancer development [81]. FP-1039 is a recently developed ligand-trap in which a ligand-binding domain of FGFR1 is fused to an Ig-Fc domain. This compound showed promising activity in vitro and passed a phase I clinical trial (NCT00687505) for solid tumors, including breast cancer [82].
5. Discussion and Conclusions
The established BC oncogenic driver FGFR has been found involved in various tumor-related roles, leading to angiogenesis, tumor growth and apoptosis avoidance. There are different FGFR variations correlating with breast cancer. Therefore many different strategies have been designed in order to block the FGFR/FGF axis. For this purpose phase 1/2 clinical investigations have been investigating several therapies targeting the FGF/FGFR axis. Among such molecules, some examples are futibatinib (TAS-120), nindetanib, rogaratinib (BAY-1163877), erdafitinib, an anti- pan-FGFR molecule infigratinib (BGJ-398), dovitinib and FGFR1–3 inhibitor AZD4547. Notably, FGFR1 genomic aberrations are the most common ones, while gene amplifications in the FGFR2-6 and mutations constitutively activating the FGFR are uncommon. Thus, among the different targets for future therapies against FGFRs, FGFR1 should the considered as the primary one to be further pursued. A combination of anti-FGFR therapies should be experimented with other drugs targeting downstream pathways of the FGFRs/FGFs axis, mutation-bearing antigens and other Tyrosine Kinase cell membrane receptors such as AXL, CCK, EGF, HGF, PDGF, LMR, RET, TIE, RYK, ROS, and VEGF. With the impelling advancements of personalized medicine in oncology, stratification of patients - based on definite molecular modifications - and the discovery of always more precise biomarkers predictive both disease occurrence and treatment efficacy are leading to the development of accurate molecular-based methods aiding clinicians to choose the right therapy, or combination of therapies, for each individual patient. Furthermore, as immunotherapy is today standing at the front-line of innovation of anti-cancer treatments, it would be curious to test anti-FGFR or anti-ligand FGF drugs together with immunotherapeutic agents—like PD-1/PD-L1 or CTLA4-CD20 checkpoint inhibitors—to improve both survival and quality of life of breast cancer patients through new and more precise strategy of fighting cancer, focusing on checkpoints or drugs targeting driver mutations presented by cancer cells on their surfaces and beyond.
In conclusion, FGFR alterations occur in about one of seven breast cancer patients, which represent a large portion of cancer patients, since the disease is very common and unfortunately still represents a major killer. The knowledge that has been gained on the structure of the receptor and its signaling pathway has always led to the development of better drugs against it. The hindsight from clinical trials recently conducted is pushing towards the direction of using combination of therapies to overcome a single drug resistance. Most interestingly the results from MONALESA-2, showing that patients with lower PFS to CDK4/6 inhibitor presented amplifications of FGFR1. Therefore, FGFR1 could be conferring the cancer cells the capacity to proliferate and a good strategy could be that of inhibiting both FGFR/FGF and the CDK4/6 pathways. More clinical trials testing FGFR inhibitors in combination with other drugs are warranted.