Please check and comment entries here.
Nanodiamonds Synthesis Techniques
Definition
The "state-of-the-art" of the nanodiamonds synthesis techniques is reviewed with emphasis on the more recent one involving pulsed laser ablation. Production of NV centers inside the nanodiamonds and post-production cleaning processes to remove residual graphite layers are also described.
1. Introduction
It is well known that the stable allotrope of carbon at ambient pressure and room temperature is graphite. As can be seen in the carbon phase diagram of Figure 1, diamond requires extreme conditions of temperature and pressure to be formed. For instance, natural diamond may be formed in the Earth's mantle, 140−200 km below the surface [1], where the temperature and pressure are in the range of 900−1400 °C and 4.5−6 GPa, respectively [2]. Once the diamond phase is formed, the transition back to graphite at ambient conditions is avoided by the high energy barrier for phase transition. Indeed, even if graphite is thermodynamically favored (energy difference of 0.02 eV per atom between diamond and graphite), a 0.4 eV energy barrier must be overcome to move from sp2 to sp3 chemical bonds. This makes diamond a metastable phase, as it is thermodynamically unstable, but the transition kinetics to graphite is prohibitive. Currently, many different methods for artificial synthesis of NDs are available [3]. The three main techniques commercially available are described: detonation, chemical vapor deposition (CVD), and milling of high-pressure, high-temperature (HPHT) micro-sized diamonds.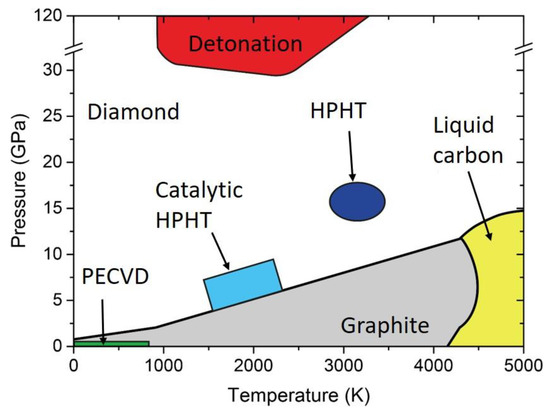 Figure 1. Carbon phase diagram indicating graphite (grey), diamond (white), and liquid (yellow). In addition, pressure-temperature conditions reached with different synthesis technique are indicated. HPHT: high pressure, high temperature. PECVD: Plasma Enhanced Chemical Vapor Deposition.
2. Classification
This entry is adapted from 10.3390/app10124094
References
Shirey, S.B.; Cartigny, P.; Frost, D.J.; Keshav, S.; Nestola, F.; Nimis, P.; Pearson, D.G.; Sobolev, N.V.; Walter, M.J. Diamonds and the geology of mantle carbon. Rev. Mineral. Geochem. 2013, 75, 355–421.

Gordon Davies, I. Properties and growth of diamond. INSPEC Publ. Inst. Electr. Eng. 1994.

Mochalin, V.N.; Shenderova, O.; Ho, D.; Gogotsi, Y. The properties and applications of nanodiamonds. Nat. Nanotechnol. 2011, 7, 11–23.

Shenderova, O.; Gruen, D.M. Preface. In Ultrananocrystalline Diamond; Elsevier: Amsterdam, The Netherlands, 2006; pp. xix–xx.

Dolmatov, V.Y. The Influence of Detonation Synthesis Conditions on the Yield of Condensed Carbon and Detonation Nanodiamond Through the Example of Using TNT-RDX Explosive Mixture. J. Superhard Mater. 2018, 40, 290–294.

Danilenko, V.V. Synthesis, Properties and Applications of Ultrananocrystalline Diamond; Gruen, D.M., Shenderova, O.A., Vul', A.Y., Eds.; Springer: Berlin, Germany, 2005.

Osswald, S.; Yushin, G.; Mochalin, V.; Kucheyev, S.O.; Gogotsi, Y. Control of sp2/sp3Carbon Ratio and Surface Chemistry of Nanodiamond Powders by Selective Oxidation in Air. J. Am. Chem. Soc. 2006, 128, 11635–11642.

Ōsawa, E. Recent progress and perspectives in single-digit nanodiamond. Diam. Relat. Mater. 2007, 16, 2018–2022.

Butler, J.E.; Sumant, A.V. The CVD of Nanodiamond Materials. Chem. Vap. Depos. 2008, 14, 145–160.

Park, J.-W.; Kim, K.-S.; Hwang, N.-M. Gas phase generation of diamond nanoparticles in the hot filament chemical vapor deposition reactor. Carbon 2016, 106, 289–294.

May, P.W.; Ashfold, M.N.R.; Mankelevich, Y.A. Microcrystalline, nanocrystalline, and ultrananocrystalline diamond chemical vapor deposition: Experiment and modeling of the factors controlling growth rate, nucleation, and crystal size. J. Appl. Phys. 2007, 101, 53115.

Akaishi, M.; Kanda, H.; Yamaoka, S. Synthesis of diamond from graphite-carbonate system under very high temperature and pressure. J. Cryst. Growth 1990, 104, 578–581.

Boudou, J.-P.; Curmi, P.A.; Jelezko, F.; Wrachtrup, J.; Aubert, P.; Sennour, M.; Balasubramanian, G.; Reuter, R.; Thorel, A.; Gaffet, E. High yield fabrication of fluorescent nanodiamonds. Nanotechnology 2009, 20, 235602.

Rehor, I.; Cigler, P. Precise estimation of HPHT nanodiamond size distribution based on transmission electron microscopy image analysis. Diam. Relat. Mater. 2014, 46, 21–24.

Yang, G.-W.; Wang, J.-B.; Liu, Q.-X. Preparation of nano-crystalline diamonds using pulsed laser induced reactive quenching. J. Phys. Condens. Matter 1998, 10, 7923.

Pearce, S.R.J.; Henley, S.J.; Claeyssens, F.; May, P.W.; Hallam, K.R.; Smith, J.A.; Rosser, K.N. Production of nanocrystalline diamond by laser ablation at the solid/liquid interface. Diam. Relat. Mater. 2004, 13, 661–665.

Basso, L.; Gorrini, F.; Bazzanella, N.; Cazzanelli, M.; Dorigoni, C.; Bifone, A.; Miotello, A. The modeling and synthesis of nanodiamonds by laser ablation of graphite and diamond-like carbon in liquid-confined ambient. Appl. Phys. A 2018, 124, 72.

Gorrini, F.; Cazzanelli, M.; Bazzanella, N.; Edla, R.; Gemmi, M.; Cappello, V.; David, J.; Dorigoni, C.; Bifone, A.; Miotello, A. On the thermodynamic path enabling a room-temperature, laser-assisted graphite to nanodiamond transformation. Sci. Rep. 2016, 6, 35244.

Miotello, A.; Kelly, R. Laser-induced phase explosion: New physical problems when a condensed phase approaches the thermodynamic critical temperature. Appl. Phys. A Mater. Sci. Process. 1999, 69, S67–S73.

Mazzi, A.; Gorrini, F.; Miotello, A. Liquid nanodroplet formation through phase explosion mechanism in laser-irradiated metal targets. Phys. Rev. E 2015, 92, 031301.

Saito, K.; Takatani, K.; Sakka, T.; Ogata, Y.H. Observation of the light emitting region produced by pulsed laser irradiation to a solid liquid interface. Appl. Surf. Sci. 2002, 197–198, 56–60.

Fabbro, R.; Fournier, J.; Ballard, P.; Devaux, D.; Virmont, J. Physical study of laser-produced plasma in confined geometry. J. Appl. Phys. 1990, 68, 775–784.

Yan, Z.; Chrisey, D.B. Pulsed laser ablation in liquid for micro-/nanostructure generation. J. Photochem. Photobiol. C Photochem. Rev. 2012, 13, 204–223.

Bradac, C.; Osswald, S. Effect of structure and composition of nanodiamond powders on thermal stability and oxidation kinetics. Carbon 2018, 132, 616–622.

Chiganov, A.S. Selective inhibition of the oxidation of nanodiamonds for their cleaning. Phys. Solid State 2004, 46, 620–621.

Li, L.; Davidson, J.L.; Lukehart, C.M. Surface functionalization of nanodiamond particles via atom transfer radical polymerization. Carbon 2006, 44, 2308–2315.

Shenderova, O.; Koscheev, A.; Zaripov, N.; Petrov, I.; Skryabin, Y.; Detkov, P.; Turner, S.; van Tendeloo, G. Surface Chemistry and Properties of Ozone-Purified Detonation Nanodiamonds. J. Phys. Chem. C 2011, 115, 9827–9837.

Ackermann, J.; Krueger, A. Efficient surface functionalization of detonation nanodiamond using ozone under ambient conditions. Nanoscale 2019, 11, 8012–8019.

Schrand, A.M.; Hens, S.A.C.; Shenderova, O.A. Nanodiamond Particles: Properties and Perspectives for Bioapplications. Crit. Rev. Solid State Mater. Sci. 2009, 34, 18–74.

Ha, S.; Hong, S.P.; Lee, M.; Lee, S.; Lee, S.W. Chemical purification of detonation-synthesized nanodiamond: Recycling of H2SO4 and optimization of process parameters. Mater. Today Commun. 2019, 21, 100571.

Hong, S.P.; Ha, S.W.; Lee, S.W. Atmospheric-pressure chemical purification of detonation-synthesized nanodiamond by using perchloric acid: Intensive parametric study to control sp3/sp2carbon ratio. Diam. Relat. Mater. 2018, 81, 27–32.

Aleksenskii, A. Technology of Preparation of Detonation Nanodiamond. In Detonation Nanodiamonds; Pan Stanford Publishing: Singapore, Singapore, 2014; pp. 37–72.

Reineck, P.; Capelli, M.; Lau, D.W.M.; Jeske, J.; Field, M.R.; Ohshima, T.; Greentree, A.D.; Gibson, B.C. Bright and photostable nitrogen-vacancy fluorescence from unprocessed detonation nanodiamond. Nanoscale 2017, 9, 497–502.

Michl, J.; Teraji, T.; Zaiser, S.; Jakobi, I.; Waldherr, G.; Dolde, F.; Neumann, P.; Doherty, M.W.; Manson, N.B.; Isoya, J.; et al. Perfect alignment and preferential orientation of nitrogen-vacancy centers during chemical vapor deposition diamond growth on (111) surfaces. Appl. Phys. Lett. 2014, 104, 102407.

Neu, E.; Arend, C.; Gross, E.; Guldner, F.; Hepp, C.; Steinmetz, D.; Zscherpel, E.; Ghodbane, S.; Sternschulte, H.; Steinmüller-Nethl, D.; et al. Narrowband fluorescent nanodiamonds produced from chemical vapor deposition films. Appl. Phys. Lett. 2011, 98, 243107.

Hui, Y.Y.; Cheng, C.-A.; Chen, O.Y.; Chang, H.-C. Bioimaging and Quantum Sensing Using NV Centers in Diamond Nanoparticles. In Carbon Nanoparticles and Nanostructures; Springer International Publishing: Basel, Switzerland, 2016; pp. 109–137.

Orwa, J.O.; Santori, C.; Fu, K.M.C.; Gibson, B.; Simpson, D.; Aharonovich, I.; Stacey, A.; Cimmino, A.; Balog, P.; Markham, M.; et al. Engineering of nitrogen-vacancy color centers in high purity diamond by ion implantation and annealing. J. Appl. Phys. 2011, 109, 83530.

Bradac, C.; Gaebel, T.; Naidoo, N.; Rabeau, J.R.; Barnard, A.S. Prediction and Measurement of the Size-Dependent Stability of Fluorescence in Diamond over the Entire Nanoscale. Nano Lett. 2009, 9, 3555–3564.

Smith, B.R.; Inglis, D.W.; Sandnes, B.; Rabeau, J.R.; Zvyagin, A.V.; Gruber, D.; Noble, C.J.; Vogel, R.; Osawa, E.; Plakhotnik, T. Five-Nanometer Diamond with Luminescent Nitrogen-Vacancy Defect Centers. Small 2009, 5, 1649–1653.

Boudou, J.-P.; Tisler, J.; Reuter, R.; Thorel, A.; Curmi, P.A.; Jelezko, F.; Wrachtrup, J. Fluorescent nanodiamonds derived from HPHT with a size of less than 10nm. Diam. Relat. Mater. 2013, 37, 80–86.

Abe, E.; Sasaki, K. Tutorial: Magnetic resonance with nitrogen-vacancy centers in diamondmicrowave engineering, materials science, and magnetometry. J. Appl. Phys. 2018, 123, 161101.

Narayan, J.; Bhaumik, A. Novel synthesis and properties of pure and NV-doped nanodiamonds and other nanostructures. Mater. Res. Lett. 2017, 5, 242–250.

Basso, L.; Gorrini, F.; Cazzanelli, M.; Bazzanella, N.; Bifone, A.; Miotello, A. An all-optical single-step process for production of nanometric-sized fluorescent diamonds. Nanoscale 2018, 10, 5738–5744.

Basso, L.; Bazzanella, N.; Cazzanelli, M.; Miotello, A. On the route towards a facile fluorescent nanodiamonds laser-synthesis. Carbon 2019, 153, 148–155.

Ghiringhelli, L.M.; Los, J.H.; Meijer, E.J.; Fasolino, A.; Frenkel, D. Modeling the Phase Diagram of Carbon. Phys. Rev. Lett. 2005, 94.

Basharin, A.Y.; Dozhdikov, V.S.; Kirillin, A.V.; Turchaninov, M.A.; Fokin, L.R. Phase diagram with a region of liquid carbon-diamond metastable states. Tech. Phys. Lett. 2010, 36, 559–562.

Ionin, A.A.; Kudryashov, S.I.; Seleznev, L.V. Near-critical phase explosion promoting breakdown plasma ignition during laser ablation of graphite. Phys. Rev. E 2010, 82.
More