Mesenchymal Stem Cell-Derived Exosomes
Definition
Mesenchymal stem cells (MSCs) are multipotent stem cells that can be isolated from human tissues or organs, such as the bone marrow, adipose tissue, umbilical cord, lung, spleen, liver or kidney, while exosomes are crucial components that account for the paracrine action of MSCs. They are extracellular vesicles with a lipid bilayer structure and an average diameter of 100 nm, and they perform biological function by transferring bioactive molecules such as miRNAs, lncRNAs, lipids and cytokines.
1. Introduction
Mesenchymal stem cells (MSCs) are multipotent stem cells that can be isolated from human tissues or organs, such as the bone marrow, adipose tissue, umbilical cord, lung, spleen, liver or kidney [1]. Despite being derived from multiple sources, MSCs display similar biological phenotypes and functions [2][3]. Because of their autocrine and paracrine actions, MSCs have been shown to possess potency in repairing tissue damage [4]. Critically, delivery of only a small population of MSCs can result in accelerated damage repair in the host [5][6][7]. In addition, exosomes are crucial components that account for the paracrine action of MSCs [8][9][10]. For example, they exchange genetic material across cells by transferring bioactive molecules [11]. Similar to other cellular exosomes, MSC-exosomes are extracellular vesicles with a lipid bilayer structure and an average diameter of 100 nm [1][12]. They carry bioactive molecules, including miRNAs, lncRNAs, lipids and cytokines [1], thus providing a context for researching the biological functions of MSC-exosomes.
Treating diseases with MSC-exosomes has shown promise in the field of regenerative medicine, and numerous studies exploring the therapeutic effects of MSC-exosomes on neurological, immunological and cardiovascular diseases have been published [13]. In summary, the benefits of delivering MSC-exosomes in disease models mainly include the attenuation of inflammation, promotion of angiogenesis and improvement in the survival and proliferation of stem or progenitor cells within injured tissues or organs [14]. In fact, such benefits can be achieved with MSCs as well. Although it has also been shown that MSCs can exert therapeutic effects on radiation damage, the therapeutic potential of MSC-exosomes has not been widely explored in this field. Nevertheless, in a previous study, irradiated cells exhibited enhanced uptake of exosomes because of an increase in the formation of the integrin and tetraspanin complex CD29/CD81 on the cell surface [15], thus indicating the specific role of exosomes in mediating biological processes in injured cells. Moreover, MSC-exosomes were found to protect against acute or chronic radiation damage via their miRNA cargo, suggesting that irradiated cells might utilize MSC-exosomes to increase their resistance to ionizing irradiation [16][17][18]. For example, a study showed that exosomal miRNA-210 could elicit efficient DNA damage repair by controlling the transcriptional activity of HIF-1, thus enhancing cellular radio-resistance [17][19]. In this review, we explore the pro-regenerative properties of MSC-exosomes in the field of radiation damage and aim to provide new insight into the management of radiation damage by using MSC-exosomes.
2. Biological Features of MSC-Exosomes
MSCs are crucial sources of exosomes in humans. Consistent with other cell-derived exosomes, MSC-exosomes are generated through a sequential process including the invagination of lysosomal microparticles and fusion and excretion from parental cells [20]. Lysosomal microparticles first invaginate their membranes to generate endosomes, which then fuse with each other to form multivesicular bodies that contain intraluminal vesicles. Next, the outer membrane of the mature multivesicular body fuses with the plasma membrane of a cell and is ultimately transported out, constituting an exosome [20].
Exosomes consist of lipid bilayer membrane structures with diameters ranging from 40 nm to 160 nm (an average of 100 nm) [12]. They express various markers, including CD9, CD81, CD63, TSG101, flotillin, ceramide, and Alix [12], and have a density of 1.15–1.19 g/mL in sucrose gradients [21]. MSC-exosomes contain at least 170 different miRNAs [22] and 304 proteins [23], along with an indefinite number of DNAs, mRNAs and metabolites [12]. Because they contain a large number of bioactive molecules, MSC-exosomes have attracted great interest in the field of regenerative medicine. Accordingly, numerous studies have attempted to assess whether the infusion of MSC-exosomes can serve as an alternative strategy to repair tissue damage, and emerging results have mostly revealed that MSC-exosomes have therapeutic effects similar to those of their parental MSCs [24]. Moreover, MSC-exosomes have several advantages over MSCs. (i) MSC-exosomes are long-lasting and can be stored at −80 °C without affecting their biological functions [17], whereas cryopreserved MSCs exhibit impaired immunoregulatory and pro-regenerative properties compared with fresh MSCs [25]. (ii) The membranes of MSC-exosomes are enriched in sphingomyelin, cholesterol, ceramide and lipid raft proteins, enabling MSC-exosomes to spread in vivo regardless of biological barriers, such as the blood-brain barrier [26], for example, even when they are delivered via an intravenous injection, MSC-exosomes can be detected in injured neurons in the brain [27]. (iii) Infusion of MSC-exosomes elicits minimal immune rejection due to their complete lack of expression of major histocompatibility complex (MHC) molecules [28][29], which prevents their rapid clearance by host immune cells. For instance, MSC-exosomes were found to remain in a recipient for a significantly longer time than MSCs after infusion [28][30], indicating that they can perform their biological functions in vivo for a relatively long time. (iv) Infusion of MSC-exosomes can avoid several stem cell-associated challenges, such as the risk of spontaneous tumorigenesis induced by MSCs [31][32]. (v) The potential secretion of exosomes by MSCs can be impacted by various factors. For example, maintaining MSCs in a physiological state in an in vitro culture system can impact their production of exosomes with a specific phenotype in terms of biological activity [33]. Notably, although incubating MSCs with an IFN-γ plus TNF-α mixture in vitro reduced their proliferation, the production of exosomes was not adversely affected [28][34]. Moreover, this process improved the immunosuppressive function of the MSC-exosomes. This prompts speculation that exosomes with high bioactivity can be purposefully obtained by preconditioning MSCs in vitro prior to injection to treat inflammatory diseases. Therefore, determining the components of MSC-exosomes that are able to produce high therapeutic efficacy is particularly critical.
The miRNA and protein cargo contained in MSC-exosomes are effective in promoting damage repair. Moreover, they jointly regulate the regenerative process in damaged tissue. In a colitis model, MSC-exosomes were revealed to reduce macrophage-induced inflammation by transporting metallothionein-2, an upstream protein that blocks activation of the NF-κB pathway [28]. However, this anti-inflammatory effect of MSC-exosomes was not completely lost even when blocking metallothionein-2 in vivo and in vitro [28], demonstrating that other components in MSC-exosomes also exert bioactive effects in this process. Therefore, exosomal miRNA-146a in MSCs might alleviate experimental colitis by targeting the TRAF6 and IRAK1 genes [35], preventing NF-κB activation along with the subsequent production of TNF-α and IL-6 [35]. Consistently, several other MSC-exosomal miRNAs such as miRNA-30b-3p [36], miRNA-223-3p [37], and miRNA-126 [38][39] were found to be responsible for suppressing pro-inflammatory responses. They also exhibit potent effects in promoting tissue regeneration and angiogenesis. Overall, we need to understand the mechanisms by which MSC-exosomes repair tissue damage.
3. MSC-Exosomes in Repairing Radiation Damage: Perspective and Challenges
With regard to radiation-induced damage, it has been revealed that MSCs play a crucial role in tissue damage treatment and prevention. Moreover, the superior properties and improved safety of MSC-exosomes make them novel candidates for curing radiation-induced damage. They exert therapeutic effects mainly by facilitating angiogenesis, promoting cellular regeneration, and probably by enhancing the repair function through immunomodulatory effects. More importantly, there are several methods that can be used to enhance the efficacy of remodeling damaged tissue. On the one hand, exosomes secreted by MSCs with genetic modifications are a promising alternative treatment, such as exosomes derived from SDF1-overexpressing MSCs for microvascular regeneration [39]. On the other hand, MSCs can be pretreated in vitro before exosomes are collected, such as with hypoxia-treated MSC-exosomes in ischemia-related disease [40]. Last, but equally important, the tropism of exosomes can be improved by increasing expression of specific receptors on the surface of the original MSCs. Current studies on the treatment of radiation-induced damage by MSC-exosomes are mostly based on the acute phase, whereas little work has been performed on the treatment of chronic radiation-induced damage by MSC-exosomes. Notably, evidence suggests that MSC-exosomes reverse EMT of endometrial epithelial cells via the TGF-β1/Smad pathway [41] and of tubular epithelial cells via enhanced tight junctions [42]. In general, sustained EMT is a critical mechanism that underlies the fibrotic pathology of tissue [43]. Thus, it can be reasonably inferred that MSC-exosome treatment has potential for preventing tissue fibrosis in the chronic phase of tissue damage. Therefore, despite limited evidence of the repair role of MSC-exosomes in chronic radiation-induced damage, it is important that researchers make further efforts to explore their therapeutic and underlying potential in chronic radiation-induced damage. This will provide a new context for the future application of MSC-exosomes to treating chronic radiation damage (Figure 1).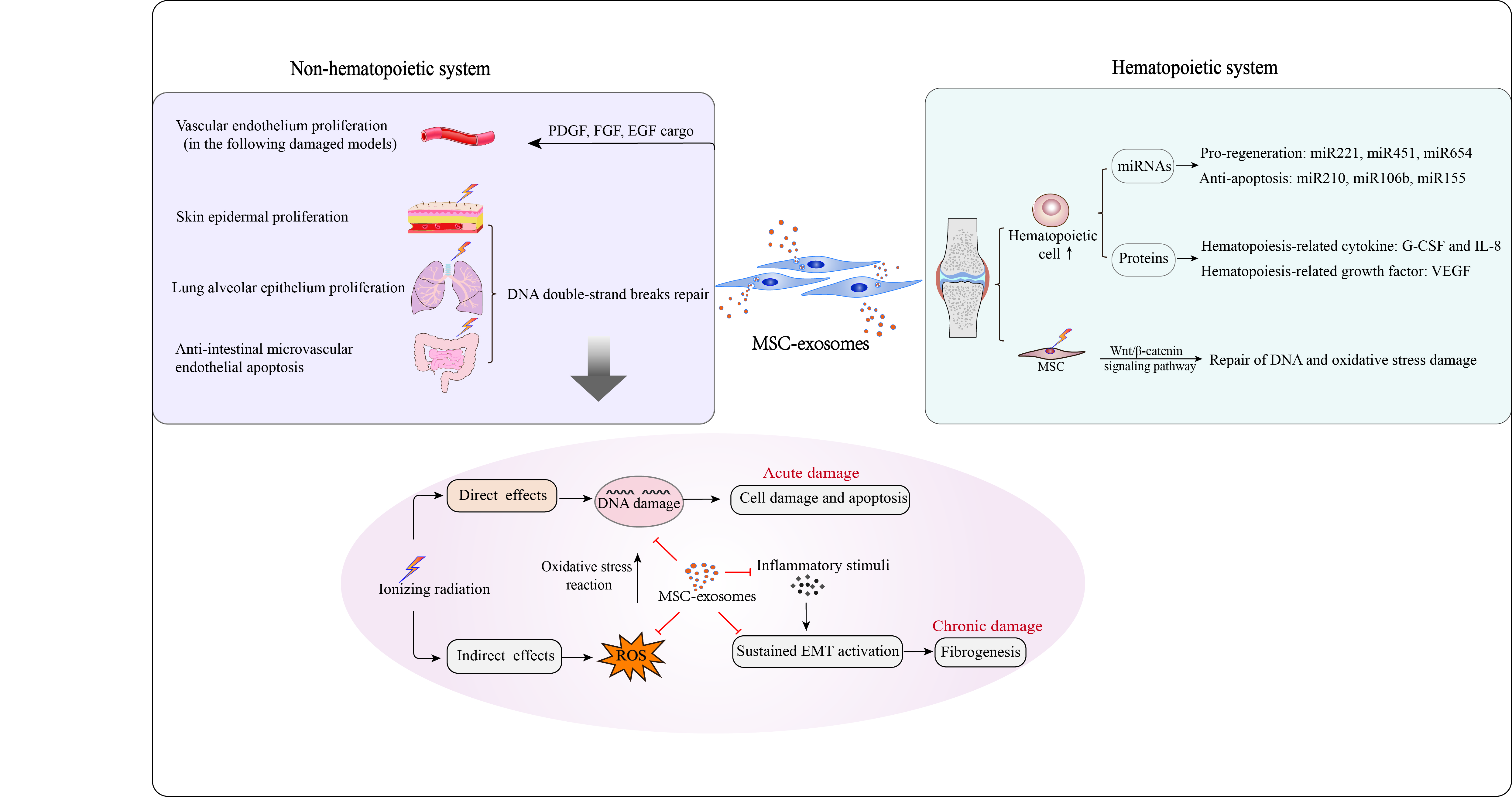 Figure 1. MSC-exosomes are capable of protecting against radiation-induced damage to hematopoietic and nonhematopoietic systems. In hematopoietic reconstruction post irradiation, MSC-exosomes enhance hematopoietic cell survival and proliferation by carrying functional molecules, such as the pro-regeneration miRNAs miRNA221, miRNA451 and miRNA654, the anti-apoptosis-related miRNAs miRNA210, miRNA106b and miRNA155, the hematopoiesis-related cytokines G-CSF and IL-8, and the hematopoiesis-related growth factor VEGF. In addition, MSC-exosomes can protect irradiated bone marrow MSCs from radiation-induced DNA and oxidative stress damage by activating the Wnt/β-catenin signaling pathway. With regard to the non-hematopoietic system, MSC-exosomes reduce apoptosis of skin epidermal, lung alveolar epithelium and intestinal epithelium cells, as MSC-exosomal miRNAs likely mediate repair of DNA double-strand breaks in damaged cells. Oxidative stress reaction and DNA damage are the major processes in radiation damage. MSC-exosomes can overcome these crucial events effectively, and have potential to suppress the development of acute and chronic radiation damage from several aspects. MSC-exosomes also facilitate vascular endothelium proliferation owing to their bioactive cargo molecules, such as PDGF, FGF and EGF.
In fact, there are several deficiencies with regard to managing diseases by using MSC-exosomes. (i) One concern is the challenges due to the instability of contents of exosomes. For example, studies have shown that the amount of exosomal miRNA cargo is influenced by the irradiation dose and pH value of the culture medium [44][45]. The precise experimental conditions for exosomes are more difficult to control compared to MSCs. (ii) Another concern is the lack of a uniform standard for the purification and quantification of exosomes from conditioned media. Overall, it is difficult to determine the equivalent dose of exosomes in dose-dependent experimental studies, which may lead to different conclusions as results can be affected by exosome content and impurities. Therefore, it is appropriate to find an ideal method for constructing a precise equivalent dose of exosomes for experimental purpose. Although the effects of MSC-exosomes in various disease models have been clearly shown, the exact components and mechanisms of therapy are not entirely clear. miRNAs and functional proteins may play major roles, yet the role of MSC-exosomes in tumor growth and metastasis remains controversial. Previous studies have shown that MSC-exosomes can promote tumor growth in vivo [46], but a recent study revealed that MSC-exosomes enhance radiotherapy-induced tumor cell death in primary and metastatic tumor foci through synergistic and bystander effects [47]. Urgent issues for cancer patients receiving radiotherapy include the adjuvant antitumor effect and resistance to radiation damage. There is a great need for researchers to elaborate on the role of MSC-exosomes in regenerative medicine for the treatment of radiation damage.
The entry is from 10.3390/cells10010042
Please check and comment entries here.