Please check and comment entries here.
Geographic Information System
Definition
Geographic information systems (GIS) are composed of software, hardware, data, administrators, and methods for processing and analyzing data. Creating and sharing spatial data in digital form is not only good practice but is also regulated by specific legal acts. Currently created in map portals and the widely available General Geographic Object Databases offer a reliable, current, and continuous source of spatial information for the entire country, extremely helpful in the planning process at various levels of generalization. The database implemented into the Spatial Information System is its most important element and should constitute a complete and reliable representation of elements of the real world.
GIS systems allow us to formulate models in a structured and formal way to reflect both the current situation and forecast changes that will occur in space when certain conditions are met. The proposed methodology can be used in practical applications:
• Preparing planning studies, both regarding spatial policy and local law, as well as in economic planning and shaping the structure of rural space (structure of ownership and structure of use).
• The development of thematic spatial information systems related to planning studies and works shaping the rural space.
• Reports submitted to EU authorities relating to the utilization of funds dedicated to rural development in the multiannual financial framework and modification of the implemented actions.
• The use of renewable energy sources to improve Poland's energy security.

1. Introduction
Geographic information system (GIS) is a highly useful tool in the decision-making process in the domain of physical, social, and economic space. GIS tools support the acquisition of spatial data from various sources, rapid processing of data, and the release of data in the desired form for multidisciplinary analyses, studies, and forecasts[1]. GIS tools are used to collect, gather, edit, process, update, and release spatial data. They are most useful in the process of acquiring input data from various sources with the involvement of different methods and techniques, beginning from crude field data and moving to fully automated data acquisition systems that do not require human involvement. Data from various sources are processed to generate new information and products[2].
2. Function
The main functions of GIS are the collection, verification, accumulation, integration, processing, and release of spatial data (information about geographic space). Users can combine descriptive data with information about the spatial location of the analyzed objects; they can generate thematic maps, conduct spatial analyses, and formulate conclusions. These functions are shown in Figure 1.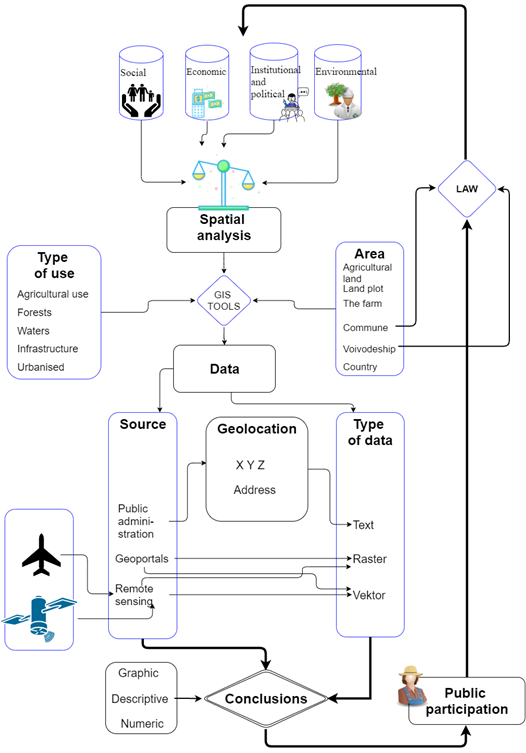 This entry is adapted from 10.3390/land10010006