Please check and comment entries here.
Ethiopian Anticancer Plants
Definition
This entry provides an overview on the active phytochemical constituents of twenty-seven medicinal plants that are traditionally used to manage cancer in Ethiopia. It is compiled and discusses the potential anticancer, antiproliferative, and cytotoxic agents based on the types of secondary metabolites, such as terpenoids, phenolic compounds, alkaloids, steroids, and lignans. Among the anticancer secondary metabolites reported in this review, only few have been isolated from plants that are originated and collected in Ethiopia, and the majority of compounds are reported from plants belonging to different areas of the world. Thus, based on the available bioactivity reports, extensive and more elaborate ethnopharmacology-based bioassay-guided studies have to be conducted on selected traditionally claimed Ethiopian anticancer plants, which inherited from a unique and diverse landscape, with the aim of opening a way forward to conduct anticancer drug discovery program.
1. Introduction
The Ethiopian flora is estimated to contain 6027 species of higher plants of which more than 10% are estimated to be endemic [1]. Different authors have compiled ethnobotanical and ethnopharmacological profiles and reviews of Ethiopian traditionally used medicinal plants [2][3]. However, published reports regarding isolated bioactive compounds of traditionally used Ethiopean medicinal plants, especially those with cytotoxic properties are scant. Thus, for further evaluation, identification, or modification of anticancer leads, thorough review of the chemistry and pharmacology of medicinal plants from relatively uncovered traditional medical systems is crucial. Therefore, in continuation of our previous mini-review [4], in which we documented both ethnobotanical and ethnopharmacological evidence of Ethiopian anticancer plants involving mostly the cytotoxic and antioxidant activities of crude extracts, here, in this review, we comprehensively document the cytotoxic and antiproliferative constituents from 27 anticancer plants that are traditionally used in Ethiopia. The secondary metabolites reported from each medicinal plant species are categorized based on the class of natural products they belong to.
2. Phytochemistry of Ethiopian Anticancer Plants
2.1. Terpenoids
Several triterpenoids have been shown to have anticancer activity. Among the different types of triterpenoids, pentacyclic triterpnoids display the most potent anti-inflammatory and anticancer activity. Addo et al. [5] reported the isolation of two new nagilactones along with seven known from the root of Podocarpus falcatus (Thunb.) collected from Berga forest, Addis Alem, central Ethiopia. Among the isolated compounds 16-hydroxynagilactone F (1), 2β,16-dihydroxynagilactone F (2), 7β-hydroxymacrophyllic acid, nagilactone D (3), 15-hydroxynagilactone (4), and nagilactone I (5) (Figure 1) showed potent antiproliferative activity against HT-29 cell line (IC50 < 10 µM). Premna schimperi, another traditionally used Ethiopian plant, also showed cytotoxic activity against L929, RAW264.7, and SK.N.SH with IC50 values of 11 ± 2.3, 10 ± 2.3, and 1.5 ± 0.3 µg/mL, respectively [6]. A diterpenoid compound methyl 2-(furan-3-yl)-6α,10β-dimethy-l4-oxo-2,4,4α,5,6,6α,10α,10β-octahydro-1H-benzo[f]isochromene-7-carboxylate) (6), demonstrated a moderate cytotoxic activity (IC50 = 50 µg/mL). The compound was shown to trigger caspase mediated apoptotic cell death. 3β-Hydroxylup-20(29)-ene-27,28-dioic acid dimethyl ester (7), isolated from root of Plumbago zeylanica collected from India, also exhibited anti-proliferative and anti-migration activity against triple-negative breast cancer cell lines at IC50 value of 5 µg/mL [7].
Several terpenoids have been isolated from Ethiopian plants that have claims of having anticancer activity, although these plants may have been collected from other sources. For example, sonhafouonic acid (8) from Zehneria scabra, collected from Cameroon, demonstrated potent cytotoxicity against brine shrimp assay [8], while Lin et al. [9] showed the antiproliferative activity of euphol (9), isolated from Euphorbia tirucalli from Taiwan against human gastric cancer cells. Euphol selectively promotes apoptosis by mitochondrial-dependent caspase-3 activation and growth arrest through induction of p27kip1 and inhibition of cyclin B1 in human gastric CS12 cancer cells. It also showed a selective and strong cytotoxicity against other groups of human cancer cell lines such as glioblastoma (the most frequent and aggressive type of brain tumor) [10]. The molecular mechanism of action of another anticancer triterpenoid, maslinic acid (10), isolated from the leaves of Olea europaea has been studied, which induced apoptosis in HT29 human colon cancer cells by directly inhibiting the expression of Bcl-2, increasing that of Bax, releasing cytochrome-C from the mitochondria and activating caspase-9 and then caspase-3 [11]. Similarly, the leaf extract of Ricinus communis collected from Malta was also reported for its cytotoxicity against several human tumor cells and induction of apoptosis against human breast tumors, SK-MEL-28. The monoterpenoids 1,8-cineole, camphor and α-pinene, and the sesquiterpenoid β-caryophyllene, isolated from R. communis, also showed cytotoxicity against similar cell lines in a dose-dependent manner [12].
Jatropha curcas is a medicinal plant traditionally used to treat a variety of ailments in different parts of the world including Ethiopia. Investigation of J. curcas, collected from China, resulted in the isolation of twelve phorbol esters (diterpenoids) including jatrophalactone (11), curcusecon A–J, 4-epi-curcusecon E, curcusone E, 3-dehydroxy-2-epi-caniojane (12), curcusone A (13), curcusone B (14), curcusone C (15), curcusone D (16), jatrogrosidone, 2-epi-jatrogrossidone, and 4E-jatrogrossidentadion (17). Most of these compounds showed potent cytotoxicity with IC50 values ranging from 0.084 to 20.6 µM against HL-60, SMMC-7721, A-549, MCF-7, SW480, and HEPG2 cell lines [13].
The pentacyclic triterpenoid oleanonic acid (18), isolated from Ekebergia capensis [14], exhibited potent cytotoxic activity against human epithelial type 2 (HEp2) and murine mammary carcinoma (4T1) cell with IC50 values of 1.4 and 13.3 µM, respectively. Another pentacyclic triterpenoid, asiatic acid (19), isolated from Centella asiatica, also showed 80% growth inhibition of human colorectal (SW480), human stomach (SNU668), and murine colorectal adenocarcinoma (CT26) cell lines with IC50 values of 20 µg/mL [15]. The fresh fruit of Cucumis prophetarum from Saudi Arabia yielded a series of cucurbitacin and analogs (cucurbitacin E (20), cucurbitacin B (21), cucurbitacin D (22), cucurbitacin F 25-O-acetate, cucurbitacin E glucoside (23), dihydrocucurbitacin D, hexanor-cucurbitacin D, and isocucurbitacin D (24)), of which compounds 20–24 showed cytotoxic activity against MCF-7, MDA MB 231, A2780, A2780 CP, HepG2, and HCT-116 with IC50 values ranging from 1 to 27.3 µM [16].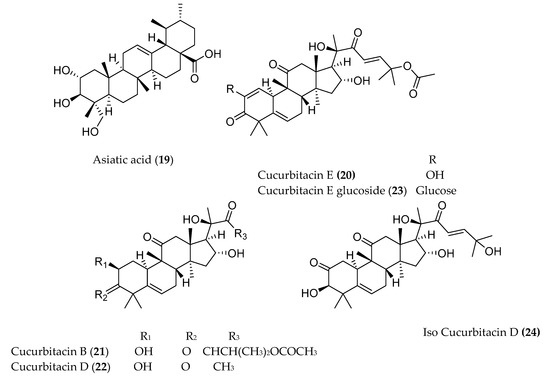 Figure 1. Structures of anticancer terpenoids reported from plants available in Ethiopia.
2.2. Phenolic Compounds
Phenolic compounds are biosynthesized by plants through shikimate, phenylpropanoid, and flavonoid pathways, and have an aromatic ring bearing one or more hydroxyl groups. These compounds have been reported for their antioxidant, antiproliferative, and cytotoxic properties [17]. Many phenolic compounds have been identified elsewhere from the same medicinal plants that are traditionally used to manage cancer in Ethiopia. For instance, (−)-epigallocathechin (25) isolated from Maytenus senegalensis has showed potent cytotoxic activity against mouse lymphoma cell line (L5178Y) [18]. Likewise, a series phenanthrenes (5-(1-methoxyethyl)-1-methyl-phenanthren-2,7-diol (26); effususol A; effusol; dehydroeffusol; dehydroeffusal; 2,7-dihydroxy-1,8-dimethyl-5-vinyl-9,10-dihydrophenanthrene and juncusol; dehydrojuncusol and 1-methylpyrene-2,7-diol) from Juncus effuses inhibited the proliferation of five human cancer cell lines. Among these, 5-(1-methoxyethyl)-1-methyl-phenanthren-2,7-diol (26) (Figure 2) was tested against MCF-7 cancer cell line and showed better cytotoxic activity [19] than all isolated compounds from J. effuses. Another group of phenanthrenoids (effususol A, 27) has also demonstrated potent cytotoxicity against HT-22 cell by inducing caspase-3-mediated apoptosis [20]. Plumbagin (28), a naphthoquinone isolated from Plumbago zeylanica also induced apoptosis in human non-small cell lung (IC50 = 6.1–10.3 µM) [21] and human pancreatic (IC50 = 2.1 µM) [22] cancer cell lines. On the other hand, knipholone (29) isolated from Kniphofia foliosa Hochst collected from Ethiopia, induced necrotic death in mouse melanoma (B16), mouse macrophage tumor (RAW 264.7), human acute monocytic (THP-1), and promonocytic leukaemic (U937) cell lines with IC50 values that range from 0.5 ± 0.05 to 3.3 ± 0.39 µM [23].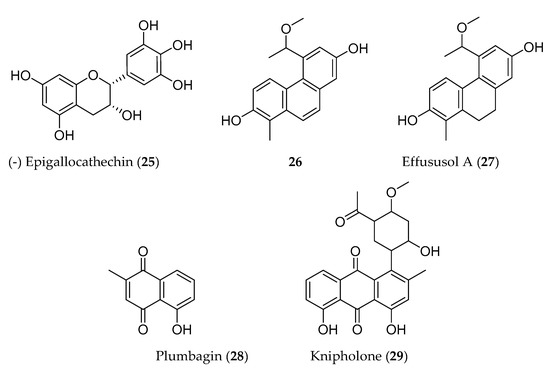 Figure 2. Structures of anticancer phenolic compounds reported from plants available in Ethiopia.
2.3. Alkaloids
Vinblastine (30) and vincristine (31) (Figure 3) are one of the most effective bis-indole vinca alkaloids as anticancer drugs, isolated from the leaves of Catharanthus roseus. This is one of the most precious anticancer plants indigenous to Madagascar. Wang et al. [24] isolated three new cytotoxic dimeric indole alkaloids (32–34) along with other five known compounds from the whole plant of C. roseus collected from China. Among the isolated compounds, leurosine (36) showed the most potent cytotoxic activity with IC50 value of 0.73 ± 0.06 µM. Furthermore, the isolated three new compounds (32–34) also showed potent cytotoxicity against triple-negative breast cancer (MDA-MB-231) cell line with IC50 values ranging from 0.97 ± 0.07 µM to 7.93 ± 0.42 µM. Another alkaloid, cathachunine (40), also showed a promising cytotoxic activity against HL-60 by inducing an intrinsic apoptotic pathway [25]. On the other hand, the monoterpenoid indole alkaloids vindoline and catharanthine, isolated from Malaysian V. roseus, showed weak cytotoxic activity against HCT 116 [26]. Furthermore, colchicine (41), isolated from the seeds of Gloriosa superba, demonstrated moderate activity against six human cancer cell lines (A549, MCF-7, MDA-MB231, PANC-1, HCT116, and SiHa) [27].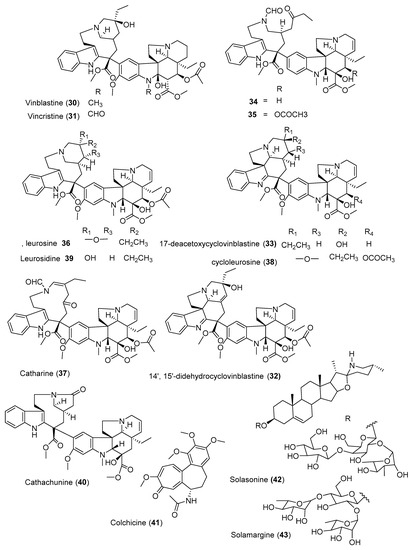 Figure 3. Structures of anticancer alkaloids reported from plants present in Ethiopia.
2.4. Steroids and Lignans
Steroids and lignans, in addition to other phytochemicals, are common secondary metabolites reported from Ethiopian plants. Evidence and epidemiological studies suggest that phytosterols and lignans are protective against a wide range of diseases and possess anticancer activity [28]. Withanolides are cytotoxic steroidal lactones, reported from various plants of the family Solanaceae [29], of which withaferine-A (44) and 5β,6β,14α,15α-diepoxy-4β,27-dihydroxy-1-oxowitha-2,24-dienolide (45) (Figure 4), isolated from Withania somnifera, demonstrated anticancer activity against human lung cancer cell line (NCI-H460) with IC50 values of 0.45 ± 0.00 and 8.3 ± 0.21 µg/mL, respectively. Several buffadinolides, cardiac glycosides with steroidal nucleus, including berscillogenin, 3-epiberscillogenin, and bersenogenin [30]; hellebrigenin 3-acetate (48); and hellebrigenin 3,5-diacetate (49) [31] isolated from Bersama abyssinica collected from Ethiopia, demonstrated cytotoxic activities. β-Sitosterol-3-O-glucoside, a phytosterol from Prunus Africana, exhibited poor anticancer activity against three cell lines.
Lignans and isoflavonoids are the major classes of phytoestrogens which showed potential anticancer activity against various cells. Three lignans, namely, (−)-carinol (50), (−)-carissanol (51), and (−)-nortrachelogenin, isolated from Carissa spinarum, were found to be cytotoxic against A549, MCF-7, and WI-38 cell lines. Among these, (−)-carinol (i.e., a compound with butanediol structure) showed more potent cytotoxic activity against these three cell lines with IC50 value of 1 µg/mL, as compared to (−)-carissanol and (−)-nortrachelogenin [32]. Secoisolariciresinol (52) and matairesino (53), two lignans isolated from Linum usitatissimum, exhibited cytotoxicity against MCF-7 cells with IC50 values of 10 and 1 µM, respectively [33].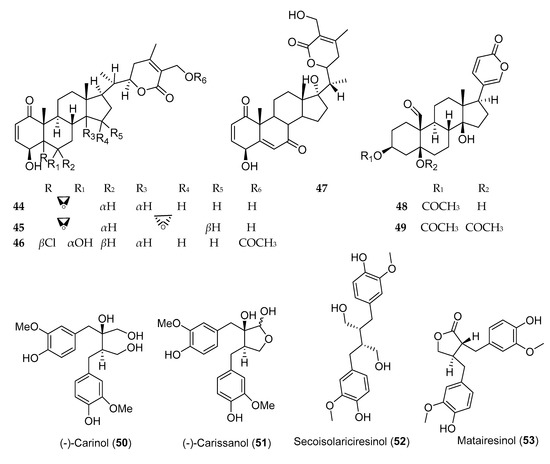 Figure 4. Structures of anticancer steroids and lignans reported from plants available in Ethiopia.
3. Conclusions
The majority of compounds reported in this review are isolated from plants (corresponding to Ethiopian species) that were collected from different regions of the world. However, the comprehensive list of active compounds provided in this review will help to identify the most potent source(s) of these compounds, as bioactive marker(s), of local flora (see Tables in full paper: 10.3390/molecules25174032 ). Based on the higher frequency of citation Croton macrostachyus, Jatropha curcas, Plumbago zeylanica, and Vernonia hymenolepsis are potential candidates for follow-up bioassay guided investigations. Furthermore, plants with reported antiproliferative compounds such as Podocarpus falcatus, Linum usitatissimum, and Zehneria scabra should also be examined for additional cytotoxic compounds and evaluated against a battery of cancer cell lines.
This entry is adapted from 10.3390/molecules25174032