Please check and comment entries here.
Immune Checkpoint Inhibitor-Related Myositis
Definition
Immune checkpoint inhibitor (ICI)-related inflammatory diseases, including polymyositis (PM) and dermatomyositis (DM), in patients suffering from neoplastic disorders represent a medical challenge. The treatment of these conditions has taken on new urgency due to the successful and broad development of cancer-directed immunological-based therapeutic strategies. While primary and secondary PM/DM phenotypes have been pathophysiologically characterized, a rational, stepwise approach to the treatment of patients with ICI-related disease is lacking. In the absence of high-quality evidence to guide clinical judgment, the available data must be critically assessed. In this literature review, we examine partially neglected immunological and clinical findings to obtain insights into the biological profiles of ICI-related PM/DM and potential treatment options. We show that differential diagnosis is essential to stratifying patients according to prognosis and therapeutic impact. Finally, we provide a comprehensive assessment of druggable targets and suggest a stepwise patient-oriented approach for the treatment of ICI-related PM/DM.
1. Introduction
Immune surveillance has emerged as a pivotal issue in the invasiveness of both visceral [1] and skeletal [2][3] malignancies, as it fuels a vicious cycle between the neoplastic cells and the immune microenvironment. Immune checkpoint inhibitor (ICI)-based approaches, aimed at interrupting corrupted immune bystander cells and reactivating an effective anti-cancer response, represent one of the most significant therapeutic innovations in the oncologic landscape to date [4] with an ability to target solid [5][6] and hematological [7][8] malignancies. However, among the side effects of ICI therapy is ICI-related polymyositis (PM), an inflammatory process affecting the skeletal muscles. While this condition is rare, it can be severe and potentially deadly, as it may cause rhabdomyolysis in striated muscle, including the myocardium. PM can occur as a reactivation of a previous paraneoplastic polymyositis or dermatomyositis (DM) or as a new entity [9][10]. Clinically, PM/DM manifests as worsening muscle weakness and myalgias. Compared to non-ICI-related forms of inflammatory myositis, oculomotor and axial muscle involvement, including diplopia and muscular weakness as suggestive symptoms, have been reported [11][12][13][14]. An involvement of the bulbar musculature can cause dysarthria, dysphonia or dysphagia. Physical examination will reveal skin signs suggestive of DM, while a careful history can rule out alternative causes, such as chronic steroid myopathy. Blood chemistry tests support the diagnosis by detecting elevated serum levels of muscle damage markers (creatine phosphokinase, lactate dehydrogenase, transaminases, aldolases) and in some patients myositis-specific or myositis-related antibodies. ICI-therapy-related variants are characterized by the frequent involvement of other targets of the peripheral nervous system and of the myocardium (myasthenia gravis [MG], polyradiculoneuritis, myocarditis), which can be detected using specific tests: increased troponin levels suggest cardiac involvement; an electromyoneurography (EMG/ENG) study can confirm the presence of myogenic damage or the presence of neuropathic damage or neuromuscular plaque disease. Further information might be obtained with magnetic resonance imaging (MRI) of the muscle and/or muscle biopsy; the latter can identify secondary manifestations, such as giant cell arteritis, systemic lupus, and sarcoidosis.
In a meta-analysis of adverse events related to ICI, the incidence of grade 3–5 adverse events involving the central nervous system (encephalitis, encephalopathy, aseptic meningitis or myelitis) was 0.46% (22 of 4775 ICI-treated patients in 12 studies). In the same analysis, the incidence of peripheral neuropathy of any degree was 5% (220 of 4390 patients exposed to ICI in 17 studies), significantly lower than that occurring in association with conventional chemotherapy. Among 3128 patients from eight studies, the meta-analysis found four cases of grade 3–5 MG (0.13%) and three of grade 3–5 myositis (0.10%) [15]. However, the clinical scenario is often multifaced, being associated with several other uncommon features. Indeed, the presence of bulbar symptoms, dysphagia, or ocular motor symptoms can suggest the diagnosis of MG that it is not confirmed by antibody levels and/or nerve stimulation tests. A small portion have also cardiac myositis, which turns out to be among the most fatal of all the irAEs. Any of these three compartments of myasthenia-skeletal muscle myositis or carditis can occur individually or all together, variably impacting the patient outcome.
2. Biological Background: Bridging the Gaps between Immune Checkpoint Inhibition and Physiopathology ICI-Related Disease
Among the functions of the human immune system is tumor surveillance. In this stepwise response, antigen-presenting cells (APCs) control the tumoral antigen load by priming and activating T cells, which in turn recognize and then destroy the malignancy, thus releasing an even higher tumoral antigen load, which again elicits an immune response. However, when a single step in this process is impaired, the tumor can grow exponentially. Immune-directed therapy attempts to restore the homeostatic equilibrium [16]. One of the pharmacodynamically most successful ICI-related approaches to enhancing the anti-tumor immune response consists of interfering with the negative costimulation of T cells, by inhibiting PD-1, PD-L1, and CTLA-4 [17]. PD-1 (CD279) is a type I transmembrane receptor expressed on the surfaces of T cells, B cells, monocytes, natural killer cells, and dendritic cells. It has two physiological ligands: PD-L1 (B7-H1, CD274) and PD-L2 (B7-DC, CD273). These Ig-like transmembrane receptors are also expressed on the cell surface [17]. CTLA-4 is a CD28 homolog with a high affinity for B7-1/2. The binding of CTLA-4 to B7-1/2 acts as a co-inhibitory signal that hinders early T cell activation [18]. A study in CTLA-4-deficient animals demonstrated the pivotal role of CTLA-4 in halting T-cell-mediated immune anti-tumor activity [19]. Inborn immunity errors of immune checkpoints similarly predispose patients to autoimmune manifestations. For example, in CHAI/LATAIE, a type of CTLA-4 insufficiency, the clinical features mirror those of ipilimumab-related responses [19]. ICI modulators interrupt T cells and APCs, but also cancer cells. The immune checkpoints involved in these processes are also relevant in the pathogenesis and treatment of rheumatic diseases. The difference is that while in cancer therapy the negative stimulation is halted by ICI administration, in the treatment of autoimmunity, negative costimulation is promoted [9].
However, in the anti-tumoral activity of ICIs, a normal inflammatory reaction is elicited that can lead to immune-related adverse events (irAEs). The biological mechanisms by which those adverse events take place are still poorly understood [13] but several pathophysiological pathways have been proposed (Figure 1).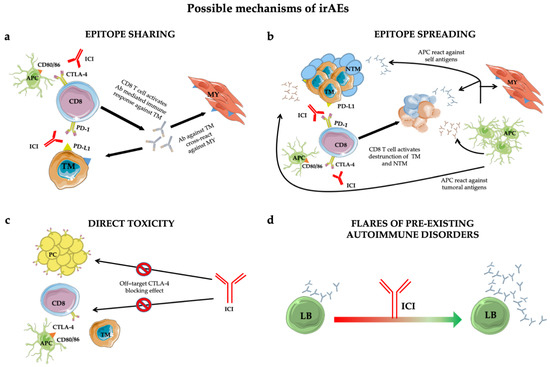 Figure 1. Mechanisms of immune-related adverse events (irAEs): epitope-sharing (a); -spreading (b); direct toxicity (c) and flares of pre-existing autoimmune disorders (d). See text for details. Abbreviations: ICI = immune checkpoint inhibitor; TM = tumoral cell; MY = myocytes; Ab = antibody; NTM = non tumoral cell; APC = antigen presenting cell; PC = pituitary cell; LB = B lymphocyte.
Treg cells are responsible for self-tolerance and constitutively express CTLA-4 on their surfaces [20]. By triggering antibody-dependent cellular cytotoxicity (ADCC)-mediated Treg depletion, CTLA-4 antagonists increase the T effector (Teff) cell proliferation and thus an immune response to the tumor [21]. PD-L1 antibodies break the link between PD-L1 and Treg, thus also reducing Treg generation. Depending on the corrupted equilibrium between Treg and Teff cells, a loss of peripheral tolerance induced by ICIs can drive not only the desired anti-tumor immune response but also autoimmune adverse events [21].
Additionally, the epitope-sharing (Figure 1a) between tumor and healthy tissue was shown to be the cause of a cross-reaction inducing Teff activation against self-tissues, evidenced in a patient who developed a lymphocyte infiltrate in heart and skeletal muscle upon ICI treatment [22].
An alternative mechanism leading to irAEs is represented by the epitope spreading (Figure 1b) [23], in which Teff-cell-mediated tumor cell death in the cancer-microenvironment causes the release of a huge amount of tumor antigens and self antigens. The resulting autoimmune reaction induces an uncontrolled propagation of this response [18].
Furthermore, autoptic evidence suggests that direct toxicity (Figure 1c) [24] can also trigger irAEs. This was shown in a subset of adenohypophyseal endocrine cells whose CTLA-4 expression mirrorred that of T cells. Consequently, therapeutic administration of an anti-CTLA-4 monoclonal antibody with antitumor effects could elicit type II and type IV hypersensitivity and hypophysitis.
Finally, preclinical predisposition to autoimmunity constitutes an exacerbation-initiating factor per se (Figure 1d) [25]. Patients with rheumatoid factor and auto-antibody positivity without clinical manifestations before treatment are more likely to develop irAEs. However, insights into the true impact of autoimmune substrates are lacking due to the exclusion from ICI trials of patients with autoimmune diseases. However, retrospective case series found no significant difference in the incidence of flares in patients with and without pre-existing autoimmune disorders [26][27][28][29][30].
3. Characteristic Autoantibody Patterns
The antibodies characteristic of inflammatory myopathies [31] are conventionally divided into those that are myositis-associated (MAAs) vs. myositis-specific (MSAs) [32]. Antibodies in the first group are a common feature of overlap syndromes involving other systemic autoimmune diseases [33], particularly scleroderma and systemic sclerosis. The best characterized antibodies are those that recognize the 52-kDa Ro/SSA antigen, a ribonucleoprotein associated with a complex that binds small RNA molecules; the DNAPK antigen (Ku/DNA-dependent protein kinase), a kinase necessary for DNA repair; and PM-Scl, a complex of 11 proteins with nucleolar localization that comprises the autoantigen of PM/scleroderma. The second group includes antibodies directed against histidyl transfer-RNA-synthetase (Jo-1) [34], the most frequently occurring antibodies. The latter are among a group of eight autoantibodies directed against aminoacyl-transfer-RNA-synthetase, which catalyses the binding of specific amino acids to transfer RNA. The presence of these autoantibodies identifies a subset of patients suffering from "anti-synthetase syndrome". Autoantibodies that bind the SRP (signal recognition particle) are also members of the second group. SRP is an RNA-protein cytoplasmic complex that recognizes secreted and membrane-associated proteins in addition to regulating the translocation of proteins through the endoplasmic reticulum. Anti-SRP autoantibodies are associated with particularly severe myositis, extensive necrosis, and an unfavorable prognosis. Anti-Mi-2 antibodies recognize a helicase that is part of the NuRD (nucleosome remodeling deacetylase) complex, which plays a key role in gene transcription. While anti-Mi-2 antibodies are very specific for DM and generally associated with a favorable prognosis, they also increase the risk of cancer [35].
DM is associated with several antibodies targeting melanoma differentiation antigen 5 (MDA5) [36] and transcriptional intermediary factor 1 (TIF1) [37]. Patients positive for anti-MDA5 antibodies often have high-grade palmar rash, digital ulcers, rapidly progressive interstitial lung involvement, and amyopathic DM [38] whereas those with anti-TIF1 and anti-NXP2 antibodies have an increased risk of malignancies [39].
In most of cases with ICI-related myositis, MSAs or MAAs were undetected. Nevertheless, in a subgroup of ICI-treated patients, enrolled in clinical trials, banked serum demonstrated pretreatment auto-antibody positivity. Since the presence of asymptomatic autoantibody, upon ICI treatment, can be followed by an explosive disease, an asymptomatic phenotype might constitute the early irAEs phase in subjects genetically predisposed to full-blown disease [40][41]. In the frame of this thinking, ICI candidate baseline screening might contribute to detect autoimmune predisposition. To this end, real life studies might be worthy, since most patients with autoimmune disease were censored from clinical trials.
This entry is adapted from 10.3390/ijms21093054