Topic review
Biological effects of Iron oxide nanoparticles on cells of mononuclear phagocytic system and on cancer cells
Abstract
The unique physical properties (physical identity) of iron oxide nanoparticles (IONPs), their ample possibilities for surface modifications (synthetic identity), and the complex dynamics of their interaction with biological systems (biological identity) make IONPs a unique and fruitful resource for developing magnetic field-based therapeutic and diagnostic approaches to the treatment of diseases such as cancer. In this entry, we revisited the current knowledge on IONP interaction with cells of the mononuclear phagocytic system (macrophages), dendritic cells (DCs), endothelial cells (ECs), and cancer cells, correlating synthetic identity with the biological effects that IONPs trigger in these cells (biological identity). Furthermore, we thoroughly discuss current understandings of the basic molecular mechanisms and complex interactions that govern IONP biological identity, and how these traits could be used as a stepping stone for future research.
The cell type that the iron oxide nanoparticles (IONPs) encounter in the organism is highly relevant to their effects on biological systems. In the following sections, we summarize how IONPs can affect the biology of cells they are likely to interact with in an antitumor therapeutic setting. IONPs interact with myeloid cells specialized in the capture of particulate materials, such as macrophages or dendritic cells. As IONPs circulate through the vascular system, they also encounter endothelial cells. Finally, IONP also affects the tumor microenvironment. The following section provides an overview of how the presence of iron can affect these cell types. We also discuss the possibility of using these intrinsic biological properties of IONPs to enhance their activity in a therapeutic setting.
IONPs and Myeloid Cells
Iron Metabolism and Macrophage Polarization
The interactions and effects of metallic nanoparticles on macrophage activation have been a concern in terms of nanomaterial imaging/therapeutic efficacy and systemic nanotoxicity [1]. Iron oxide nanoparticles are among the most widely used nanomaterials, even in clinical settings, and thus the study of how they interact with myeloid cells is of great importance for researchers and clinicians. The relevance of iron in myeloid cells is exemplified by the involvement of this redox-active metal in several essential enzymes and protein regulators, all classified as hemoproteins, which participate in key cellular processes for macrophage activity in inflammation (e.g., NADPH oxidase 2, cyclooxygenases 1 and 2, inducible nitric oxide synthase). Macrophages are also central to the systemic trafficking of iron [2][3]. Splenic marginal metallophilic macrophages phagocytose senescent erythrocytes and release heme-derived iron back into circulation to support different systemic and local functions such as pro-inflammatory and bacteriostatic response [4][5]. Macrophages retain iron during inflammation as a result of the binding of the acute-phase protein, hepcidin, which mediates an increase in iron uptake and the internalization and degradation of the iron export transporter of the heme-free iron ferroportin [6]. A more detailed review of iron macrophages has been published elsewhere [7].
The macrophage response to iron is also affected by polarization, and in turn, iron can affect macrophage polarization (Figure 1). Recalcati et al. found that M2 macrophages express higher amounts of iron metabolism-related proteins, e.g., transferrin receptor (TfR1), iron-responsive proteins (IRP), and ferroportin (Fpn), when compared to unpolarized cells, while M1 macrophages downregulated these proteins. The M1 phenotype also endows macrophages with iron sequestration ability, while the M2 phenotype promotes iron release [8]. Exogenous iron can promote macrophage polarization toward an M1 phenotype through the production of ROS and, in consequence, enhance p300/CBP acyltransferase activity and the acetylation of p53 [9]. Intracellular iron also plays a crucial role in the M2-/M1-balance according to Agoro et al. Administration of an iron-rich diet in mice promoted the in vivo expression of high levels of the M2 markers Arg1 and Ym1 in the liver and peritoneal macrophages. More interestingly, an iron-rich diet prevented the mice from developing an LPS-induced inflammatory response through an M1–M2 reversion, while iron deficiency exacerbates the endotoxin-induced inflammatory response [10]. The latter finding was also corroborated by Pagani et al. when studying the response of iron-deprived mice to LPS challenge. These authors found that iron-deprived hepatic and splenic macrophages expressed higher levels of IL-6 and TNFα than those of healthy mice, indicating that iron content negatively regulates M1 response [11]. Nonetheless, the role of iron in the M1–M2 balance is not consistent throughout the literature (Table 1). Hoeft et al. observed that iron overloading aggravates LPS-induced inflammatory response in mice, most likely mediated by an increment in mitochondria biogenesis in iron-loaded macrophages [12]. An unrestrained M1 response has been described for iron overloading in chronic inflammatory diseases, such as atherosclerosis and chronic venous leg ulcers, through overproduction of hydroxyl radicals and TNFα [13]. Likewise, iron load appears to promote a persistent M1 macrophage population in the injured spinal cord which, in addition to TNFα expression, prevents the injury site from being properly repaired [14]. Due to the multiple effects of iron on macrophages, IONP degradation products therefore have the potential to alter macrophage polarization.
Table 1. A list of IONPs recently investigated for their effect on the macrophage.
Physical identity

Synthetic identity

(Surface coating)

Cell type

Described effects

Mechanism

Carboxymaltose@Fe2O3[15]

Fe2O3

Carboxymaltose

J774A.1

Primary macrophages

Inhibits LPS-induced NO

Inhibits IL-6 and TNFα secretion

Hampers phagocytosis

Decreased free glutathione

PMA@IONPs (4 and 14 nm) [16]

Fe3O4

PMA

Hamper cell viability

Promote extensive vacuolization

Induce TNFα, CD86 and inhibit CD206 gene expression

Promotion of extensive vacuolization

PEGylated PMA@IONPs (4 and 14 nm) [16]

Fe3O4

PEGylates PMA

RAW264.7

Promote cell proliferation

Promote extensive vacuolization

Induce TNFα, CD86 and inhibit CD206 gene expression

Promotion of extensive vacuolization

PDSCE@IONPs [17]

γ-Fe2O3

Polydextrose sorbitol carboxymethyl-ether

In vivo and RAW264.7

Reduce the level of LPS-induced injury

Induce a large amount of IL-10

Trigger autophagy

Promotion of autophagy through Cav1-Notch1/HES1

Carboxydextran@IONPs [18]

Fe3O4

Carboxydextran

In vivo local administration and J774.2

Downmodulate CD86, MHC-II, Arg1 and CD163 expression (transient)

Hamper phagocytosis (transient)

N.A.

SiO2@IONPs [19]

γ-Fe2O3

SiO2

Peritoneal macrophages

Increase gH2AX (marker for double-strand break)

Increase IL-10 production

N.A.

Resovist [20]

Fe3O4

γ-Fe2O3

Carboxydextran

Primary macrophages and RAW264.7

Induce autophagy

Induce pro-inflammatory gene expression (TNFα, IL-12, MIP-1-α, etc.)

Promote autophagy through TLR4-p38-Nrf2-p62 signaling pathway

Feraheme [20]

Fe3O4

Carboxymethyl dextran

Induce autophagy

Induce pro-inflammatory gene expression (TNFα, IL-12, MIP-1-α, etc.)

Promote autophagy through TLR4-p38-Nrf2-p62 signaling pathway

DMSA@IONPs [21]

Fe3O4

DMSA

RAW264.7

Induce pro-inflammatory cytokines

Promote cell proliferation

Promote macrophage migration

Promote macrophage-driven Hepa1-6 cell killing

N.A.

PEI@IONPs [22]

Fe3O4

γ-Fe2O3

PEI

RAW264.7, THP-1, and primary peritoneal macrophages

Induce pro-inflammatory cytokines (IL-12, IL-1β, TNFα, etc.)

Activate macrophages (increase CD40, CD80, CD86 and I-A/I-E)

Activate the MAPK-dependent pathway

Promote podosome formation and reduce ECM degradation

At least part of the effects are mediated by production of ROS and activation of TLR-4

Citrate@Fe3O4 of different shape (octopod, plate, cube, sphere) [23]

Mn-doped Fe3O4

Citrate

Bone marrow-derived macrophages (BMDMs)

Activate inflammasome (IL-1β)

Induce pyroptosis

Induce ROS production

In this order: Octopod > plate > cube > sphere

Lysosome damage, ROS production, and K+ efflux, partially mediated by NLPR3

Alkyl-PEI@IONPs

(30, 80, and 120 nm) [24]

Fe3O4

Alkyl-PEI

BMDMs

Induce IL-1β nm > 80 nm > 120 nm)

Lysosome damage

ROS production

Modulated by ROS

Fe2O3@D-SiO2[25]

Fe2O3

SiO2

RAW264.7

Increase CD80, CD86 and CD64

Activate NF-κB and IRF5

Fe3O4@D-SiO2[25]

Fe3O4

SiO2

RAW264.7

Negligible effect

N.A.

DMSA@IONPs[26]

Fe3O4

DMSA

M2-like THP1

BMDMs (M2)

Induce ROS production

Change Fe metabolism to an iron-replete status

Reduce Mac3, CD80

Increase IL-10 production

Decrease migration but increase invasion

Activation of MAPK signaling

APS@IONPs

[26]

Fe3O4

3-Aminopropyl triethoxysilane

M2-like THP1

BMDMs (M2)

Induce ROS production

Change Fe metabolism to an iron-replete status

Reduce Mac3, CD80

Increase IL-10 production

Decrease migration but increase invasion

Activation of MAPK signaling

AD@IONPs[26]

Fe3O4

Aminodextran

M2-like THP1

BMDMs (M2)

Induce ROS production

Change Fe metabolism to an iron-replete status

Reduce Mac3

Decrease migration but increase invasion

Activation of MAPK signaling
IONP Recognition by Macrophages and Activation
It has been proven that toll-like receptors mediate most macrophage reactions to iron oxide nanoparticles. We have demonstrated that polyethyleneimine-coated IONPs trigger macrophage activation, partially through TLR-4 engagement and production of ROS [22]. Autophagy is often activated upon nanoparticle phagocytosis, as demonstrated by Jin et al., who studied the effect of two FDA-approved iron-oxide nanoparticles, resovist, and ferumoxytol [20]. The macrophage-like cells RAW 264.7, enclosed iron oxide nanoparticles within the endosome, early autophagic vacuole, and eventually double-membrane autophagic vacuoles that contained nanoparticles, small internal vesicles, and cellular and membrane debris. These structural changes were accompanied by the formation of LC3 puncta and overexpression of sequestosome identified by p62/SQSTM1, an autophagy receptor that links ubiquitinated proteins and organelles with autophagosomes [27][28][29]. Noticeably, IONP-induced autophagy was mediated by the activation of the TLR4-p38-Nrf2 pathway rather than the classical autophagy machinery dependent on ATG5/12, as pre-treatment with the TLR4 signaling inhibitor, CLI-095, prevented IONP-loaded macrophages from exhibiting autophagic activities [20].
Another key issue for re-programmed macrophage-based therapies is related to interference by iron oxide nanoparticles with the adequate differentiation of monocytes into mature and competent macrophages. Vallegas et al. found out that poly(acrylic acid)-coated IONPs do not alter the viability of monocyte-derived macrophages during differentiation, but inhibit the secretion of LPS-induced cytokines such as IL1β, IL-6, and IL-10 [30]. Nonetheless, Dalzon et al. found that iron oxide carboxymaltose nanoparticles, known as FERINJECT®, do not significantly modulate LPS-induced cytokine profile in primary macrophages or hamper their ability to migrate towards a chemotactic stimulus, suggesting a clear dependence on IONP nature for macrophage activation status [31]. A clearer effect of the IONP on myeloid cells was described by Xu et al., who observed that ferumoxytol inhibits the suppressing functions of myeloid-derived suppressor cells (MDSCs) [32]. Contrasting with most reports in which IONPs were shown to act as ROS inductors, ferumoxytol treatment caused a ROS reduction in MDSCs, as evidenced by the decrease of the p47phox component of the nicotinamide adenine dinucleotide phosphate–oxidase (NOX) complex responsible for ROS production in MDSCs. Furthermore, ferumoxytol promotes bone marrow-derived MDSC differentiation into macrophages, reducing the appearance of these cells during sepsis-like scenarios. As a result, ferumoxytol ameliorates LPS-induced sepsis in mice [32].
It is equally important to understand how the different macrophage populations respond to IONP treatment, particularly as concerns approaches intended for imaging of MRI-visible macrophages, e.g., inflamed sites [33][34]. Each macrophage phenotype indeed expresses different factors involved in iron metabolism, and thus exhibits divergent iron sensitivity (Figure 1 and [8]). Zini et al. demonstrated that M2-polarized THP1 macrophages internalized significantly more IONPs than M1-polarized and M0 counterparts, leading to a higher T1 signal in M2 macrophages and a higher T2* signal in M0 macrophages [35]. Internalized IONPs could also, in turn, exert effects on polarization and iron metabolism. In one example, our group showed that DMSA-, APS-, and aminodextran-coated IONPs changed iron metabolism towards an iron-sequestering status in M2-like macrophage [26].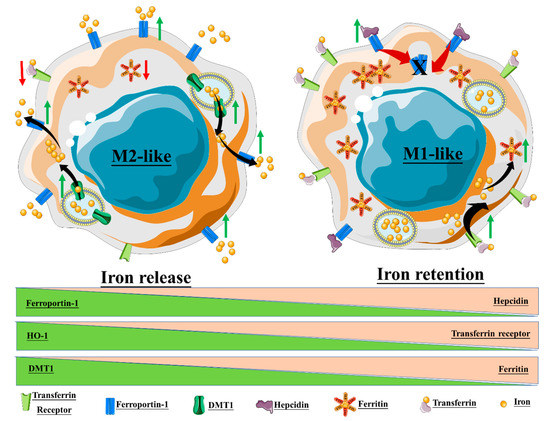 Figure 1. Macrophage polarization and iron homeostasis. The M2-like phenotype exhibits high expression of ferroportin-1, the divalent metal transporter-1 (DMT1), and heme oxygenase-1 (HO-1), thus promoting a state of iron release. On the contrary, the M1-like phenotype promotes intracellular iron retention through the upregulation of ferritin, hepcidin, and the transferrin receptor.
Zhao et al. elegantly demonstrated that the FDA-approved iron oxide nanoparticle, ferumoxytol, synergizes with the TLR3 agonist poly (I:C) in inducing macrophage activation, thereby exerting a potent anti-tumor effect in a melanoma model [36]. Noticeably, the effect observed by these authors comprised cell contact-dependent and -independent molecular cues mostly triggered by ROS burst and phagocytosis of tumor cells in vitro. The synergistic effects of poly (I:C) and ferumoxytol treatment in vivo impaired primary B16F10 tumor growth, and subsequent lung metastasis appearance more efficiently than either treatment alone. This reduction in tumor growth correlated with an increase in pro-inflammatory macrophages within the tumor nest. More recently, Wang et al. demonstrated that ferumoxytol is primarily internalized by macrophages through scavenger receptors, i.e., SRI/II, and not mediated by complement C3b, as these rather large nanoparticles (30 nm) do not exhibit C3b deposition on their surface [37]. Taking another approach, Wang et al. proved that the intracellular TLR9-agonists CpG and ferumoxytol also synergize to promote an M1-like phenotype in macrophages with a tumoricidal capacity [38]. While the results outlined thus far are mainly focused on the synergy between IONPs and TLR agonists, others have demonstrated that the pro-M1/anti-tumor properties of ferumoxytol are intrinsic to the NP. Zanganeh et al. showed that the ferumoxytol-loaded macrophage-like cells, RAW264.7, induce apoptosis in MMTV-PyMT cancer cells mediated by Fenton reactions [39], leading to retardation in tumor growth in vivo. More importantly, intravenous pre-treatment with ferumoxytol protected mouse liver from KP1 tumor-cell infiltration, and this was associated with an M1-like phenotype of infiltrating macrophages and a loss of M2-like features in resident macrophages [39].
While studying the artificial reprogramming of macrophages for cancer cell therapy, Li Chu-Xin et al. found that feeding macrophages with hyaluronic acid-modified iron oxide NPs (HION) or bare iron oxide NPs (ION) triggered consistent production of ROS and pro-inflammatory cytokines [40]. Consequently, both HION-fed and ION-fed macrophages exerted an anti-tumor effect on the murine breast-tumor cell line 4T1 in a cell contact-independent manner by inducing active caspase 3 and inhibiting cell proliferation. The tumor microenvironment is known for its highly immunosuppressive profile, which comprises M2 macrophage populations that sustain tumor growth while hindering a pro-inflammatory shift [41]. This M2 macrophage population is believed to arise from resident macrophages and bone marrow-derived monocytes engaged in M2 programming by tumor cell-derived factors such as IL-10. Therefore, it is desirable that macrophage-based antitumor therapy not only induces an M1 phenotype from naive macrophages but also that it reverses the resident M2 program into an M1 phenotype. In a related study, Chu-Xin et al. found that HION-loading provided M1 macrophages with resistance to M2-inducing factors and triggered M2-to-M1 reversion [40]. The in vivo tumor tropism of HION also provoked a reduction in tumor growth that was most likely due to decreased proliferation and apoptosis rates, thus indicating that this nanoreagent could be used to directly affect tumor cell growth and/or be employed for macrophage reprogramming in the tumor microenvironment.
Given the impact that IONPs can have on macrophage activation, it is only logical to exploit this intrinsic activity to potentiate antigen-specific immune responses by targeting the antigen-presenting capacity of myeloid cells. Based on this reasoning, Luo et al. synthesized PMAO (poly(maleic anhydride-alt-1-octadecene))–PEG-coated ultra-small IONPs, onto which OVA was conjugated covalently, assessing their efficacy as a prophylactic and therapeutic vaccine for malignant melanoma. When used as therapy, subcutaneous injection of IONPs alone in tumor-bearing mice delayed both primary OVA-expressing B16F10 tumor growth and the number of lung metastases; when conjugated with OVA, however, a significantly greater inhibition was observed [42]. Interestingly, while prophylactic injection of OVA alone delayed the appearance of OVA-expressing B16F10 tumors, the use of OVA-PMAO-PEG@IONPs completely inhibited primary tumor growth and the onset of metastatic lung nodules. Therefore, the influence that the variable intrinsic biological activities of IONPs have on macrophage-activation status makes IONPs instrumental for developing combinatorial immunotherapy approaches.
IONPs and Dendritic Cells (DC)
Dendritic cells (DCs) are another important cellular target for IONP-based immunomodulatory therapies. They are the primary antigen-presenting cells in the organism and represent the link between the innate immune system, which acts as the first line of defense by detecting external threats, and the adaptive immune system, which responds to the pathogen by mounting immune memory responses of exquisite specificity [43]. In their immature state, DCs scan the microenvironment for danger using pathogen recognition receptors that bind pathogen-associated molecular patterns (PAMPs) [44]. Once an immature DC recognizes a PAMP, it becomes activated and matures into a professional antigen-presenting cell that is capable, among other things, of priming naïve T cells. DCs are therefore critical for mounting potent and durable immune responses to pathogens. DC theragnosis with IONPs thus represent an attractive approach for immunomodulation of antitumor immune responses, although strategies need to take into consideration the activation status of the DC. Indeed, Mou et al. found that while labeling mature DCs with IONPs does not have a significant effect on mature DC behavior, IONP-loaded immature DCs became activated as measured by increased CD80, CD86, and MHC-II expression. IONPs may influence the antigen-presentation function of DCs. On this issue, Shen et al. observed that lactosylated N-alkyl-polyethyleneimine (PEI2k)-IONPs promoted DC maturation through a mechanism involving NP-mediated induction of protective autophagy [45]. Likewise, Liu et al. demonstrated that increasing concentrations of pristine IONPs enhanced OVA cross-presentation in a model of DC. Curiously, the positively charged aminopropyltrimethoxysilane (APTS)-coated IONPs appeared to promote more efficient antigen cross-presentation as compared to the negatively charged IONPs (DMSA-coated IONPs), and this was dependent on TLR-3 [46]. This adjuvant effect of IONPs was also demonstrated by Zhao et al. in an OVA-based vaccine model by administering OVA@IONPs to OVA-expressing CT26 tumor-bearing mice, which produced a significant delay in tumor growth [47]. Zhang et al., however, revealed that PEG-coated IONPs disturbed mitochondrial dynamics through an increase in autophagy, and as a consequence, treated immature DCs exhibited downregulation of co-stimulatory molecules such as CD86, CD80, and CCR7, as well as reduced phagocytic capacity [48]. Therefore, as seen in macrophages, the effects of IONPs on DCs is variable and depends on a plethora of factors such as IONP size, shape, and coating, as well as DC maturation status, among others. Modulation of DC activity through IONP treatment is therefore a promising area of research that will require continued efforts to pinpoint the critical factors influencing IONP–DC interactions.
Iron Oxide and Functions of Endothelial Cells
Although myeloid cell interaction with IONPs is essential to understand, design, and improve IONP-based theranostics, endothelial cells (ECs) also impact the efficacy of such approaches, as these cells necessarily interact with IONPs when the nanomaterial migrates to the interstitial and local microenvironment. As major targets of oxidative stress, ECs can engage anti-oxidant mechanisms that protect them from apoptosis. Thus, even in the presence of IONPs acting as ROS-triggering agents, ECs can promote anti-oxidant protective mechanisms. Duan et al. demonstrated that dextran-coated IONPs induced autophagy in human umbilical vascular endothelial cells (HUVECs), which in turn promoted cell survival. These IONP-treated HUVECs exhibited resistance to H2O2-induced cell death [49]. Likewise, Zhang et al. found that pristine IONPs disturbed autophagy in HUVECs and exacerbated the production of pro-inflammatory cytokines such as IL-1β and TNFα [50].
We also showed that polyethyleneimine (PEI)-coated IONPs profoundly alter EC function, which indicated that IONP-based reagents could be designed to modulate angiogenesis. PEI-coated IONPs disturbed the formation of focal adhesions and inhibited cell migration and in vitro tube formation through ROS-associated responses. Consistent with these in vitro effects, in vivo administration of PEI-coated IONPs reduced the number of vessels in a human breast cancer model [51]. ROS also mediates polyglucose sorbitol carboxymethyether (PSC)-coated IONP-triggered induction of epithelial-to-mesenchymal transition (EMT) in vascular ECs. Wen et al. observed that PSC-coated IONPs reduced the formation of tubules in vitro, closely resembling what we observed with PEI-coated IONPs; in contrast to our data, however, the authors observed enhanced EC migration [52]. It is therefore likely that the synthetic identity of IONPs also influences the EC response to these nanoreagents. Investigating the clinically relevant contrast agent, Endorem® (dextran-coated IONPs), and custom-made silica@IONPs, Atanina et al. observed that treatment with these nanosystems decreased impedance, and thus integrity, of human microvascular endothelial-cell layers without affecting their viability. The loss of EC layer integrity was accompanied by the appearance of surface intercellular gaps and a decrease in NO production [53]. Altogether, it appears that IONPs mostly impair EC functions, suggesting they could potentially be used as an anti-angiogenic factor. However, just like macrophages, the EC response to IONPs depends greatly on several factors, including synthetic identity. Matuszak et al. proved that lauric acid-coated and BSA-stabilized IONPs are highly internalized by ECs, leading to acute toxicity, while lauric acid/BSA-coated and dextran-coated IONPs exhibited no evident toxicity [54]. The effects of IONPs on EC remains a somewhat underexplored area of knowledge. Given the importance of these cells in modulating immune responses and their presence at the interface between IONPs and the tumor environment, further insight into the intrinsic activity of IONPs on ECs will be of great interest to improve theranostic applications.
Up to now, we have only discussed the direct implications that IONP loading has on cells of the mononuclear phagocytic system, dendritic cells, and endothelial cells. Nonetheless, when analyzing the tumor microenvironment (TME), we should take into consideration its intrinsic complexity. As a mere reminder, TME is directly linked to a plethora of biological mechanisms that support tumor initiation, progression, and metastasis [55][56]. Processes such as proliferative [57][58], anti-apoptotic [59], pro-angiogenic [60], and immune-suppressive [61] phenomena, as well as mechanisms related to immune-surveillance evasion by tumors [62] greatly depend on the composition and organization of the TME. The niche that comprises the TME is formed by immune and endothelial cells as well as fibroblasts, and all have the potential to interact with IONPs that reach the tumor mass. Therefore, IONPs are expected to exert a biological impact on these cells as well as the tumor cells, which are usually the main targets of IONP-based theranostics. We have demonstrated that PEI-coated IONPs disturbed invadosome formation by the mouse tumor cells Pan02, and, as a consequence, inhibited tumor cell migration and invasion [63]. Moreover, these same PEI-coated IONPs altered macrophage and endothelial-cell activity in vitro and in vivo [51][63], illustrating the feasibility of developing nanoreagents that impair tumor cell biology, modify immune infiltration and alter tumor angiogenesis.
The presence of iron ions can also modulate the activity of the TME. Costa da Silva et al. showed that the presence of iron-loaded macrophages nesting in the invasive margins of non-small lung cell tumors correlated with smaller tumor size [64]. These iron-loaded cells localized near the sites of red blood cell (RBC) extravasation, thus pointing to RBCs as the iron source. More precisely, hemolytic RBCs trigger a TAM polarization toward an M1-like phenotype as measured by mRNA expression of M1 markers (Il6, Nos2, and Tnfa), and increased anti-tumor activity [64]. Costa da Silva et al. also found that cross-linked iron oxide nanoparticles injected intravenously in Lewis lung carcinoma (LLC)-bearing mice accumulated within F4/80 macrophages and reduced tumor growth [64]. These findings are of substantial consequence for IONP-based cancer theragnosis [65] as they indicate that, should IONPs accumulate within TAM in the tumor margins of inner zones, TAMs could revert their phenotype from M2 to M1.
IONPs can also support the anti-tumor effect by enhancing antigen cross-presentation in the tumor niche, as demonstrated by Lee et al. [66]. This enhancement was attributed to a mere increase in antigen delivery to DCs as compared to antigen alone, and not to the intrinsic biological effects of the carriers, SiO2@IONPs, on DC activation status. Thus, the adjuvancy of IONPs was more physical than biological, i.e., facilitating antigen endocytosis [66]. Another study using more complex nanocomposites in which an OVA antigen was covalently attached to IONPs showed a drastic reduction of OVA-expressing B16 tumor-derived lung metastasis in vivo [42]. In this work, IONPs exhibited an anti-tumor effect when injected alone, suggesting they also possess intrinsic biological activity that mitigates tumor growth. Similarly, Zanganeh et al. showed that the FDA-approved IONP, ferumoxytol, displayed in vivo anti-tumor effects in a mouse breast cancer model, effects which were most likely mediated through the induction of pro-inflammatory macrophages in the TME [39]. IONPs can also directly alter tumor biology. The therapeutic value of IONPs, therefore, should not rely solely on the capacity of these nanoparticles to modulate the tumor cell biology, but rather should also take into account their effects on the TME.
Conclusion
As part of the antitumor focus taken in the present article, we have seen that IONPs will primarily encounter cells of the mononuclear phagocytic system, dendritic cells, endothelial cells, and tumor cells. The physical, synthetic (coating), and biological identity of IONPs will influence their effects on the biology of the cells they encounter in the organism; conversely, the cell type and programming encountered by these nanoparticles will influence the effects triggered by IONPs. Overall, some common features emerge when assessing the cellular effects of IONPs: IONPs can (1) alter iron metabolism, (2) promote ROS production, and (3) likely induce autophagic machinery upon internalization. These complex interactions between the nanomaterial identities and the extra- and intra-cellular environment will ultimately define the intrinsic biological identity of IONPs. Understanding these interactions will, in turn, allow for the development of more rational combinatorial nanoreagents for theranostics.
The article has been published on 10.3390/nano10050837