Biofilms in Cystic Fibrosis
Definition
Biofilm-associated infections pose a huge burden on healthcare systems worldwide, with recurrent lung infections occurring due to the persistence of biofilm bacteria populations. In cystic fibrosis (CF), thick viscous mucus acts not only as a physical barrier, but also serves as a nidus for infection. Increased antibiotic resistance in the recent years indicates that current therapeutic strategies aimed at biofilm-associated infections are "failing", emphasizing the need to develop new and improved drug delivery systems with higher efficacy and efficiency. Magnetic nanoparticles (MNPs) have unique and favourable properties encompassing biocompatibility, biodegradability, magnetic and heat-mediated characteristics, making them suitable drug carriers. Additionally, an external magnetic force can be applied to enhance drug delivery to target sites, acting as "nano-knives", cutting through the bacterial biofilm layer and characteristically thick mucus in CF.
1. Introduction
More than 60% of all bacterial infections are associated with biofilm development [1][2]. Biofilms can occur not only in chronic wound infections, but also in exogenous medical devices, such as catheters, implants and prosthesis [1][2]. Biofilms are typically defined as complex communities of surface-associated bacteria encased in a self-produced extracellular polysaccharide matrix that are adherent to biological or abiotic surfaces [3]. Traditional treatment approaches for biofilms typically involve the use of conventional antibiotics with bactericidal (bacterial killing) or bacteriostatic (inhibition of bacterial dividing) properties [2]. To effectively eradicate biofilms, the antibiotics have to penetrate the bacterial cell membrane and accumulate to reach therapeutic concentrations [2]. Unfortunately, in most scenarios, conventional antibiotics are not able to completely eradicate biofilms due to the unique structure and properties of the biofilm (Figure 1).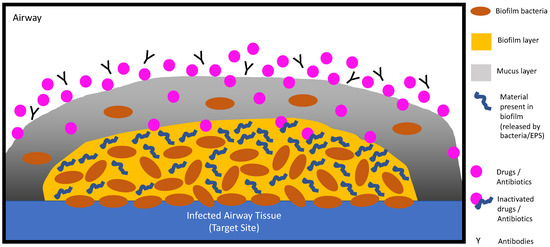 Figure 1. Current therapeutics used are ineffective in penetrating the biofilm layer to reach the target site. In cystic fibrosis (CF), this is further hindered with an additional layer of thick, viscous mucus.
Opposite to planktonic bacteria which can be easily removed with gentle rinsing, biofilm bacteria adhere onto surfaces. This offers the biofilm colony unique properties such as protecting inner isolates, promoting survival in hostile environments and conferring resistance to antimicrobial agents and the host immune system, resulting in persistent and chronic infections and hence, are 1000-fold more tolerant to antibiotics [2][4][5]. This tolerance offers an explanation as to why current antibiotic treatments are mostly ineffective against biofilm-associated infections and why patients with biofilm infections often suffer from chronic complications [6]. As previous strategies to treat biofilm infections have not been shown to be as clinically successful as hoped for, there is an unmet medical need that necessitates the development of alternative methods, including novel antibacterial agents and improved drug delivery systems, to avoid problems associated with short half-lives, low bioavailability or systemic toxicity.
In recent years, magnetic nanoparticles (MNPs) have become increasingly popular as drug delivery systems in diagnosis, e.g., imaging contrast agent, and in therapy, e.g., magnetic hyperthermia combining pharmaceutical agents and drug delivery as carriers themselves [2]. The effectiveness of MNPs can be measured by parameters such as administration method, particle size, in vivo drug release kinetics, drug loading and intrinsic carrier toxicity [2]. Furthermore, delivery with MNPs allows for pre-determining drug kinetics and targets which are essential in maintaining optimal dosing within the therapeutic window using a lower amount of drug, and therefore decreasing the toxicity and cost of the pharmaceutical formulation. Moreover, MNPs can be administered via a plethora of different routes ranging from local to systemic administrations to achieve targeted and improved delivery of pharmaceuticals, potentially improving bioavailability or allowing for sustained drug release or prolonged drug exposure. In patients suffering from cystic fibrosis (CF), MNPs have been shown to significantly improve patient outcomes as these encapsulated antibiotics were able to be transported through the sticky mucus barrier in CF lungs [2][7].
2. Biofilm Formation and Resistance
3. Approaches for Prevention and Treatment
3.1. Inorganic Metal NPs
Metallic NPs such as copper, silver and gold have been found to possess strong antimicrobial activity [35]. Their clinical application was originally slowed down by potential toxicity to mammalian cells, however, due to increasing concerns about antibiotic resistance of biofilms and bacterial infections, these MNPs have once again reignited interest in their application (Figure 4) [35].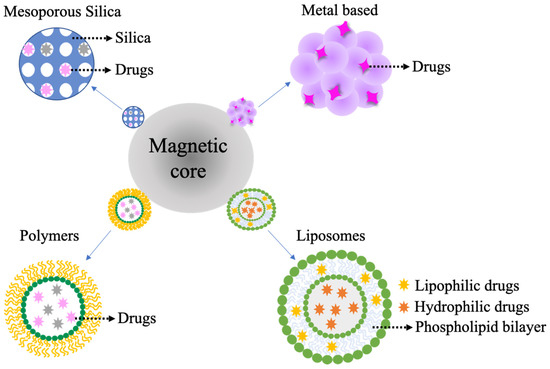 Figure 4. Types of nanomaterials that can be added to a magnetic nanoparticle core for more efficient and targeted drug delivery.
The entry is from 10.3390/magnetochemistry6040072
References
Jamal, M.; Ahmad, W.; Andleeb, S.; Jalil, F.; Imran, M.; Nawaz, M.A.; Hussain, T.; Ali, M.; Rafiq, M.; Kamil, M.A. Bacterial biofilm and associated infections. J. Chin. Med. Assoc. 2018, 81, 7–11.

Han, C.; Romero, N.; Fischer, S.; Dookran, J.; Berger, A.; Doiron, A. Recent Developments in the use of Nanoparticles for Treatment of Biofilms. Nanotechnol. Rev. 2017, 6, 383–404.

Costerton, J.W.; Stewart, P.S.; Greenberg, E.P. Bacterial biofilms: A common cause of persistent infections. Science 1999, 284, 1318–1322.

Donlan, R.M. Biofilms and device-associated infections. Emerg. Infect. Dis. 2001, 7, 277–281.

Vallet-Regí, M.; González, B.; Izquierdo-Barba, I. Nanomaterials as Promising Alternative in the Infection Treatment. Int. J. Mol. Sci. 2019, 20, 3806.

Verderosa, A.D.; Totsika, M.; Fairfull-Smith, K.E. Bacterial Biofilm Eradication Agents: A Current Review. Front. Chem. 2019, 7, 824.

d'Angelo, I.; Conte, C.; La Rotonda, M.I.; Miro, A.; Quaglia, F.; Ungaro, F. Improving the efficacy of inhaled drugs in cystic fibrosis: Challenges and emerging drug delivery strategies. Adv. Drug Deliv. Rev. 2014, 75, 92–111.

Stoodley, P.; Sauer, K.; Davies, D.G.; Costerton, J.W. Biofilms as complex differentiated communities. Ann. Rev. Microbiol. 2002, 56, 187.

Donlan, R.M.; Costerton, J.W. Biofilms: Survival mechanisms of clinically relevant microorganisms. Clin. Microbiol. Rev. 2002, 15, 167–193.

Ciofu, O.; Rojo-Molinero, E.; Macià, M.D.; Oliver, A. Antibiotic treatment of biofilm infections. APMIS 2017, 125, 304–319.

Schneider-Futschik, E.K.; Paulin, O.K.A.; Hoyer, D.; Roberts, K.D.; Ziogas, J.; Baker, M.A.; Karas, J.; Li, J.; Velkov, T. Sputum Active Polymyxin Lipopeptides: Activity against Cystic Fibrosis Pseudomonas aeruginosa Isolates and Their Interactions with Sputum Biomolecules. ACS Infect. Dis. 2018, 4, 646–655.

Kawano, Y.; Jordan, O.; Hanawa, T.; Borchard, G.; Patrulea, V. Are Antimicrobial Peptide Dendrimers an Escape from ESKAPE? Adv. Wound Care 2020, 9, 378–395.

Omar, A.; Wright, J.B.; Schultz, G.; Burrell, R.; Nadworny, P. Microbial Biofilms and Chronic Wounds. Microorganisms 2017, 5, 9.

Chen, C.P.; Chen, C.T.; Tsai, T. Chitosan nanoparticles for antimicrobial photodynamic inactivation: Characterization and in vitro investigation. Photochem. Photobiol. 2012, 88, 570–576.

Habash, M.B.; Park, A.J.; Vis, E.C.; Harris, R.J.; Khursigara, C.M. Synergy of silver nanoparticles and aztreonam against Pseudomonas aeruginosa PAO1 biofilms. Antimicrob. Agents Chemother. 2014, 58, 5818–5830.

Kalishwaralal, K.; BarathManiKanth, S.; Pandian, S.R.; Deepak, V.; Gurunathan, S. Silver nanoparticles impede the biofilm formation by Pseudomonas aeruginosa and Staphylococcus epidermidis. Colloids Surf. B Biointerfaces 2010, 79, 340–344.

Baelo, A.; Levato, R.; Julián, E.; Crespo, A.; Astola, J.; Gavaldà, J.; Engel, E.; Mateos-Timoneda, M.A.; Torrents, E. Disassembling bacterial extracellular matrix with DNase-coated nanoparticles to enhance antibiotic delivery in biofilm infections. J. Control. Release 2015, 209, 150–158.

Hua, X.; Tan, S.; Bandara, H.M.H.N.; Fu, Y.; Liu, S.; Smyth, H.D.C. Externally Controlled Triggered-Release of Drug from PLGA Micro and Nanoparticles. PLoS ONE 2014, 9, e114271.

Abdelghany, S.M.; Quinn, D.J.; Ingram, R.J.; Gilmore, B.F.; Donnelly, R.F.; Taggart, C.C.; Scott, C.J. Gentamicin-loaded nanoparticles show improved antimicrobial effects towards Pseudomonas aeruginosa infection. Int. J. Nanomed. 2012, 7, 4053–4063.

d'Angelo, I.; Casciaro, B.; Miro, A.; Quaglia, F.; Mangoni, M.L.; Ungaro, F. Overcoming barriers in Pseudomonas aeruginosa lung infections: Engineered nanoparticles for local delivery of a cationic antimicrobial peptide. Colloids Surf. B Biointerfaces 2015, 135, 717–725.

Cheow, W.S.; Chang, M.W.; Hadinoto, K. The roles of lipid in anti-biofilm efficacy of lipid–polymer hybrid nanoparticles encapsulating antibiotics. Colloids Surf. A Physicochem. Eng. Asp. 2011, 389, 158–165.

Gomez-Sotomayor, R.; Ahualli, S.; Viota, J.L.; Rudzka, K.; Delgado, A.V. Iron/Magnetite Nanoparticles as Magnetic Delivery Systems for Antitumor Drugs. J. Nanosci. Nanotechnol. 2015, 15, 3507–3514.

Reyes-Ortega, F.; Delgado, A.V.; Schneider, E.K.; Checa Fernandez, B.L.; Iglesias, G.R. Magnetic Nanoparticles Coated with a Thermosensitive Polymer with Hyperthermia Properties. Polymers 2017, 10, 10.

Issa, B.; Obaidat, I.M.; Albiss, B.A.; Haik, Y. Magnetic nanoparticles: Surface effects and properties related to biomedicine applications. Int. J. Mol. Sci. 2013, 14, 21266–21305.

Moreno, R.; Poyser, S.; Meilak, D.; Meo, A.; Jenkins, S.; Lazarov, V.K.; Vallejo-Fernandez, G.; Majetich, S.; Evans, R.F.L. The role of faceting and elongation on the magnetic anisotropy of magnetite Fe3O4 nanocrystals. Sci. Rep. 2020, 10, 2722.

Li, J.; Nickel, R.; Wu, J.; Lin, F.; van Lierop, J.; Liu, S. A new tool to attack biofilms: Driving magnetic iron-oxide nanoparticles to disrupt the matrix. Nanoscale 2019, 11, 6905–6915.

Ikuma, K.; Decho, A.W.; Lau, B.L.T. When nanoparticles meet biofilms-interactions guiding the environmental fate and accumulation of nanoparticles. Front. Microbiol. 2015, 6, 591.

Schneider, E.K.; Reyes-Ortega, F.; Li, J.; Velkov, T. Can Cystic Fibrosis Patients Finally Catch a Breath With Lumacaftor/Ivacaftor? Clin. Pharm. Ther. 2017, 101, 130–141.

Döring, G.; Flume, P.; Heijerman, H.; Elborn, J.S. Treatment of lung infection in patients with cystic fibrosis: Current and future strategies. J. Cyst. Fibros. 2012, 11, 461–479.

Schneider, E.K.; Azad, M.A.; Han, M.L.; Tony Zhou, Q.; Wang, J.; Huang, J.X.; Cooper, M.A.; Doi, Y.; Baker, M.A.; Bergen, P.J.; et al. An "Unlikely" Pair: The Antimicrobial Synergy of Polymyxin B in Combination with the Cystic Fibrosis Transmembrane Conductance Regulator Drugs KALYDECO and ORKAMBI. ACS Infect. Dis. 2016, 2, 478–488.

Armijo, L.; Kopciuch, M.; Olszόwka, Z.; Wawrzyniec, S.; Rivera, A.; Plumley, J.; Cook, N.; Brandt, Y.; Huber, D.; Smolyakov, G.; et al. Delivery of Tobramycin Coupled to Iron Oxide Nanoparticles across the Biofilm of Mucoidal Pseudonomas Aeruginosa and Investigation of Its Efficacy; SPIE: Bellingham, WA, USA, 2014; Volume 8955.

Velino, C.; Carella, F.; Adamiano, A.; Sanguinetti, M.; Vitali, A.; Catalucci, D.; Bugli, F.; Iafisco, M. Nanomedicine Approaches for the Pulmonary Treatment of Cystic Fibrosis. Front. Bioeng. Biotechnol. 2019, 7, 406.

Koerner-Rettberg, C.; Ballmann, M. Colistimethate sodium for the treatment of chronic pulmonary infection in cystic fibrosis: An evidence-based review of its place in therapy. Core Evid. 2014, 9, 99–112.

Tan, M.; Reyes-Ortega, F.; Schneider, E. Successes and Challenges: Inhaled Treatment Approaches Using Magnetic Nanoparticles in Cystic Fibrosis. Magnetochemistry 2020, 6, 25.

Yeh, Y.-C.; Huang, T.-H.; Yang, S.-C.; Chen, C.-C.; Fang, J.-Y. Nano-Based Drug Delivery or Targeting to Eradicate Bacteria for Infection Mitigation: A Review of Recent Advances. Front. Chem. 2020, 8, 8.

El-Sherbiny, I.M.; Elbaz, N.M.; Sedki, M.; Elgammal, A.; Yacoub, M.H. Magnetic nanoparticles-based drug and gene delivery systems for the treatment of pulmonary diseases. Nanomedicine (Lond.) 2017, 12, 387–402.

Wang, X.; Ji, Z.; Chang, C.H.; Zhang, H.; Wang, M.; Liao, Y.-P.; Lin, S.; Meng, H.; Li, R.; Sun, B.; et al. Use of Coated Silver Nanoparticles to Understand the Relationship of Particle Dissolution and Bioavailability to Cell and Lung Toxicological Potential. Small 2014, 10, 385–398.

Suresh, A.K.; Pelletier, D.A.; Wang, W.; Morrell-Falvey, J.L.; Gu, B.; Doktycz, M.J. Cytotoxicity induced by engineered silver nanocrystallites is dependent on surface coatings and cell types. Langmuir 2012, 28, 2727–2735.

Gauger, A.J.; Hershberger, K.K.; Bronstein, L.M. Theranostics Based on Magnetic Nanoparticles and Polymers: Intelligent Design for Efficient Diagnostics and Therapy. Front. Chem. 2020, 8, 561.

Santos-Martinez, M.J.; Rahme, K.; Corbalan, J.J.; Faulkner, C.; Holmes, J.D.; Tajber, L.; Medina, C.; Radomski, M.W. Pegylation increases platelet biocompatibility of gold nanoparticles. J. Biomed. Nanotechnol. 2014, 10, 1004–1015.

Guo, L.-M.; Xu, X.-M.; Zhao, D.; Cai, X.-G.; Zhou, B. Biosynthesis, characterization of PLGA coated folate-mediated multiple drug loaded copper oxide (CuO) nanoparticles and it's cytotoxicity on nasopharyngeal cancer cell lines. AMB Express 2020, 10, 160.

Hedayatnasab, Z.; Dabbagh, A.; Abnisa, F.; Wan Daud, W.M.A. Polycaprolactone-coated superparamagnetic iron oxide nanoparticles for in vitro magnetic hyperthermia therapy of cancer. Eur. Polym. J. 2020, 133, 109789.

Yin, J.-J.; Wahid, F.; Zhang, Q.; Tao, Y.-C.; Zhong, C.; Chu, L.-Q. Facile Incorporation of Silver Nanoparticles into Quaternized Poly(2-(Dimethylamino)Ethyl Methacrylate) Brushes as Bifunctional Antibacterial Coatings. Macromol. Mater. Eng. 2017, 302, 1700069.

Kurzhals, S.; Zirbs, R.; Reimhult, E. Synthesis and Magneto-Thermal Actuation of Iron Oxide Core–PNIPAM Shell Nanoparticles. ACS Appl. Mater. Interfaces 2015, 7, 19342–19352.

Naha, P.C.; Liu, Y.; Hwang, G.; Huang, Y.; Gubara, S.; Jonnakuti, V.; Simon-Soro, A.; Kim, D.; Gao, L.; Koo, H.; et al. Dextran-Coated Iron Oxide Nanoparticles as Biomimetic Catalysts for Localized and pH-Activated Biofilm Disruption. ACS Nano 2019, 13, 4960–4971.

Palacios-Ponce, S.; Ramos-González, R.; Ruiz, H.A.; Aguilar, M.A.; Martínez-Hernández, J.L.; Segura-Ceniceros, E.P.; Aguilar, C.N.; Michelena, G.; Ilyina, A. Trichoderma sp. spores and Kluyveromyces marxianus cells magnetic separation: Immobilization on chitosan-coated magnetic nanoparticles. Prep. Biochem. Biotechnol. 2017, 47, 554–561.

Savelyev, Y.; Gonchar, A.; Movchan, B.; Gornostay, A.; Vozianov, S.; Rudenko, A.; Rozhnova, R.; Travinskaya, T. Antibacterial polyurethane materials with silver and copper nanoparticles. Mater. Today Proc. 2017, 4, 87–94.

Wang, R.; Degirmenci, V.; Xin, H.; Li, Y.; Wang, L.; Chen, J.; Hu, X.; Zhang, D. PEI-Coated Fe3O4 Nanoparticles Enable Efficient Delivery of Therapeutic siRNA Targeting REST into Glioblastoma Cells. Int. J. Mol. Sci. 2018, 19, 2230.

Bailly, A.-L.; Correard, F.; Popov, A.; Tselikov, G.; Chaspoul, F.; Appay, R.; Al-Kattan, A.; Kabashin, A.V.; Braguer, D.; Esteve, M.-A. In vivo evaluation of safety, biodistribution and pharmacokinetics of laser-synthesized gold nanoparticles. Sci. Rep. 2019, 9, 12890.

Abedin, M.R.; Umapathi, S.; Mahendrakar, H.; Laemthong, T.; Coleman, H.; Muchangi, D.; Santra, S.; Nath, M.; Barua, S. Polymer coated gold-ferric oxide superparamagnetic nanoparticles for theranostic applications. J. Nanobiotechnol. 2018, 16, 80.

Korani, M.; Ghazizadeh, E.; Korani, S.; Hami, Z.; Mohammadi-Bardbori, A. Effects of silver nanoparticles on human health. Eur. J. Nanomed. 2015, 7, 51–62.

Munger, M.A.; Radwanski, P.; Hadlock, G.C.; Stoddard, G.; Shaaban, A.; Falconer, J.; Grainger, D.W.; Deering-Rice, C.E. In vivo human time-exposure study of orally dosed commercial silver nanoparticles. Nanomed. Nanotechnol. Biol. Med. 2014, 10, 1–9.

Balfourier, A.; Luciani, N.; Wang, G.; Lelong, G.; Ersen, O.; Khelfa, A.; Alloyeau, D.; Gazeau, F.; Carn, F. Unexpected intracellular biodegradation and recrystallization of gold nanoparticles. Proc. Natl. Acad. Sci. USA 2020, 117, 103.

Talapko, J.; Matijević, T.; Juzbašić, M.; Antolović-Požgain, A.; Škrlec, I. Antibacterial Activity of Silver and Its Application in Dentistry, Cardiology and Dermatology. Microorganisms 2020, 8, 1400.

Thapa, R.K.; Diep, D.B.; Tønnesen, H.H. Topical antimicrobial peptide formulations for wound healing: Current developments and future prospects. Acta Biomater. 2020, 103, 52–67.

Arvizo, R.; Bhattacharya, R.; Mukherjee, P. Gold nanoparticles: Opportunities and challenges in nanomedicine. Expert Opin. Drug Deliv. 2010, 7, 753–763.

Dobson, J. Magnetic Micro- and Nano-particle-based Targeting for Drug and Gene Delivery. Nanomedicine 2006, 1, 31–37.

Hanuš, J.; Ullrich, M.; Dohnal, J.; Singh, M.; Stěpánek, F. Remotely controlled diffusion from magnetic liposome microgels. Langmuir 2013, 29, 4381–4387.

Dong, D.; Thomas, N.; Thierry, B.; Vreugde, S.; Prestidge, C.A.; Wormald, P.-J. Distribution and Inhibition of Liposomes on Staphylococcus aureus and Pseudomonas aeruginosa Biofilm. PLoS ONE 2015, 10, e0131806.

Anupama, S.; Rishabha, M.; Pramod, K.S. Pulmonary Drug Delivery System: A Novel Approach for Drug Delivery. Curr. Drug Ther. 2011, 6, 137–151.

Joshi, M.; Nisra, A. Pulmonary disposition of budesonide from liposomal dry powder inhaler. Methods Find Exp. Clin. Pharmacol. 2001, 23, 531.

Meers, P.; Neville, M.; Malinin, V.; Scotto, A.W.; Sardaryan, G.; Kurumunda, R.; Mackinson, C.; James, G.; Fisher, S.; Perkins, W.R. Biofilm penetration, triggered release and in vivo activity of inhaled liposomal amikacin in chronic Pseudomonas aeruginosa lung infections. J. Antimicrob. Chemother. 2008, 61, 859–868.

Helander, I.M.; Nurmiaho-Lassila, E.L.; Ahvenainen, R.; Rhoades, J.; Roller, S. Chitosan disrupts the barrier properties of the outer membrane of Gram-negative bacteria. Int. J. Food Microbiol. 2001, 71, 235–244.

Liu, H.; Du, Y.; Wang, X.; Sun, L. Chitosan kills bacteria through cell membrane damage. Int. J. Food Microbiol. 2004, 95, 147–155.

Qi, L.; Xu, Z.; Jiang, X.; Hu, C.; Zou, X. Preparation and antibacterial activity of chitosan nanoparticles. Carbohydr. Res. 2004, 339, 2693–2700.

Rivera Aguayo, P.; Bruna Larenas, T.; Alarcon Godoy, C.; Cayupe Rivas, B.; Gonzalez-Casanova, J.; Rojas-Gomez, D.; Caro Fuentes, N. Antimicrobial and Antibiofilm Capacity of Chitosan Nanoparticles against Wild Type Strain of Pseudomonas sp. Isolated from Milk of Cows Diagnosed with Bovine Mastitis. Antibiotics 2020, 9, 551.

Shi, S.F.; Jia, J.F.; Guo, X.K.; Zhao, Y.P.; Chen, D.S.; Guo, Y.Y.; Zhang, X.L. Reduced Staphylococcus aureus biofilm formation in the presence of chitosan-coated iron oxide nanoparticles. Int. J. Nanomed. 2016, 11, 6499–6506.

Subbiahdoss, G.; Sharifi, S.; Grijpma, D.W.; Laurent, S.; van der Mei, H.C.; Mahmoudi, M.; Busscher, H.J. Magnetic targeting of surface-modified superparamagnetic iron oxide nanoparticles yields antibacterial efficacy against biofilms of gentamicin-resistant staphylococci. Acta Biomater. 2012, 8, 2047–2055.

Wang, X.; Deng, A.; Cao, W.; Li, Q.; Wang, L.; Zhou, J.; Hu, B.; Xing, X. Synthesis of chitosan/poly(ethylene glycol)-modified magnetic nanoparticles for antibiotic delivery and their enhanced anti-biofilm activity in the presence of magnetic field. J. Mater. Sci. 2018, 53, 6433–6449.

Tange, R.A.; Dreschler, W.A.; Prins, J.M.; Buller, H.R.; Kuijper, E.J.; Speelman, P. Ototoxicity and nephrotoxicity of gentamicin vs netilmicin in patients with serious infections. A randomized clinical trial. Clin. Otolaryngol. Allied Sci. 1995, 20, 118–123.

Quan, K.; Zhang, Z.; Ren, Y.; Busscher, H.J.; van der Mei, H.C.; Peterson, B.W. Homogeneous Distribution of Magnetic, Antimicrobial-Carrying Nanoparticles through an Infectious Biofilm Enhances Biofilm-Killing Efficacy. ACS Biomater. Sci. Eng. 2020, 6, 205–212.

Chen, T.; Wang, R.; Xu, L.Q.; Neoh, K.G.; Kang, E.-T. Carboxymethyl Chitosan-Functionalized Magnetic Nanoparticles for Disruption of Biofilms of Staphylococcus aureus and Escherichia coli. Ind. Eng. Chem. Res. 2012, 51, 13164–13172.

Günday Türeli, N.; Torge, A.; Juntke, J.; Schwarz, B.C.; Schneider-Daum, N.; Türeli, A.E.; Lehr, C.M.; Schneider, M. Ciprofloxacin-loaded PLGA nanoparticles against cystic fibrosis P. aeruginosa lung infections. Eur. J. Pharm. Biopharm. 2017, 117, 363–371.

Thomas, N.; Thorn, C.; Richter, K.; Thierry, B.; Prestidge, C. Efficacy of Poly-Lactic-Co-Glycolic Acid Micro- and Nanoparticles of Ciprofloxacin Against Bacterial Biofilms. J. Pharm. Sci. 2016, 105, 3115–3122.

Ernst, J.; Klinger-Strobel, M.; Arnold, K.; Thamm, J.; Hartung, A.; Pletz, M.W.; Makarewicz, O.; Fischer, D. Polyester-based particles to overcome the obstacles of mucus and biofilms in the lung for tobramycin application under static and dynamic fluidic conditions. Eur. J. Pharm. Biopharm. 2018, 131, 120–129.

Hua, X.; Tan, S.; Bandara, H.M.H.N.; Fu, Y.; Liu, S.; Smyth, H.D.C. Externally Controlled Triggered-Release of Drug from PLGA Micro and Nanoparticles. PLoS ONE 2014, 9, e114271.

Mariela, A.; Agotegaray, V.L.L. Silica-Coated Magnetic Nanoparticles: An Insight into Targeted Drug Delivery and Toxicology; Springer: Cham, Switzerland, 2017.

Hetrick, E.M.; Shin, J.H.; Paul, H.S.; Schoenfisch, M.H. Anti-biofilm efficacy of nitric oxide-releasing silica nanoparticles. Biomaterials 2009, 30, 2782–2789.

Slomberg, D.L.; Lu, Y.; Broadnax, A.D.; Hunter, R.A.; Carpenter, A.W.; Schoenfisch, M.H. Role of size and shape on biofilm eradication for nitric oxide-releasing silica nanoparticles. ACS Appl. Mater. Interfaces 2013, 5, 9322–9329.
More