1. Introduction
The metabolic remodeling is a crucial process that allows melanoma cells to adapt to tumor microenvironment (TME) and to sustain growth and dissemination [1][2]. A comparative metabolic flux profiling of melanoma cell lines and normal melanocytes showed that all melanoma cells consumed more glucose and produced more lactate than melanocytes [3]. Interestingly, emerging evidence reported numerous alterations of the lipid metabolic network that could sustain cell growth and metastasis in melanoma cells (Figure 1).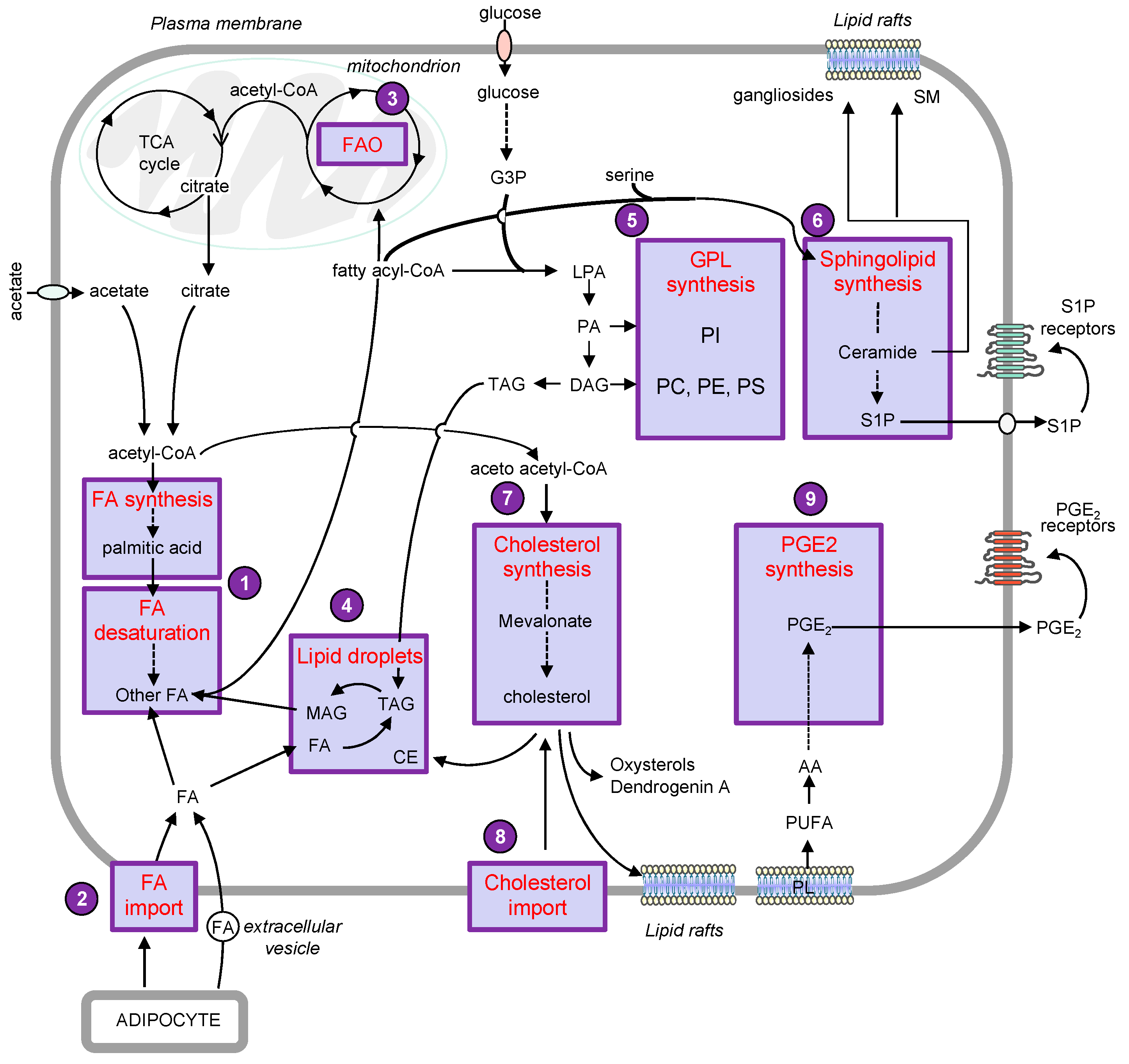 Figure 1. Schematic overview of the lipid metabolic network that regulates melanoma progression.The figure highlights the lipid pathways that are mostly altered in melanoma cells: (1) the de novo synthesis, elongation and desaturation of fatty acids (FA), which produce the repertoire of FA with different saturation levels. (2) The import of FA from neighboring adipocytes that can fuel FA β-oxidation (FAO) in mitochondria (3) to produce energy. (4) The lipid droplets, composed of neutral lipids, i.e., triacylglycerol (TAG) and cholesteryl ester (CE), which are critical to melanoma cell aggressiveness. (5) The synthesis of glycerophospholipids (GPL), including phosphatidylcholine (PC), phosphatidylethanolamine (PE), phosphatidylserine (PS) and phosphatidylinositol (PI), which are produced from glycerol-3-phosphate (G3P). (6) The synthesis of sphingolipids, which begins with the condensation of serine and FA-Coenzyme A conjugates. Sphingolipids and glyceroPL are precursors of lipid mediators involved in cell signaling pathways and are used to build cell membranes in order to sustain cancer cell proliferation. (7) The cholesterol biosynthesis, initiated by the conversion of acetyl-CoA to acetoacetyl-CoA, and (8) the cholesterol import from the bloodstream. Cholesterol and sphingolipids, i.e., sphingomyelin (SM) and gangliosides, are part of the lipid rafts, which act as signaling hubs in cancer cell proliferation, adhesion and migration. (9) The synthesis of prostaglandin E2 (PGE2) from arachidonic acid (AA), a long-chain polyunsaturated FA (PUFA) freed from phospholipids (PL). PGE2 and the sphingolipid metabolite S1P are secreted and act through cell surface receptors to suppress immune response and promote melanoma progression. Abbreviations: LPA, lysophosphatidic acid; MAG, monoacylglycerol; PA, phosphatidic acid; TCA, tricarboxylic acid.
2. Lipid metabolism and melanoma progression
The most prominent phenomenon is an increased rate of lipogenesis, in which nutrient-derived carbons get converted into fatty acids (FAs), sterols and complex lipids. Lipogenesis relies mainly on the availability of acetyl-CoA. The main precursor of cytosolic acetyl-CoA is citrate originating from the tricarboxylic acid (TCA) cycle under normal conditions [4]. This conversion is catalyzed by ATP citrate lyase (ACLY), which is overexpressed in a variety of cancer types, including melanoma. Moreover, increased ACLY expression was associated with poor outcome of patients with melanoma [5][6]. During metabolic stress such as hypoxia, the synthesis of acetyl-CoA preferentially originates from acetate [7][8]. Acetate dependence is specific to BRAF mutant but not NRAS mutant or wild-type BRAF/NRAS melanoma cells [9]. Importantly, melanoma brain metastases, which are associated with an extremely poor prognosis, have been shown to exhibit increased dependency on acetate [10].
FA synthesis starts with the carboxylation of acetyl-CoA to malonyl-CoA, which is catalyzed by acetyl-CoA carboxylase (ACC1). Then, through a series of repetitive condensations catalyzed by the FA synthase (FASN), molecules of malonyl-CoA are assembled to form palmitic acid. The expression of ACC1 [11] and FASN [12] is upregulated in human melanoma, as compared to conventional nevi. The increased expression of FASN occurs independently of the BRAF and NRAS mutation status [5] but is associated with the Breslow thickness and poor prognosis [12][13]. The specific inhibition of FASN activity with the anti-obesity drug Orlistat was reported to reduce the occurrence and number of lung metastases in a murine model of melanoma [14]. Thereafter, elongation and desaturation of palmitic acid generate the basis for a diverse spectrum of saturated and unsaturated FA that can be activated into fatty acyl-CoA by acyl-CoA synthetase long-chain (ACSL) family members. Of note, the expression of ACSL3 has been also associated to a worse prognosis in melanoma [15]. Moreover, a recent study reported that oleic acid, an abundant FA in lymph, protected melanoma cells from ferroptosis in an ACSL3-dependent manner and increased their capacity to form metastasis [16]. Once activated, the FA can be incorporated into triglycerides (also named triacylglycerols (TAGs)), glycerophospholipids (GPL) and sphingolipids (SL) or undergo β-oxidation in mitochondria for energy generation [17]. In addition to their role in fueling various lipid metabolisms, FAs also participate to protein acylation, thereby controlling protein trafficking, membrane localization and signaling activities [18]. For instance, the S-palmitoylation of the melanocortin-1 receptor (MC1R), which corresponds to the covalent attachment of palmitic acid to the protein at cysteine residues, was associated with MC1R activation, thereby reducing melanomagenesis in mice [19]. Conversely, the S-palmitoylation of the TEA domain (TEAD) transcription factors was shown to be critical in TEAD's binding to the Hippo kinases YAP (Yes-associated protein) and TAZ (Transcriptional activator with PDZ domain) [20]. The YAP/TAZ-TEAD complex is known to activate expression of several genes that favor tumor growth and metastasis in various solid cancers, including melanoma [21].
Beside FA synthesis, the cytosolic acetyl-CoA can also be transformed into 3-hydroxy-3-methylglutaryl-CoA (HMG-CoA), which is then converted into mevalonate by the HMG-CoA reductase (HMGCR), the rate-limiting step of cholesterol biosynthesis. Analysis of public databases revealed that ~60% of melanomas had increased expression (including chromosomal copy number increases) in at least one of the cholesterol synthesis genes. These events were associated with decreased melanoma patient survival [22].
While de novo lipogenesis constitutes a valuable source of energy, as well as lipid mediators, hypoxia or driver mutations can also prime melanoma cells to consume FA from the TME, via FA β-oxidation (FAO), to meet their energetic demands [23]. FAO was reported to promote melanoma progression. For instance, carnitine palmitoyltransferase 2 (CPT2), which is critical for translocation of long-chain acyl-CoA into the mitochondrial matrix, is one of the most significantly upregulated genes in melanoma as compared to benign nevi [24]. Moreover, thanks to a targeted analysis of human tumor samples from the TCGA database, it was recently revealed that increased expression of FAO enzymes correlated with poor overall survival in melanoma patients [25]. In accordance, it was demonstrated that FAO contributed significantly to the energy reserves of metastatic 4C11+ cells, which were derived from melan-a melanocytes after sequential detachment-re-adhesion cycles [26]. How FAO promotes melanoma progression is still unclear. One can imagine that FAs serve as a valuable source of acetyl-CoA that contributes to citrate formation, after entering the TCA cycle, and provide an ATP boost for tumor cells under nutrient-depleted conditions [27]. Interestingly, other studies in which melanoma cells were co-cultured with adipocytes have shown that adipocyte-derived lipids were utilized in the FAO pathway and decreased the dependence on de novo lipogenesis [25][28]. In this context, glucose oxidation and lactate release were unchanged, indicating that glycolysis was not impacted [29].
FA can be imported from plasma and lymph [16] either through the FA translocase (FAT/CD36), the plasma membrane-associated FA binding proteins (FABP) or the FA transport proteins (FATP), and FA levels can increase through close contact with adipocytes [28][30]. This latter event was inhibited by the FATP inhibitor lipofermata in a zebrafish melanoma model [28]. Importantly, a recent study reported that, when melanoma cells were exposed to the aged fibroblast lipid secretome, they increased FA uptake via FATP2, whose expression was upregulated. Inhibiting FATP2 with lipofermata was shown to overcome age-related resistance to BRAF/MEK inhibition in animal models and significantly extend survival in older animals [31]. Moreover, FABP7 has been associated with increased proliferation and invasive properties of melanoma cells [32][33][34]. CD36-mediated FA uptake is prominent in metastasis-initiating melanoma cells, and this change was correlated with poor prognosis in melanoma patients [35], thereby highlighting the importance of FA uptake for melanoma progression.
Increased FA biosynthesis and FA uptake may lead to increased levels of multiple lipids with a signaling function that can affect numerous cellular processes, including melanoma cell differentiation and motility. Melanoma is notorious for its high metastatic potential. Melanoma invasive behavior is controlled by signaling pathways, e.g., the canonical and non-canonical Wingless-type (Wnt) and the transforming growth factor beta (TGF-β) signaling pathways, that have been described to not only regulate the actin cytoskeleton but also the expression levels and the function of the lineage commitment factor microphthalmia-associated transcription factor (MITF) [36]. A wide range of cellular stresses including hypoxia [37][38][39], low glucose [40] and inflammatory signaling [41][42][43] were shown to reduce MITF expression and increase the metastatic properties of melanoma cells. Moreover, meta-analysis of gene expression profiling of hundreds of human melanoma cells identified a highly invasive phenotype, characterized by extremely low MITF expression, associated with a stemness- and epithelial-to-mesenchymal transition (EMT)-based gene expression signature [44][45][46]. It is now well recognized that melanoma cells are highly plastic and can undergo phenotype switching that contributes to tumor progression. During this process, melanoma cells with an MITF-low phenotype undergo invasion and dissemination, and then switch back to an MITF-high phenotype at the metastatic site in order to proliferate [47]. Importantly, the reduction of MITF expression has been associated with a switch in EMT-associated transcription factors (EMT-TFs). In particular, a reduced expression of ZEB2 and SNAIL2, in favor of an increased expression in ZEB1 and TWIST1, has been linked to MITF downregulation, E-cadherin loss and increased invasive properties of human melanoma cells [48].
Interestingly, recent findings revealed that the lipogenic enzyme ACLY regulated MITF, and its downstream transcriptional targets by controlling histone acetylation at its promoter [6]. Moreover, low activity of stearoyl-CoA desaturase (SCD), which catalyzes the rate-limiting step of FA desaturation, reduced MITF expression and maintained melanoma cells in an MITF-low de-differentiated state [49]. Inversely, MITF was identified as a regulator of SCD expression and FA saturation, thereby establishing a positive feedback loop to stabilize an MITF-low state associated with increased metastatic dissemination. Mechanistically, low SCD expression and activity promoted ER stress and the phosphorylation of eukaryotic initiation factor-α (eIF2α) leading to the activation of an ATF4- and NF-κB-dependent inflammatory signaling that sustains a reduced MITF expression and melanoma cell dedifferentiation [49]. These data demonstrate that FA metabolism can regulate melanoma cell differentiation and progression.
This review aims to illustrate the major alterations affecting lipid storage organelles and the metabolism of the main lipid classes during melanoma development (see Figure 2 for a detailed view) and how these metabolic dysregulations contribute to phenotype plasticity and/or melanoma aggressiveness. How these metabolic vulnerabilities could be targeted for therapeutic benefit is also highlighted.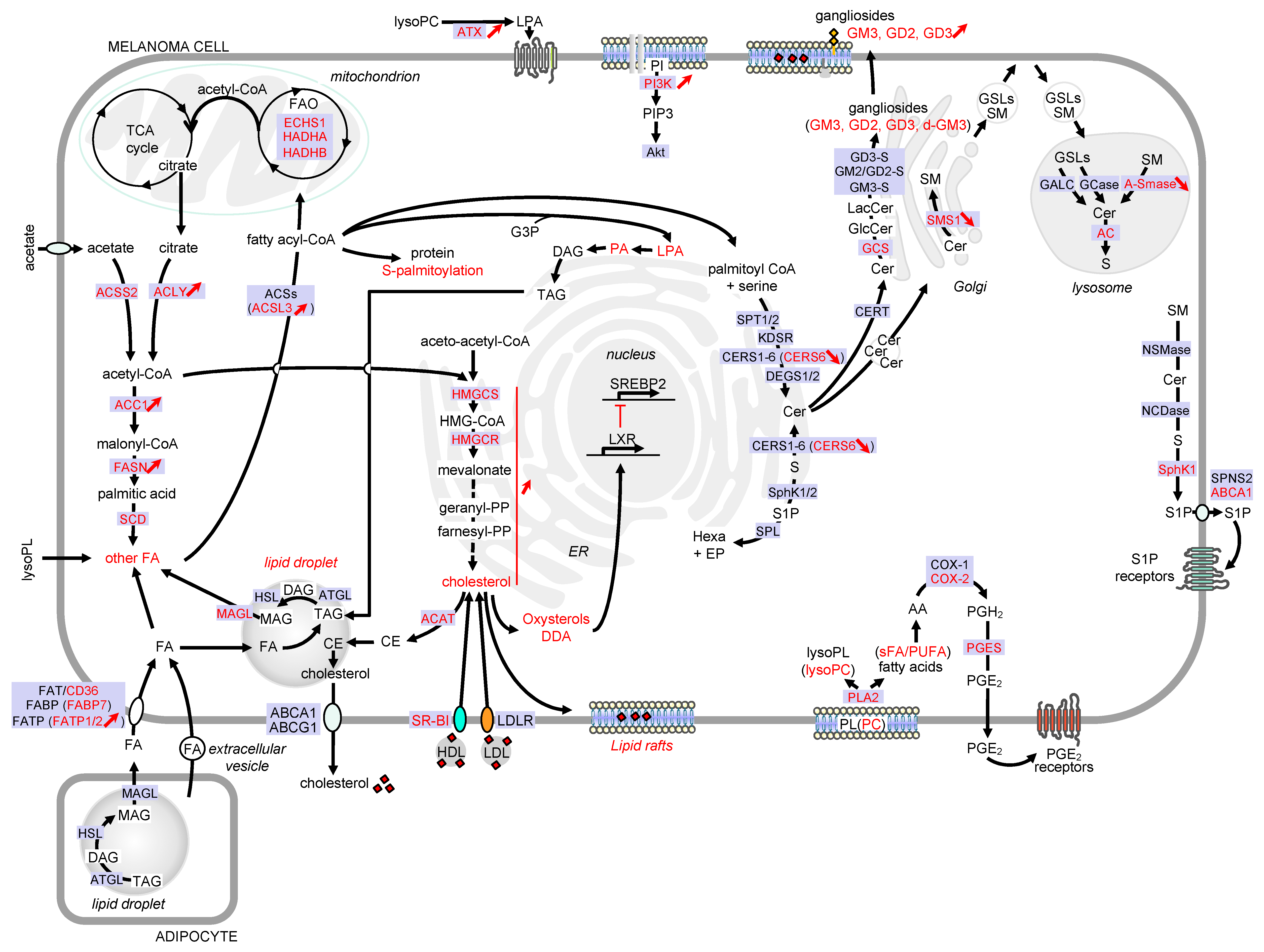 Figure 2. Detailed view of the major alterations of lipid storage and metabolism pathways during melanoma development. Only lipid pathways with reported modifications in melanoma are represented. Enzymes, receptors and transporters are indicated in blue boxes. Modifications in melanoma are highlighted in red. Abbreviations: AA, arachidonic acid; ABC, ATP-binding cassette transporter; AC, acid ceramidase; ACAT, acyl-CoA: cholesterol acyltransferase; ACC, acetyl-CoA carboxylase; ACLY, ATP citrate lyase; ACS, acyl-CoA synthetase; ACSL3, acyl-CoA synthetase long chain 3; Akt, AKT serine/threonine kinase; A-SMase, acid sphingomyelinase; ATX, lysophospholipase D autotaxin; CE, cholesteryl ester; Cer, ceramide; CERS, ceramide synthase; CERT, ceramide transport protein; COX, cyclooxygenase; DAG, diacylglycerol; DDA, dendrogenin A; DEGS, dihydroceramide desaturase; d-GM3, de-N-acetyl GM3; ECHS1, enoyl-CoA hydratase short chain 1; EP, ethanolamine 1-phosphate; ER, endoplasmic reticulum; FA, fatty acid; FAO, fatty acid -oxidation; FASN, fatty acid synthase; FAT, fatty acid translocase; FABP, fatty acid binding protein; FATP, fatty acid transport protein; GALC, galactosylceramidase; GCase, glucosylceramidase; GCS, glucosylceramide synthase; GD3-S, GD3 synthase; GM2/GD2-S, GD2/GM2 synthase; GlcCer, glucosylceramide; GM3-S, GM3 synthase; GSL, glycosphingolipid; G3P, glycerol-3-phosphate; HADHA, hydroxyacyl-CoA dehydrogenase subunit alpha; HADHB, hydroxyacyl-CoA dehydrogenase subunit beta; hexa, hexadecenal; HMG-CoA, 3-hydroxy-3-methylglutaryl-CoA; HMGCR, HMG-CoA reductase; HMGCS, HMG-CoA synthase; KDSR, 3-ketosphinganine reductase; LacCer, lactosylceramide; LDL, low-density lipoprotein; LDLR, low-density lipoprotein receptor; LPA, lysophosphatidic acid; lysoPC, lysophosphatidylcholine; lysoPL, lysophospholipid; LXR, liver X receptors; MAG, monoacylglycerol; MAGL, monoacylglycerol lipase; NCDase, neutral ceramidase; NSMase, neutral sphingomyelinase; PA, phosphatidic acid; PC, phosphatidylcholine; PGE2, prostaglandin E2; PGES, prostaglandin E synthase; PGH2, prostaglandin H2; PI, phosphatidylinositol; PI3K, phosphatidylinositol-3-kinase; PIP3, phosphatidylinositol-3,4,5-triphosphate; PL, phospholipid; PLA2, phospholipase A2; PUFA, polyunsaturated fatty acid; S, sphingosine; SCD, stearoyl-CoA desaturase; sFA, saturated fatty acid; SM, sphingomyelin; SMS, sphingomyelin synthase; SphK, sphingosine kinase; SPL, sphingosine 1-phosphate lyase; SPNS2, sphingolipid transporter 2; SPT, serine palmitoyltransferase; SR-BI, scavenger receptor class B type I; SREBP2, sterol regulatory element binding protein 2; S1P, sphingosine 1-phosphate; TAG, triacylglycerol; TCA, tricarboxylic acid.
This entry is adapted from 10.3390/cancers12113147