1. Introduction/Background
1.1. Drug Dependence
Addiction is a set of behavioral, cognitive, and physiological conditions. The main cause for its development is the repeated use of addictive substances; typical symptoms include a strong preference for using the substance repeatedly, altered consciousness after use, and persistent usage despite the damaging effects. Additionally, use of the drug takes priority over other activities and commitments, there is a gradual increase in tolerance, and somatic withdrawal sometimes occurs when use of the substance stops. A frequent motive for substance abuse is curiosity, which can subsequently lead to a state of addiction. Many users first try the drug in order to find out "what's it like"
[1]
. Other possible motives include stress or problems that the individual is incapable of coping with in any other way, leading to drug use as a means to escape reality. Drug addiction is a global problem. It directly affects a large part of society, and its indirect effects on the families and surroundings of users are even more extensive (
Figure 1
).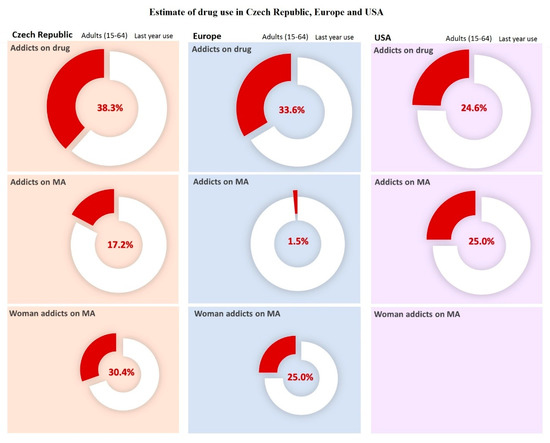 Figure 1.
Estimates of drug use in Czech Republic, Europe, and USA. Data was carried out in selected countries over a year in 2017. For American female addicts of methamphetamine (MA), data are not available. For the Czech Republic, the population was estimated at 10,665,677 people for the year 2018 according to United Nations data. Data adopted and modified according to National Monitoring Center for Drugs and Addiction, Annual Report
[2]
. For Europe, the population was estimated at 513,000,000 people for year 2018 according to Eurostat. Data taken over and modified by The European Monitoring Center for Drugs and Drug Addiction
[3]
. For USA, the population was estimated at 327,200,000 people for the year 2018, according to United Nations data. Data taken over and adjusted by the National Institute on Drug Abuse
[4]
.
In reducing drug usage, prevention is an important factor. In the prevention of addiction and the use of alcohol and non-alcoholic drugs, the World Health Organization (WHO) distinguishes three targets: (1) primary prevention, i.e., preventing drug use in those who have not had direct contact with the drug; (2) secondary prevention, i.e., preventing addiction in drug users; and (3) tertiary prevention, i.e., preventing the serious and lasting health and social problems created by using drugs, including both resocialization or social rehabilitation and measures aimed at decreasing the transmission of infectious diseases during intravenous drug application (e.g., harm reduction programs)
[5]
.
The initial phase of drug addiction, i.e., when the user is experiencing euphoria and is still discovering the drug's effects, is called the phase of experimental use. During the phase of social use, the user begins to take the drug more regularly, often at higher doses; during this phase, addiction begins to show and the drug slowly becomes a source of various problems. In the course of everyday usage, the drug begins to impact such things as daily routines, moral values, employment, and friendships. Ultimately, the user loses control of their addiction
[6]
. Chemical dependency (i.e., the need for more of a substance to get the same effects) marks the last stage of addiction, often ending in a fatal overdose or total organ failure.
The treatment of drug addiction is a very complicated and complex process, since addiction affects not only the physiology but also the psychology of the affected individual, often requiring the complete removal of the user from their social environment
[6]
[7]
[8]
. The final goal of treatment is to completely eliminate the addiction. Treatment progresses gradually, since overly quick withdrawal can produce unwanted side-effects, including potentially health-threatening complications
[9]
.
1.2. Stimulant Drugs: Characteristics and the General Mechanism of its Effect
This paper will focus on the effects of methamphetamine (MA), which is considered a stimulant. Stimulant drugs can be further specified as psychostimulants, psychoanaleptics, psychomimetics, and psychomotor stimulants
[9]
. Caffeine can be undoubtedly be considered the most famous stimulant, whereas amphetamines represent a significant group of illegal stimulants. Other examples include cocaine and its subsequent product, "crack", as well as "party drugs", which are derived from amphetamines
[9]
. Psychostimulants have strong stimulant effects, affecting not only the central nervous system (CNS), but also the organism. The typical effects of this group of substances include increased wakefulness, shorten sleep cycles, suppressed fatigue, accelerated thinking, improved association and memory, euphoria, and a pleasant feeling of both mental and physical strength
[10]
. The stimulant effect also leads to increased blood pressure and pulse rate (potentially inducing a hypertensive crisis), changes in blood distribution in favor of muscle tissue, and increased muscle tone. Additionally, there is bronchodilation, which leads to shallow breathing
[8]
[10]
.
The mechanism of these effects is based on direct interactions with neurons and the information transmitted between them. The mechanisms differ among specific substances, yet the basic principle remains the same, i.e., the substances in question increase the mediator concentration in synapses between neurons, with the effect of altered signal transmission. MA, for example, has a destructive influence on dopamine nerves and their endings. Due to adaptive cellular mechanisms, tolerance and addiction develop after repeated usage.
Several mechanisms participate in the development of addiction. Neuroadaptations, which are changes in the organism directed at maintaining homeostasis, is one of them. After the drug effects fade, withdrawal syndrome appears, with typical symptoms including generalized exhaustion, intense fatigue, and widespread body pain. Frequent mood changes and depression are also present. This state usually subsides relatively quickly; however, in some cases, it can persist for several days. Psychostimulants can also lead to anxiety, increased nervousness, and depression. Even a single use can potentially induce a panic attack
[11]
. Long-term usage can lead to psychosis, with states of paranoia, feelings of persecution, and feeling of being under threat
[12]
. These problems develop after ingestion of a psychostimulant and cannot be simply explained by the intoxication, yet are not a part of drug cessation states either. Ceasing drug usage is not guaranteed to resolve these problems
[13]
.
3. Influence of Methamphetamine on the CNS and on Selected Parts of the Brain
Every living organism strives for a dynamic balance, called homeostasis. While under the effect of addiction, this balance is threatened by distinct physical and cognitive events, leading to increased stress in the addicted individual
[32]
[33]
. Consequently, their behavior is changed; unless the event corresponds to a cognitive depiction based on previous subjective experience, it is accompanied by an increase in excitement, alertness, and cognitive processing
[34]
[35]
[36]
[37]
[38]
[39]
. The interface between the incoming sensory input and the evaluation process consists of limbic brain structures, including the hippocampus and prefrontal cortex, and the structures directly influencing the limbic system, i.e., the striatum
[40]
.
The control areas in the brain send signals that configure the processing of incoming sensory inputs from moment-to-moment
[37]
[41]
. Humans possess unique cognitive flexibility. The brain control system consists of functionally diverse areas that are anatomically separated from the remaining systems of neural response processing
[41]
.The ability to perform countless tasks requires control functions that persist in time and that are capable of not only preventing attention diversion, but of responding quickly to unpredictable demands as well
[33]
.
The selection of samples from rat brains was based on the fact that MA interferes mostly with dopaminergic and serotonergic neural response pathways. MA enters the terminals or neuron via the monoamine transporters (dopamine transporter, serotonin transporter, or norepinephrine transporter), displaces both vesicular and intracellular monoamines, and facilitates the release of monoamines into the extraneuronal space by synaptic transport in the monoamine transporters. Both pathways (dopaminergic and serotoninergic) connect parts of the brain responsible for motor control, fear, pleasure, reward, and addiction mechanisms (
Figure 2
)
[22]
[42]
.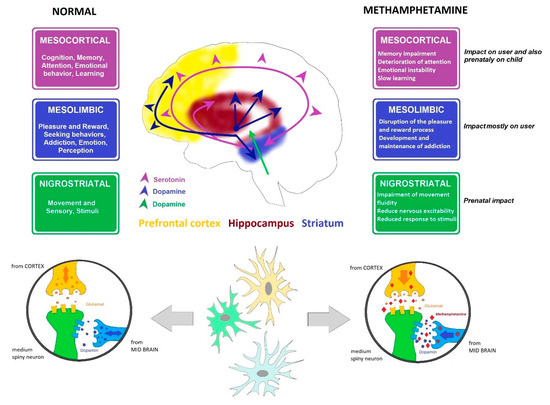 Figure 2. Dopamine and serotonin pathways. Cross-section through the brain showing dopamine and serotonin pathways and their main functions, including affection, mood, memory, sleep, pleasure, reward, and compulsive behavior, and the influence of MA.