The various imaging techniques used in clinic have advantages and disadvantages. The advent of nanotechnology offers the possibility to combine several imaging agents within the same nano-object. This will allow to perform multi-imaging and thus obtain additional information during the same clinical procedure. Here, the focus are made on the potentialities of biomodal agents labeled for MRI and optical imaging. The three main associations for obtaining magneto-fluorescent objects will be presented: (1) association by covalent bonding; (2) encapsulation in matrices; (3) dispersion in nanoassemblies
magneto-fluorescent nanoparticles;MRI contrast agent;Luminophore for optical imaging
The coexistence of several imaging agents within the same nano-object suggests promising prospects in medical imaging field. The multifunctionality providing by these nano-tools allows to benefit from the complementarity of the various imaging techniques in terms of sensitivity, spatial resolution or depth penetration. Among the different possible combinations, growing interest has been shown in nanosystems comprising magnetic nanoparticles (MNPs) for MRI and luminescent entities for fluorescent imaging in recent years (Figure 1) [1]. Luminescence imaging, thanks to its multiple-label possibility, its high sensitivity and spatial resolution, is widely used to follow biological processes or in histopathology. However, extinction phenomena (diffusion and absorption of light by tissue) limit the depth penetration of this imaging technique. By contrast, MR present an unlimited depth penetration and greater soft-tissue contrast. Nevertherless, the low sensitivity of the MR technique makes it difficult to distinguish benign from malignant disease even with long acquisition time. So, combining these two safety techniques (using non-ionizing radiation) allows advantage to be taken of the high high sensitivity and spatial resolution of luminescence imaging, associated to the good spatial resolution and deep tissue penetration of MRI. This combination is particularly interesting for correlating in vitro monitoring and in vivo tracking [2]. We will focus, here, on structure integrating negative MRI constrast agent (i.e. superparamagnetic nanoparticles). Their efficiency will be linked to a very strong transverse relaxivity, r2, and a significant r2/r1 ratio.[3] The very good sensitivity of the luminophore will be proportional to its brightness. Its penetration into biological tissue will be all the greater if the luminescent entities emit into the biological window (700-950nm).[4]
Figure 1. Fluorescence imaging vs. magnetic resonance imaging (MRI). Comparison between both imaging techniques showing their complementarity.
Association by Covalent Bonding (Nanoparticles)
Among the different association methods, grafting fluorescent entities on the surface of magnetic nanoparticles represents a simple approach (Figure 2) [5][6][7][8]. For example, fluorescent dyes (rhodamine B, λmaxem = 578 nm or fluorescein derivatives, λmaxem = 516 nm) are coupled to iron oxide surface [5]. These nanoparticles allow in cellulo motions of endosomes to be followed when exposed to a magnetic field gradient. Near-infrared (NIR) dyes have been also grafted as IR-820 cyanine derivative (λmaxem = 900 nm) [7] or dialkyl carbocyanine (λmaxem = 780 nm) [8] to obtain fluorescent systems emitting in the first biological window. Iron oxide multicore nanoparticles assembled by hydrophilic polymer have been envisaged to improve the MRI contrast agent properties [6][8]. Thus, the use of multicore Ferahme® iron oxide nanoparticles (dcore = 6–7 nm, dH = 17–31 nm) coupled to TO-PRO®-1 (λmaxem = 531 nm) gives bifunctional nanoparticles with a transverse relaxivity, r2 = 122 mM−1 s−1 (0.47 T, r2/r1 = 5) [6]. This transverse relaxivity is still improved using 8 nm iron oxide nanoparticles (r2 = 202 mM−1 s−1, r2/r1 = 3.8 at 0.47 T) embedded in polyacrylic acid matrix (dH = 90 nm) [8]. Moreover, these systems present NIR-emissive dye using a dialkylcarbocyanine as fluorophores (λmaxem in the region 751/780 nm and ε > 125,000 cm−1 M−1). The association of QDots, known to be brighter than small molecules, with magnetic nanoparticles is also envisaged [9][10][11][12][13][14][15]. The most common approach used is to prepare core–satellite systems. In this approach the core is composed of iron oxide nanoparticles surrounded by quantum dots (usually CdSe/ZnS) [9][10][11][15]. Pahari et al. have recently described an invert strategy where quantum dots (3.2 nm CdSe nanoparticles) are in the core and a shell of iron oxide is growned around (thickness of 1.3 nm) [14]. By this approach, a very good transverse relaxivity (r2 = 304 mM−1 s−1 at 9.4 T) is noted. Although these systems are easily synthetized, the close proximity between the luminophores and the metal core leads to a strong emission quenching. Indeed, electronic energy or electron transfers between both entities can take place while iron oxide nanoparticles significantly absorb at wavelengths less than 450 nm. The choice of fluorophores and their distance from the metallic core will therefore be essential. Moreover, direct exposure of fluorophores to the surrounding environment can modify the emissive properties of the system. Finally, the requirement of high colloidal stability of the final nanoassembly in aqueous solution excludes extensive grafting of fluorescent entities, especially if the latter are organic and hydrophobic. All together, these limitations produce low-emissive imaging agents.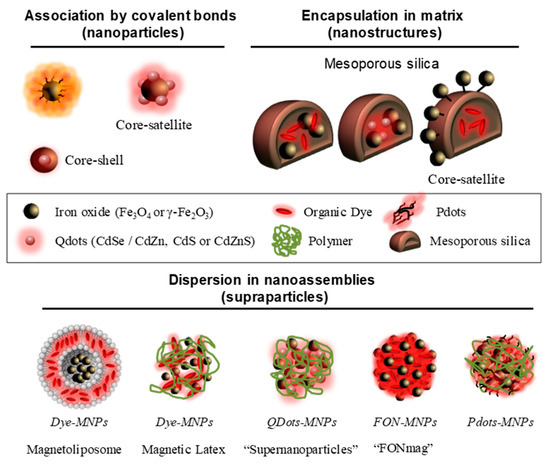 Figure 2. Schematic representation of magneto-fluorescent nanosystems.
Encapsulation in Silica Matrix (Nanostructure)
To protect the luminophores from quenching by the surrounding medium, the encapsulation of magnetic nanoparticles (γ-Fe2O3) and fluorescent units (small molecules, e.g., rhodamine or FITC derivatives; [16][17][18][19][20] or Qdots like CdSe/CdZn, CdS or CdZnS [21][22][23][24][25]) in mesoporous silica matrices has been envisaged (Figure 2). The encapsulation of magnetic nanoparticles and quantum dots leads to interactions between these two active units. This interaction induces (i) an increase of the magnetic anisotropy, (ii) a blue-shift of the fluorescence emission and (iii) a decrease of the quantum yield [21][24]. Silica-doped with organic dye core surrounded by magnetic nanoparticles (core-satellite assemblies) are also envisaged [16][17]. In these structures, the combination of several magnetic nanoparticles has the effect of drastically increasing the r2 value in comparison of magnetic nanoparticles alone. Lee et al. describe an r2 increase from 26.8 to 76.2 mM−1 s−1 (1.5 T) [16], and another study shows a rise from 116 to 397 mM−1 s−1 (9.4 T) [17]. These silica matrices show low cytotoxicity but provide only small amounts of encapsulated active units. In addition, although the fluorescent entities are protected from the external environment by encapsulation, they can diffuse freely outside the porous matrix as they are not covalently attached. To counter this phenomenon, hydrophobic fluorescent units amenable to self-assemble have been proposed to impart the magneto-fluorescent nanosystems with better structural stability and reduced dye leakage.
Dispersion in Nanoassemblies (Supraparticles)
The use of magneto-fluorescent nanoassemblies provides generally biodegradable systems that advantageously avoid bioaccumulation. In this context, several molecular matrices are envisaged composed of polymers [26][27][28][29][30][31][32][33][34], lipids [35][36][37][38], PDots [39][40][41][42] or organic molecule [43][44][45][46][47] (Figure 2). In this type of organization we will distinguish the assemblies with inert matrices of those composed of active units. Inert matrices are mainly composed of lipids or polymers. For instance, magnetic nanoparticles can be encapsulated in liposomes, and subsequently functionalized by a fluorescent molecule, here rhodamine [35]. The magnetofluorescent liposome exhibits good T2-contrast agent properties with r2 = 268 mM−1 s−1 at 4.7 T (r2/r1 = 85). Another approach is based on the use of polymers to combine magnetic nanoparticles and fluorescent entities. In the work of R. K. Prud'homme et al., polyethylene glycol has also been used to assemble hydrophobic NIR fluorophores (λmaxem = 800 nm), tris-(porphyrinate) zinc (II), and magnetic nanoparticles [28]. The authors show an increase in r2 from 66 to 533 mM−1 s−1 as the wt% IO increases from 4 to 16% [28]. Bawendi et al. describe the association of quantum dots and densely packed magnetic nanoparticles into "supernanoparticles" thanks to poly(vinylpyrrolidone) (PVP) ethylene glycol (EG) [27]. These assemblies (dH = 120 nm) display a high r2 value of 402.7 mM−1 s−1 at 9.4 T [27]. In the three last cases, the effectiveness of these multimodal structures has been demonstrated in murine models. Correlative treatments of the MRI and fluorescence signals have proved the preservation of the in vivo integrity of the nanoassemblies and validate the design of multimodal nanostructures.
The second type of self-assembled systems implies functional units as molecular bricks (Figure 2), thus limiting the number of organic species administrated in vivo. Hyeon et al. have assembled magnetic nanoparticles with a polyethylene glycol block polymer [32]. This polymer is functionalized with an imidazole derivative and fluorescent porphyrins (chlorin e6) whose emission is deactivated upon dye self-assembling [32]. The imidazole derivative is a pH-sensitive group which allows the disintegration of the nanostructure in the tumor medium (acidic pH) and leading to the reappearance of fluorescence. In this system (dH = 70 nm), the self-assembly of 3 nm iron oxide nanoparticles provides a transverse relaxivity r2 = 44 mM−1 s−1 at 1.5 T (r2/r1 = 13.3). Nanoassemblies incorporating Pdots and magnetic nanoparticles into phospholipid micelles improve relaxivity properties (r2 = 152mM−1 s−1 at 3.0 T) and enhance MRI contrast efficiency thereof [42]. Moreover, for these systems, important brightness and photostability under irradiation of the fluorophores have been demonstrated during in cellulo fluorescence microscopy [42]. The use of small hydrophobic molecules with iron oxide nanoparticles chelating functions is another effective approach to obtain magnetofluorescent systems [43][44][45][46][47]. In these systems, the fluorescent core composed of 105 dyes is surrounded by magnetic nanoparticles shell [43]. This architecture deals with a very effective dual-mode contrast agent with a brightness around 107 L mol−1 cm−1 and transverse relaxivity r2 = 238 mM−1 s−1 (0.47 T) [43]. This contrast agent displays excellent properties in liver imaging on small rodents both as a cellular label and as in vivo follow-up [43]. In cellulo stability of these systems could be controlled by varying stabilizing ligands [45]. The use of polyacrylic acid allows a very cohesive architecture, when the stabilization by citrate ions allows a dissociation [45]. These systems have been functionalized with polyethylene glycol-based copolymers to increase their circulation time [47]. Moreover, it has been shown that the presence of a hydrophobic tail in the copolymer increases the r2/r1 two times compared to those which are without one [47].
The publication can be found here: https://www.mdpi.com/2079-4991/10/1/28/htm