Unlike arboviruses, which have a dual-host tropism by cycling between vertebrate hosts and arthropod vectors, ISVs replicate exclusively in arthropod populations, causing a persistent viral infection, as such they are mainly maintained in nature by vertical transmission route. ISVs are also refereed to as mosquito-specific viruses as they are generally identified and discovered in mosquitoes. They are nonetheless an important part of the mosquito microbiome. The first ISV identified is cell-fusing agent virus (CFAV), which was isolated from an Aedes aegypti (Ae. aegypti) cell culture.
insect-specific viruses;Mosquito-specific viruses;Flaviviruses;Host-restriction;Mosquitoes;biocontrol agents
1. Introduction
Since the discovery of CFAV, wild mosquito populations have been shown to act as a reservoir for a wide variety of ISVs, which suggests a significant heterogeneity among these viruses. These viruses are characterized by their competency to replicate in their vectors, while their replication are restricted in vertebrate cells.[1] Thanks to the advent of next-generation sequencing applications and advanced bioinformatics tools, metagenomic studies in this scope have identified a large number of ISVs harboring wild-caught mosquitoes over wide geographical areas (reviewed in [2]). Phylogenetic analyses based on sequence identities between ISVs and other mosquito-borne viruses suggest strong evidence that ISVs may be ancestral to arboviruses. Thereby, ISVs could serve as a model to study arbovirus evolution and their transition from single- to dual-host identity.
2. Classification of ISVs
ISVs have been classified within multiple different taxa, mostly in the family FlFlaviviridae aviviridae and the order Bunyavirales (Table 1). The Togaviridae, Rhabdoviridae, and MesoniviridMesoniviridae ae also contain a smaller number of ISVs, as well as other taxa.[3]
Taxa

Genus

ISV

Host

1

Reference
Flaviviridae

Flavivirus

Binjari virus

Aedes normanensis

[
4
]

Cell fusing agent virus

Aedes

spp.

[
5
]

Kamiti River virus

Aedes macintoshi

[
6
]

Niénokoué virus

Culex

spp.

[
7
]

Palm Creek virus

Coquillettidia xanthogaster

[
8
]

Parramatta River virus

Aedes vigilax

[
9
]

Bunyavirales

Phasivirus

Phasi Charoen-like phasivirus

Aedes aegypti

[
10
]

Orthoferavirus

Ferak orthoferavirus

Culex decens

[
11
]

Goukovirus

Gouléako goukovirus

Anopheles

spp.




Culex

spp.




Uranotaenia

spp.

[
12
]

Herbevirus

Herbert herbevirus

Culex nebulosus

[
13
]

Orthojonvirus

Jonchet orthojonvirus

Culex

spp.

[
11
]

Birnaviridae

Entomobirnavirus

Espirito Santo virus

N/A

[
14
]

Mesoniviridae

Alphamesonivirus 1

Cavally virus

Aedes

spp.




Anopheles

spp.




Culex

spp.




Uranotaenia

spp.

[
15
]

Nam Dinh virus

Culex

spp.




Aedes albopictus

[
16
][17]

Dianke virus

Aedes

spp.




Anopheles

spp.




Culex

spp.




Mansonia

spp.




Uranotaenia

spp.




ceratopogonids

[
18
]

Reoviridae

Dinovernavirus

Fako virus

Aedes

spp.




Eretmapodites

spp.

[
19
]

Rhabdoviridae

Almendravirus

Arboretum almendavirus

Ochlerotatus

fulvus

[
20
]

Mousrhavirus

Moussa Mousrhavirus

Culex decens

[
21
]

Togaviridae

Alphavirus

Agua Salud alphavirus

Culex declarator

[
22
]

Eilat virus

Anopheles coustani

[
23
]

Yada yada virus

N/A

[
24
]
Viral tropism is fundamental to consider with regards to host restriction of ISVs. It is defined as the ability of a particular virus to productively infect and replicate in a specific cell type, tissue, or species.[25] Viral tropism is determined by host cell susceptibility and permissiveness. For an efficient viral replication cycle in the host cell, the virus should be able to interact with multiple host factors at each step of its replicative cycle and to antagonize the host immune response that hinders its replication. Consequently, ISVs must overcome several integrated bottlenecks present at different levels to potentially emerge as a new dual-host virus: their genetic determinants, the vertebrate host factors, and the host microenvironment needed for efficient replication () (reviewed in [1]).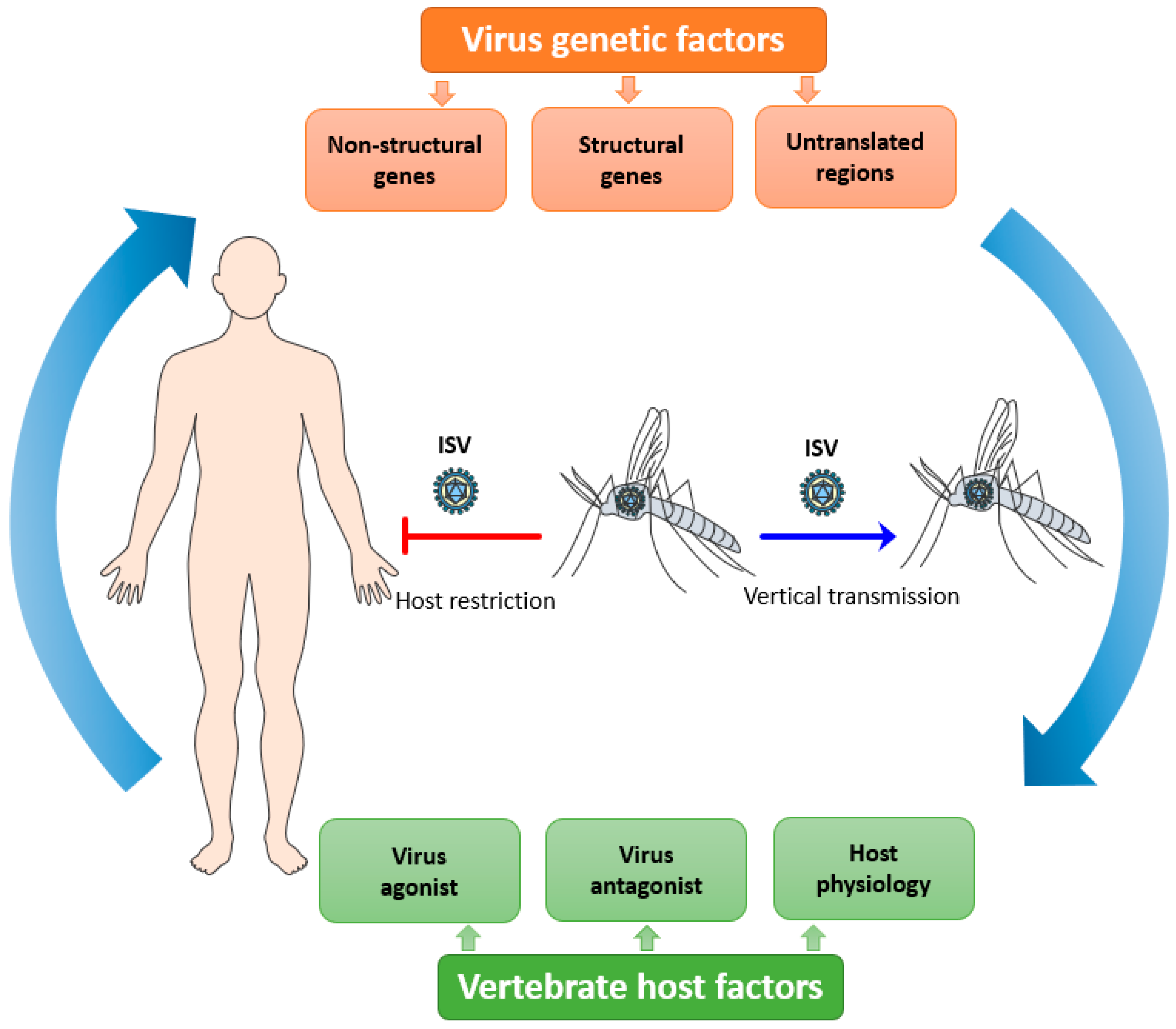 Figure 1. Putative overview of the host tropism of insect-specific viruses (ISVs). ISVs are maintained in mosquito populations by a vertical route of transmission. The infection and replication of ISVs are restricted in vertebrate hosts due to the complex interplay between multiple viral, host, and microenvironmental factors.
5. Potential applications of ISVs
5.1. Novel biocontrol agents
5.2. Vaccine and diagnostic platforms