Please check and comment entries here.
Microvascular Tissue Engineering
Definition
Tissue engineering and regenerative medicine have come a long way in recent decades, but the lack of functioning vasculature is still a major obstacle preventing the development of thicker, physiologically relevant tissue constructs. A large part of this obstacle lies in the development of the vessels on a microscale—the microvasculature—that are crucial for oxygen and nutrient delivery.
1. Introduction
Blood vessels are often considered a uniform part of the circulatory system, maintaining a homeostatic environment in the tissues by supplying oxygen and nutrients and removing metabolic byproducts
[1]
[2]
. However, while the function of large vessels is conducting fluid through the body, microvasculature also enables the exchange of substances between the vascular lumen and the surrounding tissue
[3]
. Albeit there is no universal definition of microvasculature, it can best be described as a system of small diameter vessels (usually less than 100 µm) that exhibit a high surface-area-to-volume ratio and enable rapid exchange of fluid, solutes, and cells across the endothelial layer
[3]
.
Today, vascularization stands as one of the most important challenges for creating stable, large tissues and organs in vitro. While tissue engineering and regenerative medicine have come a long way in recent decades
[4]
[5]
[6]
, successful upscaling of tissue-engineered remains limited due to diffusion, which is insufficient for long-distance (>100–200 µm) delivery of oxygen and nutrients, as well as auxiliary functions such as waste removal and cellular communication
[1]
[7]
[8]
. Microvascularization is one of the unsolved challenges of vascular tissue engineering (VTE). Although it is very important for the future development of various branches of tissue engineering, this topic is currently only vaguely addressed in the available literature. Moreover, despite some interesting related research studies, to the best of our knowledge, there is no comprehensive review on this topic to date.
Currently, there are three main application areas for microvasculature engineering: therapeutic vascularization, creation of microphysiological system models in vitro, and vascularization of engineered tissues.
The aim of this review is to examine current approaches to microvascular tissue engineering to present the current state of the art of used materials, techniques, and cell sources, as well as their behavior while interacting with each other in native and simulated (engineered) tissues. Finally, the review concludes with the remaining challenges and future prospects of this important field, which intertwines to various degrees with all tissue engineering applications.
1.1. The Role of Microvascular Tissue in Tissue Engineering
To create large, viable engineered tissues, sufficient biochemical exchange beyond the diffusion limit (100–200 µm) is necessary, which in vertebrates is ensured by a cardiovascular system
[7]
. In this regard, microvascularization plays a crucial role in the distribution of oxygen and nutrients at the tissue level
[8]
. Moreover, microvascularization is key to the removal of waste material and plays a critical role in cellular communication
[7]
[9]
.
Figure 1
summarizes the crucial functions of the microvasculature.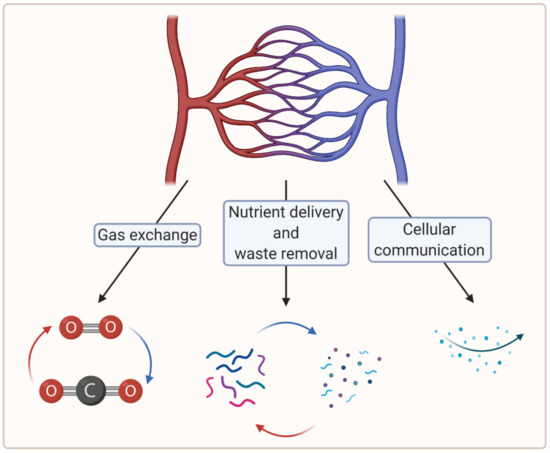 Figure 1.
A schematic showing crucial functions of the microvasculature (created with
BioRender.com
; accessed on 6 April 2021).
1.1.1. Gas and Nutrient Exchange
Gas and nutrient exchange within tissues are vital for long-term tissue growth. Hypoxia is a state in which the local oxygen concentration is too low for tissues to survive long term. Some cell types are more resistant than others, but eventually, hypoxia leads to cell death, either by apoptosis or by necrosis
[7]
[10]
. It is important to distinguish the term hypoxia from hypoxemia, which refers to a low oxygen concentration in the blood, with 100% being 760 mm Hg, which is the standard atmospheric pressure
[11]
[12]
. Oxygen concentration gradually decreases from inhaled air to tissue level. Approximate values of the latter are 21.0% oxygen in the air at normal atmospheric pressure, 13.5% oxygen concentration in alveoli, 9.5% oxygen concentration in the arterial network, and 6.5% oxygen concentration in the venous network. In tissues, the physiological oxygen concentration is about 6.0% (ranging from 4.0% to 7.5%). Physiological hypoxia is the level at which normal hypoxic responses are elicited and range from 1.0 % to 5.0%, depending on the tissue. Pathological hypoxia that disrupts normal homeostasis is < 1.0% tissue oxygen concentration
[12]
. Camci-Unal et al. studied oxygen-releasing molecules incorporated into biomaterials to improve cell survival under hypoxic conditions. They showed that their use significantly decreased in vivo necrosis and lactate levels
[13]
. In this context, incorporating oxygen-releasing molecules within tissue-engineered constructs could eliminate the onset of hypoxia within the tissue from implantation to the formation of a functioning vasculature network
[13]
. What is more, oxygen-releasing biomaterials can potentially enhance vascularization and angiogenesis processes
[13]
.
Tissues also require a continuous exchange of various substances other than gas: useful nutrients are transported into the tissues, while metabolic waste products must be removed to maintain cellular homeostasis
[7]
[9]
.
Both gas and nutrient exchange can be maintained in thin constructs by diffusion alone. In thicker constructs, nutrients do not reach the core, leading to nutrient deficiency and also accumulation of waste products and eventually necrosis (in vitro and in vivo)
[7]
[9]
. In vivo, this is managed by the microvasculature, which is crucial for the long-term maintenance of adequate gas exchange at the microtissue level.
Therefore, to allow effective tissue growth in thicker constructs, microvasculature must also be established in artificial tissues.
1.1.2. Cellular Communication via Endocrine and Paracrine Signaling
Cellular communication via endocrine signaling also depends on a functioning microvasculature. Organs with endocrine functions are especially densely permeated with a network of fenestrated capillaries. These allow the transit of various molecules through the endothelium into the vascular system, exploiting the latter for distribution to all parts of the organism
[14]
. A great example of this is pancreatic islets, which are surrounded by a microvascular network that is two to three times denser than the exocrine pancreatic tissue. Moreover, the endocrine cells in the islets are in close proximity to and polarized toward the vascular endothelial cells (ECs) of the islets and produce factors that promote the formation of fenestrae
[14]
[15]
[16]
.
Cellular communication through paracrine signaling is also an important physiological aspect that is mediated in part by the microvasculature. Many cellular functions, such as cell differentiation, adhesion, and tissue repair, depend on paracrine signaling to respond correctly to their microenvironment
[7]
[17]
.
Future studies of vascular and other tissue engineering types will need to consider these aspects to mimic native tissue effectively and allow for long-term in vitro tissue growth.
1.1.3. Maintaining Pressure Gradients
Microvascular walls help maintain pressure gradients, both hydrostatic and oncotic (colloid osmotic), between plasma and interstitial fluid (ISF). This is described by the Starling principle which states that fluid flow (filtration or absorption) through the microvascular walls is driven by the difference between plasma and ISF hydrostatic and oncotic pressures
[18]
.
However, it was discovered that microvascular walls are permeable to plasma proteins; they can pass through the glycocalyx of the endothelial cell layer
[19]
. Since plasma proteins are the solute responsible for its oncotic pressure, a static equilibrium resulting from the balance of pressures cannot be achieved
[18]
[20]
. This has been described as the revised Starling principle. Instead of a static equilibrium, slight filtration prevails in the steady state
[19]
.
1.2. Anatomy and Histology of the Microvasculature
Larger vessels, such as arteries and veins, and arterioles and venules, have a thick, tough wall of connective tissue and many layers of smooth muscle cells, which are then lined by a single layer of ECs with a basal lamina between them. Capillaries, on the other hand, do not have connective tissue and smooth muscle cell layers but are composed of endothelial and basal lamina layers, with pericytes embedded in the basal lamina
[21]
[22]
.
Figure 2
shows the difference in the cross section of an arteriole and a capillary.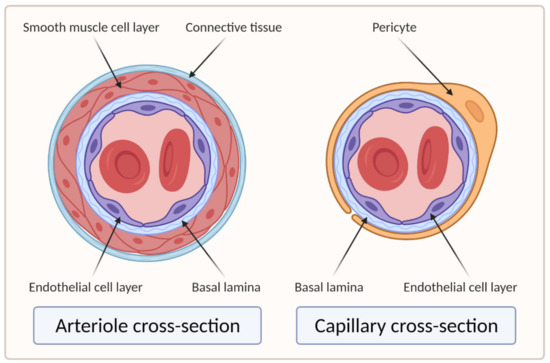 Figure 2.
Cross sections of arteriole and capillary. On the left side of the image is the cross section of the arteriole showing four main layers: EC layer, basal lamina, smooth muscle cell layer, and connective tissue layer. The right side of the image shows the cross section of the capillary, which clearly lacks the smooth muscle cell and connective tissue layers compared to the arteriole (created with
BioRender.com
; accessed on 6 April 2021).
2. Important Aspects of Microvascular Tissue Engineering
Microvascular tissue engineering has made great progress in recent years
[1]
. Significant success can be related to multidisciplinary approaches of materials science, additive manufacturing, topographic engineering, biomimicry, etc.
[23]
. An example of such an approach presents the spatiotemporal control over vascularization achieved by topographic engineering and controlled release of proangiogenic factors
[23]
[24]
. See
Section 2.4
. Gradients of Various Cues for further information.
Although many fundamental aspects of vascular tissue engineering apply to both large blood vessels and capillaries, fabrication methods for one vessel type are not necessarily applicable for the other. This is due to several profound differences between large vessel modeling and microvasculature modeling: vessel diameter (centimeters and millimeters vs. micrometers), number of vessels (individual hollow tubes vs. vascular network), the role of blood rheology (Newtonian vs. corpuscular fluid models), and characteristic Reynolds and Womersley numbers (relevant vs. very low)
[25]
[26]
. The fabrication methods are discussed in
Section 3
. Approaches to Microvascular Tissue Engineering.
Moreover, a single VTE approach is unlikely to be universally applicable; rather, it needs to be adapted to the target tissue. Tissue-specific cues play a crucial role in vascularization processes. Therefore, success is more likely using tissue-dependent development
[1]
.
3. Approaches to Microvascular Tissue Engineering
3.1. Self-Organization Driven Bioengineering—The "Bottom-Up" Approach
3.2. Geometrically Defined Bioengineering—The "Top-Down" Approach
4. Mathematical Modeling of Biophysical Properties
5. Monitoring and Evaluation of Functionality
6. Conclusions and Outlook
While tissue-engineering of vascular grafts has made significant progress in recent years, many challenges for future research remain.
Figure 12
is a visual representation of the current state of the art in this field and the challenges (unsolved problems) for future research in this field.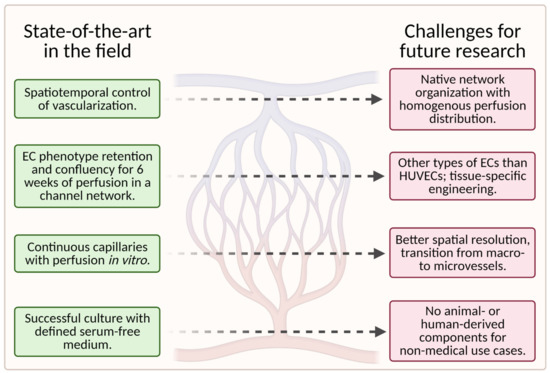 Figure 12.
A schematic showing the current state of the art in the field (left column) and the associated challenges for future research (right column); (created with
BioRender.com
; accessed on 20 May 2021).
To date, scaffolds fail to fully reproduce the native organization of the microvascular tree in tissue-engineered grafts. Instead, the capillary networks are "randomly" oriented and do not provide homogenous nutrient/waste exchange. More importantly, large hierarchically branched structures that transition from macrovessels to microvessels and finally capillaries have not yet been achieved
[1]
.
The quality of the engineered vasculature cannot be maintained in vitro for prolonged periods, as reflected in endothelium homeostasis, perfusability, permeability, and contractility of the vessels
[1]
.
Furthermore, the currently available fabrication methods utilized in the development of vascularized microfluidic models have limitations both in terms of channel size, particularly for the smallest diameters, and geometry. Even though advances in geometric complexity are being made with novel approaches such as stereolithography, it remains difficult to achieve geometric complexity while recapitulating capillary size
[58]
.
Additionally, most successful studies used animal-derived materials for scaffold fabrication, which is unfavorable for nonmedical applications, such as cellular agriculture.
The identification of appropriate cell types (e.g., organotypic ECs or pluripotent stem cells) for specific applications requires further research, especially for the replication of specific tissues
[58]
. Most microvascular tissue engineering efforts have used HUVECs as the main EC subtype
[58]
. However, because HUVECs are derived from large veins, they may not fully recapitulate native microvessels such as arterioles and capillaries
[9]
.
Moreover, tissue-specific cues play a pivotal role in vascularization processes; therefore, tissue-dependent development will be vital for success
[1]
. An efficient way to study various material properties and chemical parameters simultaneously could be the use of gradients—the topic is addressed in
Section 2.4
Gradients of Various Cues.
The future looks bright, especially considering that both regenerative medicine and cellular agriculture are pushing for novel and more efficient solutions for artificial tissue vascularization. Current developments indicate that the simultaneous development of (1) advanced materials with dynamically adaptable mechanical, physicochemical, and structural properties; (2) more precise microadditive production methods to build more complex bioscaffolds; (3) the use of new cellular sources; as well as (4) optimization of cell culture conditions will lead to the construction of in vitro microvasculature that fully and representatively mimics the hierarchical structure and functionality of tissue vasculature in vivo.
The entry is from 10.3390/biomedicines9060589
References
Yang, G.; Mahadik, B.; Choi, J.Y.; Fisher, J.P. Vascularization in tissue engineering: Fundamentals and state-of-art. Prog. Biomed. Eng. 2019, 2, 012002.

Brey, E. Vascularization: Regenerative Medicine and Tissue Engineering; Taylor & Francis Group, LLC: Boca Raton, FL, USA, 2015; Volume 1.

Tien, J. Tissue Engineering of the Microvasculature. Compr. Physiol. 2019, 9, 1155–1212.

Khademhosseini, A.; Vacanti, J.P.; Langer, R. Progress in Tissue Engineering. Sci. Am. 2009, 300, 64–71.

Khademhosseini, A.; Langer, R. A decade of progress in tissue engineering. Nat. Protoc. 2016, 11, 1775–1781.

Murphy, S.V.; Atala, A. 3D bioprinting of tissues and organs. Nat. Biotechnol. 2014, 32, 773–785.

Barrs, R.W.; Jia, J.; Silver, S.E.; Yost, M.; Mei, Y. Biomaterials for Bioprinting Microvasculature. Chem. Rev. 2020, 120, 10887–10949.

Rademakers, T.; Horvath, J.M.; Van Blitterswijk, C.A.; Lapointe, V.L. Oxygen and nutrient delivery in tissue engineering: Approaches to graft vascularization. J. Tissue Eng. Regen. Med. 2019, 13, 1815–1829.

Pittman, R.N. Oxygen Transport in the Microcirculation and Its Regulation. Microcirc. 2013, 20, 117–137.

Sendoel, A.; Hengartner, M.O. Apoptotic Cell Death under Hypoxia. Physiology 2014, 29, 168–176.

MacIntyre, N.R. Tissue Hypoxia: Implications for the Respiratory Clinician. Respir. Care 2014, 59, 1590–1596.

McKeown, S.R. Defining normoxia, physoxia and hypoxia in tumours—Implications for treatment response. Br. J. Radiol. 2014, 87, 20130676.

Camci-Unal, G.; Alemdar, N.; Annabi, N.; Khademhosseini, A. Oxygen-releasing biomaterials for tissue engineering. Polym. Int. 2013, 62, 843–848.

Schaeffer, M.; Hodson, D.J.; Lafont, C.; Mollard, P. Endocrine cells and blood vessels work in tandem to generate hormone pulses. J. Mol. Endocrinol. 2011, 47, R59–R66.

Bonner-Weir, S. Morphological Evidence for Pancreatic Polarity of β-Cell within Islets of Langerhans. Diabetes 1988, 37, 616–621.

Lammert, E.; Gu, G.; McLaughlin, M.; Brown, D.; Brekken, R.; Murtaugh, L.C.; Gerber, H.-P.; Ferrara, N.; Melton, D.A. Role of VEGF-A in Vascularization of Pancreatic Islets. Curr. Biol. 2003, 13, 1070–1074.

Augustin, H.G.; Koh, G.Y. Organotypic vasculature: From descriptive heterogeneity to functional pathophysiology. Science 2017, 357, eaal2379.

C. Charles Michel; Thomas E. Woodcock; Fitz‐Roy E. Curry; Understanding and extending the Starling principle. Acta Anaesthesiologica Scandinavica 2020, 64, 1032-1037, 10.1111/aas.13603.
J. Rodney Levick; C. Charles Michel; Microvascular fluid exchange and the revised Starling principle. Cardiovascular Research 2010, 87, 198-210, 10.1093/cvr/cvq062.

Charles Michel, C.; Arkill, Kenton P.; Curry, Fitz Roy E.. The Revised Starling Principle and Its Relevance to Perioperative Fluid Management; Springer Nature Switzerland AG: Switzerland, 2016; pp. 31-74.

Alberts, B.; Johnson, A.; Lewis, J.; Raff, M.; Roberts, K.; Walter, P. Blood Vessels and Endothelial Cells. In Molecular Biology of the Cell, 4th ed.; Garland Science: Abingdon, UK, 2002.

Bergers, G.; Song, S. The role of pericytes in blood-vessel formation and maintenance. Neuro-Oncology 2005, 7, 452–464.

Chandra, P.; Atala, A. Engineering blood vessels and vascularized tissues: Technology trends and potential clinical applications. Clin. Sci. 2019, 133, 1115–1135.

Bittner, S.M.; Guo, J.L.; Mikos, A.G. Spatiotemporal control of growth factors in three-dimensional printed scaffolds. Bioprinting 2018, 12, e00032.

Song, H.-H.G.; Rumma, R.T.; Ozaki, C.K.; Edelman, E.; Chen, C.S. Vascular Tissue Engineering: Progress, Challenges, and Clinical Promise. Cell Stem Cell 2018, 22, 340–354.

Arciero, J.C.; Causin, P.; Malgaroli, F. Mathematical methods for modeling the microcirculation. AIMS Biophys. 2017, 4, 362–399.

Batista, R.A.; Otoni, C.G.; Espitia, P.J. Fundamentals of chitosan-based hydrogels: Elaboration and characterization techniques. Mater. Biomed. Eng. 2019, 61–81.

Markstedt, K.; Mantas, A.; Tournier, I.; Ávila, H.M.; Hägg, D.; Gatenholm, P. 3D Bioprinting Human Chondrocytes with Nanocellulose–Alginate Bioink for Cartilage Tissue Engineering Applications. Biomacromolecules 2015, 16, 1489–1496.

Milojević, M.; Vihar, B.; Banović, L.; Miško, M.; Gradišnik, L.; Zidarič, T.; Maver, U. Core/shell Printing Scaffolds for Tissue Engineering Of Tubular Structures. J. Vis. Exp. 2019, 151, e59951.

Breuls, R.G.; Jiya, T.U.; Smit, T.H. Scaffold Stiffness Influences Cell Behavior: Opportunities for Skeletal Tissue Engineering. Open Orthop. J. 2008, 2, 103–109.

Chen, X.; Aledia, A.S.; Popson, S.A.; Him, L.; Hughes, C.C.; George, S.C. Rapid Anastomosis of Endothelial Progenitor Cell–Derived Vessels with Host Vasculature Is Promoted by a High Density of Cotransplanted Fibroblasts. Tissue Eng. Part A 2010, 16, 585–594.

Xia, T.; Liu, W.; Yang, L. A review of gradient stiffness hydrogels used in tissue engineering and regenerative medicine. J. Biomed. Mater. Res. Part A 2017, 105, 1799–1812.

Candiello, J.; Singh, S.S.; Task, K.; Kumta, P.N.; Banerjee, I. Early differentiation patterning of mouse embryonic stem cells in response to variations in alginate substrate stiffness. J. Biol. Eng. 2013, 7, 9.

Habib, A.; Sathish, V.; Mallik, S.; Khoda, B. 3D Printability of Alginate-Carboxymethyl Cellulose Hydrogel. Materials 2018, 11, 454.

Kalra, A.; Lowe, A. An Overview of Factors Affecting the Skins Youngs Modulus. J. Aging Sci. 2016, 4, 4.

Ogneva, I.V.; Lebedev, D.V.; Shenkman, B.S. Transversal Stiffness and Young's Modulus of Single Fibers from Rat Soleus Muscle Probed by Atomic Force Microscopy. Biophys. J. 2010, 98, 418–424.

Saik, J.E.; McHale, M.K.; West, J.L. Biofunctional materials for directing vascular development. Curr. Vasc. Pharmacol. 2012, 10, 331–341.

Hospodiuk, M.; Dey, M.; Sosnoski, D.; Ozbolat, I.T. The bioink: A comprehensive review on bioprintable materials. Biotechnol. Adv. 2017, 35, 217–239.

Cukierman, E.; Pankov, R.; Stevens, D.R.; Yamada, K.M. Taking Cell-Matrix Adhesions to the Third Dimension. Science 2001, 294, 1708–1712.

Kutys, M.L.; Doyle, A.D.; Yamada, K.M. Regulation of cell adhesion and migration by cell-derived matrices. Exp. Cell Res. 2013, 319, 2434–2439.

Noor, N.; Shapira, A.; Edri, R.; Gal, I.; Wertheim, L.; Dvir, T. 3D Printing of Personalized Thick and Perfusable Cardiac Patches and Hearts. Adv. Sci. 2019, 6, 1900344.

Cui, X.; Boland, T. Human microvasculature fabrication using thermal inkjet printing technology. Biomaterials 2009, 30, 6221–6227.

Holnthoner, W.; Hohenegger, K.; Husa, A.-M.; Muehleder, S.; Meinl, A.; Peterbauer-Scherb, A.; Redl, H. Adipose-derived stem cells induce vascular tube formation of outgrowth endothelial cells in a fibrin matrix. J. Tissue Eng. Regen. Med. 2012, 9, 127–136.

Knezevic, L.; Schaupper, M.; Mühleder, S.; Schimek, K.; Hasenberg, T.; Marx, U.; Priglinger, E.; Redl, H.; Holnthoner, W. Engineering Blood and Lymphatic Microvascular Networks in Fibrin Matrices. Front. Bioeng. Biotechnol. 2017, 5, 25.

Rohringer, S.; Hofbauer, P.; Schneider, K.H.; Husa, A.-M.; Feichtinger, G.; Peterbauer-Scherb, A.; Redl, H.; Holnthoner, W. Mechanisms of vasculogenesis in 3D fibrin matrices mediated by the interaction of adipose-derived stem cells and endothelial cells. Angiogenesis 2014, 17, 921–933.

Kleinman, H.K.; Martin, G.R. Matrigel: Basement membrane matrix with biological activity. Semin. Cancer Biol. 2005, 15, 378–386.

Sakiyama-Elbert, S.; Johnson, P.; Hodgetts, S.; Plant, G.; Harvey, A. Scaffolds to promote spinal cord regeneration. Handb. Clin. Neurol. 2012, 109, 575–594.

McCoy, M.G.; Seo, B.R.; Choi, S.; Fischbach, C. Collagen I hydrogel microstructure and composition conjointly regulate vascular network formation. Acta Biomater. 2016, 44, 200–208.

Schumann, P.; Lindhorst, D.; Von See, C.; Menzel, N.; Kampmann, A.; Tavassol, F.; Kokemüller, H.; Rana, M.; Gellrich, N.-C.; Rücker, M. Accelerating the early angiogenesis of tissue engineering constructsin vivoby the use of stem cells cultured in matrigel. J. Biomed. Mater. Res. Part A 2014, 102, 1652–1662.

Chen, Y.-C.; Lin, R.-Z.; Qi, H.; Yang, Y.; Bae, H.; Melero-Martin, J.M.; Khademhosseini, A. Functional Human Vascular Network Generated in Photocrosslinkable Gelatin Methacrylate Hydrogels. Adv. Funct. Mater. 2012, 22, 2027–2039.

Zhang, W.; Choi, J.K.; He, X. Engineering Microvascularized 3D Tissue Using Alginate-Chitosan Microcapsules. J. Biomater. Tissue Eng. 2017, 7, 170–173.

Li, S.; Nih, L.R.; Bachman, H.; Fei, P.; Li, Y.; Nam, E.; DiMatteo, R.; Carmichael, S.T.; Barker, T.H.; Segura, T. Hydrogels with precisely controlled integrin activation dictate vascular patterning and permeability. Nat. Mater. 2017, 16, 953–961.

Aird, W.C. Phenotypic Heterogeneity of the Endothelium. Circ. Res. 2007, 100, 158–173.

Kieda, C.; Paprocka, M.; Krawczenko, A.; Załe¸cki, P.; Dupuis, P.; Monsigny, M.; Radzikowski, C.; Duś, D. New Human Microvascular Endothelial Cell Lines with Specific Adhesion Molecules Phenotypes. Endothelium 2002, 9, 247–261.

García-Cardeña, G.; Comander, J.; Anderson, K.R.; Blackman, B.R.; Gimbrone, M.A. Biomechanical activation of vascular endothelium as a determinant of its functional phenotype. Proc. Natl. Acad. Sci. USA 2001, 98, 4478–4485.

Durr, E.; Yu, J.; Krasinska, K.M.; Carver, L.A.; Yates, J.R.; Testa, J.E.; Oh, P.; Schnitzer, J.E. Direct proteomic mapping of the lung microvascular endothelial cell surface in vivo and in cell culture. Nat. Biotechnol. 2004, 22, 985–992.

Nolan, D.J.; Ginsberg, M.; Israely, E.; Palikuqi, B.; Poulos, M.G.; James, D.; Ding, B.-S.; Schachterle, W.; Liu, Y.; Rosenwaks, Z.; et al. Molecular Signatures of Tissue-Specific Microvascular Endothelial Cell Heterogeneity in Organ Maintenance and Regeneration. Dev. Cell 2013, 26, 204–219.

Hesh, C.A.; Qiu, Y.; Lam, W.A. Vascularized Microfluidics and the Blood–Endothelium Interface. Micromachines 2019, 11, 18.

Slideshare—Histology of the Cardiovascular System. Available online: (accessed on 16 April 2021).

Maleszewski, J.; Lai, C.; Veinot, J. Anatomic Considerations and Examination of Cardiovascular Specimens (Excluding Devices). In Cardiovascular Pathology; Academic Press: Cambridge, MA, USA, 2016; pp. 1–5.

Carmeliet, P.; Jain, R.K. Molecular mechanisms and clinical applications of angiogenesis. Nat. Cell Biol. 2011, 473, 298–307.

Daneman, R.; Zhou, L.; Kebede, A.A.; Barres, B.A. Pericytes are required for blood–brain barrier integrity during embryogenesis. Nat. Cell Biol. 2010, 468, 562–566.

Trkov, S.; Eng, G.; Di Liddo, R.; Parnigotto, P.P.; Vunjak-Novakovic, G. Micropatterned three-dimensional hydrogel system to study human endothelial-mesenchymal stem cell interactions. J. Tissue Eng. Regen. Med. 2010, 4, 205–215.

Joshi, A.; Xu, Z.; Ikegami, Y.; Yamane, S.; Tsurashima, M.; Ijima, H. Co-culture of mesenchymal stem cells and human umbilical vein endothelial cells on heparinized polycaprolactone/gelatin co-spun nanofibers for improved endothelium remodeling. Int. J. Biol. Macromol. 2020, 151, 186–192.

Sudo, R.; Chung, S.; Zervantonakis, I.K.; Vickerman, V.; Toshimitsu, Y.; Griffith, L.G.; Kamm, R.D. Transport-mediated angiogenesis in 3D epithelial coculture. FASEB J. 2009, 23, 2155–2164.

Newman, A.C.; Nakatsu, M.N.; Chou, W.; Gershon, P.D.; Hughes, C.C.W. The requirement for fibroblasts in angiogenesis: Fibroblast-derived matrix proteins are essential for endothelial cell lumen formation. Mol. Biol. Cell 2011, 22, 3791–3800.

Darland, D.; D'Amore, P. TGFβ is required for the formation of capillary-like structures in three-dimensional cocultures of 10T1/2 and endothelial cells. Angiogenesis 2001, 4, 11–20.

Antoniades, H.N.; Galanopoulos, T.; Neville-Golden, J.; Kiritsy, C.P.; Lynch, S.E. Injury induces in vivo expression of platelet-derived growth factor (PDGF) and PDGF receptor mRNAs in skin epithelial cells and PDGF mRNA in connective tissue fibroblasts. Proc. Natl. Acad. Sci. USA 1991, 88, 565–569.

Fukumura, D.; Xavier, R.; Sugiura, T.; Chen, Y.; Park, E.-C.; Lu, N.; Selig, M.; Nielsen, G.; Taksir, T.; Jain, R.K.; et al. Tumor Induction of VEGF Promoter Activity in Stromal Cells. Cell 1998, 94, 715–725.

Kellouche, S.; Mourah, S.; Bonnefoy, A.; Schoëvaert, D.; Podgorniak, M.-P.; Calvo, F.; Hoylaerts, M.F.; Legrand, C.; Dosquet, C. Platelets, thrombospondin-1 and human dermal fibroblasts cooperate for stimulation of endothelial cell tubulogenesis through VEGF and PAI-1 regulation. Exp. Cell Res. 2007, 313, 486–499.

Paunescu, V.; Bojin, F.M.; Tatu, C.A.; Gavriliuc, O.I.; Rosca, A.; Gruia, A.T.; Tanasie, G.; Bunu, C.; Crisnic, D.; Gherghiceanu, M.; et al. Tumour-associated fibroblasts and mesenchymal stem cells: More similarities than differences. J. Cell. Mol. Med. 2010, 15, 635–646.

Marsano, A.; Maidhof, R.; Luo, J.; Fujikara, K.; Konofagou, E.E.; Banfi, A.; Vunjak-Novakovic, G. The effect of controlled expression of VEGF by transduced myoblasts in a cardiac patch on vascularization in a mouse model of myocardial infarction. Biomaterials 2013, 34, 393–401.

Ozawa, C.R.; Banfi, A.; Glazer, N.; Thurston, G.; Springer, M.L.; Kraft, P.E.; McDonald, D.M.; Blau, H.M. Microenvironmental VEGF concentration, not total dose, determines a threshold between normal and aberrant angiogenesis. J. Clin. Investig. 2004, 113, 516–527.

Gianni-Barrera, R.; Di Maggio, N.; Melly, L.; Burger, M.G.; Mujagic, E.; Gürke, L.; Schaefer, D.J.; Banfi, A. Therapeutic vascularization in regenerative medicine. Stem Cells Transl. Med. 2020, 9, 433–444.

Paik, K.J.; Zielins, E.R.; Atashroo, D.A.; Maan, Z.N.; Duscher, D.; Luan, A.; Walmsley, G.G.; Momeni, A.; Vistnes, S.; Gurtner, G.C.; et al. Studies in Fat Grafting. Plast. Reconstr. Surg. 2015, 136, 67–75.

Mastrullo, V.; Cathery, W.; Velliou, E.; Madeddu, P.; Campagnolo, P. Angiogenesis in Tissue Engineering: As Nature Intended? Front. Bioeng. Biotechnol. 2020, 8, 188.

Liao, D.; Johnson, R.S. Hypoxia: A key regulator of angiogenesis in cancer. Cancer Metastasis Rev. 2007, 26, 281–290.

Oladipupo, S.; Hu, S.; Kovalski, J.; Yao, J.; Santeford, A.; Sohn, R.E.; Shohet, R.; Maslov, K.; Wang, L.V.; Arbeit, J.M. VEGF is essential for hypoxia-inducible factor-mediated neovascularization but dispensable for endothelial sprouting. Proc. Natl. Acad. Sci. USA 2011, 108, 13264–13269.

Briquez, P.S.; Clegg, L.E.; Martino, M.M.; Mac Gabhann, F.; Hubbell, J.A. Design principles for therapeutic angiogenic materials. Nat. Rev. Mater. 2016, 1, 15006.

Maniscalco, W.M.; D'Angio, C.T. Vascular Endothelial Growth Factor. In Encyclopedia of Respiratory Medicine; Academic Press: Oxford, UK, 2006; pp. 413–418.

Adamis, A.P.; Berman, A.J. Inhibition of angiogenesis. In Ocular Disease; Elsevier BV: Amsterdam, The Netherlands, 2010; pp. 544–553.

Kaully, T.; Kaufman-Francis, K.; Lesman, A.; Levenberg, S. Vascularization—The Conduit to Viable Engineered Tissues. Tissue Eng. Part B Rev. 2009, 15, 159–169.

Song, J.; Bazou, D.; Munn, L.L. Anastomosis of endothelial sprouts forms new vessels in a tissue analogue of angiogenesis. Integr. Biol. 2012, 4, 857–862.

Brindle, N.P.J.; Saharinen, P.; Alitalo, K. Signaling and Functions of Angiopoietin-1 in Vascular Protection. Circ. Res. 2006, 98, 1014–1023.

Barkefors, I.; Le Jan, S.; Jakobsson, L.; Hejll, E.; Carlson, G.; Johansson, H.; Jarvius, J.; Park, J.W.; Jeon, N.L.; Kreuger, J. Endothelial Cell Migration in Stable Gradients of Vascular Endothelial Growth Factor A and Fibroblast Growth Factor 2. J. Biol. Chem. 2008, 283, 13905–13912.

Tirziu, D.; Simons, M. Angiogenesis in the human heart: Gene and cell therapy. Angiogenesis 2005, 8, 241–251.

Ylä-Herttuala, S.; Bridges, C.; Katz, M.G.; Korpisalo, P. Angiogenic gene therapy in cardiovascular diseases: Dream or vision? Eur. Heart J. 2017, 38, 1365–1371.

Giacca, M.; Zacchigna, S. VEGF gene therapy: Therapeutic angiogenesis in the clinic and beyond. Gene Ther. 2012, 19, 622–629.

Gupta, R.; Tongers, J.; Losordo, D.W. Human Studies of Angiogenic Gene Therapy. Circ. Res. 2009, 105, 724–736.

Asahara, T.; Murohara, T.; Sullivan, A.; Silver, M.; Van Der Zee, R.; Li, T.; Witzenbichler, B.; Schatteman, G.; Isner, J.M. Isolation of putative progenitor endothelial cells for angiogenesis. Science 1997, 275, 964–966.

Sieveking, D.P.; Ng, M.K. Cell therapies for therapeutic angiogenesis: Back to the bench. Vasc. Med. 2009, 14, 153–166.

Oliviero, O.; Ventre, M.; Netti, P. Functional porous hydrogels to study angiogenesis under the effect of controlled release of vascular endothelial growth factor. Acta Biomater. 2012, 8, 3294–3301.

Guo, S.; Zhu, X.; Liya, S.; Shi, L.; Ong, J.L.T.; Jańczewski, D.; Neoh, K.G. Parallel Control over Surface Charge and Wettability Using Polyelectrolyte Architecture: Effect on Protein Adsorption and Cell Adhesion. ACS Appl. Mater. Interfaces 2016, 8, 30552–30563.

Koo, M.-A.; Kang, J.K.; Lee, M.H.; Seo, H.J.; Kwon, B.-J.; You, K.E.; Kim, M.S.; Kim, D.; Park, J.-C. Stimulated migration and penetration of vascular endothelial cells into poly (L-lactic acid) scaffolds under flow conditions. Biomater. Res. 2014, 18, 7.

Ueda, A.; Koga, M.; Ikeda, M.; Kudo, S.; Tanishita, K. Effect of shear stress on microvessel network formation of endothelial cells with in vitro three-dimensional model. Am. J. Physiol. Circ. Physiol. 2004, 287, H994–H1002.

Song, J.W.; Munn, L.L. Fluid forces control endothelial sprouting. Proc. Natl. Acad. Sci. USA 2011, 108, 15342–15347.

Zhao, M. Electrical Stimulation and Angiogenesis. In The Cell Cycle in the Central Nervous System; Humana Press: Totowa, NJ, USA, 2008; pp. 495–509.

Zhao, M.; Bai, H.; Wang, E.; Forrester, J.V.; McCaig, C.D. Electrical stimulation directly induces pre-angiogenic responses in vascular endothelial cells by signaling through VEGF receptors. J. Cell Sci. 2004, 117, 397–405.

Chekanov, V.; Rayel, R.; Krum, D.; Alwan, I.; Hare, J.; Bajwa, T.; Akhtare, M. Electrical Stimulation Promotes Angiogenesis in a Rabbit Hind-Limb Ischemia Model. Vasc. Endovasc. Surg. 2002, 36, 357–366.

Patel, N.S.; Reisig, K.V.; Clyne, A.M. A Computational Model of Fibroblast Growth Factor-2 Binding to Endothelial Cells under Fluid Flow. Ann. Biomed. Eng. 2012, 41, 154–171.

Reisig, K.; Clyne, A.M. Fibroblast growth factor-2 binding to the endothelial basement membrane peaks at a physiologically relevant shear stress. Matrix Biol. 2010, 29, 586–593.

Sack, K.D.; Teran, M.; Nugent, M.A. Extracellular Matrix Stiffness Controls VEGF Signaling and Processing in Endothelial Cells. J. Cell. Physiol. 2016, 231, 2026–2039.

Koledova, Z. 3D Cell Culture: Methods and Protocols; Springer: New York, NY, USA; Hatfield, UK, 2017; Volume 1, Part 1, Chapter 4; pp. 39–63.

Gholobova, D.; Terrie, L.; Gerard, M.; Declercq, H.; Thorrez, L. Vascularization of tissue-engineered skeletal muscle constructs. Biomater. 2020, 235, 119708.

Cleaver, O.; Krieg, P.A. Molecular Mechanisms of Vascular Development. In Heart Development; Academic Press: Cambridge, MA, USA, 1999; pp. 221–252.

Kusuma, S.; Shen, Y.-I.; Hanjaya-Putra, D.; Mali, P.; Cheng, L.; Gerecht, S. Self-organized vascular networks from human pluripotent stem cells in a synthetic matrix. Proc. Natl. Acad. Sci. USA 2013, 110, 12601–12606.

Samuel, R.; Duda, D.G.; Fukumura, D.; Jain, R.K. Vascular diseases await translation of blood vessels engineered from stem cells. Sci. Transl. Med. 2015, 7, 309rv6.

Modulevsky, D.J.; Cuerrier, C.M.; Pelling, A.E. Biocompatibility of Subcutaneously Implanted Plant-Derived Cellulose Biomaterials. PLoS ONE 2016, 11, e0157894.

Hickey, R.J.; Modulevsky, D.J.; Cuerrier, C.M.; Pelling, A.E. Customizing the Shape and Microenvironment Biochemistry of Biocompatible Macroscopic Plant-Derived Cellulose Scaffolds. ACS Biomater. Sci. Eng. 2018, 4, 3726–3736.

VijayaVenkataRaman, S.; Yan, W.-C.; Lu, W.F.; Wang, C.-H.; Fuh, J.Y.H. 3D bioprinting of tissues and organs for regenerative medicine. Adv. Drug Deliv. Rev. 2018, 132, 296–332.

1Zhang, Y.S.; Khademhosseini, A. Vascular Tissue Engineering: The Role of 3D Bioprinting. In Tissue-Engineered Vascular Grafts; Metzler, J.B., Ed.; Springer: Berlin/Heidelberg, Germany, 2020; pp. 321–338.

Ng, W.L.; Chua, C.K.; Shen, Y.-F. Print Me an Organ! Why We Are Not There Yet. Prog. Polym. Sci. 2019, 97, 97.

Foyt, D.A.; Norman, M.D.A.; Yu, T.T.L.; Gentleman, E. Exploiting Advanced Hydrogel Technologies to Address Key Challenges in Regenerative Medicine. Adv. Health Mater. 2018, 7, e1700939.

Liu, W.; Zhang, Y.S.; Heinrich, M.A.; De Ferrari, F.; Jang, H.L.; Bakht, S.M.; Alvarez, M.M.; Yang, J.; Li, Y.-C.; Santiago, G.T.-D.; et al. Rapid Continuous Multimaterial Extrusion Bioprinting. Adv. Mater. 2017, 29, 29.

Dickman, C.T.D.; Russo, V.; Thain, K.; Pan, S.; Beyer, S.T.; Walus, K.; Getsios, S.; Mohamed, T.; Wadsworth, S.J. Functional characterization of 3D contractile smooth muscle tissues generated using a unique microfluidic 3D bioprinting technology. FASEB J. 2020, 34, 1652–1664.

Colosi, C.; Shin, S.R.; Manoharan, V.; Massa, S.; Costantini, M.; Barbetta, A.; Dokmeci, M.R.; Dentini, M.; Khademhosseini, A. Microfluidic Bioprinting of Heterogeneous 3D Tissue Constructs Using Low-Viscosity Bioink. Adv. Mater. 2016, 28, 677–684.

Costantini, M.; Testa, S.; Mozetic, P.; Barbetta, A.; Fuoco, C.; Fornetti, E.; Tamiro, F.; Bernardini, S.; Jaroszewicz, J.; Święszkowski, W.; et al. Microfluidic-enhanced 3D bioprinting of aligned myoblast-laden hydrogels leads to functionally organized myofibers in vitro and in vivo. Biomaterials 2017, 131, 98–110.

Kolesky, D.B.; Homan, K.A.; Skylar-Scott, M.A.; Lewis, J.A. Three-dimensional bioprinting of thick vascularized tissues. Proc. Natl. Acad. Sci. USA 2016, 113, 3179–3184.

Miller, J.S.; Stevens, K.R.; Yang, M.T.; Baker, B.; Nguyen, D.-H.T.; Cohen, D.M.; Toro, E.; Chen, A.A.; Galie, P.A.; Yu, X.; et al. Rapid casting of patterned vascular networks for perfusable engineered three-dimensional tissues. Nat. Mater. 2012, 11, 768–774.

Moya, M.L.; Alonzo, L.F.; George, S.C. Microfluidic device to culture 3D in vitro Human Capillary Networks. Adv. Struct. Saf. Stud. 2013, 1202, 21–27.

Moya, M.L.; Hsu, Y.-H.; Lee, A.P.; Hughes, C.C.; George, S.C. In Vitro Perfused Human Capillary Networks. Tissue Eng. Part C Methods 2013, 19, 730–737.

Bertassoni, L.E.; Cecconi, M.; Manoharan, V.; Nikkhah, M.; Hjortnaes, J.; Cristino, A.L.; Barabaschi, G.; Demarchi, D.; Dokmeci, M.R.; Yang, Y.; et al. Hydrogel bioprinted microchannel networks for vascularization of tissue engineering constructs. Lab Chip 2014, 14, 2202–2211.

Kolesky, D.B.; Truby, R.L.; Gladman, A.S.; Busbee, T.A.; Homan, K.A.; Lewis, J.A. 3D Bioprinting of Vascularized, Heterogeneous Cell-Laden Tissue Constructs. Adv. Mater. 2014, 26, 3124–3130.

Lee, V.K.; Kim, D.Y.; Ngo, H.; Lee, Y.; Seo, L.; Yoo, S.-S.; Vincent, P.A.; Dai, G. Creating perfused functional vascular channels using 3D bio-printing technology. Biomaterials 2014, 35, 8092–8102.

Zhang, Y.S.; Davoudi, F.; Walch, P.; Manbachi, A.; Luo, X.; Dell'Erba, V.; Miri, A.K.; Albadawi, H.; Arneri, A.; Li, X.; et al. Bioprinted thrombosis-on-a-chip. Lab Chip 2016, 16, 4097–4105.

Wu, W.; Deconinck, A.; Lewis, J.A. Omnidirectional Printing of 3D Microvascular Networks. Adv. Mater. 2011, 23, H178–H183.

Hinton, T.J.; Jallerat, Q.; Palchesko, R.N.; Park, J.H.; Grodzicki, M.S.; Shue, H.-J.; Ramadan, M.H.; Hudson, A.R.; Feinberg, A.W. Three-dimensional printing of complex biological structures by freeform reversible embedding of suspended hydrogels. Sci. Adv. 2015, 1, e1500758.

Bhattacharjee, T.; Zehnder, S.M.; Rowe, K.G.; Jain, S.; Nixon, R.M.; Sawyer, W.G.; Angelini, T.E. Writing in the granular gel medium. Sci. Adv. 2015, 1, e1500655.

Štumberger, G.; Vihar, B. Freeform Perfusable Microfluidics Embedded in Hydrogel Matrices. Materials 2018, 11, 2529.

Jia, W.; Gungor-Ozkerim, P.S.; Zhang, Y.S.; Yue, K.; Zhu, K.; Liu, W.; Pi, Q.; Byambaa, B.; Dokmeci, M.R.; Shin, S.R.; et al. Direct 3D bioprinting of perfusable vascular constructs using a blend bioink. Biomaterials 2016, 106, 58–68.

Pi, Q.; Maharjan, S.; Yan, X.; Liu, X.; Singh, B.; Van Genderen, A.M.; Robledo-Padilla, F.; Parra-Saldivar, R.; Hu, N.; Jia, W.; et al. Digitally Tunable Microfluidic Bioprinting of Multilayered Cannular Tissues. Adv. Mater. 2018, 30, e1706913.

Gao, Q.; He, Y.; Fu, J.-Z.; Liu, A.; Ma, L. Coaxial nozzle-assisted 3D bioprinting with built-in microchannels for nutrients delivery. Biomaterials 2015, 61, 203–215.

Klar, T.A.; Wollhofen, R.; Jacak, J. Sub-Abbe resolution: From STED microscopy to STED lithography. Phys. Scr. 2014, 2014, 014049.

Heitz, J.; Plamadeala, C.; Wiesbauer, M.; Freudenthaler, P.; Wollhofen, R.; Jacak, J.; Puthukodan, S.; Klar, T.A.; Weth, A.; Baumgartner, W.; et al. Three-dimensional photonic structures on transparent substrates fabricated by two-photon polymerization for use as cell substrates and for wetting experiments. In Proceedings of the 2016 18th International Conference on Transparent Optical Networks (ICTON), Trento, Italy, 10–14 July 2016; pp. 1–4.

Zhu, W.; Qu, X.; Zhu, J.; Ma, X.; Patel, S.; Liu, J.; Wang, P.; Lai, C.S.E.; Gou, M.; Xu, Y.; et al. Direct 3D bioprinting of prevascularized tissue constructs with complex microarchitecture. Biomaterials 2017, 124, 106–115.

Groll, J.; Boland, T.; Blunk, T.; Burdick, J.A.; Cho, D.-W.; Dalton, P.D.; Derby, B.; Forgacs, G.; Li, Q.; Mironov, V.A.; et al. Biofabrication: Reappraising the definition of an evolving field. Biofabrication 2016, 8, 013001.

Burdis, R.; Kelly, D.J. Biofabrication and bioprinting using cellular aggregates, microtissues and organoids for the engineering of musculoskeletal tissues. Acta Biomater. 2021, 126, 1–14.

Bhang, S.H.; Cho, S.-W.; La, W.-G.; Lee, T.-J.; Yang, H.S.; Sun, A.-Y.; Baek, S.-H.; Rhie, J.-W.; Kim, B.-S. Angiogenesis in ischemic tissue produced by spheroid grafting of human adipose-derived stromal cells. Biomaterials 2011, 32, 2734–2747.

Beard, D.A.; Bassingthwaighte, J.B.; Greene, A.S. Computational modeling of physiological systems. Physiol. Genom. 2005, 23, 1–3.

Secomb, T.W.; Beard, D.A.; Frisbee, J.C.; Smith, N.P.; Pries, A.R. The Role of Theoretical Modeling in Microcirculation Research. Microcirculation 2008, 15, 693–698.

Gould, I.G.; Linninger, A.A. Hematocrit Distribution and Tissue Oxygenation in Large Microcirculatory Networks. Microcirculation 2015, 22, 1–18.

Safaeian, N.; David, T. A Computational Model of Oxygen Transport in the Cerebrocapillary Levels for Normal and Pathologic Brain Function. Br. J. Pharmacol. 2013, 33, 1633–1641.

Ganesan, P.; He, S.; Xu, H. Development of an image-based model for capillary vasculature of retina. Comput. Methods Programs Biomed. 2011, 102, 35–46.

Su, S.-W.; Catherall, M.; Payne, S. The Influence of Network Structure on the Transport of Blood in the Human Cerebral Microvasculature. Microcirculation 2012, 19, 175–187.

Mehdizadeh, H.; Sumo, S.; Bayrak, E.S.; Brey, E.M.; Cinar, A. Three-dimensional modeling of angiogenesis in porous biomaterial scaffolds. Biomaterials 2013, 34, 2875–2887.

Whiteley, J.P.; Gavaghan, D.J.; Hahn, C.E.W. Mathematical modelling of oxygen transport to tissue. J. Math. Biol. 2002, 44, 503–522.

Lertkiatmongkol, P.; Liao, D.; Mei, H.; Hu, Y.; Newman, P.J. Endothelial functions of platelet/endothelial cell adhesion molecule-1 (CD31). Curr. Opin. Hematol. 2016, 23, 253–259.

Vestweber, D. VE-cadherin: The major endothelial adhesion molecule controlling cellular junctions and blood vessel formation. Arterioscler. Thromb. Vasc. Biol. 2008, 28, 223–232.

Privratsky, J.R.; Newman, P.J. PECAM-1: Regulator of endothelial junctional integrity. Cell Tissue Res. 2014, 355, 607–619.

Fina, L.; Molgaard, H.V.; Robertson, D.; Bradley, N.J.; Monaghan, P.; Delia, D.; Sutherland, D.R.; Baker, M.A.; Greaves, M.F. Expression of the CD34 gene in vascular endothelial cells. Blood 1990, 75, 2417–2426.

Herrmann, H.; Bär, H.; Kreplak, L.; Strelkovand, S.V.; Aebi, U. Intermediate filaments: From cell architecture to nanomechanics. Nat. Rev. Mol. Cell Biol. 2007, 8, 562–573.

Graf, B.W.; Boppart, S.A. Imaging and Analysis of Three-Dimensional Cell Culture Models. Methods Mol. Biol. 2010, 591, 211–227.

Finney, F.T.; McPheters, A.; Singer, N.V.; Scott, J.C.; Jepsen, K.J.; Holmes, J.R.; Talusan, P.G. Microvasculature of the Plantar Plate Using Nano–Computed Tomography. Foot Ankle Int. 2018, 40, 457–464.

Miles, A.A.; Miles, E.M. Vascular reactions to histamine, histamine-liberator and leukotaxine in the skin of guinea-pigs. J. Physiol. 1952, 118, 228–257.

Demené, C.; Payen, T.; Dizeux, A.; Barrois, G.; Gennisson, J.-L.; Bridal, L.; Tanter, M. 3-D Longitudinal Imaging of Tumor Angiogenesis in Mice In Vivo Using Ultrafast Doppler Tomography. Ultrasound Med. Biol. 2019, 45, 1284–1296.

Hu, J.; Cao, Y.; Wu, T.; Li, D.; Lu, H. High-resolution three-dimensional visualization of the rat spinal cord microvasculature by synchrotron radiation micro-CT. Med. Phys. 2014, 41, 101904.

Lesher-Pérez, S.C.; Kim, G.-A.; Kuo, C.-H.; Leung, B.M.; Mong, S.; Kojima, T.; Moraes, C.; Thouless, M.D.; Luker, G.D.; Takayama, S. Dispersible oxygen microsensors map oxygen gradients in three-dimensional cell cultures. Biomater. Sci. 2017, 5, 2106–2113.

Fapyane, D.; Berillo, D.; Marty, J.-L.; Revsbech, N.P. Urea Biosensor Based on a CO2 Microsensor. ACS Omega 2020, 5, 27582–27590.

Li, Y.-C.; Lee, I.-C. The Current Trends of Biosensors in Tissue Engineering. Biosensors 2020, 10, 88.

Revsbech, N.P. Analysis of Microbial Communities with Electrochemical Microsensors and Microscale Biosensors. In Methods in Enzymology; Elsevier BV: Amsterdam, The Netherlands, 2005; Volume 397, pp. 147–166.
More