The alarming increase in antimicrobial resistance, based on the built-in abilities of bacteria to nullify the activity of current antibiotics, leaves a growing number of bacterial infections untreatable. An appealing approach, advanced in recent decades, concerns the development of novel agents able to interact with the external layers of bacteria, causing irreparable damage. Regarding this, some natural cationic antimicrobial peptides (CAMPs) have been reconsidered, and synthetic cationic polymers, mimicking CAMPs and able to kill bacteria by non-specific detrimental interaction with the negative bacterial membranes, have been proposed as promising solutions. Lately, also dendrimers were considered suitable macromolecules for the preparation of more advanced cationic biomimetic nanoparticles, able to harmonize the typical properties of dendrimers, including nanosize, mono-dispersion, long-term stability, high functionality, and the non-specific mechanism of action of CAMPs. Although cationic dendrimers are extensively applied in nanomedicine for drug or gene delivery, their application as antimicrobial agents is still in its infancy. In this first part of our overview on the main types of cationic antibacterial dendrimers, the state of the art of the potential applications of PAMAM and PPI-based agents has therefore been reviewed here, with particular attention to the innovative case studies in reported in the literature 
antibiotic resistance;novel antimicrobial agents;cationic antimicrobial polymers;non-specific membrane disruption;biomimetic cationic dendrimer nanoparticles;PAMAM and PPI antibacterial dendrimers
1. Introduction
The increasing growth of resistant bacterial strains, which represent a highly worrying trend that has characterized the last few years, has caused the appearance and the re-emergence of serious infections, in particular in nosocomial settings [1]. In this regard, pneumonia, bloodstream infections, wound or surgical site infections, and meningitis are often associated with the failure of antibiotic-based treatments or with the concomitant lack of new antimicrobial agents [2][3][4]. Gram-negative bacteria such as Klebsiella pneumoniae, Acinetobacter baumannii, Stenotrophomonas maltophilia, Pseudomonas aeruginosa, Burkholderia cepacia, and Escherichia coli pose a major threat to human health, since they are the most critically resistant and rapidly spreading bacteria [5][6][7]. Moreover, in addition to their intrinsic resistance mechanisms, these pathogens are rapidly becoming multidrug-or even pan-drug-resistant to most life-saving drugs. In particular, aerobic non-fermenting Gram-negative bacilli such as A. baumannii, P. aeruginosa, and S. maltophilia, are emerging as clinically relevant superbugs, contributing significantly, with their alarming resistance levels, to numerous therapeutic failures. Gram-negative bacteria, unlike Gram-positive bacteria, are characterized by high and similar resistance levels, both in Europe and in the United States.Given this situation, as well as being inspired by reports developed by a group of independent experts led by World Health Organization (WHO), the medical research community must develop new antimicrobial agents active on current resistant strains of Gram-positive and Gram-negative bacteria. Furthermore, because bacterial infections, especially if caused by biofilm production, hinder the durability, reliability, and performance of many medical devices and implants, antibiofilm strategies such as antibacterial coatings that repel bacteria and prevent biofilm formation are highly desirable.Natural cationic antimicrobial peptides (CAMPs) are a class of unconventional antimicrobial agents with a broad spectrum of action, active on a wide variety of Gram-positive and Gram-negative bacteria, fungi, protozoa and yeast. These molecules, without the need to enter the bacterium cell or to interfere with specific metabolic processes, basically act based on their positive charge. Their action is rapid and not specific and is based initially on electrostatic interactions with the bacterial surface, followed by the progressive damage of the bacterial outer and/or cytoplasmic membranes (OM and CM) that leads to the bacterial death. On the base of this mechanism of action, CAMPs kill pathogens simply through external contact, without the need to address the numerous resistance mechanisms due to genetic mutations that bacteria can develop. In other words, since these materials do not interfere with the vital processes for bacteria, which can eventually be modified—by genetic mutation—by resistant pathogens, they are generally indifferent to the multiple resistance mechanisms developed by the bacteria on which they act. Recently, cationic antimicrobial macromolecules, inspired by natural CAMPs, have gained increasing attention from the scientific community because, compared to small molecules of drug, they possess several advantages such as higher long-term activity, limited residual toxicity, chemical stability, non-volatility and the inability to permeate through the skin due to their macromolecular structure and high molecular weight (MW) [8]. Among polymers, dendrimers (Ds), a specific class of nanoscaled, hyperbranched, tree-like macromolecules, with a symmetric well-defined structure and a three-dimensional architecture [9][10][11][12], have recently shown to function as antibacterial agents and as antimicrobial surface coatings as well. The first synthesis of dendrimer materials, whose structure was conceptualized in the early 1970s, dates back to the mid-eighties. Although Ds, including positively charged ones, such as cationic poly(amidoamine) (PAMAM), polypropylenimine (PPI), dendritic polylysine, and peptide structures, have been actively investigated for a wide range of industrial and biomedical applications, their potential usages as antimicrobial agents mimicking CAMPs, both as drugs, as surface coating agents and drug-delivery systems, has been recognized only very recently.In this regard, based on the Scopus data, the scientific interest in cationic polymers as novel antimicrobials was limited until 2000, but has grown steadily and exponentially to date. On the contrary, the trend of scientific production and research in the field of antimicrobial dendrimers (ADs) over a period of 30 years definitively underscores how this was non-existent until 2007, then it started to increase, but not constantly, with the highest production in the last decade (Figure 1).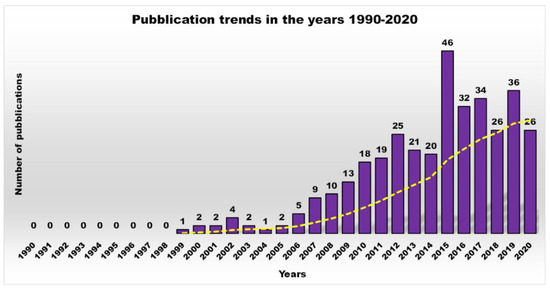 Figure 1. Number of publications as a function of time, obtained by typing the key words "antimicrobial dendrimers" in Scopus.


Furthermore, as shown in Figure 2, a more restricted investigation of the scientific output of the last decade concerning cationic antibacterial dendrimers (CADs) (yellow bars), the subject of this work, revealed that the actual number of studies is far lower than that reported in Figure 1 (purple bars), which generally depicts the number of publications on ADs.