Lignosulfonates are biobased surfactants and specialty chemicals, which are usually produced as a byproduct during sulfite pulping of wood. They are the technical lignin that is, by far, the most commercially traded and are hence vital for replacing non‑renewable and fossil‑based chemicals. Due to their prominent use as plasticizers, dispersants, and stabilizers, the physicochemical properties of lignosulfonates play a key role in determining their end‑use and performance. Their chemical composition and structure are inherently linked to the characteristic behavior of lignosulfonates.
This articlentry hence outlines the fundamental chemistry of lignosulfonates, while discussing the following physicochemical properties:
·         Solubility in different solvents
·         Conformation and shape in aqueous solution
·         Self-association and agglomeration in aqueous solution
·         Precipitation
·         Adsorption at surfaces and interfaces
Lignosulfonate;lignin;surfactant;adsorption;dispersant
1. Introduction
Lignosulfonates are generated as a by‑product during sulfite pulping of wood [1]. During this process, the "infinite" lignin network is broken down and sulfonate groups are introduced on the lignin. The degraded lignin is hence rendered water‑soluble and can be separated from the cellulosic fibers and material. Lignin isolated by a different process may alternatively be sulfonated post‑separation, e.g. as sulfonated or sulfomethylated Kraft, soda or hydrolysis lignin [2][3][4][2-4]. The original lignin structure is preserved to a certain degree, which endows lignosulfonates with its amphiphilic properties. In technical applications, lignosulfonates are usually found as the polyelectrolyte salt of the lignosulfonic acid. Anionic groups such as sulfonate and carboxylic groups ensure water solubility, while less polar groups, i.e. aromatic and aliphatic moieties, facilitate interactions with surfaces and interfaces. Due to their surface activity, lignosulfonates are considered surfactants.
The most common use is as a dispersant [5], which includes applications such as concrete plasticizers, drilling mud thinners, coal-slurry and dye dispersants [6]. In 1999, roughly 50% of the annually produced lignosulfonates were used as admixtures in concrete [7]. Other application areas include chelating and complexation agents, soil conditioning agents, floatation agents, dust binders, and emulsion stabilizers [5][6][8][9][5-6, 8-9]. Emulsion stabilization with lignosulfonates requires high shear during emulsification, as the effect on interfacial tension is less than that of commercial surfactants [10]. Still, lignosulfonates can produce highly stable emulsions, which has yielded applications for example in agrochemical formulation [5]. Experimentally explored but not fully commercialized are applications such as corrosion and scale inhibitors, CO2 flooding and enhanced oil recovery, as well as polymer precursors and additives [11][12][13][14][15][16][17][11-17].
2. Chemical Composition
Lignosulfonates are described as randomly‑branched polyaromatic polyelectrolytes [18][19][18-19], which exhibit water‑solubility and surfactant‑like behavior [5-6, [5][6][20]20]. Hydrophilicity is imparted by the presence of anionic sulfonate groups, but also by anionic carboxylate groups and (at high pH) phenolic hydroxyl groups [1]. The counterion is often a remnant from the pulping process, such as sodium, calcium, magnesium, or ammonia, which facilitates dissociation in aqueous solution. Apart from the dissociation equilibrium, the counterion may otherwise determine the physicochemical properties of lignosulfonates, for example by affecting the polymer conformation [21]. Some of the polar functional groups, that is, ketones, aldehydes, and methoxy groups, are not operative hydrophilic groups [22]. Aliphatic hydroxyl and ether groups can be intrinsically hydrophilic; however, their functionality is determined by the surrounding molecular structure [22][23][24][22-24]. Two examples of generic lignosulfonate structures are shown in Figure 14. It should be noted that these are simplifications of a more complicated picture. Lignosulfonates should be considered as statistical entities rather than classical chemical compounds, due to their polydisperse structure and molecular weight [25]. The molecular weight of lignosulfonates may span from less than 1000  g/mol to more than 400 000  000 g/mol in molecular weight [26][27][26-27]. Other technical lignin usually exhibits a lower Mw and a less broad distribution, as for example in case of soda lignin (1000 – 15 000 g/mol), Kraft lignin (1500 – 25 000 g/mol) or organosolv lignin (500 – 5000 g/mol) [28]. Lignosulfonate composition, structure, molecular weight distribution, and abundance of functional groups is dependent on aspects such as the biomass origin, sulfite pulping conditions, and post‑extraction fractionation and chemical modifications.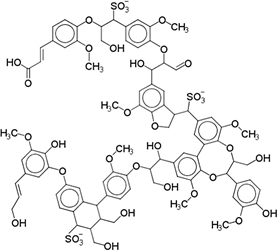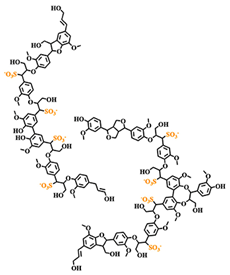 Figure 1. Generic (simplified) structure of lignosulfonates according to Kun and Pukanszky [29] (left), and Fiorani et al. [30][30] (right).
3. Physicochemical Properties of Lignosulfonates