Please check and comment entries here.
Definition
The 3D cell cultures allow cells to growth and interact between them and with the extracellular matrix in three dimensions. This conforms a culture structure closer to physiological conditions than the cell monolayers (2D) traditionally employed in cell biology, and it can be achieved by using extracellular matrix hydrogels derived from decellularized tissues, bio-printed scaffolds made of different materials, or by forcing the cells to interact between each other without physical support. 3D culture models provide a powerful tool to understand cell-to-cell interactions when used in co-cultures, and to determine the involvement of extracellular vesicles as major key interactors in cellular crosstalk.
1. Introduction
In recent years, the number of scientific groups dedicated to the study of physiological phenomena using 3D cultures has grown notably, and with it the amount of published information describing the cellular communication mechanisms in this physiological processes[1]. Released by all types of cells, extracellular vesicles (EVs) are an important tool to study cell's biology and cell-to-cell communication. Cancer research is one of the main fields that can benefit of 3D culturing research and, specifically, in the study of vesicle-mediated cell-to-cell crosstalk in cancer progression [2]. The study of cancer biology had evolved along the last years towards culture models that reflect the biological complexity of tumoral cells and their interactions with the extracellular matrix. The reason is that the traditional bidimensional (2D) cultures differ from tridimensional (3D) cultures in their morphological characteristics, proliferation rate and degree of differentiation, the level of cell-to-cell interaction and cell-to-matrix, as well as their resistance to drugs [3][4]. However, the application of complex culture models to unravel the role of EVs in cancer research has not been yet popularized due to the difficulties that this type of cultures presents, both technically and in terms of cost. Nevertheless, several studies have highlighted the importance of 3D cultures in the study of EVs in cancer research [5][6][7].
For many years, in vitro models have been based on 2D monolayers of immortalized human cancer-derived cell lines. The popularization of 3D culturing has come with the observation that this type of cell cultures often retain heterogeneity. This feature enables the study of tumour evolution. Moreover, 3D models offer advantages over conventional monolayered cell cultures including preservation of the topology and cell-to-matrix interactions [8][9]. On the other hand, 3D cell culturing is also challenging, given the difficulties to stabilize the cultures, and the requirement of specific material to start up and maintain the culture. In Table 1, we present a comparison between 2D and 3D cultures characteristics[1]. In spite of the difficulties, 3D cultures become a great model to study the interplay between cancer and non-cancer cells in order to unveil biological mechanisms involved in cancers initiation and progression [10]. Spheroids are probably the type of 3D culture most commonly used. Spheroid formation methodologies can be divided into two categories: scaffold-based models, either incorporating materials which are components of the matrix (collagen, fibronectin, agarose, laminin, and gelatin) [11], or synthetic materials that provide cell support [12], and scaffold-free models that comprise non-adherent and in suspension cells, which are forced to aggregate and form spheroids [13].
Table 1. Main advantages and limitations of the different cellular models in cancer research [14][15].
Model

Advantages

Limitations

2D Monolayers

Easy and cost effective

Large amount of data available

Reproducible cultures, easy to work for downstream applications and imaging

Reduced cell-to-cell interactions
Different sensitivity to drugs
Loss of biological characteristics over time

Gel based 3D Cultures

Cell–ECM interactions
Possibility to incorporate different factors in the gel, extending release over time
Uniform spheroids/organoids

Difficult to dispense cells
Non-homogenous change of growth media
Difficult to retrieve cells and downstream analysis

Low-attachment plates

Simpler and cheaper when compared to gel based systems
Long-term culture

Time consuming
Low yield
Heterogeneous spheroids

Microfluidic systems

Possible chemical gradients
Control of fluid rates
Convenient for multicellular cultures controlling cell locations

Expensive commercial devices or not well-characterized "in house" build devices
Fluidic problems related to bubbles and clogging
One of the first applications of 3D cultures was the study of tumorigenesis. Typically, cells are cultured in a mouse sarcoma-derived gel (i.e., Matrigel®) but there are alternatives such as human leiomyoma discs and their matrix (Myogel). The latter has been commercialized for in vitro assays such as IncuCyte®, spheroid and sandwich assays [16].
3D culture models grown in vitro from cancer stem directly or from primary tissues are a more evolved form of organoids [17]. The usage of primary tissues has an attractive potential for personalized medicine. Organoids display a large number of features and functions of their original organs, such architecture and gene expression, reason why they have a prospective potential for the cancer research but also in other fields. The combination of organoids with the co-culture of multiple cells can mimic the tumour immune microenvironment, including key features like immune checkpoint [18]. Organoids derived from different mouse or human tumours have now been widely adopted to investigate different types of cancer. Moreover, by culturing organoids in proper media conditions, they could serve as a model of several subtypes of diseases [19]. Several other models such as prostate, brain or kidney organoids have been stablished [20].
In addition to organoids, other kinds of 3D cultures have been developed. 3D bioprinting can be defined as a layer-by-layer deposition of biomaterial, such as tissue spheroids, cell pellets, microcarriers, decellularized extracellular matrix, and cell-laden hydrogels, in a well-defined structure to generate viable 3D cultures. In the last decade, the bioprinting technologies have undergone remarkable advancements [21]. Current trends utilizing these scaffold technologies aim at capturing more of the micro-environmental cues than other model systems [22][23]. The scaffolds may act as a surrogate for the missing extracellular microenvironment (ECM), representing the available space of tumour tissue, providing the physical support for cell growth, adhesion, and proliferation, and causing the cells to form an appropriate spatial distribution and cell‑cell or cell‑ECM interaction [3].
A wide range of techniques are utilized to generate different scaffolds, including solvent casting/particulate leaching, freeze‑drying, phase inversion, electrospinning, stereolithography, selective laser sintering, shape deposition manufacturing, 3D printing, robotic microassembly, and fused deposition modelling [24]. Among these techniques, freeze-drying, phase inversion, and fibre electrospinning are utilized most of the times. Typical materials used for tumour cells 3D culture are a laminin-rich basement membrane extract gelatin (for instance Matrigel, Myogel or Cultrex BME) [25], silk fibroin proteins [26], hyaluronic acid [27], collagen [28], or decellularized material [29][30]. Scaffold-based 3D cell culture, using a biological basement membrane, captures many aspects of the spatial cues (cell-to-cell communication, cell-to-matrix adhesion, and physical characteristics) and provides a unique compromise between complexity and practicality [31]. The choice of a biological scaffold is not simply to deliver an anchorage site for cells but also to provide a complex structure enabling communication linked to cell behaviour and function. The formation of 3D structures within the culture also reproduces aspects of the nutrient and oxygen gradients found across in vivo tumours. It should be considered that those 3D scaffolds can be used not only to simulate the microenvironment but alto to assess drug research. Recently publications have showed the ability of decellularized ECM materials to encapsulate and controlled delivery of different drugs such as dexamethasone [32] or doxorubicin [33]. Therefore, 3D scaffold can have drug-carrier functions in therapeutic applications related to testing drugs and in predicting treatment efficacies.
2. 3D cultures and extracellular vesicles
There are different 3D strategies employed to study the different roles of extracellular vesicles in cancer. The choice of a specific model depends on the research question aimed to solve; hence, there are different model options to study of the role of EVs in tumorigenicity processes (Figure 1) [1].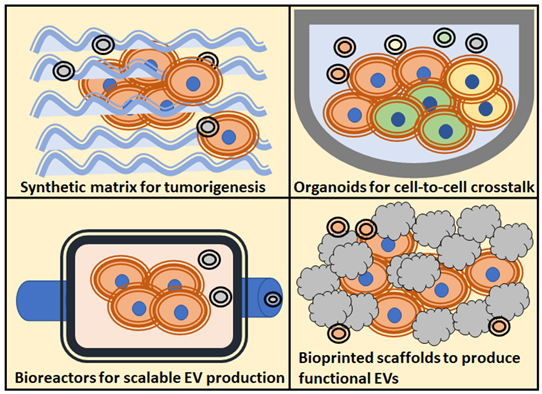 Figure 1. Schematic overview of the most popularized 3D culture techniques, and the main assays regarding extracellular vesicles (EVs) applications to the study of tumours biology, use of EVs as therapeutic agents, study of tumorigenesis and cell-to-cell crosstalk.
Since the first descriptions of EVs and their different types, it has been reported that tumoral cells secrete vesicles. These vesicles participate in the cellular cross-talk with the cellular matrix [34] and cancer cells are rather effective in vesicular-mediated intercellular transfer [35]. Actually, this transfer is a requirement of tumoral cells to stablish a connection with the surrounding matrix and actively regulate processes involved in cancer progression and autocrine/paracrine oncogenesis. Indeed, EVs play an important role in reprogramming stromal cells, modulating the immune system, and promoting angiogenesis (reviewed in [36]). Moreover, the dependency of tumours on vesicular communication also concerns the preparation of an extracellular niche for metastasis [37][38][39].
In either cancer research or EVs field, 3D models have already contributed to gain knowledge in pathogenesis, diagnosis and cell-to-cell communication. As mentioned in the introduction, 3D cultures reflect the in vivo biological complexity and their interactions with the extracellular matrix. They are already an appealing asset to implement in research bottom-up approaches as an intermediate step between monolayer in vitro experiments and in vivo experiments.
This entry is adapted from 10.3390/cancers13020307