Definition
The genus Acacia belongs to the subfamily Mimosoideae of the family Fabaceae. It comprises a large group of more than 1350 species, widely distributed throughout tropical and warm temperate areas of the world. Most of the species are native to Australia but are spread all over the world because of their wide variety of uses and economic importance such as for ornamental purposes, for sand and dune stabilization, as a fuel through the production of woodfuel and charcoal, as an important source of fodder, tannins for the leather industry, gums, and essences for perfumes.
1. Introduction
Acacia spp. are considered invasive in many territories around the world [1]. Amongst invasive Acacia spp., A. cyclops A. Cunn. ex G. Don fil., A. dealbata Link, A. longifolia (Andrews) Willd., A. melanoxylon R. Br., A. saligna (Labill.) H. L. Wendl., A. retinodes Schlecht., A. karroo Hayne, A. mearnsii De Wild. and A. pycnantha Bentham are the most representative. Figure 1 shows examples of invaded areas by Acacia spp. in the Portuguese territory.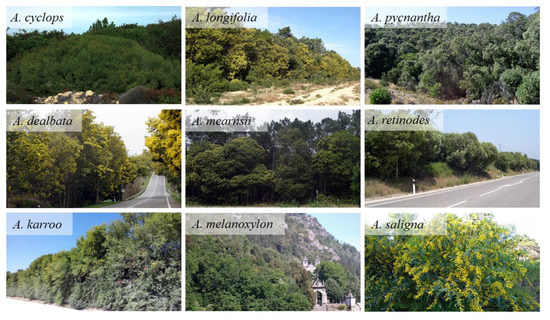 Figure 1. Examples of invaded areas by Acacia spp. in the Portuguese territory (elaborated from images taken from Plantas Invasoras em Portugal (http://invasoras.pt), accessed on 1 November 2020).
The threat to protected areas, and the negative impacts on the ecosystems and on the productivity of the forest sector have motivated expensive removal initiatives by local authorities in order to minimize its proliferation [2], generating high amounts of biomass which is usually burned for energy production or landfilled. The valorization of some Acacia spp. for energy may have a positive contribution to the economic sustainability of the involved operations [3], but this option is often limited due to collection and transportation costs. However, finding high-value applications for these species can contribute to overcome these costs and make the process economically sustainable. Furthermore, given the magnitude of the invasion, the radicular system of these species, the dispersion of seeds in the natural environments, and the years necessary before soil nutrients and processes return to similar pre-invasion levels, their elimination by removal has been considered unfeasible from practical and economical perspectives [4], and has the potential of by itself to cause significant environmental impacts, namely the destabilization of large volumes of soil.
Acacia spp. fractions, namely bark, wood, leaves, flowers, pods, seeds or roots, are rich sources of bioactive secondary metabolites (e.g., amines and alkaloids, cyanogenic glycosides, cyclitols, fatty acids and seed oils, gums, non-protein amino acids, terpenes, tannins and other flavonoids and simple phenolics) [5][6][7] that have been used in traditional medicine for a wide range of ailments, such as diabetes, worm infection, dysmenorrhea, eczema, malaria, gout, jaundice, abdominal pain, kidney problems, constipation, leprosy, piles, pneumonia, rheumatism, fever and cancer [8]. These secondary metabolites can play an important role in reducing oxidative stress, by acting as antioxidants, and possess antimicrobial properties, which are important in the development of alternatives to antibiotics due to the increasing resistance to the conventional antimicrobial agents [8]. Besides, other important biological activities, such as anti-inflammatory, antiviral, anticancer, antidiabetic, immunomodulatory, hepatoprotective, cardioprotective and anthelmintic, were already reported for extracts obtained from Acacia spp. [8] In this way, the production of bioactive preparations of Acacia spp., either from well-established areas or from the biomass generated in the control operations, can be an option to bring an important economic return, overcoming expenses with collection and transport, while simultaneously contributing to motivating forest cleaning and management actions, reducing the risk of fires and improving the social-economic development of rural areas. Moreover, the valorization of its flowers, as an example, will have a positive contribution to the control of the proliferation by preventing the formation of seeds, thus minimizing the spread through the seed dispersal route [9]. Other well-studied applications of Acacia spp. biomass fractions with the potential to contribute to the industrial exploitation of these species, and therefore to the control of their unregulated widespread, include its incorporation in polymers and composites, micro and nanomaterials or as adsorbents.
2. Material Applications of
Acacia

spp. Biomass

In addition to bioactive extracts and aromatic oil, with potential uses in the nutraceutical, pharmaceutical, cosmetic, perfume, food or feed industries, a diversity of other interesting materials can be obtained from Acacia spp. Some of these materials are already available on a commercial scale and will not be further discussed. These include the use of A. mearnsii for the production of tannins for the leather industry and for the manufacture of adhesives, which has been implemented since the sixties, as well the manufacture of coagulants used in the wastewater treatment, which were also commercialized about forty years ago [10][11][12]. Besides these known applications, recent studies have shown that the potential of the Acacia spp. biomass or extracts obtained from it can have new applications with high added value, as in the polymer and composite industries, in the production of nanomaterials, in the manufacture of new adsorbents for the removal of pollutants as alternatives to conventional activated carbon, or wood and steel protection (Table 1).

Table 1. Material applications from Acacia spp. components.
Acacia

spp.
Component Used
Product/Application

A. dealbata

Bark and wood
Wood protection

A. karroo

Charcoal (activated)
Adsorbent (heavy metals)

A. mearnsii

Tannin extract from bark
Stabilizer for low-density polyethylene films
Superparamagnetic nanoparticles
Nanocellulose films
Nanofiber membranes
Encapsulated nanoparticles
Lactic-

co

-glycolic acid microparticles drug carriers
Spent bark from tannin production
Filler in polypropylene composites
Cellulose nanocrystals
Adsorbent (dyes)
Biochar from woodchips (activated)
Adsorbent (ammonium)

A. melanoxylon

Water extract from leaves
Colloidal silver nanoparticles

A. saligna

Silver nanoparticles from water leaves extract
Adsorbent (dyes)
Water leaves extract
Corrosion inhibitor
The entry is from 10.3390/f11121342
References
Le Maitre, D.C.; Gaertner, M.; Marchante, E.; Ens, E.-J.; Holmes, P.M.; Pauchard, A.; O'Farrell, P.J.; Rogers, A.M.; Blanchard, R.; Blignaut, J.; et al. Impacts of invasive Australian acacias: Implications for management and restoration. Divers. Distrib. 2011, 17, 1015–1029, doi:10.1111/j.1472-4642.2011.00816.x.

Ferreira, S.; Gil, N.; Queiroz, J.A.; Duarte, A.P.; Domingues, F.C. An evaluation of the potential of Acacia dealbata as raw material for bioethanol production. Bioresour. Technol. 2011, 102, 4766–4773, doi:10.1016/j.biortech.2011.01.051.

Carneiro, M.; Moreira, R.; Gominho, J.; Fabião, A. Could control of invasive acacias be a source of biomass for energy under mediterranean conditions? Chem. Eng. Trans. 2014, 37, 187–192, doi:10.3303/CET1437032.

Souza-Alonso, P.; Rodríguez, J.; González, L.; Lorenzo, P. Here to stay. Recent advances and perspectives about Acacia invasion in Mediterranean areas. Ann. For. Sci. 2017, 74, doi:10.1007/s13595-017-0651-0.

Seigler, D.S. Phytochemistry of Acacia-Sensu lato. Biochem. Syst. Ecol. 2003, 31, 845–873, doi:10.1016/S0305-1978(03)00082-6.

Jæger, D.; O'Leary, M.C.; Weinstein, P.; Møller, B.L.; Semple, S.J. Phytochemistry and bioactivity of Acacia sensu stricto (Fabaceae: Mimosoideae). Phytochem. Rev. 2019, 18, 129–172, doi:10.1007/s11101-018-9583-z.

Pereira, F.B.M.; Domingues, F.M.J.; Silva, A.M.S. Triterpenes from Acacia dealbata. Nat. Prod. Lett. 1996, 8, 97–103, doi:10.1080/10575639608043247.

Subhan, N.; Burrows, G.E.; Kerr, P.G.; Obied, H.K. Phytochemistry, Ethnomedicine, and Pharmacology of Acacia. In Studies in Natural Products Chemistry; Elsevier BV: Amsterdam, The Netherlands, 2018; Volume 57, pp. 247–326, ISBN 9780444640574.

Lorenzo, P.; Reboredo-Durán, J.; Muñoz, L.; Freitas, H.; González, L. Herbicidal properties of the commercial formulation of methyl cinnamate, a natural compound in the invasive silver wattle (Acacia dealbata). Weed Sci. 2019, 68, 69–78, doi:10.1017/wsc.2019.68.

Ogawa, S.; Yazaki, Y. Tannins from Acacia mearnsii De Wild. Bark: Tannin determination and biological activities. Molecules 2018, 23, 1–18, doi:10.3390/molecules23040837.

Yazaki, Y. Utilization of flavonoid compounds from bark and wood: A review. Nat. Prod. Commun. 2015, 10, 513–520, doi:10.1177/1934578x1501000333.

Chan, J.M.; Day, P.; Feely, J.; Thompson, R.; Little, K.M.; Norris, C.H. Acacia mearnsii industry overview: Current status, key research and development issues. South. For. 2015, 77, 19–30, doi:10.2989/20702620.2015.1006907.

Bridson, J.H.; Kaur, J.; Zhang, Z.; Donaldson, L.; Fernyhough, A. Polymeric flavonoids processed with co-polymers as UV and thermal stabilisers for polyethylene films. Polym. Degrad. Stab. 2015, 122, 18–24, doi:10.1016/j.polymdegradstab.2015.10.002.

Taflick, T.; Maich, É.G.; Dias Ferreira, L.; Bica, C.I.D.; Rodrigues, S.R.S.; Nachtigall, S.M.B. Acacia bark residues as filler in polypropylene composites. Polimeros 2015, 25, 289–295, doi:10.1590/0104-1428.1840.

Shashanka, R.; Kumara Swamy, B.E. Biosynthesis of silver nanoparticles using leaves of Acacia melanoxylon and their application as dopamine and hydrogen peroxide sensors. Phys. Chem. Res. 2020, 8, 1–18, doi:10.22036/pcr.2019.205211.1688.

Devi, S.M.; Nivetha, A.; Prabha, I. Superparamagnetic Properties and Significant Applications of Iron Oxide Nanoparticles for Astonishing Efficacy—a Review. J. Supercond. Nov. Magn. 2019, 32, 127–144, doi:10.1007/s10948-018-4929-8.

Khan, M.Y.; Mangrich, A.S.; Schultz, J.; Grasel, F.S.; Mattoso, N.; Mosca, D.H. Green chemistry preparation of superparamagnetic nanoparticles containing Fe3O4 cores in biochar. J. Anal. Appl. Pyrolysis 2015, 116, 42–48, doi:10.1016/j.jaap.2015.10.008.

Missio, A.L.; Mattos, B.D.; Ferreira, D. de F.; Magalhães, W.L.E.; Bertuol, D.A.; Gatto, D.A.; Petutschnigg, A.; Tondi, G. Nanocellulose-tannin films: From trees to sustainable active packaging. J. Clean. Prod. 2018, 184, 143–151, doi:10.1016/j.jclepro.2018.02.205.

Ismail, A.; Hilal, N.; Jaafar, J.; Wright, C. Nanofiber Membranes for Medical, Environmental, and Energy Applications; Ismail, A., Hilal, N., Jaafar, J., Wright, C., Eds.; CRC Press: Boca Raton, FL, USA, 2019; ISBN 9781351174046.

Martins, A.F.; Facchi, S.P.; da Câmara, P.C.F.; Camargo, S.E.A.; Camargo, C.H.R.; Popat, K.C.; Kipper, M.J. Novel poly(ε-caprolactone)/amino-functionalized tannin electrospun membranes as scaffolds for tissue engineering. J. Colloid Interface Sci. 2018, 525, 21–30, doi:10.1016/j.jcis.2018.04.060.

dos Santos, C.; Vargas, Á.; Fronza, N.; dos Santos, J.H.Z. Structural, textural and morphological characteristics of tannins from Acacia mearnsii encapsulated using sol-gel methods: Applications as antimicrobial agents. Colloids Surf. B Biointerfaces 2017, 151, 26–33, doi:10.1016/j.colsurfb.2016.11.041.

Grasel, F. dos S.; Behrens, M.C.; Strassburger, D.; Einloft, S.; Diz, F.M.; Morrone, F.B.; Wolf, C.R.; Ligabue, R.A. Synthesis, characterization and in vitro cytotoxicity of acacia mearnsii proanthocyanidin-loaded plga microparticles. Braz. J. Chem. Eng. 2019, 36, 239–250, doi:10.1590/0104-6632.20190361s20170154.

Taflick, T.; Schwendler, L.A.; Rosa, S.M.L.; Bica, C.I.D.; Nachtigall, S.M.B. Cellulose nanocrystals from acacia bark–Influence of solvent extraction. Int. J. Biol. Macromol. 2017, 101, 553–561, doi:10.1016/j.ijbiomac.2017.03.076.

Sulyman, M.; Namiesnik, J.; Gierak, A. Low-cost adsorbents derived from agricultural by-products/wastes for enhancing contaminant uptakes from wastewater: A review. Pol. J. Environ. Stud. 2017, 26, 479–510, doi:10.15244/pjoes/66769.

De Gisi, S.; Lofrano, G.; Grassi, M.; Notarnicola, M. Characteristics and adsorption capacities of low-cost sorbents for wastewater treatment: A review. Sustain. Mater. Technol. 2016, 9, 10–40, doi:10.1016/j.susmat.2016.06.002.

Silva, J.S. da; Rosa, M.P. da; Beck, P.H.; Peres, E.C.; Dotto, G.L.; Kessler, F.; Grasel, F.S. Preparation of an alternative adsorbent from Acacia Mearnsii wastes through acetosolv method and its application for dye removal. J. Clean. Prod. 2018, 180, 386–394, doi:10.1016/j.jclepro.2018.01.201.

Singh, J.; Sharma, R.; Ali, A. Application of Acacia karroo charcoal for desalinating Ni(II) and Zn(II) from aqueous solutions through batch mode. J. Water Reuse Desalin. 2013, 3, 268–276, doi:10.2166/wrd.2013.164.

Beckinghausen, A.; Reynders, J.; Merckel, R.; Wen, Y.; Marais, H.; Schwede, S. Post-pyrolysis treatments of biochars from sewage sludge and A . mearnsii for ammonia ( NH 4 -n) recovery. Appl. Energy 2020, 271, 115212, doi:10.1016/j.apenergy.2020.115212.

Taşkıran, F.; Uzunoğlu, D.; Özer, A. Biosynthesis, characterisation and determination of adsorbent properties of silver nanoparticles with cyprus acacia (acacia cyanophylla) leaf extract. Anadolu Univ. J. Sci. Technol. A Appl. Sci. Eng. 2017, 18, 733–745, doi:10.18038/aubtda.299006.

Yildiz, S.; Gürgen, A.; Can, Z.; Tabbouche, S.A.; Kiliç, A.O. Some bioactive properties of Acacia dealbata extracts and their potential utilization in wood protection. Drewno 2018, 61, 81–97, doi:10.12841/wood.1644-3985.255.03.

Avci, G.; Keleş, Y. Aqueous extract of Acacia cyanophylla leaves as environmentally friendly inhibitor for mild steel corrosion in 1 M H2SO4 solution. Surf. Interface Anal. 2011, 43, 1311–1317, doi:10.1002/sia.3714.
More