Definition
Hypoxia is the most common microenvironment feature of lung cancer tumors, which affects cancer progression, metastasis and metabolism. Oxygen induces both proteomic and genomic changes within tumor cells, which cause many alternations in the tumor microenvironment (TME). This study defines current knowledge in the field of tumor hypoxia in non-small cell lung cancer (NSCLC), including biology, biomarkers, in vitro and in vivo studies and also hypoxia imaging and detection. While classic two-dimensional (2D) in vitro research models reveal some hypoxia dependent manifestations, three-dimensional (3D) cell culture models more accurately replicate the hypoxic TME.
1. Introduction
Worldwide, lung cancer remains the most commonly diagnosed cancer and the greatest cause of cancer-related death. Globally, according to the latest GLOBOCAN 2018 estimates, lung cancer is the most often diagnosed malignancy (2.1 million new cases) with an age-standardized incidence rate of 22.5 per 100,000 person years worldwide in 2018. In both sexes combined, lung cancer is the most commonly diagnosed cancer (11.6% of the total cases) and the leading cause of cancer death (18.4% of the total cancer deaths) [1]. The low survival rate in lung cancer patients is related to the disease at diagnosis [2]. Although, nowadays, there are many new approaches for lung cancer therapies, the 5-year survival rate is still as low as 5–15% [3]. Adenocarcinoma is one of the three major subtypes of non-small cell lung cancer (NSCLC) and is the most common histologic subtype of lung cancer in men and women [4]. The anticancer treatments are based on chemotherapy, radiation therapy and targeted therapy. The major problem is clinical resistance, in which hypoxia is one of the key components. Oxygen deprivation results in gene expression changes and subsequent proteomic changes that have many important effects on various cellular and physiological functions and lead to therapy resistance [5]. Moreover, oxygen deprivation observed among other respiratory diseases such as severe obstructive sleep apnea (OSA) and chronic obstructive pulmonary disease (COPD) may play a role in the initiation and progression of lung cancer [6].
At the cellular level, hypoxia is a significant tumor feature, which induces both proteomic and genomic changes within tumor cells, which cause many changes in the tumor microenvironment (TME). The TME is composed of different cells that are programmed to promote initiation, progression and metastasis of lung cancer and various secreted factors and extracellular matrix (ECM), which provides support to the surrounding cells (Figure 1).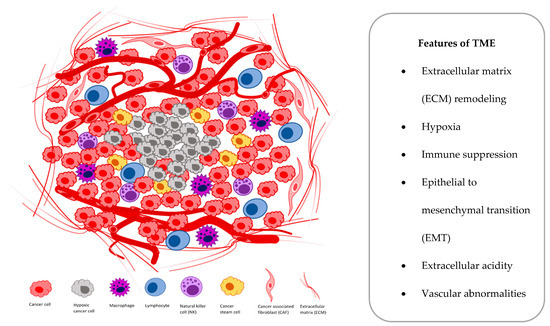 Figure 1. Main components and features of the tumor microenvironment (TME).
The entry is from 10.3390/cells10010141
References
Bray, F.; Ferlay, J.; Soerjomataram, I.; Siegel, R.L.; Torre, L.A.; Jemal, A. Global cancer statistics 2018: GLOBOCAN estimates of incidence and mortality worldwide for 36 cancers in 185 countries. CA Cancer J. Clin. 2018, 68, 394–424.

Cheng, T.-Y.D.; Cramb, S.M.; Baade, P.D.; Youlden, D.R.; Nwogu, C.; Reid, M.E. The International Epidemiology of Lung Cancer: Latest Trends, Disparities, and Tumor Characteristics. J. Thorac. Oncol. 2016, 11, 1653–1671.

Molina, J.R.; Yang, P.; Cassivi, S.D.; Schild, S.E.; Adjei, A.A. Non-small cell lung cancer: Epidemiology, risk factors, treatment, and survivorship. Mayo Clin. Proc. 2008, 83, 584–594.

Travis, W.D.; Brambilla, E.; Noguchi, M.; Nicholson, A.G.; Geisinger, K.; Yatabe, Y.; Powell, C.A.; Beer, D.; Riely, G.; Garg, K.; et al. International Association for the Study of Lung Cancer/American Thoracic Society/European Respiratory Society: International Multidisciplinary Classification of Lung Adenocarcinoma: Executive Summary. Proc. Am. Thorac. Soc. 2011, 8, 381–385.

Jing, X.; Yang, F.; Shao, C.; Wei, K.; Xie, M.; Shen, H.; Shu, Y. Role of hypoxia in cancer therapy by regulating the tumor microenvironment. Mol. Cancer 2019, 18, 157.

Marhuenda, E.; Campillo, N.; Gabasa, M.; Martínez-García, M.A.; Campos-Rodríguez, F.; Gozal, D.; Navajas, D.; Al-caraz, J.; Farré, R.; Almendros, I. Effects of Sustained and Intermittent Hypoxia on Human Lung Cancer Cells. Am. J. Respir. Cell Mol. Biol. 2019, 61, 540–544.

Mondal, A.; Gebeyehu, A.; Miranda, M.; Bahadur, D.; Patel, N.; Ramakrishnan, S.; Rishi, A.K.; Singh, M. Characteriza-tion and printability of Sodium alginate -Gelatin hydrogel for bioprinting NSCLC co-culture. Sci. Rep. 2019, 9, 1–12.

Chaicharoenaudomrung, N.; Kunhorm, P.; Noisa, P. Three-dimensional cell culture systems as an in vitro platform for cancer and stem cell modeling. World J. Stem Cells 2019, 11, 1065–1083.

Stratmann, A.T.; Fecher, D.; Wangorsch, G.; Göttlich, C.; Walles, T.; Walles, H.; Dandekar, T.; Dandekar, G.; Nietzer, S.L. Establishment of a human 3D lung cancer model based on a biological tissue matrix combined with a Boolean in silico model. Mol. Oncol. 2013, 8, 351–365.

Wallstabe, L.; Göttlich, C.; Nelke, L.C.; Kühnemundt, J.; Schwarz, T.; Nerreter, T.; Einsele, H.; Walles, H.; Dandekar, G.; Nietzer, S.L.; et al. ROR1-CAR T cells are effective against lung and breast cancer in advanced microphysiologic 3D tu-mor models. JCI Insight 2019, 4.

Saforo, D.; Omer, L.; Smolenkov, A.; Barve, A.; Casson, L.; Boyd, N.L.; Clark, G.; Siskind, L.; Beverly, L.J. Primary lung cancer samples cultured under microenvironment-mimetic conditions enrich for mesenchymal stem-like cells that pro-mote metastasis. Sci. Rep. 2019, 9, 4177.

Kuriakose, A.E.; Hu, W.; Nguyen, K.T.; Menon, J.U. Scaffold-based lung tumor culture on porous PLGA microparticle substrates. PLoS ONE 2019, 14, e0217640.

Zhang, M.; Boughton, P.; Rose, B.; Lee, C.-S.; Hong, A.M. The Use of Porous Scaffold as a Tumor Model. Int. J. Biomater. 2013, 2013, 396056.

Simon, K.A.; Mosadegh, B.; Minn, K.T.; Lockett, M.R.; Lockett, M.R.; Boucher, D.M.; Hall, A.B.; Hillier, S.M.; Udagawa, T.; Eustace, B.K.; et al. Metabolic response of lung cancer cells to radiation in a paper-based 3D cell culture system. Biomaterials 2016, 95, 47–59.

Grist, S.M.; Nasseri, S.S.; Laplatine, L.; Schmok, J.C.; Yao, D.; Hua, J.; Chrostowski, L.; Cheung, K.C. Long-term monitor-ing in a microfluidic system to study tumour spheroid response to chronic and cycling hypoxia. Sci. Rep. 2019, 9, 1–13.

Xu, Z.; Li, E.; Guo, Z.; Yu, R.; Hao, H.; Xu, Y.; Sun, Z.; Li, X.; Lyu, J.; Wang, Q. Design and Construction of a Multi-Organ Microfluidic Chip Mimicking the in vivo Microenvironment of Lung Cancer Metastasis. ACS Appl. Mater. Interfaces 2016, 8, 25840–25847.

Chang, C.-W.; Cheng, Y.-J.; Tu, M.; Chen, Y.-H.; Peng, C.-C.; Liao, W.-H.; Tung, Y.-C. A polydimethylsiloxane-polycarbonate hybrid microfluidic device capable of generating perpendicular chemical and oxygen gradients for cell culture studies. Lab. Chip 2014, 14, 3762–3772.

Jin, X.; Luan, H.; Chai, H.; Yan, L.; Zhang, J.; Wang, Q.; Cao, L. Netrin 1 interference potentiates epithelial-to-mesenchymal transition through the PI3K/AKT pathway under the hypoxic microenvironment conditions of non-small cell lung cancer. Int. J. Oncol. 2019, 54, 1457–1465.

Xu, Z.; Gao, Y.; Hao, Y.; Li, E.; Wang, Y.; Zhang, J.; Wang, W.; Gao, Z.; Wang, Q. Application of a microfluidic chip-based 3D co-culture to test drug sensitivity for individualized treatment of lung cancer. Biomaterials 2013, 34, 4109–4117.

Zhou, J.; Kulasinghe, A.; Bogseth, A.; O'Byrne, K.; Punyadeera, C.; Papautsky, I. Isolation of circulating tumor cells in non-small-cell-lung-cancer patients using a multi-flow microfluidic channel. Microsyst. Nanoeng. 2019, 5, 1–12.

Arai, K.; Eguchi, T.; Rahman, M.M.; Sakamoto, R.; Masuda, N.; Nakatsura, T.; Calderwood, S.K.; Kozaki, K.-I.; Itoh, M. A Novel High-Throughput 3D Screening System for EMT Inhibitors: A Pilot Screening Discovered the EMT Inhibitory Activity of CDK2 Inhibitor SU9516. PLoS ONE 2016, 11, e0162394.

Wang, X.; Zhang, X.; Dai, X.; Wang, X.; Li, X.; Diao, J.; Xu, T. Tumor-like lung cancer model based on 3D bioprinting. 3 Biotech 2018, 8, 501.

Utama, R.H.; Atapattu, L.; O'Mahony, A.P.; Fife, C.M.; Baek, J.; Allard, T.; O'Mahony, K.J.; Ribeiro, J.C.; Gaus, K.; Kavallaris, M. A 3D Bioprinter Specifically Designed for the High-Throughput Production of Matrix-Embedded Multicellar Spheroids. Iscience 2020, 23, 101621.

Rebelo, S.P.; Pinto, C.; Martins, T.R.; Harrer, N.; Estrada, M.F.; Loza-Alvarez, P.; Cabeçadas, J.; Alves, P.C.; Gualda, E.J.; Sommergruber, W.; et al. 3D-3-culture: A tool to unveil macrophage plasticity in the tumour microenvironment. Biomaterials 2018, 163, 185–197.

Tam, R.Y.; Yockell-Lelièvre, J.; Smith, L.J.; Julian, L.M.; Baker, A.E.G.; Choey, C.; Hasim, M.S.; Dimitroulakos, J.; Stanford, W.L.; Shoichet, M.S. Rationally Designed 3D Hydrogels Model Invasive Lung Diseases Enabling High-Content Drug Screening. Adv. Mater. 2019, 31, e1806214.

Glunde, K.; Shah, T.; Winnard, P.T.; Raman, V.; Takagi, T.; Vesuna, F.; Artemov, D.; Bhujwalla, Z.M. Hypoxia Regulates Choline Kinase Expression through Hypoxia-Inducible Factor-1α Signaling in a Human Prostate Cancer Model. Cancer Res. 2008, 68, 172–180.

Godet, I.; Shin, Y.J.; Ju, J.A.; Ye, I.C.; Wang, G.; Gilkes, D.M. Fate-mapping post-hypoxic tumor cells reveals a ROS-resistant phenotype that promotes metastasis. Nat. Commun. 2019, 10, 1–18.
More