Please check and comment entries here.
Definition
Grapes are rich in primary and secondary metabolites. Among the secondary metabolites, polyphenolic compounds are the most abundant in grape berries. Besides their important impacts on grape and wine quality, this class of compounds has beneficial effects on human health. Due to their antioxidant activity, polyphenols and phenolic acids can act as anti-inflammatory and anticancerogenic agents, and can modulate the immune system. In grape berries, polyphenols and phenolic acids can be located in the pericarp and seeds, but distribution differs considerably among these tissues. Although some classes of polyphenols and phenolic acids are under strict genetic control, the final content is highly influenced by environmental factors, such as climate, soil, vineyard, and management.
1. Introduction
In 2017 the worldwide grape production was 73 million tons and wine consumption was 244 hectolitres, which represents the grapevine as one of the main horticultural crops in the world [1]. The grapevine is part of the large genus Vitis which consists of 70 species divided into two subgenera, Muscadinia and Euvitis. Based on the geographical origin, Euvitis group can be divided into European (V. vinifera L.), East Asian (V. amurensis Rupr.), and North American species (V. labrusca L., V. riparia Michx., V. berlandieri Planch., etc.). One more group that can be considered as a specific group of grape cultivars includes interspecific hybrids, made by crossing V. vinifera cultivars with cultivars belonging to other Vitis species. In recent years there has been a growing interest in studying these cultivars [2][3][4][5] because of their quite different polyphenolic content than V. vinifera cultivars. Furthermore, they possess a level of resistance to some fungal diseases and pests.
Vitis vinifera has a long domestication history, and during the long cultivation period, thousands of grape varieties were developed, many of which are still in production [6]. Grapes are rich in primary and secondary metabolites which affect the quality. There are three distinct tissues in a grape berry (skin, pulp, seeds) which contain different groups of compounds, such as organic acids, sugars, volatile compounds, polyphenols, and phenolic acids. Polyphenolic compounds, together with phenolic acids, are a large group of plant secondary metabolites that can be divided based on structure. Polyphenols are defined as substances that possess multiple aromatic rings with one or more hydroxyl groups, while a phenol is any compound that contains an aromatic ring—regardless of the number of them—with one or more hydroxyl groups attached. Such a definition is not appropriate when referring to plant phenols because it would also include estrone and some carotenoids that are terpene by origin. In general, plant phenols and polyphenols refer to natural secondary metabolites derived from the shikimate/phenylpropane pathway and/or polyketide acetate/malonate pathway to form monomeric or polymeric forms, as chemically defined, and they are included in a very large number of physiological processes in plants [7][8]. According to this definition, stilbene and flavonoids are polyphenols, while phenolic acids are not polyphenols, so the terms phenols and phenolic compounds will be used hereinafter when phenolic acids, stilbene, and flavonoids need to be considered. One of the largest polyphenolic groups present in grapes is the flavonoids, which include anthocyanins, flavonols, and flavan-3-ols. Furthermore, grapes contain phenolic acids (hydroxycinnamic and hydroxybenzoic acids) and stilbenes. All these compounds play important roles in growth, reproduction, and defense reactions in plants. Based on the presence or absence of phenolic compounds, grape varieties can be divided into red and white varieties. Furthermore, these compounds have considerable influences on grape/wine quality and sensory characteristics—particularly astringency, bitterness, and color stability [9][10]. The final content and composition of phenolic compounds are influenced by multiple factors, such as grape variety, climate, soil, and growing conditions [11].
In the 1990s the phrase "French paradox" was established for observations that the French population suffered a lower incidence of coronary heart disease (CHD) despite the high intake of saturated fat. This paradox was attributed to high wine consumption [12]. Since then, many studies have focused on the benefits of moderate wine consumption and grape and wine compounds that have beneficial effects on human health [13][14][15][16][17]. It was shown that phenols have antioxidant activity, can be anti-inflammatory, anticancerogenic, and antibacterial, and can modulate the immune system. Hence, there is a growing interest in using these compounds in the food industry as natural additives, food coloring agents, or seasonings [18].
In the last ten years, numerous review papers and chapters have been published that provide overviews of the chemistry and biochemistry of polyphenols [11][19][20][21][22], their composition and content in grapes [23], their impacts on human health [24][25], and their interactions with different aspects of human health in more detail, such as anticancer [26], neuroprotective [26][27][28][29][30][31], anti-inflammatory [32][33][34], cardiovascular [35], and anti-diabetic [36] actions.
2. Extraction Techniques for Phenolic Compounds
The analysis of phenolic compounds consists of collecting the samples, sample preparation, instrumental analysis, and data processing. The most important step, which will affect the instrumental analysis and the data obtained, is sample preparation. This is the most critical and demanding step to improve the analysis concerning the matrix, the analyte, or both. Thus, the optimization of sample preparation reduces the total analysis time and avoids potential error sources, especially when working with samples at low concentrations [37].
A major step in sample preparation is the extraction process, including the choice of extraction technique, which is important for achieving good recoveries [8]. There are many extraction techniques for the recovery of phenols from grapes, such as solid–liquid extraction (SLE), ultrasound-assisted extraction (UAE), microwave-assisted extraction (MAE), enzyme-assisted extraction (EAE), matrix solid-phase dispersion (MSPD), supercritical fluid extraction (SFE), and pressurized liquid extraction (PLE). Details about above-mentioned techniques for extraction of phenolic compounds can be found elsewhere [21].
3. Phenolic Compounds in Grapevines
Grapes and leaves are a rich source of phenolic compounds, and in the grape berry, they can be found in the skin, pulp, and seed. These different tissues of the grape berry have different contents and compositions of phenolic compounds. The skin of a grape berry contains tannins and pigments, the pulp contains juice but no pigments, and seeds contain tannins. Biosynthesis of all phenolic compounds goes through the phenylpropanoid pathway from the amino acid phenylalanine, and two classes of compounds can be produced, flavonoids and stilbenes [11][38]. Phenolic compounds, as secondary metabolites, are frequently accumulated as glycosides. Thus, nonflavanoids accumulate in the vacuoles of mesocarp cells while flavonoids accumulate in the dermal cells of the skin tissue [39]. Many factors influence the biosynthesis of phenolic compounds, among which the most important is the genotype (cultivar). Other factors are related to environmental conditions in which the cultivar is grown, especially light, temperature, soil, and water availability. Additionally, the different management practices, such as irrigation, fertilization, yield management, and canopy management, can also have considerable influences on grape phenolic composition [40]. One more factor that has a considerable influence on determining the content of phenols in grapes is the analysis procedure, especially the extraction method used. Over the years many publications related to the analysis of grape and wine phenolic compounds have been published. Nonetheless, there is still no available standardized procedure for sample preparation, extraction, and analysis [15]. Furthermore, the content of phenolic compounds is expressed in different ways, which hinders the comparison of results.
4. Biosynthesis of Phenolic Compounds
There are many review papers and book chapters which describe the biosynthesis of phenolic compounds in grapes [22]. In brief, the biosynthesis of phenolic compounds can be divided into several interconnected pathways. The first pathway, the phenylpropanoid pathway, includes the conversion of phenylalanine by three successive enzymatic reactions to 4-coumaroyl-CoA. The above-mentioned enzyme reaction is catalyzed by the following enzymes: phenylalanine ammonia-lyase (PAL), cinnamate-4-hydroxyliase (C4H), and 4-coumaroyl: CoA ligase (4CL). Phenolic acids are the products of modifications of intermediates of the phenylpropanoid pathway, and 4-coumaroyl-CoA, the end product of this branch, can be converted to an intermediate (tetrahydroxychalcone) for flavonoids' biosynthesis by the action of chalcone synthase (CHS) or by stilbene synthase (STS) to an intermediate for stilbene biosynthesis of resveratrol (Figure 1) [41].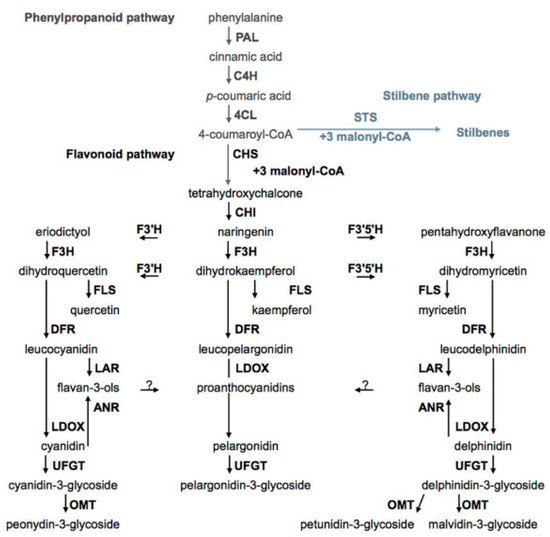 Figure 1. Biosyntheses of phenolic compounds. PAL—phenylalanine ammonia-lyase, C4H—cinnamate-4-hydroxyliase, 4CL—4-coumaroyl:CoA ligase, STS—stilbene synthase, CHS—chalcone synthase, CHI—chalcone isomerase, F3'H—flavonoid-3′-hydroxylase, F3′5′H—flavonoid-3′,5′-hydroxylase, F3H—flavanone-3-hydroxylase, FLS—flavonol synthase, DFR—dihydroflavonol reductase, LAR—leucoanthocyanidin reductase, LDOX—leucoanthocyanidin dioxygenase, ANR—anthocyanidin reductase, UFGT—UDP-glucose:flavonoid-3-O-glycosyl transferase, OMT—anthocyanin O-methyltransferase.
The second pathway is the flavonoid pathway. By this pathway biosyntheses of flavonols, flavan-3-ols, proanthocyanidins, and anthocyanidins occur. Chalcone isomerase (CHS) converts tetrahydroxychalcone to flavanone naringenin. Other flavanone eriodictyol and pentahydroxyflavanone are products of conversion of naringenin by enzymes flavonoid-3′-hydroxylase (F3′H) and flavonoid-3′,5′-hydroxylase (F3′5′H), respectively. By the activity of flavanone-3-hydroxylase (F3H), naringenin, eriodictyol, and pentahydroxyflavanone give dihydroxyflavonols, dihydroxykaempferol, dihydromyricetin, and dihydroquercetin, respectively. Enzyme flavonol synthase (FLS) catalyzes the conversion of three dihydroxyflavonols to the corresponding flavonols. The dihydroxyflavonols are also intermediates in the biosynthesis of flavan-3-ols and anthocyanins. In this branch of flavonoids biosynthesis, they are first converted to corresponding leucoanthocyanidines by the action of dihydroflavonol reductase (DFR). Leucoanthocyanidin reductase (LAR) converts leucoanthocyanidines to flavan-3-ols, and leucoanthocyanidin dioxygenase (LDOX) catalyzes the biosynthesis of the corresponding anthocyanidins. Anthocyanidins and flavonols are present in form of glycosides and this reaction is catalyzed by UDP-glucose: flavonoid-3-O-glycosyl transferase (UFGT) [11][22].
5. Grape Phenolics and Their Impact on Human Health
In the last few decades, there has been a growing interest in establishing a healthy diet and lifestyle that will maintain overall health and prevent stress-related diseases, such as cardiovascular disease (CVD), cancer, and diabetes [35]. Wine, grapes, and grape products have been consumed since ancient times. Grapes contain various nutrient elements, such as minerals, vitamins, edible fibers, and phytochemicals, among which the most important are polyphenolic compounds [24]. A lot of positive properties are attributed to phenolic compounds, such as antioxidant, anti-inflammatory, anticancerogenic, and antibacterial activity.
This entry is adapted from 10.3390/molecules25235604
References
OIV Statistical Report on World Vitiniculture 2018. Availabe online: http://www.oiv.int/public/medias/6371/oiv-statistical-report-on-world-vitiviniculture-2018.pdf (accessed on 10 May 2019).

De Rosso, M.; Panighel, A.; Dalla Vedova, A.; Gardiman, M.; Flamini, R. Characterization of Non-Anthocyanic Flavonoids in Some Hybrid Red Grape Extracts Potentially Interesting for Industrial Uses. Molecules 2015, 20, 18095–18106, doi:10.3390/molecules201018095.

De Rosso, M.; Tonidandel, L.; Larcher, R.; Nicolini, G.; Dalla Vedova, A.; De Marchi, F.; Gardiman, M.; Giust, M.; Flamini, R. Identification of new flavonols in hybrid grapes by combined liquid chromatography-mass spectrometry approaches. Food Chem. 2014, 163, 244–251, doi:10.1016/j.foodchem.2014.04.110.

Kontić, J.K.; Jelušić, I.R.; Tomaz, I.; Preiner, D.; Marković, Z.; Stupić, D.; Andabaka, Ž.; Maletić, E. Polyphenolic Composition of the Berry Skin of Six Fungus-Resistant Red Grapevine Varieties. Int. J. Food Prop. 2015, 19, 1809–1824, doi:10.1080/10942912.2015.1107844.

Ehrhardt, C.; Arapitsas, P.; Stefanini, M.; Flick, G.; Mattivi, F. Analysis of the phenolic composition of fungus-resistant grape varieties cultivated in Italy and Germany using UHPLC-MS/MS. J. Mass Spectrom. 2014, 49, 860–869, doi:10.1002/Jms.3440.

Myles, S.; Boyko, A.R.; Owens, C.L.; Brown, P.J.; Grassi, F.; Aradhya, M.K.; Prins, B.; Reynolds, A.; Chia, J.M.; Ware, D.; et al. Genetic structure and domestication history of the grape. P. Natl. Acad. Sci. USA 2011, 108, 3530–3535, doi:10.1073/pnas.1009363108.

Quideau, S.; Deffieux, D.; Douat-Casassus, C.; Pouysegu, L. Plant Polyphenols: Chemical Properties, Biological Activities, and Synthesis. Ang. Chem. Int. Ed. 2011, 50, 586–621, doi:10.1002/anie.201000044.

Tomaz, I. Optimization of the sample preparation for analysis of polyphenolic compounds in the grape skin by high performance liquid chromatography. Ph.D. Thesis, University of Zagreb, Zagreb, 2016.

Brossaud, F.; Cheynier, V.; Noble, A.C. Bitterness and astringency of grape and wine polyphenols. Aust. J. Grape Wine Res. 2001, 7, 33–39, doi:10.1111/j.1755-0238.2001.tb00191.x.

Gomez-Plaza, E.; Gil-Munoz, R.; Lopez-Roca, J.M.; Martinez-Cutillas, A.; Fernandez-Fernandez, J.I. Phenolic compounds and color stability of red wines: Effect of skin maceration time. Am. J. Enol. Vitic. 2001, 52, 266–270.

Flamini, R.; Mattivi, F.; De Rosso, M.; Arapitsas, P.; Bavaresco, L. Advanced Knowledge of Three Important Classes of Grape Phenolics: Anthocyanins, Stilbenes and Flavonols. Int. J. Mol. Sci. 2013, 14, 19651–19669, doi:10.3390/ijms141019651.

Renaud, S.; Delorgeril, M. Wine, alcohol, platelets, and the french paradox for coronary heart-disease. Lancet 1992, 339, 1523–1526, doi:10.1016/0140-6736(92)91277-f.

Galinski, C.N.; Zwicker, J.I.; Kennedy, D.R. Revisiting the mechanistic basis of the French Paradox: Red wine inhibits the activity of protein disulfide isomerase in vitro. Thromb. Res. 2016, 137, 169–173, doi:10.1016/j.thromres.2015.11.003.

Hu, X.T.; Wang, H.; Lv, X.H.; Chu, L.; Liu, Z.Y.; Wei, X.G.; Chen, Q.C.; Zhu, L.; Cui, W. Cardioprotective Effects of Tannic Acid on Isoproterenol-Induced Myocardial Injury in Rats: Further Insight into "French Paradox'. Phytother. Res. 2015, 29, 1295–1303, doi:10.1002/ptr.5376.

Lippi, G.; Franchini, M.; Favaloro, E.J.; Targher, G. Moderate Red Wine Consumption and Cardiovascular Disease Risk: Beyond the "French Paradox''. Semin. Thromb. Hemost. 2010, 36, 59–70, doi:10.1055/s-0030-1248725.

Sun, A.Y.; Simonyi, A.; Sun, G.Y. The "French paradox" and beyond: Neuroprotective effects of polyphenols. Free Radic. Biol. Med. 2002, 32, 314–318, doi:10.1016/s0891-5849(01)00803-6.

Zern, T.L.; Fernandez, M.L. Cardioprotective effects of dietary polyphenols. Journal of Nutrition 2005, 135, 2291–2294.

Garcia-Lomillo, J.; Gonzalez-SanJose, M.L. Applications of Wine Pomace in the Food Industry: Approaches and Functions. Compr. Rev. Food. Sci. Food Saf. 2017, 16, 3–22, doi:10.1111/1541-4337.12238.

Garrido, J.; Borges, F. Wine and grape polyphenols–A chemical perspective. Food Res. Int. 2013, 54, 1843–1858, doi:10.1016/j.foodres.2013.08.001.

Lorrain, B.; Ky, I.; Pechamat, L.; Teissedre, P.L. Evolution of Analysis of Polyhenols from Grapes, Wines, and Extracts. Molecules 2013, 18, 1076–1100, doi:10.3390/molecules18011076.

Tomaz, I.; Huzanić, N.; Preiner, D.; Stupić, D.; Andabaka, Ž.; Maletić, E.; J., K.K.; Ašperger, D. Extraction Methods of Polyphenol From Grapes: Extractions of Grape Polyphenols. In Polyphenols in Plants, 2nd edition, Watson, R.R., Ed. Elsevier Inc.: London, UK, 2019; pp. 151–168.

Castellarin, S.D.; Bavaresco, L.; Falginella, L.; Goncavles, M.I.V.Z.; Di Gaspero, G. Phenolics in Grape Berry and Key Antioxidants. In The Biochemistry of the Grape Berry, Geros, H., Chavez, M.M., Delrot, S., Eds.; Bentham Science Publishers: Sharjah, United Arab Emirates, 2012.

Tomaz, I.; Štambuk, P.; Andabaka, Ž.; Preiner, D.; Stupić, D.; Maletić, E.; Karoglan Kontić, J.; Ašperger, D. The Polyphenolic Profile of Grapes. In Grapes Polyphenolic Composition, Antioxidant Characteristics and Health Benefits, Thomas, S., Ed.; Nova Science Publishers, Inc: New York, NY, USA, 2017; pp. 1–70.

Xia, E.Q.; Deng, G.F.; Guo, Y.J.; Li, H.B. Biological Activities of Polyphenols from Grapes. Int. J. Mol. Sci. 2010, 11, 622–646, doi:10.3390/ijms11020622.

Giovinazzo, G.; Grieco, F. Functional Properties of Grape and Wine Polyphenols. Plant. Food Hum. Nutr. 2015, 70, 454–462, doi:10.1007/s11130-015-0518-1.

Garcia-Martinez, D.J.; Funes, J.C.; Saborido, C.M.; Santos, C. Grape Polyphenols to Arrestin VitroProliferation of Human Leukemia Cells: A Systematic Review and Meta-analysis. Food Rev. Int. 2020, doi:10.1080/87559129.2020.1810700.

Pasinetti, G.M.; Wang, J.; Ho, L.; Zhao, W.; Dubner, L. Roles of resveratrol and other grape-derived polyphenols in Alzheimer's disease prevention and treatment. Biochim. Biophy. Acta Mol. Basis Dis. 2015, 1852, 1202–1208, doi:10.1016/j.bbadis.2014.10.006.

Pasinetti, G.M.; Ho, L. Role of grape seed polyphenols in Alzheimer's disease neuropathology. Nutr. Diet. Suppl. 2010, 2, 97–103, doi:10.2147/nds.s6898.

Zhao, D.; Simon, J.E.; Wu, Q. A critical review on grape polyphenols for neuroprotection: Strategies to enhance bioefficacy. Crit. Rev. Food Sci. Nutr. 2020, 60, 597–625, doi:10.1080/10408398.2018.1546668.

Caracci, F.; Harary, J.; Simkovic, S.; Pasinetti, G.M. Grape-Derived Polyphenols Ameliorate Stress-Induced Depression by Regulating Synaptic Plasticity. J. Agr. Food Chem. 2020, 68, 1808–1815, doi:10.1021/acs.jafc.9b01970.

Herman, F.; Westfall, S.; Brathwaite, J.; Pasinetti, G.M. Suppression of Presymptomatic Oxidative Stress and Inflammation in Neurodegeneration by Grape-Derived Polyphenols. Front. Pharmacol. 2018, 9, 20, doi:10.3389/fphar.2018.00867.

Haghighatdoost, F.; Gholami, A.; Hariri, M. Effect of grape polyphenols on selected inflammatory mediators: A systematic review and meta-analysis randomized clinical trials. Excli J. 2020, 19, 251–267, doi:10.17179/excli2020-1011.

Magrone, T.; Magrone, M.; Russo, M.A.; Jirillo, E. Recent Advances on the Anti-Inflammatory and Antioxidant Properties of Red Grape Polyphenols: In Vitro and In Vivo Studies. Antioxidants 2020, 9, 28, doi:10.3390/antiox9010035.

Chuang, C.C.; McIntosh, M.K. Potential Mechanisms by Which Polyphenol-Rich Grapes Prevent Obesity-Mediated Inflammation and Metabolic Diseases. In Annual Review of Nutrition, Vol 31, Cousins, R.J., Bier, D.M., Bowman, B.A., Eds.; Annual Reviews: Palo Alto, CA, USA, 2011; Vol. 31, pp. 155–176.

Rasines-Perea, Z.; Teissedre, P.-L. Grape Polyphenols' Effects in Human Cardiovascular Diseases and Diabetes. Molecules 2017, 22, 1–19, doi:10.3390/molecules22010068.

Pandey, K.B.; Rizvi, S.I. Role of red grape polyphenols as antidiabetic agents. Integr. Med. Res. 2014, 3, 119–125, doi:10.1016/j.imr.2014.06.001.

Vinas, P.; Campillo, N. Gas Chromatography-Mass Spectrometry Analysis of Polyphenols in Foods; Elsevier Academic Press Inc: San Diego, CA, USA, 2014; pp. 103–157, doi:10.1016/b978-0-12-397934-6.00007-3

Adams, D.O. Phenolics and ripening in grape berries. Am. J. Enol. Vitic. 2006, 57, 249–256.

Fontes, N.; Geros, H.; Delrot, S. Grape Berry Vacuole: A Complex and Heterogeneous Membrane System Specialized in the Accumulation of Solutes. Am. J. Enol. Vitic. 2011, 62, 270–278, doi:10.5344/ajev.2011.10125.

Downey, M.O.; Dokoozlian, N.K.; Krstic, M.P. Cultural practice and environmental impacts on the flavonoid composition of grapes and wine: A review of recent research. Am. J. Enol. Vitic. 2006, 57, 257–268.

Teixeira, A.; Eiras-Dias, J.; Castellarin, S.D.; Geros, H. Berry Phenolics of Grapevine under Challenging Environments. Int. J. Mol. Sci. 2013, 14, 18711–18739, doi:10.3390/ijms140918711.

Pastor, R.F.; Restani, P.; Di Lorenzo, C.; Orgiu, F.; Teissedre, P.L.; Stockley, C.; Ruf, J.C.; Quini, C.I.; Tejedor, N.G.; Gargantini, R., et al. Resveratrol, human health and winemaking perspectives. Crit. Rev. Food Sci. Nutr. 2019, 59, 1237–1255, doi:10.1080/10408398.2017.1400517.

Lima, G.P.P.; Vianello, F.; Correa, C.R.; Campos, R.A.S.; Borguini, M.G. Polyphenols in Fruits and Vegetables and Its Effect on Human Health. Food Nutr. Sci. 2014, 5, 1065–1082, doi:10.4236/fns.2014.511117.

Leifert, W.R.; Abeywardena, M.Y. Cardioprotective actions of grape polyphenols. Nutr. Res. 2008, 28, 729–737, doi:10.1016/j.nutres.2008.08.007.

Castilla, P.; Echarri, R.; Davalos, A.; Cerrato, F.; Ortega, H.; Teruel, J.L.; Lucas, M.F.; Gomez-Coronado, D.; Ortuno, J.; Lasuncion, M.A. Concentrated red grape juice exerts antioxidant, hypolipidemic, and antiinflammatory effects in both hemodialysis patients and healthy subjects. Am. J. Clin. Nutr. 2006, 84, 252–262.

Leong, S.Y.; Burritt, D.J.; Oey, I. Evaluation of the anthocyanin release and health-promoting properties of Pinot Noir grape juices after pulsed electric fields. Food Chem. 2016, 196, 833–841, doi:10.1016/j.foodchem.2015.10.025.

Wang, S.; Mateos, R.; Goya, L.; Amigo-Benavent, M.; Sarria, B.; Bravo, L. A phenolic extract from grape by-products and its main hydroxybenzoic acids protect Caco-2 cells against pro-oxidant induced toxicity. Food Chem. Toxicol. 2016, 88, 65–74, doi:10.1016/j.fct.2015.12.005.

Lingua, M.S.; Theumer, M.G.; Kruzynski, P.; Wunderlin, D.A.; Baroni, M.V. Bioaccessibility of polyphenols and antioxidant properties of the white grape by simulated digestion and Caco-2 cell assays: Comparative study with its winemaking product. Food Res. Int. 2019, 122, 496–505, doi:10.1016/j.foodres.2019.05.022.

Kuhn, P.; Kalariya, H.M.; Poulev, A.; Ribnicky, D.M.; Jaja-Chimedza, A.; Roopchand, D.E.; Raskin, I. Grape polyphenols reduce gut-localized reactive oxygen species associated with the development of metabolic syndrome in mice. PLoS ONE 2018, 13, 14, doi:10.1371/journal.pone.0198716.

Garbetta, A.; Nicassio, L.; D'Antuono, I.; Cardinali, A.; Linsalata, V.; Attolico, G.; Minervini, F. Influence of in vitro digestion process on polyphenolic profile of skin grape (cv. Italia) and on antioxidant activity in basal or stressed conditions of human intestinal cell line (HT-29). Food Res. Int. 2018, 106, 878–884, doi:10.1016/j.foodres.2018.01.072.

Cristea, E.; Sturza, R.; Jauregi, P.; Niculaua, M.; Ghendov-Mosanu, A.; Patras, A. Influence of pH and ionic strength on the color parameters and antioxidant properties of an ethanolic red grape marc extract. J. Food Biochem. 2019, 43, 9, doi:10.1111/jfbc.12788.

Messina, C.M.; Manuguerra, S.; Catalano, G.; Arena, R.; Cocchi, M.; Morghese, M.; Montenegro, L.; Santulli, A. Green biotechnology for valorisation of residual biomasses in nutraceutic sector: Characterization and extraction of bioactive compounds from grape pomace and evaluation of the protective effects in vitro. Nat. Prod. Res. 2019, 6, 1–6, doi:10.1080/14786419.2019.1619727.

Maia, M.; Ferreira, A.E.N.; Laureano, G.; Marques, A.P.; Torres, V.M.; Silva, A.B.; Matos, A.R.; Cordeiro, C.; Figueiredo, A.; Silva, M.S. Vitis vinifera 'Pinot noir' leaves as a source of bioactive nutraceutical compounds. Food Funct. 2019, 10, 3822–3827, doi:10.1039/c8fo02328j.

Georgiev, V.; Ananga, A.; Tsolova, V. Recent Advances and Uses of Grape Flavonoids as Nutraceuticals. Nutrients 2014, 6, 391–415, doi:10.3390/nu6010391.

Li, W.G.; Zhang, X.Y.; Wu, Y.J.; Tian, X. Anti-inflammatory effect and mechanism of proanthocyanidins from grape seeds. Acta Pharmacol. Sin. 2001, 22, 1117–1120.

Terra, X.; Pallares, V.; Ardevol, A.; Blade, C.; Fernandez-Larrea, J.; Pujadas, G.; Salvado, J.; Arola, L.; Blay, M. Modulatory effect of grape-seed procyanidins on local and systemic inflammation in diet-induced obesity rats. J. Nutr. Biochem. 2011, 22, 380–387, doi:10.1016/j.jnutbio.2010.03.006.

Dvorakova, M.; Landa, P. Anti-inflammatory activity of natural stilbenoids: A review. Pharmacol. Res. 2017, 124, 126–145, doi:10.1016/j.phrs.2017.08.002.

Martin, A.R.; Villegas, I.; La Casa, C.; de la Lastra, C.A. Resveratrol, a polyphenol found in grapes, suppresses oxidative damage and stimulates apoptosis during early colonic inflammation in rats. Biochem. Pharmacol. 2004, 67, 1399–1410, doi:10.1016/j.bcp.2003.12.024.

Shakibaei, M.; Csaki, C.; Nebrich, S.; Mobasheri, A. Resveratrol suppresses interleukin-1β-induced inflammatory signaling and apoptosis in human articular chondrocytes: Potential for use as a novel nutraceutical for the treatment of osteoarthritis. Biochem. Pharmacol. 2008, 76, 1426–1439, doi:10.1016/j.bcp.2008.05.029.

Ali, K.; Maltese, F.; Choi, Y.H.; Verpoorte, R. Metabolomic constituents of grapevine and grape-derived products. Phytochem. Rev. 2010, 9, 357–378, doi:10.1007/s11101-009-9158-0.

Colica, C.; Milanovic, M.; Milic, N.; Aiello, V.; De Lorenzo, A.; Abenavoli, L. A Systematic Review on Natural Antioxidant Properties of Resveratrol. Nat. Prod. Commun. 2018, 13, 1195–1203.

Hansen, A.S.; Marckmann, P.; Dragsted, L.O.; Nielsen, I.L.F.; Nielsen, S.E.; Gronbaek, M. Effect of red wine and red grape extract on blood lipids, haemostatic factors, and other risk factors for cardiovascular disease. Eur. J. Clin. Nutr. 2005, 59, 449–455, doi:10.1038/sj.ejcn.1602107.

de Lange, D.W.; Scholman, W.L.G.; Kraaijenhagen, R.J.; Akkerman, J.W.N.; van de Wiel, A. Alcohol and polyphenolic grape extract inhibit platelet adhesion in flowing blood. Eur. J. Clin. Invest. 2004, 34, 818–824, doi:10.1111/j.1365–2362.2004.01432.x.

Draijer, R.; de Graaf, Y.; Slettenaar, M.; de Groot, E.; Wright, C.I. Consumption of a Polyphenol-Rich Grape-Wine Extract Lowers Ambulatory Blood Pressure in Mildly Hypertensive Subjects. Nutrients 2015, 7, 3138–3153, doi:10.3390/nu7053138.

Chaves, A.A.; Joshi, M.S.; Coyle, C.M.; Brady, J.E.; Dech, S.J.; Schanbacher, B.L.; Baliga, R.; Basuray, A.; Bauer, J.A. Vasoprotective endothelial effects of a standardized grape product in humans. Vasc. Pharmacol. 2009, 50, 20–26, doi:10.1016/j.vph.2008.08.004.

Chacar, S.; Hajal, J.; Saliba, Y.; Bois, P.; Louka, N.; Maroun, R.G.; Faivre, J.F.; Fares, N. Long-term intake of phenolic compounds attenuates age-related cardiac remodeling. Aging Cell 2019, 18, 13, doi:10.1111/acel.12894.

Poti, F.; Santi, D.; Spaggiari, G.; Zimetti, F.; Zanotti, I. Polyphenol Health Effects on Cardiovascular and Neurodegenerative Disorders: A Review and Meta-Analysis. Int. J. Mol. Sci. 2019, 20, 26, doi:10.3390/ijms20020351.

Vauzour, D.; Vafeiadou, K.; Rodriguez-Mateos, A.; Rendeiro, C.; Spencer, J.P.E. The neuroprotective potential of flavonoids: A multiplicity of effects. Gen. Nutr. 2008, 3, 115–126, doi:10.1007/s12263-008-0091-4.

Dong, Z.G. Molecular mechanism of the chemopreventive effect of resveratrol. Mutat. Res.-Fundam. Mol. Mech. Mutagen. 2003, 523, 145–150, doi:10.1016/s0027-5107(02)00330-5.

Hsieh, T.C.; Wu, J.M. Suppression of cell proliferation and gene expression by combinatorial synergy of EGCG, resveratrol and γ-tocotrienol in estrogen receptor-positive MCF-7 breast cancer cells. Int. J. Oncol. 2008, 33, 851–859, doi: 10.3892/ijo_00000073.

Gatouillat, G.; Balasse, E.; Joseph-Pietras, D.; Morjani, H.; Madoulet, C. Resveratrol Induces Cell-Cycle Disruption and Apoptosis in Chemoresistant B16 Melanoma. J. Cell. Biochem. 2010, 110, 893–902, doi:10.1002/jcb.22601.

Nivelle, L.; Hubert, J.; Courot, E.; Jeandet, P.; Aziz, A.; Nuzillard, J.M.; Renault, J.H.; Clement, C.; Martiny, L.; Delmas, D., et al. Anti-Cancer Activity of Resveratrol and Derivatives Produced by Grapevine Cell Suspensions in a 14 L Stirred Bioreactor. Molecules 2017, 22, 14, doi:10.3390/molecules22030474.

Grimes, K.L.; Stuart, C.M.; McCarthy, J.J.; Kaur, B.; Cantu, E.J.; Forester, S.C. Enhancing the Cancer Cell Growth Inhibitory Effects of Table Grape Anthocyanins. J. Food Sci. 2018, 83, 2369–2374, doi:10.1111/1750–3841.14294.

Sorrenti, V.; Vanella, L.; Acquaviva, R.; Cardile, V.; Giofre, S.; Di Giacomo, C. Cyanidin induces apoptosis and differentiation in prostate cancer cells. Int. J. Oncol. 2015, 47, 1303–1310, doi:10.3892/ijo.2015.3130.

Kumar, A.; D'Silva, M.; Dholakia, K.; Levenson, A.S. In Vitro Anticancer Properties of Table Grape Powder Extract (GPE) in Prostate Cancer. Nutrients 2018, 10, 12, doi:10.3390/nu10111804.

Signorelli, P.; Fabiani, C.; Brizzolari, A.; Paroni, R.; Casas, J.; Fabrias, G.; Rossi, D.; Ghidoni, R.; Caretti, A. Natural Grape Extracts Regulate Colon Cancer Cells Malignancy. Nutr. Cancer 2015, 67, 494–503, doi:10.1080/01635581.2015.1004591.

Nirmala, J.G.; Celsia, S.E.; Swaminathan, A.; Narendhirakannan, R.T.; Chatterjee, S. Cytotoxicity and apoptotic cell death induced by Vitis vinifera peel and seed extracts in A431 skin cancer cells. Cytotechnology 2018, 70, 537–554, doi:10.1007/s10616-017-0125-0.

Leone, A.; Longo, C.; Gerardi, C.; Trosko, J.E. Pro-Apoptotic Effect of Grape Seed Extract on MCF-7 Involves Transient Increase of Gap Junction Intercellular Communication and Cx43 Up-Regulation: A Mechanism of Chemoprevention. Int. J. Mol. Sci. 2019, 20, 3244, doi:10.3390/ijms20133244.

Cushnie, T.P.T.; Lamb, A.J. Antimicrobial activity of flavonoids. Int. J. Antimicrob. Agent. 2005, 26, 343–356, doi:10.1016/j.ijantimicag.2005.09.002.

Daglia, M. Polyphenols as antimicrobial agents. Curr. Opin. Biotechnol. 2012, 23, 174–181, doi:10.1016/j.copbio.2011.08.007.

Matias, A.A.; Serra, A.T.; Silva, A.C.; Perdigao, R.; Ferreira, T.B.; Marcelino, I.; Silva, S.; Coelho, A.V.; Alves, P.M.; Duarte, C.M.M. Portuguese winemaking residues as a potential source of natural anti-adenoviral agents. Internat. J. Food Sci. Nutrit. 2010, 61, 357–368, doi:10.3109/09637480903430990.

Li, D.; Baert, L.; Zhang, D.; Xia, M.; Zhong, W.; Van Coillie, E.; Jiang, X.; Uyttendaele, M. Effect of Grape Seed Extract on Human Norovirus GII. 4 and Murine Norovirus 1 in Viral Suspensions, on Stainless Steel Discs, and in Lettuce Wash Water. Appl. Environment. Microbiol. 2012, 78, 7572–7578, doi:10.1128/aem.01987-12.

Hwang, D.; Lim, Y.H. Resveratrol controls Escherichia coli growth by inhibiting the AcrAB-TolC efflux pump. Fems Microbiol. Lett. 2019, 366, doi:10.1093/femsle/fnz030.

Hwang, D.; Lim, Y.H. Resveratrol antibacterial activity against Escherichia coli is mediated by Z-ring formation inhibition via suppression of FtsZ expression. Sci. Rep. 2015, 5, 10029, doi:10.1038/srep10029.

Lee, W.; Lee, D.G. Resveratrol induces membrane and DNA disruption via pro-oxidant activity against Salmonella typhimurium. Biochem Bioph Res. Co 2017, 489, 228–234, doi:10.1016/j.bbrc.2017.05.138.

Jung, H.J.; Hwang, I.A.; Sung, W.S.; Kang, H.; Kang, B.S.; Seu, Y.B.; Lee, D.G. Fungicidal effect of resveratrol on human infectious fungi. Arch. Pharmacal. Res. 2005, 28, 557–560, doi:10.1007/bf02977758.
More