Biofilms and Bacterial Recalcitrance
Definition
Biofilms are associations of microorganisms embedded in a self-produced extracellular matrix. They create particular environments that confer bacterial tolerance and resistance to antibiotics by different mechanisms that depend upon factors such as biofilm composition, architecture, the stage of biofilm development, and growth conditions. The biofilm structure hinders the penetration of antibiotics and may prevent the accumulation of bactericidal concentrations throughout the entire biofilm. In addition, biofilm can induce a variety of physiological states involving different metabolism (aerobic, microaerobic, and fermentative) and growth rates (fast and slow growth, dormant cells, and persister cells). Thus, some bacteria are less vulnerable to antibiotics as a consequence of the inactivity of antibiotic targets, a phenomenon called "drug indifference". Also, cells in biofilms enhance efflux-pump production that excretes antibiotics. Moreover, the biofilm environment enhance interbacterial communication, horizontal gene transfer and spontaneous mutations that ultimately increase resistance to antibiotics. Thus, the tolerance and resistance to antibiotics conferred by biofilms is multifactorial.
1. Basis of Biofilm-Mediated Antibiotic Survival
The recalcitrant nature of biofilms to antibiotics depends mostly on (i) the developmental stage of the biofilm, (ii) the extracellular matrix (ECM) composition, and (iii) the biofilm architecture.
1.1. Biogenesis of Biofilms
Biofilm formation is a dynamic process that takes place in a series of sequential steps. It is initiated by the interaction of the bacteria with a surface. Exposure of planktonic cells to stress, which may be provoked by antibiotics, starvation, or other adverse environmental conditions, can initiate biofilm formation by activating gene expression[1]. Additionally, molecules involved in cell-to-cell communication accumulate at high cell density. These molecules generally referred to as autoinducers, can activate and regulate the process[2] and allow for a coordinated response of the population members, which is known as quorum sensing (QS). The first step of biofilm formation consists of the adhesion of the bacteria to the substratum. This process is often mediated by long, proteinaceous, filamentous fibers that protrude from the bacterial cell surface, such as flagella, fimbriae, or pili. After initial interaction is established, shorter cell surface-exposed structures interact with the substratum, thereby increasing the contact between bacteria and the substratum[3]. Strains of Escherichia coli and Salmonella produce curli fimbrae that mediate both cell-to-substratum and cell-to-cell interactions[4]. Other proteins such as Bap-family proteins in Staphylococcus epidermidis[5], CdrA in Pseudomonas aeruginosa[6] or NHBA in Neisseria meningitidis[7] are proteins that interact with ECM components and the bacterial cell surface thereby strengthening the matrix. Autotransporters are proteins secreted through the Type V secretion system in many Gram-negative bacteria and often have demonstrated roles in interbacterial interactions[8]. Then, the bacteria secrete ECM components and proliferate to form a microcolony. ECM serves as a glue element that helps to stabilize interbacterial interactions. Bacteria within the microcolony communicate and organize spatially. Type IV pili act at the junction between cells to form microcolonies and can also contribute to the reorganization of bacteria within the biofilm[9]. Cell-to-cell communication, including QS [2] and also cell-contact-dependent communication systems[10], seem to be relevant for this process. At this stage, the expression of genes for the formation of the ECM, and biofilms become less vulnerable to antibiotics than earlier biofilm stages[11].
1.2. Composition of the ECM
The ECM consists of a conglomerate of different substances that together provide structural integrity to the biofilm. In general, the ECM can be composed of water, polysaccharides, proteins, lipids, surfactants, glycolipids, extracellular DNA (eDNA), extracellular RNA, membrane vesicles, and ions such as Ca2+. In many bacteria, extracellular polysaccharides and eDNA are prominent components of the ECM[12].
eDNA is constituted of chromosomal DNA that is released into the extracellular milieu through cell lysis, dedicated secretion systems, or membrane vesicles. eDNA is often involved in adhesion, particularly after the first interaction of the cell with the substratum. It mediates acid–base interactions and increases the hydrophobicity of bacterial cells which are favorable for the cell–substratum interaction[13][14]. Indeed, eDNA is used for initiation of biofilm formation in many pathogenic bacteria, including Gram-positive and Gram-negative bacteria and mycobacteria[15][7][16]. In addition, eDNA facilitates the interaction of the bacteria in the ECM. This is achieved by binding of positively charged segments of cell surface-exposed proteins with the negatively charged eDNA molecules[7]. Various proteins can be implicated in this interaction, such as autotransporters, lipoproteins or two-partner secretion protein A of Gram-negative bacteria, and cell wall-associated proteins in Gram-positive bacteria and fungi[17]. Thus, anchoring the eDNA to the cell surface by DNA-binding proteins is a widespread mechanism for biofilm formation that may also facilitate multispecies biofilms. eDNA can also mediate interactions with other ECM components such as polysaccharides[18]. Together, these interactions are relevant for the structural integrity of biofilms.
The composition of the polysaccharides present in the ECM varies between different bacterial species and even between different isolates of the same species. Most are long linear or branched molecules formed by one (homopolysaccharides) or several different (heteropolysaccharides) residues. They may contain substituents that greatly affect their biological properties. One of the most commonly studied polysaccharides is poly-β-1,6-N-acetyl-D-glucosamine, often named PGA or PNAG. It is synthetized by E. coli[19] and S. aureus[20], among others. In E. coli, PGA is required for initial cell-to-cell and cell-to-substratum attachment[19]. Another polysaccharide present in ECM is cellulose, a linear polymer of β-1,4 linked D-glucose. It is a major component of the ECM of some E. coli[21], Salmonella[22], and Pseudomonas strains[23]. Some E. coli strains produce a complex branched polysaccharide called colanic acid[24]. Additionally, P. aeruginosa can produce diverse exopolysaccharides. Mucoid P. aeruginosa strains produce alginate, a polymer of β-1-4-linked mannuronic acid and α-L-guluronate. Production of alginate confers a mucoid phenotype[25][26], typical of strains isolated from lungs of cystic fibrosis patients with Pseudomonas infections that underwent several rounds of antibiotic treatment. Therefore, secretion of alginate is related to pathogenic biofilms[27]. Alginate mediates the establishment of microcolonies at early stages of biofilm formation and provides stability to mature biofilms. Nonmucoid P. aeruginosa strains can produce other exopolysaccharides, e.g., Psl or Pel. Pel is a linear, cationic exopolysaccharide formed by 1®4 glycosidic linkages of N-acectylglucosamine and N-acetylgalactosamine. It has a critical role in maintaining cell-to-cell interactions and pellicle formation[28]. In contrast, Psl is composed of repeating pentasaccharide subunits of D-glucose, D-mannose, and L-rhamnose[29]. Psl mediates attachment to biotic surfaces such as mucin-coated epithelial surfaces and epithelial cells, indicating its relevance for the establishment of P. aeruginosa infection[30]. Additionally, P. aeruginosa strains can secrete cyclic and linear glucans[31][32] that are formed by β-1,3 linked glucose residues.
The proteinaceous content of the ECM includes proteins that are secreted through active secretion systems or released during cell lysis. The role of many of these proteins in the biofilm matrix is unknown, but some of them have been identified as important contributors to biofilm formation or restructuring in many pathogens. Various are extracellular enzymes. Their substrates can be polysaccharides, proteins, and nucleic acids, present in the ECM. They can function in remodeling of the ECM, detachment of cells from the biofilm, or degradation of polymers for nutrient acquisition.
ECM biogenesis and composition are dynamic and vary between strains of a given species and also depend on environmental conditions, such as nutrient availability and the presence of stressors, and on social crosstalk. Several functions have been attributed to the ECM based on its extraordinary capacity to establish intermolecular interactions between its components, and with surface-exposed structures of the cells, biotic and abiotic substrata, and many environmental molecules[12]. Thereby, the ECM immobilizes cells and keeps them in the biofilm community. By retaining the cells in close proximity, the ECM establishes the optimal conditions for interbacterial communication and exchange of genetic material, which is relevant, amongst others, for the dispersion of antibiotic-resistance genes. The ECM additionally retains water and thereby protects the cells against desiccation. Furthermore, the extracellular enzymes in that hydrated environment generate an external digestive system. In addition, ECM retains several other substances, for instance, nutrients, energy sources, antibiotics, antibiotic-degrading enzymes, and molecules released by cell lysis, thereby constituting a recycling unit [12]. In general, the ECM acts as a protective scaffold.
1.3. Biofilm Architecture
The architecture of biofilms is defined by the organization of the biomass and the spaces in between. The development of this structure depends on the composition of cell-surface structures mediating mutual interactions between cells and interactions of cells with ECM components and with the substratum[17]. The biofilm architecture is responsible for the generation of gradients of dispersion of substances within the biofilm. This will influence the accessibility of these substances to particular niches inside the biofilm, and determines, amongst others, the variation in antibiotic susceptibility of cells within biofilms. Figure 1 illustrates the biofilm architecture of different bacterial species. P. aeruginosa strain ATCC 15,692 forms complex biofilms with mushroom-like architectural features consisting of well-defined stalks and caps. Enterococcus faecalis ATCC 51,299 biofilms, however, are flat and compact[33], while Salmonella enterica strain S12 and E. coli strain ESC.1.16 form biofilms constituted of small cell clusters (Figure 1A)[33]. In contrast, biofilms of N. meningitidis strain HB-1 are constituted of cell aggregates of different sizes forming defined channel-like structures[7] (Figure 1B).
Figure 1. Variable architecture of biofilms. (A) Biofilms of five species (Salmonella enterica, Escherichia coli, Pseudomonas aeruginosa Staphylococcus aureus, Enterococcus faecalis) were formed under static conditions on abiotic surfaces during 24 h and were stained with Syto9, a green fluorescent nucleic acid marker. Reprinted from[33] with permission from Elsevier. (B) Strains of Neisseria meningitidis HB-1 and α153 and derivatives, which do or do not produce the autotransporters AutA and AutB (as indicated), formed biofilms under flow conditions during 14 h and were stained with the LIVE/DEAD Backlight bacterial viability stain (where red cells are dead and green cells are live). Reproduced from[34][35].
Thus, in general, based on their architecture, biofilms can be classified into (i) monolayer biofilms, formed by a compact layer with high surface coverage, or (ii) multilayer biofilms, formed by bacterial clusters of different morphology with a low surface interaction. The biofilm architecture can vary depending on different factors, for instance, the expression of surface-exposed proteins. Examples are the meningococcal autotransporters AutA and AutB, whose expression is phase variable and significantly alters the biofilm (Figure 1B)[34][35]. Additionally, the medium composition influences the biofilm architecture. P. aeruginosa PAO1 makes monolayer biofilms in the presence of citrate benzoate and casamino acids and multilayer biofilms in presence of glucose[36].
2. Biofilms mechanisms for Antibiotic Tolerance and Antibiotic Resistance
Biofilm recalcitrance comprises two independent phenomena: antibiotic resistance and antibiotic tolerance. Resistance refers to the capacity of a microorganism to survive and grow at increased antibiotic concentrations for long periods of time and is quantifiable by assessing the minimum inhibitory concentration (MIC)[37]. It involves mechanisms that prevent the binding of an antibiotic to its target, including enzymatic deactivation, active efflux of a drug once it is in the cytoplasm or the cytoplasmic membrane, or reduced influx, among others, and can be generated by HGT or mutations. Together, they preclude antibiotics from altering their target's function and they prevent the production of toxic products that would end up damaging the cell. By contrast, antibiotic tolerance is the capacity of bacteria to survive a transient exposure to increased antibiotic concentrations, even those above the MIC. Tolerance is assessed by the minimum bactericidal concentration, that is, the minimum concentration of antibiotic required to kill 99.9% of the cells[38]. Unlike resistance, tolerance is only temporary and after longer exposure periods, the antibiotic will kill the bacteria. It is an adaptive phenomenon that implies a change in cellular behavior, from an active (growing) state to a quiescent (dormant) state[39], and requires large metabolic rearrangements affecting, for example, energy production and nonessential functions. These changes are triggered during poor growth conditions or exposure to stress factors or antibiotics[37][40]. In this case, antibiotics can usually attach to the target molecules, but because their function is no longer essential, the microorganism survives. Tolerance in biofilms is also caused by entrapment of the antibiotics in the ECM, in this case, the antibiotic does not reach its target. In contrast to resistant cells, tolerant cells within the biofilm cannot grow in presence of a bactericidal antibiotic. Persistence is a special phenomenon of tolerance. Indeed, persistence is a phenomenon that increases the survival of a given population in the presence of bactericidal antibiotics without enhancing the MIC, but in contrast to tolerance, persistence only affects a subset of cells of the population called persisters. Persisters cells are tolerant cells that eventually can be killed at longer exposure times. There are two types of persisters, e.g., type I or triggered persistence, which is induced upon environmental signals, such as starvation, and type II or spontaneous persistence, where a subpopulation of growing bacteria converts into the persister state by a stochastic process[41]. Anyhow, persistence can be also referred to as heterotolerance, which is different than heteroresistance, as persisters can eventually be killed at longer exposure times. Figure 2 illustrates the mechanisms that govern antibiotic tolerance and antibiotic resistance of biofilms.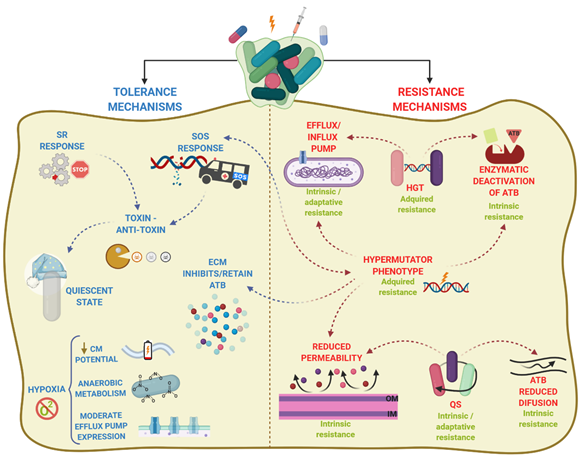 Figure 2. Antibiotic resistance and antibiotic tolerance comprise a combination of mechanisms. Resistance mechanisms confer the ability to survive and grow at increased ATB concentrations for long periods and involve horizontal genetic transfer (HGT), hypermutation, and quorum sensing (QS), leading to transport of antibiotics via efflux pumps, reduced permeability of the outer membrane, or production of enzymes that inactivate ATB. The type of AMR is indicated in green. In contrast, tolerance mechanisms lead microorganisms to survive at increased ATB concentrations temporally, and involve activation of stress responses (SOS response, stringent response SR)) and hypoxia, leading to activation of a quiescent state, anaerobic metabolism, decrease of membrane potential, and moderate increase in efflux pump expression. Arrowhead lines indicate the interrelation between mechanisms. CM: cytoplasmic membrane.
Overall, antibiotic tolerance and antibiotic resistance do not depend on one unique mechanism but are a combination of both antibiotic tolerance and antibiotic resistance mechanisms. Such combination varies depending upon aspects such as the bacterial species or strain, the antimicrobial agent, the developmental stage of the biofilm, and the biofilm growth conditions.
3. Control of Biofilm Infections
As biofilms contribute to bacterial pathogenicity and recalcitrance, novel strategies and agents are required to deal with this issue. We have now clear evidence that the antibiotics used for the treatment of biofilm infections should be carefully selected, and such selection should consider the mechanisms of resistance and tolerance of biofilms. The use of cocktails of antibiotics would probably be more successful than a single antibiotic, but the antibiotic combination should also be thoroughly considered. Antibiotics should cover the heterogenic nature of biofilms. While one of the antibiotics in the combination should be active against persisters (e.g., colistin), others should target growing cells (e.g., ciprofloxacin, tobramycin, or β-lactams). In addition, the selection of antibiotics will benefit from the characterization of ECM composition, particularly the sorption and charge of the matrix, as these properties are relevant contributors to AMR. Many alternatives to antibiotics have been proposed to inhibit and/or eradicate biofilms. Their nature and their mechanisms of action are ample. In general, they possess one or several activities as (i) biofilm inhibitors, (ii) biofilm dispersers, and (iii) antimicrobials. An overview of these substances is listed in Table 1.
Table 1. Proposed alternatives to antibiotics with antimicrobial or antibiofilm activities. The substance, the mechanism of action (including anti-biofilm activity) and the target bacterial species are indicated for each agent.
Substance(s)

Mechanism of Action

Targets

References

Antimicrobial Peptides

Melittin

Formation of short-lived pores in the membrane and increase of permeability of OM

P. aeruginosa,

S. aureus, E. coli,

K. pneumoniae,

A. baumannii

Japonicin-2LF

Detergent-like activity against components of biofilm matrix; higher activity in inhibiting than in eradicating biofilms

S. aureus, MRSA,

E. coli

[47]

Magainin 2

Destabilizes the bacterial membrane and intracellular processes

A. baumannii, P. aeruginosa, E. coli

LL-37

Membrane disruption; inhibits twitching and QS; interferes in bacterial attachment; downregulates rhlA and rhlB genes

P. aeruginosa, A. baumanni, S. aureus

Temporin 1Tb

Disruption of cell membrane integrity; capable of penetrating biofilm and killing bacteria; hemolytic activity

S. epidermidis, S. aureus, K. pneumoniae, P. aeruginosa, E. faecium

Synthetic Antimicrobial Peptides

1037

Downregulates genes of biofilm development; reduces swimming and swarming motilities

P. aeruginosa, L. monocytogenes, Burkolderia cenocepacia

[56]

Esculentin (1–21)

Biofilm eradication

P. aeruginosa

[57]

1018

Binds (p)ppGpp and inhibits SR; inhibits attachment, QS, and twitching motility

E. coli, S. aureus, MRSA, P. aeruginosa, A. baumannii, K. pneumoniae, A. baumannii, S. Typhimurium, E. faecium

STAMP G10KHc

Disrupts and permeabilizes OM and IM

P. aeruginosa

[60]

F2,5,12W

Reduces initial adhesion of bacteria; eliminates mature biofilms; suppresses biofilm formation

S. epidermidis

[61]

Combined Therapies

1018 + antibiotics (e.g., ciprofloxacin)

Inhibition of (p)ppGpp activation; downregulation of genes that interfere with antibiotic resistance and biofilm formation

E. coli, MRSA, P. aeruginosa, K. pneumoniae, A. baumannii, S. enterica

[58]

Esculentin (1–21) + AuNPs

(AuNPsEsc(1–21))

Disruption of membrane forming clusters

P. aeruginosa

[62]

Temporin 1Tb + EDTA

Mature biofilm eradication

S. epidermidis

[54]

lin-SB056-1 + EDTA

Perturbation of membrane; eradication biofilm; chelation of divalent metal ions

P. aeruginosa

[63]

Bacteriophages

Phages

EFDG1

Mature biofilm eradication

E. faecium, E. faecalis

[64]

vB_EfaH_EF1TV

Mature biofilm eradication

E. faecalis

[65]

vB_PaeM_LS1

Disrupts and avoids dispersion of biofilms; inhibits biofilm growth

P. aeruginosa

[66]

vB_SauM_philPLA-RODI

Penetrates biofilms; inhibits biofilm formation

S. aureus

S. epidermidis

[67]

Phage-derived Enzymes

LysAB3

Degradation of bacterial wall peptidoglycan, biofilm eradication

A. baumannii

[68]

Dpo48

Degrades exopolysaccharide and eradicates biofilm

A. baumannii

[69]

Combined Phage Therapy

Phage + amoxicillin

Biofilm eradication

K. pneumoniae

[70]

SAP-26 + rifampicin

Hydrolysis of bacterial wall; mature biofilm eradication; reduction of biofilm growth

S. aureus

[71]

Phage K + DRA88

Inhibits biofilm formation; disperses biofilms

S. aureus

[72]

Phage K + its derivatives (e.g., K.MS811)

Biofilm eradication

S. aureus

Phage M4 + E2005-24-39 + E2005-40-16 + W2005-24-39 + W2005-37-18-03

Biofilm eradication

P. aeruginosa

[75]

DL52 + DL54 + DL60 + DL62 + DL64 + DL68

Attachment to cell by binding to lipopolysaccharide; biofilm eradication

P. aeruginosa

[76]

Plant-Derived Natural Products

Essential Oils or Principal Active Compounds

Cinnamon (cinnamaldehyde)

Inhibits QS mechanism: regulates production of rhamnolipids, proteases, and alginate and swarming activity; disrupts synthesis of DNA, RNA, proteins, lipids, and polysaccharides; alters expression of genes related to biofilm formation (e.g., icaA)

E. coli, P. aeruginosa, K. pneumoniae, A. baumannii, S. epidermidis, S. aureus, MRSA, S. enteridis, S. Typhimurium

Clove

Disrupts QS communication: biofilm dispersal, inhibits AHL synthesis; downregulates relA gene

E. coli, P. aeruginosa, K. pneumoniae, A. baumannii, S. aureus

Thyme (thymol)

Downregulates sarA gene; increases membrane permeability; penetrates polysaccharide matrix: eradicates biofilms

E. coli, P. aeruginosa, K. pneumoniae, A. baumannii, S. aureus, S. enteridis

Tea tree oil

Alters expression of multiple genes related to biofilm formation (e.g., sarA, cidA, igrA, ifrB)

S. aureus

[84]

Oregano (carvacrol)

Increases membrane permeability; penetrates polysaccharide matrix; eradicates biofilms

K. pneumoniae, P. aeruginosa, A. baumannii

[82]

Halogenated furanones

QS inhibition; antagonist of LuxR

E. coli

P. aeruginosa

Flavonoids (e.g., quercetin)

Represses exopolysaccharides production; inhibits rpoS gene expression; decreases swimming motility

S. aureus, E. coli, P. aeruginosa, E. faecalis

Combined Therapy

Carvacrol + eugenol

Increases membrane permeability

K. pneumoniae, P. aeruginosa, A. baumannii, S. aureus

Cinnamaldehyde + eugenol

Membrane permeabilization

S. epidermidis

[92]

Curcumin + antibiotics (e.g., ciprofloxacin)

QS inhibition

E. coli, K. pneumoniae, P. aeruginosa, S. aureus, E. faecalis

[93]

Enzymes

Dispersin B

Hydrolyses PNAG

S. epidermidis, S. aureus, E. coli, A. pleuropneumoniae

DNases

Hydrolyses DNA

A. baumannii, K. pneumoniae, E. coli, P. aeruginosa, S. aureus

Alginate lyase

Degrades alginate

P. aeruginosa

[99]

Lysozyme

Hydrolytic activity

S. pneumoniae, Gardnerella vaginalis, S. aureus, P. aeruginosa

Lysostaphin

Degrades cell wall

S. aureus, S. epidermidis

[103]

Proteases (e.g., SpeB)

Degrades cell wall

Streptococcus spp.

P. aeruginosa, S. aureus

Paraoxonases (e.g., acylase I)

Inhibits QS

A. hydrophila, P. putida, P. aeruginosa

Lactonase

Inhibits QS

P. aeruginosa

Small molecules

Small molecules (e.g., LP 3134, LP 3145, LP 4010)

Inhibition of diguanylate cyclase

P. aeruginosa, A. baumannii

[111]

Pilicides (FN075, BibC6, Ec240)

Blocks synthesis of and Type I pili, and inhibits chaperone-usher pathway for pili biogenesis

E. coli

Mannosides

Inhibits FimH of type I pili

E. coli

[114]

Ethyl pyruvate

Inhibits enzymes of the glycolytic pathway

E. coli

[115]

Polysaccharides

Psl, Pel

Disperses biofilm

S. epidermidis

[116]
4. Concluding remarks
The capacity of microorganisms to evolve and adapt to environmental cues has led to a health crisis as they became resistant to most, or almost all, commercial antibiotics. Biofilm formation is an ancient form of bacterial adaptation that contributes substantially to the problem because of their recalcitrance to treatment. Indeed, biofilms are the origin of significant morbidity and mortality. As discussed here, biofilm recalcitrance integrates many mechanisms, including metabolic heterogeneity, stress responses, efflux pump regulation, entrapment and inactivation of antibiotics in the ECM, interbacterial communication increased mutability, and exchange of genetic material. Many of these factors have been discovered particularly in strains of P. aeruginosa. However, the specificity and multifaceted nature of the described mechanisms indicate the necessity of studying them also in other bacteria. Even more challenging, but necessary, will be to study biofilms in natural infections, where heterogeneous bacterial populations are common, and many environmental factors, including host defenses or diffusion of antibiotics in tissues, are present.
The understanding of the mechanisms that mediate recalcitrance will definitely guide therapeutic strategies to successfully deal with biofilm infections. These should be accompanied with methodologies for rapid diagnosis of biofilm infections and characterization of the biofilm biology and composition in vivo. Additionally, the availability of a panel of substances to inhibit and disperse biofilms will contribute to the selection of adequate therapeutic strategies to deal with particular biofilm infections.
The entry is from 10.3390/antibiotics10010003