Please check and comment entries here.
Definition
Blue light primarily exhibits antimicrobial activity through the activation of endogenous photosensitizers, which leads to the formation of reactive oxygen species that attack components of bacterial cells, such as cell wall, cell membrane and genome. Current data show that blue light is innocuous on the skin, but may inflict photo-damage to the eyes. While complete resistance to blue light has not been reported, isolated evidence suggests that bacterial tolerance to blue light may occur over time, especially through gene mutations, although at a slower rate than antibiotic resistance. Future studies can aim at characterizing the amount and type of intracellular photosensitizers across bacterial species and at assessing the oxygen-independent mechanism of blue light.
1. Introduction
The rise of bacterial resistance to antibiotics has prompted the scientific community to seek for alternative bactericidal agents, one of which being light-based treatments [1]. Ultraviolet-C (UV-C; particularly at 254 nm) is known to exhibit antimicrobial properties, mainly through the induction of pyrimidine dimers in the bacterial genome. However, the use of UV-C is limited due to safety issues, which include an increased risk for skin cancer in humans (for example, basal cell carcinoma, squamous cell carcinoma and malignant melanoma) [2][3] and chronic adverse effects to different parts of the body (for example, eyes, skin, nail and hair) [4]. Thus, light-based technologies derived from the visible region of the light spectrum, particularly within the blue light region (380-500 nm), are an attractive option for safe inactivation of harmful bacteria. In clinical settings, blue light has been used to treat multiple diseases and also found to be less detrimental to mammalian cells than ultraviolet radiation [5]. Further, several studies reported that blue light could reduce the resistance of bacteria to a range of antibiotics, which include higher susceptibility of drug-resistant Pseudomonas aeruginosa to gentamycin, ceftazidime and meropenem [6], Staphylococcus aureus to gentamycin and doxycycline [7] or Salmonella enterica subsp. enterica serovar Enteritidis to ampicillin, chloramphenicol, nalidixic acid and rifampicin [8].
This article was aimed at providing insights into several fundamental aspects of antimicrobial blue light that need to be considered for its practical applications.Thus, brief discussions are provided on the different parts of the bacterial cell that could be targeted, means and modes of delivery, safety measures and also potential development of tolerance. Lastly, current challenges and research gaps of blue light-based antimicrobial treatments are highlighted for future researches to explore.
2. Mechanism
Bactericidal effects of blue light are mostly attributed to the wavelength range of 400 to 450 nm [1], although several reports have demonstrated the antimicrobial efficacy of blue light at longer wavelengths (460, 465 or 470 nm) [9][10][11][12]. Blue light-mediated inactivation of bacteria is associated with the generation of reactive oxygen species (ROS) when the light is absorbed by endogenous photosensitizers, which can be found in different types of bacteria (Gram-positive and Gram-negative; aerobic and anaerobic) [13]. Given that these photosensitizers, such as protoporphyrin, coproporphyrin and uroporphyrin, are intermediate species in the heme biosynthesis, it is likely that they are accumulated in the cytoplasmic matrix [14][15], although their precise locations within the bacterial cell are not fully understood.
The blue light-mediated photosensitization process is dependent on the presence of oxygen and mainly induces cytotoxicity (apoptosis or necrosis) through oxidative stresses caused by singlet oxygen species (1O2) [16]. Upon illumination, photosensitizers at a ground state (lowest energy level) are converted into their excited singlet state (short-lived) or triplet state (long-lived), which, in the presence oxygen, can undergo two types of energy transfer: (1) type I that produces toxic oxygen species, such as hydrogen peroxide (H2O2), superoxide or hydroxyl radicals; (2) type II that generates 1O2 [17]. Subsequently, these ROS can induce damages to different parts of the bacterial cells, including the cell membrane, cell wall and genome (Figure 1).
An increase in blue light-induced membrane permeability was observed across several studies [18][19][20][21], although the precise mechanism is not fully elucidated. A study found that blue light illumination (405 nm) did not affect the lipid membrane of Salmonella spp.—there was an absence of malondialdehyde, which is a product of lipid peroxidation [22]. In contrast, two studies demonstrated that blue light inactivation (415 nm) of methicillin-resistant S. aureus (MRSA) or Cronobacter sakazakii involved lipid peroxidation, as determined by the detection of malondialdehyde and reduction in post-treatment unsaturated fatty acids (C16:1 in both bacteria, C20:1 and C20:4 in MRSA, and C18:1 and C18:2 in C. sakazakii) [19][21]. Further, while one study observed the presence of blue light-induced oxidation of guanine residues in the bacterial DNA of Salmonella spp. (presence of 8-hydroxydeoxyguanosine) [22], others reported no DNA breakage in blue light-treated (405 nm) Escherichia coli O157:H7, Shigella sonnei and Salmonella enterica subsp. enterica serovar Typhimurium [18] . These discrepancies are potentially due to the fact that the type and amount of endogenous photosensitizers vary across different bacterial species, although further investigations are needed to explain the different susceptibilities of bacteria to blue light [23].
In addition to lipids and nucleic acids, blue light can also attack proteins, carbohydrates (polysaccharide) and peptidoglycan (polymers of amino acids and sugars in bacterial cell walls). Blue light treatments, in the presence of exogenous cationic photosensitizers, induced the loss of cell membrane-associated proteins in S. aureus [24] and the reduction of 81% in the polysaccharide content within P. aeruginosa biofilms [25]. In two studies, images taken by transmission electron microscopy revealed blue light-induced breakages of bacterial cell walls in MRSA [26] and Acinetobacter baumannii [27]. Further, E. coli lipopolysaccharide coated on titanium disc was inactivated upon illumination by blue light (405 nm), as evident from the reduced activities of mouse macrophages post-treatment [28]. However, the current literature lacks data on the effect of blue light on lipopolysaccharide (endotoxin) contained within intact outer membranes of Gram-negative bacteria and thus it is a subject of future studies.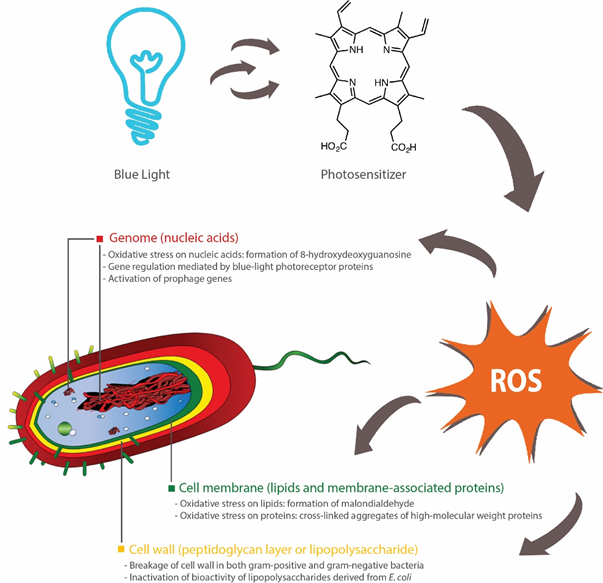 Figure 1. Bactericidal activities of blue light rely on activation of endogenous photosensitizers, such as porphyrins, which subsequently induces the production of reactive oxygen species (ROS). These ROS inflict oxidative damages to nucleic acids [22], lipids [19][21] and proteins [24]. Inhibition of biofilm formation can also occur through blue light-regulated transcriptional pathways [29][30][31] or bacterial inactivation through the activation of prophage genes [32]. Breakages of cell walls [26][27] and inactivation of lipopolysaccharides (outer membrane of Gram-negative bacteria) [28] have been reported, although the precise effects of antimicrobial blue light on peptidoglycan (cell wall) and lipopolysaccharide are not fully elucidated.
Blue light can act as a transcriptional regulator in bacteria [33][34], especially due to the presence of blue light receptor proteins [34]. These photoreceptors include the blue light-sensing flavin adenine diphosphate (BLUF) proteins that can undergo conformational changes upon illumination by blue light and subsequently elicit downstream effects on bacterial surface attachments, biofilm formation and motility [35]. For instance, two studies found that a BLUF-associated protein, namely YcgF, downregulated the synthesis of curli fibres, but upregulated biofilm formation in E. coli [29][30]. In contrast, others reported that A. baumannii-harboring blsA gene, which encodes BLUF-containing photoreceptor proteins, did not form biofilms under blue light (462 nm), whereas biofilms were observed in a mutant strain with no functional blsA [31]. Although the viability of A. baumannii was not affected by blue light in both wild and mutated strains, blue light had a negative effect on bacterial motility and pellicle formation [31]. These findings indicate that there is a variety of blue light-sensing pathways in bacteria, which could be further explored as an alternative method for controlling the growth of bacteria. Another study also observed an alternative molecular mechanism of bactericidal blue light (460 nm) that involved the activation of prophage genes in MRSA, which subsequently led to the killing of the bacteria [32]. Future studies could aim at investigating the presence of similar genes (light-sensing and prophage genes) in other bacterial species and subsequently at designing targeted blue light-mediated interventions for controlling the persistence of these bacteria in different environments.
In summary, antimicrobial blue light can act upon different parts of the bacterial cell, primarily through the action of ROS. These ROS can induce oxidative damages to a range of macromolecules, such as lipids (cell membrane), proteins (cell wall-associated proteins), nucleic acids (DNA, RNA or plasmids) and polysaccharides (extracellular matrix of biofilms). Additionally, several bacterial species, such as E. coli and A. baumannii, possess blue light receptors that control biofilm formation and motility, and thus can be targeted to reduce their persistence in the environments. Further, several prophage genes may be activated by blue light and induce inactivation of the carrying bacteria (Figure 1).
3. Available Technologies
The majority of studies on antimicrobial blue light have used light-emitting diodes (LED) as a light source. LED is commonly comprised of semiconductor materials that are doped with impurities, which create free electrons on the n side and holes (absence of electrons) on the p side—also known as the p–n junction. When electrical voltage is applied, current flows from the positively-charged end (p side; anode) to the negatively-charged end (n side; cathode), with electrons moving in the opposite direction. Subsequently, as an electron interacts with a hole, it falls to a lower energy state through the release of a photon. In this process, the resulting color emitted corresponds to the band gap energy within the p–n junction, which depends on the semiconductor materials and impurities used [36][37]. Currently, a typical blue LED is made of indium/gallium nitride (InGaN) layers grown on sapphire or silicon substrates, which can theoretically cover the entire visible light spectrum—365 nm (GaN) to 1771 nm (InN)—albeit the quality of materials deposited within the LED structure declines continuously beyond 480 nm due to a range of inherent material challenges [38].
Laser diode, which emits light with a higher coherence and narrower emission band than LED, is another source of blue light that has been used in clinical settings. The photomodulative effects of these two light sources on biological systems have been a subject of debates, especially due to their differences in light coherence and wavelength bandwidth. However, accumulating evidence suggests that these parameters have little effect on the biological efficacy of light-based technologies—for example, two studies found similar effects of red LED and laser diode upon tissue repair in rats [39][40]. Others also proposed that biological effects of light were dependent on dosage and wavelength, but not on light sources, with similar healing effects of LEDs and laser diodes on skin wounds reported across different studies [41]. Similarly, the antimicrobial potency of blue light is independent of the light source used, as one in vitro study revealed that LED (405 nm; non-coherent light) and laser diode (405 nm; coherent light) were equally efficient in inactivating MRSA across four light dosages (40, 54, 81 or 121 J/cm2) [42]. Although LED is relatively cheaper than laser diodes, it remains unclear which technology is more efficient based upon their germicidal output per unit electrical power input. In addition, superluminous diode (SLD; 405 or 470 nm), which is an intermediate between LED and laser diode in its light intensity, coherence and emission bandwidth [43][44][45], has also shown bactericidal activities against P. aeruginosa, MRSA and S. aureus in vitro [46][47][48].
Femtosecond laser, which emits ultrasecond pulses at approximately 10−15 s per pulse, is another technology that can be used to deliver antimicrobial blue light. At light dosages of 18.9–75.6 J/cm2 (5–20 min), a blue femtosecond laser (400, 410 and 420 nm) inhibited the growth of S. aureus and P. aeruginosa on agar plates (inhibition zones observed), possibly due to DNA damages induced by ROS [49]. In agreement, a femtosecond laser (425 nm; 800 J/cm2; 1 h) reduced a mutant S. Typhimurium lacking RecA proteins (responsible for DNA repair) by 5 log colony forming units (CFU), whereas only 0.5-log reduction (CFU) was observed for the wild-type bacteria and thus this finding enhanced the view that DNA damage was a predominant inactivation mechanism of a bactericidal femtosecond laser [50]. However, the two studies used different methods for measuring bactericidal activity (qualitative or quantitative), and also differed in their light dosages (max. 75.6 J/cm2 or 800 J/cm2) and treatment times (max. 20 min or 60 min) [49][50]. Therefore, the potential use of a femtosecond laser as an antimicrobial technology depends on future investigations into its energy efficiency and also its efficacy against different types of bacteria.
4. Blue Light Regimes
Antimicrobial blue light may be delivered at high irradiance with short duration times (HI-SD) or low irradiance with long duration times (LI-SD). A study demonstrated that the bactericidal activity of blue light (405 nm) was dependent on light dosage: the highest inactivation of four bacteria, namely S. aureus, Streptococcus pneumoniae, E. coli and P. aeruginosa, was achieved at the highest irradiance (approximately 9 mW/cm2) for a constant treatment time (120 min) or in the longest illumination time (250 min) at a constant irradiance (approximately 9 mW/cm2) [51].
In the same study, HI-SD treatment (approximately 9 mW/cm2 for 250 min) was also less effective than LI-SD (approximately 2.25 mW/cm2 for 1000 min) in inactivating pathogenic bacteria. Isolated colonies were observed on the perimeter of plates exposed to HI-SD, whereas confluent border present on LI-SD plates, indicating post-treatment migration of bacteria to the nutrient-rich and non-treated areas on HI-SD plates. Thus, LI-SD seemed to exhibit higher bactericidal and bacteriostatic effects on a qualitative level [51]. A similar finding was reported for Listeria monocytogenes, with LI-SD treatment of 10 mW/cm2 for 180 min yielding a 5.18-log reduction (CFU/mL), whereas HI-SD treatments of 20 mW/cm2 for 90 or 30 mW/cm2 for 60 min produced bacterial inactivation of approximately 5 log CFU/mL—the differences were not statistically significant [52]. However, neither study assessed the germicidal efficiency of HI-SD or LI-SD treatments per unit energy [51][52] and thus it remains inconclusive whether either regime is more suitable for practical applications beyond the laboratory settings.
Alternatively, blue light can be delivered as pulses to increase its bactericidal efficiency. Pulsed blue light technology (450 nm; 33% duty cycle; three times a day for 3 days at 30 min intervals between each treatment) was reported to inactivate planktonic MRSA and Propionibacterium acnes (7 log CFU/mL) at light dosages of 7.6 and 5 J/cm2, respectively [53]. The same technology (7.6 J/cm2) also disrupted the biofilm networks of both bacteria and reduced the number of viable bacteria within the biofilm structures by approximately 1.89 and 1.56 log CFU/mL for MRSA and P. acnes, respectively [53]. In support of this view, pulsed blue LED (450 nm; 33% duty cycle) had a higher bactericidal efficiency against P. acnes than two other regimes (20% or 100% duty cycle), with a 7-log reduction (CFU/mL) achieved at a light dosage of 5 J/cm2 (2 mW/cm2 repeated nine times at 3-h intervals) [54].
For S. aureus, pulsed blue LED (405 nm; 25, 50 or 75% duty cycle) and continuous blue light (405 nm; 100% duty cycle) had similar inactivation efficiency (95–98%), albeit the pulsed blue light had approximately 83% higher optical efficiency (bacterial reduction in CFU/mL per J/cm2) [55]. Based upon these findings [53][54][55], pulsed blue light is preferred than continuous blue light in vitro, but its utilization in food settings is a subject of further investigations into its ability to remain energy efficient during scale up.
5. Safety of Blue Light
Safety assessments of blue light have mostly been conducted in clinical settings. Generally, exposure of skin to blue light is safe, albeit high fluences at certain wavelengths could induce cytotoxic effects. In one study, eight volunteers were exposed to blue light (380–480 nm; peak at 420 nm; 100 J/cm2 per day) for five consecutive days and the subsequent results of their skin biopsies were reported as follows: (1) no significant change in the expression of p53, i.e., no DNA damage; (2) no inflammatory cells and sunburn before and after treatment; (3) transient melanogenesis and vacuolization of keratinocytes observed, although these changes did not result in cell apoptosis [56]. Similarly, an in vitro study demonstrated that blue light (415 nm) could be used to inactivate P. aeruginosa on skin burns without inflicting any damage on the mouse skin at an effective antimicrobial dosage of 55.8 J/cm2 [57]. Exposure to the same blue light at a dosage of 109.9 J/cm2 inactivated human keratinocytes and P. aeruginosa by 0.16 log cell/mL and 7.48 log CFU/mL, respectively. However, cytotoxic effects of blue light on human endothelial and keratinocyte cells were observed at wavelengths of 412, 419 and 426 nm (66–100 J/cm2) or 453 nm (>500 J/cm2) [58].
In an in vitro study, damages on human corneal and conjunctival epithelial cells were observed after prolonged (17 h) exposure to blue light (420 and 430 nm at 1.13 and 1.16 W/cm2, respectively), with the authors reporting decreased cellular viabilities, morphological changes of the cells, accumulation of ROS and altered mRNA expression of biomarkers associated with cellular inflammatory response and antioxidant defense system [59]. A review article presented evidence of the adverse effects that blue light (415–455 nm) inflicted on retina (oxidative stress), lens (cataract due to accumulating ROS) and blood-retinal barrier functions [60]. Another group of researchers also reported the suppression of plasma melatonin in eight human subjects exposed to blue light (469 nm; corneal irradiance 0.1–600 W/cm2 for 90 min)—the extent of suppression was significantly higher at higher irradiances (p < 0.0001)—which suggests that blue light has the potential to disrupt circadian rhythm [61].
Widespread implementation of blue light-based technologies requires robust safety standards. According to the American Conference of Governmental Industrial Hygienists, daily exposure of workers to blue light is recommended to follow these rules: (1) for an exposure of 10,000 s (2.8 h) or more, the maximum intensity of the light source is ≤0.01 W/cm2.sr; (2) for light intensity above 0.01 W/cm2.sr, the maximum light dosage is 100 J/cm2.sr, where light dosage (J/cm2.sr) = light intensity (W/cm2.sr) x time of exposure (s); (3) for a light source subtending an angle less than 0.011 radian, the maximum light intensity is 10−4 W/cm2 for viewing durations greater than 100 s [62]. In accordance with these recommendations, a study analyzed blue light-related hazards through optical radiation measurements of several light sources [63]—the methodology in this study can be applied within the food industry for assessing the safety of different antimicrobial blue light technologies.
Based upon the findings presented in this section, blue light is innocuous on the skin, but deleterious to the eyes. Thus, safety glasses can be prescribed for personnel working within the proximity of high-intensity blue light sources. A study reported that several glasses and light filters significantly reduced (p < 0.001) the transmission of blue light from two LEDs (389–500 nm at 1625 mW/cm2 or 410–510 nm at 1680 mW/cm2; 10 s) by at least 97% [64]. Others reported that the use of blue light-blocking amber glasses improved the sleep quality of people with sleep disorders (self-reported or clinically diagnosed) [65][66], with an earlier endogenous dim-light melatonin onset observed when patients wore amber glasses [66]. However, there are no available data on whether anti-blue light glasses or filters can prevent damages to ocular cells. In addition, there is a need for a universal safety standard that governs the use of antimicrobial blue light in different settings and thus, the scientific community should aim at establishing the effective antimicrobial light dosages for different bacterial species.
6. Potential Development of Bacterial Tolerance to Blue Light
There are no consensus on whether bacteria can develop resistance to blue light, although several studies have suggested that sub-lethal exposures of bacterial cells to blue light induce cellular responses that could potentially lead to tolerance overtime. For example, two reports found that exposure of S. aureus to blue light had reduced its susceptibility to H2O2 [7][67], which was possibly due to the oxidative stress-induced expression of genes (for example, katA) that encode H2O2-scavenging catalase protein [24]. Another study found that fifteen cycles of sub-lethal exposures of S. aureus to blue light (411 nm; 150 J/cm2 per cycle) resulted in the development of tolerance due to genetic alterations, which was stable after five successive sub-culturing. Interestingly, bacterial tolerance was only observed in S. aureus that carried functional recA and umuC genes and thus, suggesting that SOS-dependent mechanism played a role in the development of blue light-tolerant phenotype, although direct mutations from DNA damage were also possible [7]. Nevertheless, complete resistance was not reported, as even when tolerance occurred at a particular blue-light dosage, increasing the light dosage was sufficient to eliminate the tolerant bacteria [7]. In addition, three studies identified other blue light-regulated genes, including those encoding cell envelope components and heat shock proteins in S. aureus [68], enzymes for repairing lipids and nucleic acids in V. cholerae [69] or oxidative stress-resistance chaperone, an adhesin and a capsule biosynthesis protein (CapC) in C. sakazakii [21].
However, others reported that sub-lethal blue light did not induce tolerance in several bacterial species. In one study, S. aureus remained susceptible to blue light (405 nm; 108 J/cm2 per cycle) after fifteen cycles of sub-lethal treatment [67]. Exposures of P. aeruginosa, A. baumannii and E. coli to twenty cycles of blue light (405 nm; dosages enough to induce bacterial reduction of 4 log CFU) also did not result in the development of tolerance [70]. Possible explanations for the discrepancies between studies include different wavelengths and blue-light dosages used, albeit further investigations are needed to ascertain the effects of sub-lethal exposures of bacteria to blue light.
Regardless, strategies are required to antagonize any development of bacterial tolerance to blue light. For example, the combination of blue light at 460 and 405 nm was reported to be effective against blue light-tolerant S. aureus. One study revealed that blue light at 460 nm (90-360 J/cm2) inactivated staphyloxanthin (a ROS scavenger; antioxidant) through photolysis and thus, disrupted the ability of S. aureus to resist blue-light treatment. Subsequent treatment with blue light at 405 nm (90-180 J/cm2) inactivated the bacteria (planktonic or in biofilm) at a higher rate than when single wavelengths were used, albeit inactivation was dependent on the dosage of both 405-nm and 460-nm blue light [71]. As blue light attacks multiple targets in the bacterial cells, the development of resistance to blue light is also expected to be slower than resistance to antibiotics.
7. Research Gaps and Future Outlook
While it is a well-established fact that bacterial cells contain photo-active endogenous photosensitizers, the amount and type of these intracellular chromophores—and thus the susceptibility to blue light—may vary across bacterial species. For example, spectroscopic measurements revealed the presence of flavins and porphyrins in the cell lysates of Aggregatibacter actinomycetecomitans, although these compounds were not detected in E. coli. When illuminated by blue light (460 nm; 150 J/cm2), A. actinomycetecomitans (serotype b; ATCC 43718) were reduced by 5 log CFU, whereas E. coli (ATCC 25922) remained unaffected [72]. Another group of researchers also used spectroscopic technique to identify protoporphyrin IX and coproporphyrin as the main intracellular photosensitizers in Helicobacter pylori, which could exist in monomeric, dimeric or aggregated forms [73]. Others utilized high-performance liquid chromatography to characterize the endogenous photosensitizers in P. aeruginosa and A. baumannii, including coproporphyrin (I or III) and protoporphyrin IX [74][75]. These studies provide technical foundation that future researches could build upon, particularly for characterizing endogenous photosensitizers in pathogenic bacteria.
There are still limited data on the anaerobic inactivation of bacteria by blue light. Based on available data, the efficacy of blue light under anaerobic conditions varies with bacterial species, with evidence suggesting antimicrobial activities (reduction of 1-2 log CFU/mL) against Prevotella intermedia, Prevotella nigrescenes and Porphyromonas gingivalis [76][77], but not against E. coli, S. aureus and Enterococcus faecalis [76]. The authors of both studies attributed blue light-mediated anaerobic inactivation of bacteria to the generation of organic radicals directly from the triplet state of endogenous photosensitizers [76][77]. Although these findings indicate that there is a potential for anaerobic application of blue light, there is a need for improvements in the bactericidal efficacy of blue light under oxygen-scarce conditions. Azide salts can be used to facilitate anaerobic photodynamic treatments [78]. In addition, the effects of blue light on the germination of bacterial spores and the production of bacterial toxins are yet to be established and thus, it is a subject of future investigations.
This entry is adapted from 10.3390/foods9121895