Remotely Piloted Aircraft in Agriculture
Definition
In this study, a sustainable perspective of the use of remotely piloted aircraft (RPA) or drone technology in the agriculture sector is discussed. For this purpose, the types of cameras (multispectral, thermal, and visible), sensors, software, and platforms frequently deployed for ensuring precision agriculture for crop monitoring, disease detection, or even yield estimation are briefly discoursed.
Introduction
The world is going through rapid technological shifts and innovations. The agriculture sector has also been benefiting from such technological advancements for many years. An indispensable way of accomplishing more by utilizing fewer resources and exerting little effort is considered as innovation [1]. It is very well argued that enriching raw material by innovation ensures production efficiency, contributes to economic growth, food safety and security [2].
In recent years, the use of technology in agriculture has gained momentum of which GIS (Geographic Information System), satellites, air vehicles, autonomous robots, GPS (Global Positioning System) and various other communication technologies have made their way into farming. With the innovation and implementation of such technologies, new terms like "precision agriculture", "precision farming", "precision approach", "digital farming" and "agriculture 4.0" etc. have appeared on the horizon. The precision agriculture is defined as information and technology based agricultural production system that is used in order to analyze, determine, and manage field factors like spatial and temporal variability for obtaining maximum sustainability, profit, and environmental protection [3].
Precision agriculture that paves the way to make efficient plans for pest control, harvest, irrigation, disease control, and optimum fertilization etc. is an emerging technology and is related to the development of technology for obtaining and analysing data that in turn results in the implementation of adequate solutions [3,4]. Remote sensing (a technique of collecting information about objects without establishing any physical contact with them [5]) has proven itself an integral part of precision farming. Although, it was initially linked to photogrammetry with the usage of balloons for aerial observation as first ever aerial photographs captured thus date backs to 1858 aboard a hot-air balloon [6]. Various platforms are used for remote sensing and can be classified as aerial platforms (i.e., planes, helicopters, drones, balloons) and spatial platforms (i.e., satellites) that use sensors for measuring reflected or emitted electromagnetic radiations from the object under study. Consequently, they can be classified according to the radiations they register into passive (cameras, scanners, etc.) and active (radar and LIDAR) ones. The formers are limited to collecting the electromagnetic energy reflected or emitted by the surface, while the latter discharge radiations towards the observed surface and collect the energy reflected by it. A refined definition for remote sensing according to the scope of this article could thus be: a set of techniques that analyse the data obtained by sensors on aerial or spacial platforms, including the acquisition of data from earth's surface as emitted or reflected radiations followed by its subsequent reception, correction and distribution, as well as its final treatment by experts for the extraction of useful information in which the end user can support their decision-making.
Satellites and drones are the most commonly used tools in precision farming. With the launch of Landsat-1 satellite in 1972 [7], a new era of remote sensing began. Nevertheless, given the recent technological advancements, the use of drones has become widespread and is gaining popularity due to the number of benefits they offer, explicitly integrated sensors and imagery system [2,8]. Remotely Piloted Aircraft (RPA), commonly known as drone, refers to a remotely controlled or autonomously flown, unpiloted, unmanned aircraft that is based on complex dynamic automation systems [3]. The incorporation of drones into precision farming is a growing agricultural trend with a potential of invoking novel agricultural and economical trails. Although, today's research is slanted towards the employment of novel tools and sensors capable of remote surveillance of soil properties and crops in quasi-real-time [3].
To ensure global food security for the cumulating world population, there is an immense need for closing the gap between actual and potential crop yields. The most prominent factors contributing to this gap include interactions among the crop genotype, environment, and management: G × E × M [9]. For instance, a difference in soil affects fertilizer uptake even if the crop response to fertilizer application is known, thereby contributing to this yield gap. Similarly, on practical basis farmers usually apply excessive fertilizers than the desired amount, even for areas of high potential yield, resulting this excessive fertilizer to be accumulated in the ground and deteriorating water quality [10,11]. International controls on the use of fertilizers in agriculture not only ensure the safety of humans but also the environment. That's why it is very important not to exceed these limits by over-fertilizing the land. For improved crop yield, as nitrogen (N) is the most limiting crop nutrient, so N based fertilizers are applied frequently [12]. However, this also augments the N losses to the environment via leaching or gaseous emissions. For example, fertilizer nitrate (NO3–) leaching pollutes the surface and ground water [13]. Ultimately, these NO3– ends up in our diet. In human body NO3– is converted to NO2– and then eventually to nitrosamine compounds and NO in acidic environment (specifically in stomach). These compounds are responsible for methemoglobinemia that further provokes cancers, diabetes and thyroid disorders [14]. To nip the evil in the bud precision agriculture is the answer. Precision agriculture presents on site-specific information with optimized solutions for which drones are anticipated to play a key role thereby minimizing the yield gaps while widening up the room for scientific exploration and development [15]. RPAs are facilitating us in this domain too by furnishing the estimates of total N concentration in water, so that only the required amount of N fertilizer be applied avoiding the potential harmful impacts and saving the economic loss to farmers. One such practical example of using drone equipped with hyperspectral cameras to assess the N concentration in water has recently been reported [13]. Although the lower adoption rates of precision technologies than expected comprise of various factors including economical ones [15,16].
An overview of RPA technology with a prospective of sustainable agriculture is conveyed in this article. The current technology available for precision agricultural is discoursed along with examples. The promising feature of RPA technology with practical cases from the available literature and future perspectives are highlighted in this study. This study may help in better adoption of RPA technology, development of policy regulations, identifying the future research areas, and hinting towards the need for advancement of this mature technology given the challenging circumstances provoked by COVID-19 pandemic.
Classification of RPAs
There are various RPAs in the commercial market to date including for military use but based on the use of RPAs in agriculture, they are largely categorized into rotary wing and fixed wing RPAs, Figure 1. Although both of these kinds have their own benefits and limitations. For example, structurally simple fixed wing RPAs lack hovering and require a runway for take-off and landing while offering high-speed flights for longer durations. Whereas, with structurally complex rotary wings RPAs exhibit low-speed flights for shorter duration, they are also capable of hovering, vertical takeoff, and landing with nimble maneuverability [22].

Figure 1. Illustration of basic RPA types (A) Fixed wing RPA (B) Rotary wing RPA (C) Combinational concepts
There is also a notable difference in the landing gears of fixed wings and rotary wings RPAs as the former ones may use wheels or magnetic levitation while the later ones have simple supporting structures. The rotary winged RPAs can further be of a helicopter, quadcopter, hexacopter, and octocopter, based on the number of rotors they have. The rotor movements are responsible for the lift of these copters as two of the four rotors, in a quadcopter specifically, move in clockwise direction and other two in the anticlockwise direction. Two configuration models plus (+) and cross (X) are used in quadcopters, of which the latter is more stable and common than former [22] (Figure 2).

Figure 2. Configuration models of quadcopter (A) Plus configuration (B) Cross configuration.
Applications of Drones in Farming
With the developing technologies and invention of novel sensors, drones are finding numerous application in agriculture field. The ease and autonomy that RPAs offer is their prominent feature. For example, they can either be flown manually or put on GPS programmed pre-determined paths where learning to pilot is not more than a few hours job with the possibility of one touch takeoff and ground steering. Self-leveling programs further facilitate their autonomy by helping in the acquisition of stabilized images while adjusting the drones to the wind [27]. Few of their most common applications along with novel areas of application are discussed below.
4.1. Crop Monitoring and Health Assessment
RPAs have been anticipated for counting plants, monitoring growth, phenology and chlorophyll measurement among other potential applications [21]. For this purpose, RPAs like SenseFly's eBee Ag, having NDVI or near infrared (NIR) sensors, have replaced the conventional farm scouting by significantly minimizing the human error [49]. RPAs are also highly efficient sources of monitoring crops especially in hilly areas that are otherwise challenging for conventional scouting [24]. The most commonly used vegetation indices for crop monitoring and health assessment are summarized in Table 3.
Table 3. Summary of commonly used Vegetation Indices (VIs).

Several vegetation indexes, for example NDVI, are in play to assess the disease, water deficiency or nutrient stress in crops and present useful information like even the presence of algae etc. [15]. Psirofonia, et al. [75] have also reported an effective way of pest or disease infestation detection and mapping in olive and palm plantations, using RPAs. Moreover, the use of drones in the early detection of disease or deficiency in crops has also been suggested to timely mitigate the stress [24].
Recently, Parrot RPA is proposed for effective crop assessment in terms of determination of the density of green on a patch of land. The RPA camera uses the light reflectance from plant (i.e., chlorophyll and leaves) for the determination of their spatial distribution. Following is proposed for calculating NDVI [25]:

NIR−REDNIR+REwhere, the spectral reflectance measurements acquired in near-infrared and red regions are indicated by NIR and RED respectively. Higher the value of NDVI, the denser and healthier will be the vegetation. Whereas the range of NDVI varies from −1 to +1. Although, different cameras provide different NDVI values for the same field and time of flight, which could mislead the user. Agricultural cameras, however, can provide a standard NDVI that is comparable to other agricultural cameras such as those on satellites. An illustration for a drone equipped with NIR and other sensors for taking data from soil, plant and weeds is presented in Figure 6.
5. Economical Aspects
At the beginning of the use of RPAs, it was projected that these technologies would be closely integrated into agricultural activities at an accelerated rate and would become a ubiquitous and low-cost tool for such operations [21]. However, several years later, it is widely recognized that this available technology has not yet been integrated into agriculture as expected despite the multiple offerings of the platform. Farmer's lack of awareness, complexity of use and higher costs are few of the reasons for slower adoption of this technology in agriculture sector. Although their price start from as low as $10 but in the context of agricultural RPAs it is not the case. For a starter system, agricultural drones can range from $1000 and depending upon the cameras and other features can go up to $10,000 or $20,000 [27]. For smallholder farmers, such costs are an impeding step towards the adoption of this technology.
Nevertheless, drones are regarded as cost effective as they pay for themselves in few usages considering the larger land holdings. Usually there is a possibility to replace their parts in case of a crash. Similarly, they are fairly cost effective as compared to per hour price of a piloted airplane, and application of fertilizers and pesticides further adds up into the cost effectiveness [27]. One such example of cost effectiveness, of using drones, is reported by Psirofonia, et al. [75] where they used drones to spray pesticide. In another study, three RPAs models, eBee (fixed wing), Phantom 2 (rotary wing) and X8 (fixed wing), were tested to monitor palm cultivation for oil extraction. Infrared images were used to monitor punning and disease identifications. Of these eBee equipped with NIR was reported as an efficient model in monitoring pathologies e.g., analysis of chlorosis. Although eBee was reported expensive economically, with flight time of 45 min and coverage of 100 ha per flight at 150 m altitude. The Phantom 2 was regarded as cheapest economically, with flight time of 25 min and coverage of 12 ha per flight at 150 m altitude. The X8, having a flight time of 45 min and coverage of 100 ha per flight at 150 m altitude, was regarded in medium range economically [17].
Another excellent example where RPAs are efficiently aiding in the economy is weed management. A cost of 16–45 € per ha was saved by efficient use of herbicides in in maize field based on the RPA post-emergence image data [88]. This study also strengthens the efficiency of PA thereby not only reducing the input costs but also ensuring the uniformity of application. Similarly, the use of RPAs in forestry for recording the vegetation dynamics was regarded as highly economical given the possibility of their year-round use and providing high resolution images [89].
Integrated RPA Technology
RPAs do promise a high temporal and spatial resolution but considerably lower spectral resolution, as it depends upon the amount of spectral ranges or bands and the sensor detected wavelength. Sensors are usually costly and thus make a RPA expensive. A low spectral resolution sensor is cheaper, with red (0.62–0.70 μm), green (0.49–0.58 μm) and blue (0.45–0.49 μm) bands and taking images only in visible range, as compared to a multispectral sensor that also measures the infrared (IR; 0.78–10.0 μm) bands thus providing a better vegetation index, i.e., such as NDVI. Sensors measuring thermal radiations from mid-infrared (MIR) to the far-infrared (FIR) are also available based on their perspective use [17].
NIR cameras have been used in several studies [38,46,88,90,91,92], although these sensors are costly. For this reason, cameras with only visible bands are preferred [36,37,92,93] that are relatively cheaper. Consequently, a modified photochemical reflectance index (MPRI) using only red and green band was proposed. A study was undertaken in São Carlos to investigate the temporal and spatial variability of the MPRI vegetation index of grass, and demonstrated its potential for grass cultivation management and control [17].
In another study of wheat mapping, six spectral indices including VEG, CIVE, Woebbecke index, ExGR, ExG, and NGRDI were studied using a RPA carrying a conventional low-cost camera. Of these, VEG and ExG with values varying from 83.74% to 87.82% at 60 m flight altitude and from 87.73% to 91.99% at 30 m flight altitude were regarded as optimum [37]. Similarly, a study reported the use of conventional RGB camera but with its red filter removed. Thus, modifying the camera to capture green, blue and NIR bands that promise a useful tool for plant health, vegetation and phenology monitoring [17]. Such findings are further straightening up the way for making the technology more efficient and economically accessible for small farmers for real time inspections, monitoring and decision-making. With rapid progress of technological inventions, sensors, cameras, gimbles and basic RPA architecture are becoming more and more efficient, thus promising a greener and more sustainable agriculture. A summary of applications of drones in agriculture is presented in Figure 8.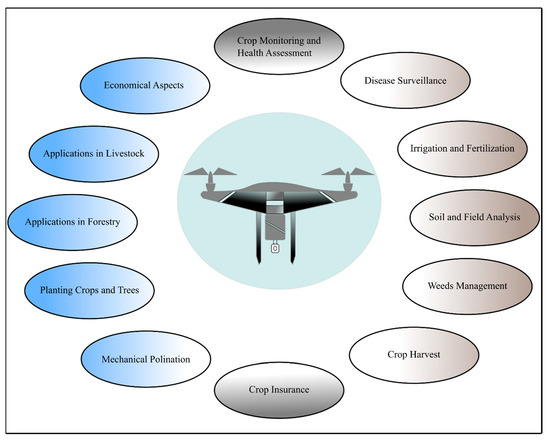 Figure 8. A schematic diagram of the applications of drones in agriculture.