Please check and comment entries here.
Abstract
Centro de Química Estrutural and Departamento de Engenharia Química
Instituto Superior Técnico
Universidade de Lisboa
Portugal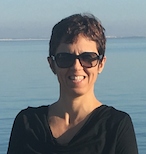 Luísa Margarida Martins is an Associate Professor with Habilitation (Chemical Engineering Department) at Instituto Superior Técnico (IST) of the Universidade de Lisboa, Portugal. She is Researcher (since 1992) at Centro de Química Estrutural (Coordination Chemistry and Catalysis group) of IST, member of the Coordination Commission of this Centre, coordinator of the thematic line Synthesis, Catalysis and Reactivity and member of the Research Core Team and of the Executive Committee of the Catalysis and Sustainability (CATSUS) PhD program.
Luísa's research broadly focuses on the application of green chemistry and engineering principles in the innovative design of products and sustainable processes. Her main interests range over functionalized materials (in particular, involving C-scorpionates), catalysis (homogeneous, supported or nano-catalysis) and molecular electrochemistry.
Luísa co-authored over 165 papers (h index 36, Web of Science), 13 PT and WO patents, 1 book and 9 book chapters, ca. 360 conference communications. She also served as Associate Editor of RSC Advances, Royal Society of Chemistry (2015 - 2018).
In 2017 Luísa was awarded the Scientific Excellence Prize IPL-CGD for the Areas of Technology and Engineering in recognition of her scientific productivity and impact for the last 3 years.
She is Fellow of the Royal Society of Chemistry and member of the Directive Board of the Portuguese Electrochemical Society (Treasurer: 2009-2014, President: 2014-18).
https://luisamargaridamartins.weebly.com
ORCID ID: 0000-0002-5403-9352
Researcher ID.: G-6210-2011 ​
Scopus Author ID: 8650947800