Please check and comment entries here.
The Leafless Vanilla Species
Definition
The pantropical genus Vanilla is a member of the Orchidaceae family. It originated in America and differentiated in America, Africa, and Asia. About 132 species of Vanilla have now been accepted since the discovery of the genus. Within the Vanilla genus, leaflessness has appeared at least three independent times, in Africa, Asia, and America as an adaptation to drought conditions. The South-West Indian Ocean (SWIO) region is home to seven leafless species. Chloroplast markers failed to differentiate species within this recent SWIO clade. Morphological traits used for description are very similar between species and do not provide reliable identification. Leafless Vanilla species from the SWIO islands are thus an excellent model for understanding the evolution of orchids. For their conservation, and to confirm the identity of these leafless species, an integrated approach with classical taxonomy using a large number of samples, intense fieldwork on biology and ecology, and molecular studies using variable markers is necessary.
1. Introduction
With more than 24,000 species and 700 genera worldwide, Orchidaceae is one of the largest families of flowering plants [1][2], and originated around 83 Mya (Million years ago) [3][4]. Orchids are widely celebrated for their beautiful flowers, extraordinary diversity, and potential medicinal proprieties. For example, among the 494 terrestrial and epiphytic orchid species recorded in Southern Africa, 49 are used as traditional medicinal plants to treat a wide range of diseases [5]. The South-West Indian Ocean (SWIO) islands are one of the global hotspots for orchids. The Orchidaceae family is represented by 65 genera and over 1000 species in this region [6]. Madagascar is the richest, with approximately 862 species, of which more than 85% are endemics [7], and 57 genera [8]. The Orchidaceae genus Vanilla can be considered as a flagship genus in the SWIO region, because the genus is represented there by wild, as well as cultivated, genetic resources. This region ranks first in terms of leafless Vanilla species richness [9][10]. It is also renown worldwide for its Vanilla fruit production, with the islands of Madagascar, Comoros and La Réunion being amongst the first world producers [11].
2. The
Vanilla

Genus and Leafless Species
2.3. Evolution
Vanilla is a transoceanic genus, found only in tropical forests between the 27th north and south parallels, but absent in Australia (Figure 2).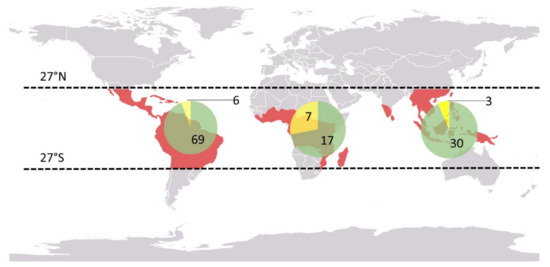 Figure 2. World distribution of Vanilla species: number of leafy Vanilla species (in green) and number of leafless species (in yellow) based on the World checklist of Selected Plant Families [24], the International Plant Name Index [25] and the database of Tropicos [26].
According to Rolfe, the diversification of the genus happened in Brazil and Guiana [23]. However, based on floral morphology, Portères suggested a primary diversification center in Indo-Malaysia that has evolved into two groups (Madagascar, Mascarene Islands, Africa versus Asia and Western Pacific islands), with the American species resulting from the migration of Asian species during the Tertiary (65.5–2.5 Mya) [10]. But the recent molecular phylogeny rejected this theory of Portères and suggested a South American center of diversity [3]. In 2005, Cameron stated that the differentiation of the genus Vanilla would have taken place before the dissolution of Gondwana [27], about 129 Mya [3]. However, following a fossil-based tree dating in Orchids [4], Bouetard et al. supported the alternative theory that Vanilla genus probably appeared 34 Mya (Figure 1), and its migration from the New World to the Old World occurred at the beginning of the Tertiary, about 25 Mya via a transoceanic dispersion, facilitated by the proximity of the continents and the presence of the series of islands of the mid-oceanic ridge of the Rio [3]. Three obvious cases of transoceanic migration events from Africa were also noted: (1) the dispersal of the genus from Africa to Asia; (2) from Africa to the SWIO islands and finally (3) from Africa to the Caribbean islands [3], the two last events concerning therefore the evolution of leafless groups in the SWIO and Caribbean islands.
This entry is adapted from 10.3390/d12120443
References
Chase, M.W.; Cameron, K.M.; Freudenstein, J.V.; Pridgeon, A.M.; Salazar, G.; van den Berg, C.; Schuiteman, A. An updated classification of Orchidaceae. Bot. J. Linn. Soc. 2015, 177, 151–174.

Fay, M.F.; Chase, M.W. Orchid biology: From Linnaeus via Darwin to the 21st century. Ann. Bot. 2009, 104, 359–364.

Bouetard, A.; Lefeuvre, P.; Gigant, R.L.; Bory, S.; Pignal, M.; Besse, P.; Grisoni, M. Evidence of transoceanic dispersion of the genus Vanilla based on plastid DNA phylogenetic analysis. Mol. Phylogenetics Evol. 2010, 55, 621–630.

Ramírez, S.R.; Gravendeel, B.; Singer, R.B.; Marshall, C.R.; Pierce, N.E. Dating the origin of the Orchidaceae from a fossil orchid with its pollinator. Nature 2007, 448, 1042–1045.

Chinsamy, M.; Finnie, J.F.; Van Staden, J. The ethnobotany of South African medicinal orchids. S. Afr. J. Bot. 2011, 77, 2–9.

Pailler, T.; Andilyat, M.; Andrianarivo, C.; Baider, C.; Bytebier, B.; Filer, D.; Henze, F.; Morel, C. Guide des Orchidées des Îles de l'Océan Indien: Espèces Indigènes et Endémiques, 1st ed.; Commission de l'Océan Indien: La Réunion, France, 2018; pp. 8–163.

Callmander, M.W.; Phillipson, P.B.; Schatz, G.E.; Andriambololonera, S.; Rabarimanarivo, M.; Rakotonirina, N.; Raharimampionona, J.; Chatelain, C.; Gautier, L.; Lowry, P.P. The endemic and non-endemic vascular flora of Madagascar updated. Plant Ecol. Evol. 2011, 144, 121–125.

Cribb, P.; Hermans, J. Field Guide to the Orchids of Madagascar; Royal Botanical Gardens: Kew, UK, 2009; ISBN 978-1-84246-158-7.

Soto Arenas, M.Á.; Cribb, P. A new infrageneric classification and synopsis of the genus Vanilla Plum. Ex Mill. (Orchidaceae: Vanillinae). Lankesteriana 2010, 9, 355–398.

Portères, R. Le Genre Vanilla et ses Espèces. In Le Vanillier et la Vanille dans le Monde; Bouriquet, G., Ed.; Editions P. Lechevalier: Paris, France, 1954; pp. 94–920.

De La Cruz Medina, J.; Rodriguez Jiménes, G.C.; Garcia, H.S.; Zarrabal, T.L.R.; Alvarado, M.A.G.; José, V. Vanilla: Post-Harvest Operations; Food and Agriculture Organization of United Nations: Veracruz, Mexico, 2009; pp. 1–25.

Bosser, J.; Lecoufle, M. Les Orchidées de Madagascar; Parthénope; Biotope: Mèze, France, 2011; ISBN 2-36662-047-0.

Descouvrières, P. Encyclopédie Des Orchidées Tropicales—1200 Espèces, Plus De 1000 Photographies|Rakuten; Ulmer: Paris, France, 2011; Volume 1, ISBN 978-2-84138-472-3.

Soto Arenas, M.A.; Cameron, K.M. Vanilla. In Genera Orchidacearum: Orchidoideae; Pridgeon, A.M., Cribb, P., Chase, M.W., Rasmussen, F.N., Eds.; Oxford University Press: Oxford, UK, 2003; pp. 321–334.

Botomanga, A. Stratégies D'adaptation à la Sècheresse et à la Dégradation de L'habitat des Racines de Vanilliers Aphylles. Master's Thesis, Université d'Antananarivo, Antananarivo, Madagascar, 2018.

Cameron, K.M. Vanilloid orchids systematics and evolution. In Vanilla; Odoux, E., Grisoni, M., Eds.; Medicinal and Aromatic Plants—Industrial Profiles; CRC Press: Boca Raton, FL, USA, 2011; Volume 47, pp. 1–12. ISBN 978-1-4200-8338-5.

Griffiths, H.; Males, J. Succulent plants. Curr. Biol. 2017, 27, R890–R896.

Gigant, R.L.; Bory, S.; Grisoni, M.; Besse, P. Biodiversity and evolution in the Vanilla genus. In The Dynamical Processes of Biodiversity: Case Studies of Evolution and Spatial Distribution; IntechOpen: Rijeka, Croatia, 2011; pp. 1–26. ISBN 978-953-307-772-7.

Gigant, R.L.; De Bruyn, A.; Church, B.; Humeau, L.; Gauvin-Bialecki, A.; Pailler, T.; Grisoni, M.; Besse, P. Active sexual reproduction but no sign of genetic diversity in range-edge populations of Vanilla roscheri Rchb. f. (Orchidaceae) in South Africa. Conserv. Genet. 2014, 15, 1403–1415.

Soto Arenas, M.A.; Dressler, R.L. A revision of the Mexican and central American species of Vanilla Plumier ex Miller with a characterization of their ITS region of the nuclear ribosomal DNA. Lankesteriana 2010, 9, 285–354.

Gigant, R.L.; De Bruyn, A.; M'sa, T.; Viscardi, G.; Gigord, L.; Gauvin-Bialecki, A.; Pailler, T.; Humeau, L.; Grisoni, M.; Besse, P. Combining pollination ecology and fine-scale spatial genetic structure analysis to unravel the reproductive strategy of an insular threatened orchid. S. Afr. J. Bot. 2016, 105, 25–35.

Nielsen, L.R.; Siegismund, H.R. Interspecific differentiation and hybridization in Vanilla species (Orchidaceae). Heredity 1999, 83, 560–567.

Rolfe, R.A. A revision of the genus Vanilla. Bot. J. Linn. Soc. 1896, 32, 439–478.

Govaerts, R.; Bernet, P.; Kratochvil, K.; Gerlach, G.; Carr, G.; Alrich, P.; Pridgeon, A.M.; Pfahl, J.; Campacci, M.A.; Holland Baptista, D.; et al. World Checklist of Orchidaceae. Facilitated by the Royal Botanic Gardens, Kew. Available online: http://wcsp.science.kew.org/ (accessed on 17 July 2020).

IPNI International Plant Names Index. Available online: http://www.ipni.org (accessed on 17 July 2020).

MBG Tropicos: Connecting the World to Botanical Data since 1982. Available online: https://www.tropicos.org/ (accessed on 17 July 2020).

Cameron, K.M. Recent advances in the systematic biology of Vanilla and related orchids (Orchidaceae: Subfamily Vanilloideae). In Proceedings of the Vanilla: First International Congress, Princeton, NJ, USA, 11–12 November 2003; Allured: Carol Stream, IL, USA, 2005; pp. 89–93.

Pansarin, E.R.; Miranda, M.R. A new species of Vanilla (Orchidaceae: Vanilloideae) from Brazil. Phytotaxa 2016, 267, 84.

Barberena, F.F.V.A.; Sousa, T.D.S.; Ambrosio-Moreira, B.D.S.; Roque, N. What are the species of phorophytes of Vanilla palmarum (Orchidaceae) in Brazil? An assessment of emblematic specificity with palm tree species. Rodriguésia 2019, 70, e02732017.

Sambin, A.; Chiron, G.R. Deux Nouvelles Espèces de Vanilla (Orchidaceae) de Guyane Française. Richardiana 2015, XV, 306–316.

Porras-Alfaro, A.; Bayman, P. Mycorrhizal fungi of Vanilla: Diversity, specificity and effects on seed germination and plant growth. Mycologia 2007, 99, 510–525.

Allorge-Boiteau, L. Les vanilles succulentes de Madagascar. Succulentes 2005, 2, 3–11.

Allorge-Boiteau, L. Une nouvelle espèce de vanille à Madagascar. Hommes Et Plantes 2013, 85, 4–5.

Soto Calvo, M.A.; Esperon, P.; Sauleda, R.P. A new species of Vanilla Miller is described for Cuba. New World Orchid Nomencl. Notes 2019, 56, 1–7. Available online: https://www.researchgate.net/profile/Ruben_Sauleda/publication/341056775_A_New_Species_of_Vanilla_Miller_is_Described_for_Cuba/links/5eab47c5299bf18b958a7273/A-New-Species-of-Vanilla-Miller-is-Described-for-Cuba.pdf (accessed on 20 July 2020).

Bory, S.; Brown, S.; Duval, M.-F.; Besse, P. Evolutionary processes and diversification in the genus Vanilla. In Vanilla; Odoux, E., Grisoni, M., Eds.; CRC Press: Boca Raton, FL, USA, 2010; pp. 15–29. ISBN 978-1-4200-8338-5.

Householder, E.; Janovec, J.; Mozambite, A.B.; Maceda, J.H.; Wells, J.; Valega, R. Diversity, natural history, and conservation of Vanilla (orchidaceae) in Amazonian wetlands of Madre De Dios, Peru. J. Bot. Res. Inst. Tex. 2010, 4, 227–243.

Nielsen, L.R. Natural hybridization between Vanilla claviculata (W.Wright) Sw. and V. barbellata Rchb.f. (Orchidaceae): Genetic, morphological, and pollination experimental data. Bot. J. Linn. Soc. 2000, 133, 285–302.

Molineros Hurtado, F.; González Mina, R.T.; Flanagan, N.S.; Tupac Otero, J. Vanilla rivasii (orchidaceae), a new species from the Colombian pacific region. Lankesteriana 2014, 13.

Tremblay, R.L.; Ackerman, J.D.; Zimmerman, J.K.; Calvo, R.N. Variation in sexual reproduction in orchids and its evolutionary consequences: A spasmodic journey to diversification. Biol. J. Linn. Soc. 2005, 84, 1–54.

Gigant, R.L.; Rakotomanga, N.; Citadelle, G.; Silvestre, D.; Grisoni, M.; Besse, P. Microsatellite markers confirm self-pollination and autogamy in wild populations of Vanilla mexicana Mill. (syn. V. inodora) (Orchidaceae) in the island of Guadeloupe. In Microsatellite Markers; Abdurakhmonov, I., Ed.; IntechOpen: London, UK, 2016; pp. 73–93. ISBN 978-953-51-2797-0.

Ackerman, J.D.; Sabat, A.; Zimmerman, J.K. Seedling establishment in an epiphytic orchid: An experimental study of seed limitation. Oecologia 1996, 106, 192–198.

Petersson, L. Pollination Biology of the Endemic Orchid Vanilla bosseri in Madagascar. Master's Thesis, Biology Education Center, Disciplinary Domain of Science and Technology, Uppsala University, Uppsala, Sweden, 2015.

Macedo, R.C.A. Biologia Reprodutiva e Propagacao Vegetativa de Vanilla chamissonis Klotzsch: Subsidios para Manejo Sustentado. Master's Thesis, Escola Superior de Agric Luiz de Queiroz, Piracicaba, Brazil, 2000.

Micheneau, C.; Johnson, S.D.; Fay, M.F. Orchid pollination: From Darwin to the present day. Bot. J. Linn. Soc. 2009, 161, 1–19.

Peter, C.I.; Johnson, S.D. A pollinator shift explains floral divergence in an orchid species complex in South Africa. Ann. Bot. 2014, 113, 277–288.

Bembé, B. Functional morphology in male euglossine bees and their ability to spray fragrances (Hymenoptera, Apidae, Euglossini). Apidologie 2004, 35, 283–291.

Jersáková, J.; Johnson, S.D.; Kindlmann, P. Mechanisms and evolution of deceptive pollination in orchids. Biol. Rev. 2006, 81, 219–235.

Tremblay, R.L. Trends in the pollination ecology of the Orchidaceae: Evolution and systematics. Can. J. Bot. 1992, 70, 642–650.

Pansarin, E.R.; Pansarin, L.M. Floral biology of two Vanilloideae (Orchidaceae) primarily adapted to pollination by euglossine bees. Plant Biol. J. 2014.
More