Please check and comment entries here.
Definition
Spondyloarthritis (SpA) is a group of autoimmune inflammatory diseases that leads to inflammation of the spine or peripheral joints, namely axial SpA and peripheral SpA respectively. SpA is a painful and debilitating disease that affects mostly individuals aged 45 years old or younger. Trillions of microorganism reside in the human gut and interact with the immune system, and these reactions may trigger different autoimmune diseases including SpA. Dysbiosis, an imbalance of gut microbiota, may affect the mucosal barrier integrity, resulting in gut inflammation. In animal study, none of the germfree mice developed features of SpA. However, after introduction of gut commensal, over 80% of them developed features of SpA. Different gut microbiome compositions also affect the degree of gut inflammation in HLA-B27 transgenic rats. Moreover, nearly 50% of the SpA patients had subclinical gut inflammation. Chronic gut inflammation also correlated with increased bone marrow edema on MRI in SpA patients. These findings suggest there is a link between gut microorganisms and the occurrence of SpA.
1. Introduction
Spondyloarthritis (SpA) is a common chronic inflammatory disease with a disease prevalence of 0.2% to 1.6% [1]. It mainly affects young people, with around 90% of them developing symptoms before 40 years old[2]. SpA is characterized by axial inflammation and peripheral manifestations including asymmetrical mono- or oligoarthritis, enthesitis and dactylitis. Patients often have extra-articular manifestations including psoriasis, uveitis and inflammatory bowel disease (IBD). According to the 2009 Assessment in Spondyloarthritis International Society (ASAS) classification, patients could be classified as axial SpA (axSpA) with predominant involvement of sacroiliac joint and/or spine or peripheral SpA with predominant peripheral manifestation [3]. AxSpA includes radiographic and non-radiographic SpA. Ankylosing spondylitis (AS) is the prototypic form of axSpA. Other subtypes of SpA include reactive arthritis, psoriatic arthritis, inflammatory bowel disease (IBD)-related SpA and undifferentiated SpA. To date, the cause of SpA is unknown.
The human gastrointestinal tract comprises up to 100 trillion bacterial microbes, which are exposed to the host through a mucus-covered surface area of 32 m2 [4][5]. Bacteroidetes and Firmicutes are the two major phyla, which account for nearly 90% of the microbes identified in the gastrointestinal tract, whereas Actinobacteria, Proteobacteria and Verrucomicrobia have a lower abundance[6]. At the genus level, Bacteroides species, Faecalibacterium, Bifidobacterium, Lachnospiraceae, Roseburia and Alistipes show a descending order of abundance[7]. Some microbes possess specific properties; for example, Faecalibacterium prausnitzii has anti-inflammatory effects[8]. Healthy individuals have high diversity concerning gut microbiome composition of Bacteriodetes, Firmicute, Actinobacteria, Spirochetes and Proteobacteria phyla. Reduction in microbiome diversity, reduction in beneficial bacteria and overgrowth of pathogenic microorganisms may trigger an uncontrolled immune response, leading to intestinal injury. Multiple factors including sex, comorbidities, diet, infection, antibiotic use, genetics, birth route, hygiene and stress affect the gut microbiome composition [9][10][11]. Intestinal dysbiosis, an imbalance of the microbiota, increases intestinal permeability. The exposure of a microorganism to the mucosal immune system triggers an immune response leading to different diseases[12].
Emerging evidence shows the link between gut and SpA. Around 5–7% of AS patients may develop IBD[13][14]. A large population study showed that the incidence of IBD was 5.3-fold higher in AS patients compared to healthy controls, whereas up to 13% of IBD patients developed AS, as was reported in a meta-analysis[15]. Around 50% of AS patients had subclinical gut inflammation in which chronic gut inflammation was associated with more extensive sacroiliac joint bone marrow edema[16][17]. Gut inflammation was also associated with increased risk of evolution from non-radiographic axSpA to AS and increased risk of IBD[18].
2. Key Cytokine Pathways in the Pathogenesis of Inflammatory Bowel Disease and Spondyloarthritis
The "gut-synovial axis" was hypothesized in view of the link observed between SpA and IBD. Various host and environmental factors, including gut dysbiosis, genetic predisposition, infection and diet, trigger a cascade of immune responses leading to autoimmune diseases. The IL-23/ IL-17 axis is believed to be crucial in the pathogenic mechanism in axSpA and IBD (Figure 1)[19]. IL-17 promotes T cell priming and stimulates fibroblasts, endothelial and epithelial cells and immune cells such as macrophages, to produce pro-inflammatory cytokines and chemokines [20]. IL-17A and IL-17F also stimulate the production of anti-microbial peptides β-defensins at the epithelial layer which is important for maintaining gut permeability[21]. Th17 cells are the main source of IL-17. Tc17 cells (CD8+ T cells), γδ T cells, invariant natural killer T cells, natural killer cells and type 3 innate lymphoid cells (ILC-3) also produce IL-17[21]. Other pro-inflammatory cytokines produced by Th17 cells include IL-6, IL-22, IL-26, interferon-γ and TNF-α. IL-23 plays a major role in activation of T cells, which results in expansion of Th17 cells.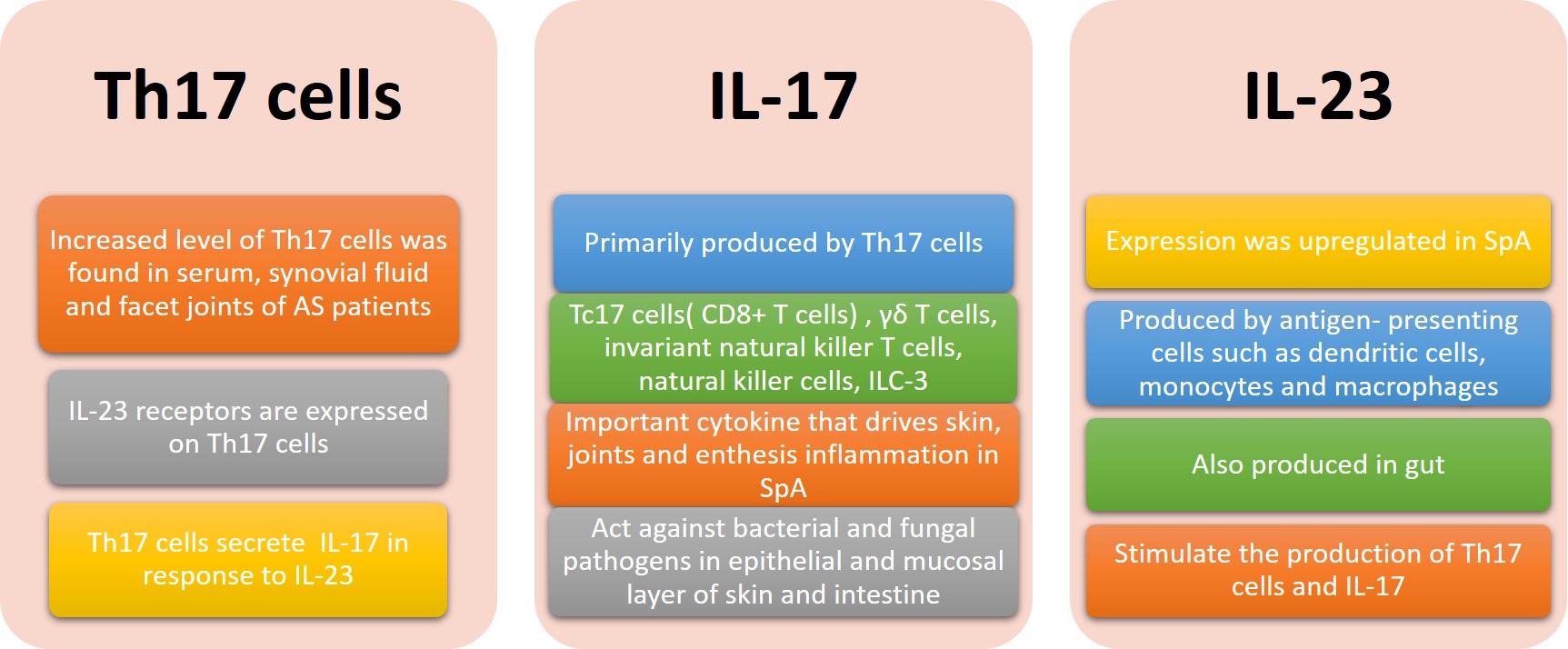 Figure 1. The role of IL17/IL23 axis in spondyloarthritis (SpA).
The B27- transgenic rat model showed that Th17 cells play an important role in the development of SpA through induction of proinflammatory cytokines such as IL-17 and TNF-α[22]. In B27/HuB2m- transgenic rats with spondyloarthritis-like disease, the IL-23/IL-17 axis was strongly activated and was associated with colonic inflammation. IL-23 promotes the development of colitis through upregulating downstream proinflammatory meditators such as IL-17, IL-1, IL-6 and TNF in a rat model[23].
The serum levels of IL-17 and IL-23 were raised in AS patients compared to healthy control [24]. An abundance of IL-17-secreting cells in the facet joint was also noted in AS [25]. Similar to the animal studies, upregulation of IL-23 was found in terminal ileum of AS and CD patients. However, upregulation of IL-17 was only observed in the gut of CD but not in AS patients [26].
In a human clinical trial, anti-IL-17 such as secukinumab and ixekizumab were effective at treating AS. However, anti-IL17 may worsen gut inflammation in AS patients with IBD. IL-17 is important in maintaining intestinal epithelium barrier integrity by repairing damage epithelium and avoiding overgrowth of bacteria that promote gut inflammation[27]. In IL-17-deficient mice, dysregulated gut permeability and atypical distribution of epithelial tight junction protein occlusion were observed[28]. Blocking of upstream of Th17 cells by anti-IL-23 such as Risankizumab and Ustekinumab, which are useful in treating IBD, failed to demonstrate efficacy in treating AS. Possible hypotheses include IL-23-independent induction of IL-17 from immune cells and the presence of other key regulatory agents other than IL-23 in targeting a Th17 response in AS[29].
Upregulation of IL-32 was observed in both CD and AS patients with chronic intestinal inflammation [30]. IL-32 overexpression was accompanied with an increase in proinflammatory cytokines such as IL-1B, IFN-γ and TNF-α in CD, but not AS. Only IL-10 was strongly correlated with IL-32 in AS, in which IL-10 is crucial in maintaining epithelial permeability[31]. Moreover, IL-22 was also overexpressed in ileum of AS patients, which was accompanied with an increase in IL-23 but not IL-17[32]. IL-22 is released by the mucosal natural killer cell NKp44+. Increased expression of IL-22 is protective against ileitis in the animal model[33]. In the absence of IL-17, IL-22 can protect gut mucosa from inflammation by promoting goblet cell hyperplasia and mucin production [32][34]. These suggest the tissue-protective role of IL-32 and IL-22 in gut in AS patients.
IL-17A and IL-17F are important for protecting against cutaneous infection with Candida albicans and Staphylococcus aureus and intestinal infection by Citrobacter rodentium as shown in animal studies[21]. Segmented filamentous bacteria (SFB) are gram-positive bacteria that selectively colonize in terminal ileum. SFB induce expression of Th17-associated genes (IL-17, IL21, Cer6, NOS2) and anti-microbial gene RegIIIγ. Colonization with SFB alone in mice intestine is sufficient for the differentiation of Th17 cells in lamina propria, which produce IL-17 and IL-22, and protect mucosal from Citrobacter rodentium infection[35]. Commensal bacteria promote epithelial fucosylation by prompting ILC3 to produce IL-22 [36]. Fucosylation of intestinal epithelial cells liberates fucose into the lumen and its metabolism is also affected by intestinal bacteria [37]. This process reduces the expression of bacterial virulence genes, prevents colonization of intestinal opportunistic bacterium Enterococcus faecalis and enhances tolerance of harmful bacteria such as Citrobacter rodentium[38].
3. Potential Treatment: Antibiotic, Probiotic and Faecal Microbiota Transplantation
Currently, non-steroidal anti-inflammatory drugs and biologics including anti-TNF and anti-IL-17 are the mainstay of treatment for axSpA. With the growing evidence supporting the link between gut and SpA, novel treatments that could modulate gut microbiota such as antibiotics and probiotics are being investigated.
Sulphasalazine is mainly composed of salicylic acid and an antibiotic, sulfapyridine. It is effective in treating both peripheral SpA and IBD. A decrease in non-spore forming anaerobes was observed in IBD patients after taking sulphasalazine. A resolution of gut inflammation and joint improvement after sulphasalazine is observed in seronegative SpA[13]. Moxifloxacin is a fluroquinolone group antibiotic that acts against some gram-positive and -negative bacteria and exhibits immunomodulatory effects. It can inhibit proinflammatory cytokines IL-1 and TNF-α synthesis. In an open labelled pilot study, moxifloxacin showed significant improvement in disease activity and inflammatory markers in AS patients[39]. Another antibiotic, Rifaximin, was effective in preventing AS progression and modulating gut microbiota composition in the mouse model[40]. However, these results were mainly based on trials with a small sample size and animal models. Larger clinical trials are required to validate the efficacy of antibiotics in treating SpA patients.
In view of the complexity and the dynamic changes of gut microbiome, future animal models and human studies should be performed in order to better understand the bacterial taxonomics and their functions in gut in SpA patients and how gut microbiome arises and evolves, such that culprit pathogens involved in triggering SpA could be identified. This may shed light on potential disease-specific antibiotic treatment in treating SpA.
Probiotics are a combination of beneficial live bacteria and yeast. Prebiotics are fibres that promote growth of selected bacteria. In HLA-B27 transgenic rats that develop colitis, gastritis and systemic inflammation, Lactobacillus rhamnosus is effective in preventing colitis [41]. Prebiotic treatment is also effective in reducing colitis in HLA-B27 transgenic rats [42]. These suggest a potential role for probiotic and prebiotic modulating of the disease. However, in a randomized controlled trial, oral probiotic was not effective in treating SpA[43]. Future clinical studies are warranted to identify beneficial strains of bacteria and thus the optimal probiotic/prebiotic formula that could modulate the gut flora and ultimately treat SpA.
Faecal microbiota transplantation (FMT) aims to restore gut homeostasis by transferring gut bacteria and microbes from healthy individuals' feaces. It is highly effective in treating refractory and recurrent Clostridium difficile infection. There is growing popularity in studying the use of FMT in different diseases including IBD, metabolic diseases and other autoimmune diseases including axSpA. Currently, there is an ongoing double-blinded placebo controlled randomized pilot study comparing the use of FMT and placebo in treating active axSpA, we are hoping for promising results[44].
Another potential role of the study of gut microbiome is to identify gut bacteria that can be used as biomarkers to predict the therapeutic efficacy of biologics and guide personalized treatment in SpA.
This entry is adapted from 10.3390/microorganisms8111727