Please check and comment entries here.
Zeaxanthin and Lutein in Humans
Definition
Many factors in the environment (including radiation, pathogens, and various stresses) prompt internal formation of oxidants that orchestrate beneficial adjustments in human metabolism and but can also lead to damage and disease. To prevent adverse effects of these oxidants, humans require antioxidants and anti-inflammatories, many of which are vitamins and other essential micronutrients that must be consumed with the diet. The xanthophylls zeaxanthin and lutein are unique human micronutrients that protect the integrity and function of biological membranes – especially in the human eye and brain.
1. Introduction
Humans and other animals cannot synthesize carotenoids de novo, and must obtain carotenoids (or their precursors) from the diet.[1] In humans, the best-studied role of carotenoids is in vision. Notably, β-carotene has vitamin A activity, and can serve as a precursor (Figure 1) to the cleavage product retinal, an essential component of vision purple (rhodopsin). Much of the research on zeaxanthin and lutein in humans has thus far focused on their role in photoprotection against damage, especially age-related blindness (macular degeneration).[1][2] We present below an overview of the photoprotective role of zeaxanthin and lutein in humans, followed by a segment on evidence for a role of zeaxanthin and lutein in visual and auditory processing, general mental acuity, and in a number of chronic diseases and disorders beyond eye disease.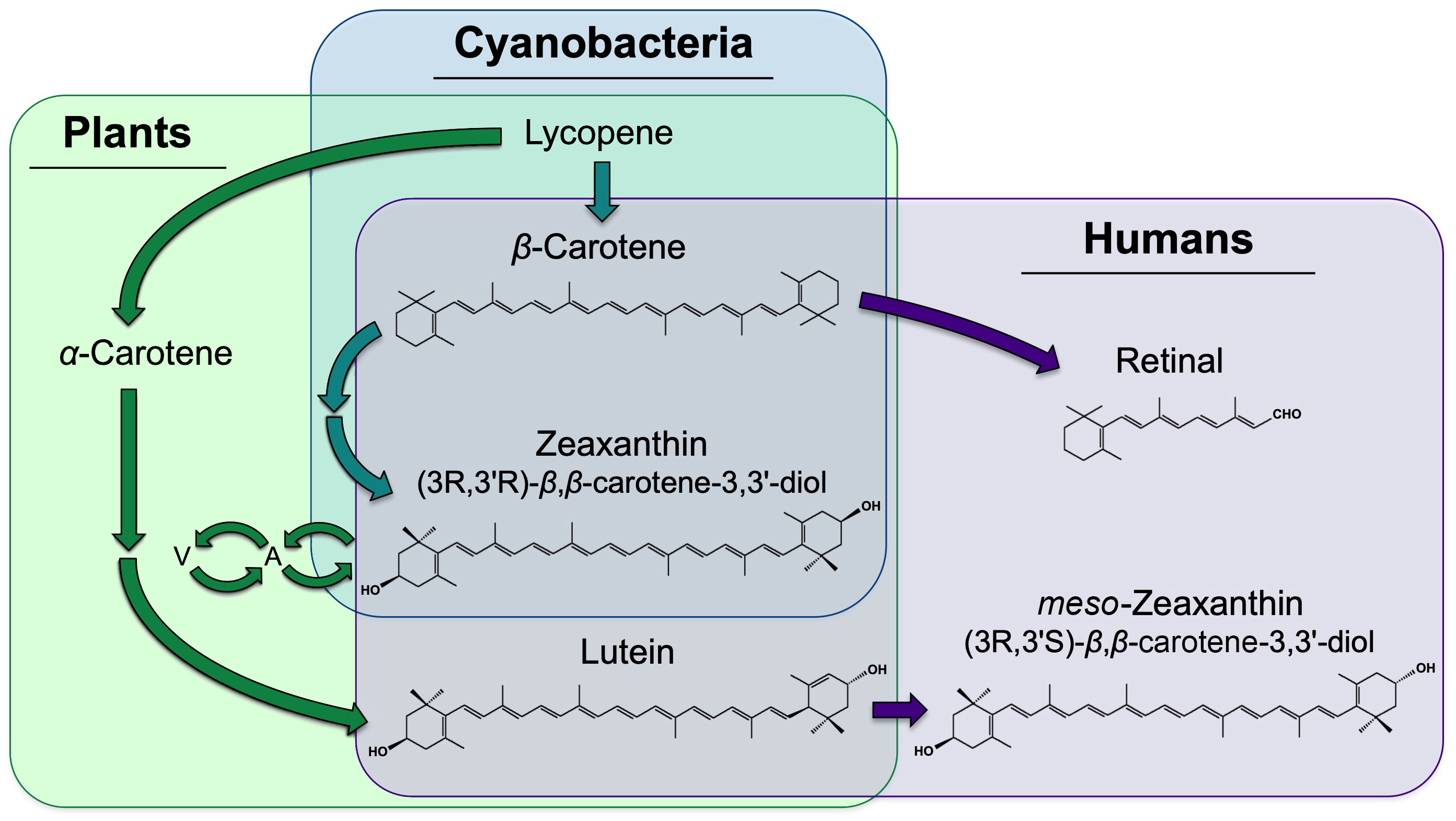 Figure 1. Biosynthetic pathways for the formation of zeaxanthin, lutein, and meso-zeaxanthin. Pathways existing in plants only, area shaded in green only; pathways existing in both plants and cyanobacteria, area shaded in both green and blue; pathways existing in humans, area shaded in purple only; need for dietary acquisition of β-carotene, zeaxanthin, and lutein by humans, overlapping purple and green/blue areas. A, antheraxanthin, a zeaxanthin mono-epoxide; V, violaxanthin, a zeaxanthin di-epoxide.
This entry is adapted from 10.3390/molecules25163607
References
Bernstein, P.S.; Li, B.; Vachali, P.P.; Gorusupudi, A.; Shyam, R.; Henriksen, B.S.; Nolan, J.M.; Lutein, zeaxanthin, and meso-zeaxanthin: The basic and clinical science underlying carotenoid-based nutritional interventions against ocular disease. Progress in Retinal and Eye Research 2016, 50, 34–66, 10.1016/j.preteyeres.2015.10.003.
Sauer, L.; Li, B.; Bernstein, P.S.; Ocular carotenoid status in health and disease. Annual Review of Nutrition 2019, 39, 95–120, 10.1146/annurev-nutr-082018-124555.
Connor, W.E.; Duell, P.B.; Kean, R.; Wang, Y.; The prime role of HDL to transport lutein into the retina: evidence from HDL-deficient WHAM chicks having a mutant ABCA1 transporter. Investigative Ophthalmology & Visual Science 2007, 48, 4226–4231, 10.1167/iovs.06-1275.
Roberts, R.L.; Green, J.; Lewis, B.; Lutein and zeaxanthin in eye and skin health. Clinics in Dermatology 2009, 27, 195–201, 10.1016/j.clindermatol.2008.01.011.
González, S.; Astner, S.; An, W.; Pathak, M.A.; Goukassian, D.; Dietary lutein/zeaxanthin decreases ultraviolet B-induced epidermal hyperproliferation and acute inflammation in hairless mice. Journal of Investigative Dermatology 2003, 121, 399–405, 10.1046/j.1523-1747.2003.12355.x.
Khachik, F.; de Moura, F.F.; Zhao, D.Y.; Aebischer, C.P.; Bernstein, P.S.; Transformations of selected carotenoids in plasma, liver, and ocular tissues of humans and in nonprimate animal models. Investigative Ophthalmology & Visual Science 2002, 43, 3383–3392, .
Stahl, W.; Nicolai, S.; Briviba, K.; Hanusch, M.; Broszeit, G.; Peters, M.; Martin, H.D.; Sies, H.; Biological activities of natural and synthetic carotenoids: induction of gap junctional communication and singlet oxygen quenching. Carcinogenesis 1996, 18, 89–92, 10.1093/carcin/18.1.89.
Thomson, L.R.; Toyoda, Y.; Langner, A.; Delori, F.C.; Garnett, K.M.; Craft, N.; Nichols, C.R.; Cheng, K.M.; Dorey, C.K.; Elevated retinal zeaxanthin and prevention of light-induced photoreceptor cell death in quail. Investigative Ophthalmology & Visual Science 2002, 43, 3538–3549, .
Toyoda, Y.; Thomson, L.R.; Langner, A.; Craft, N.E.; Garnett, K.M.; Nichols, C.R.; Cheng, K.M.; Dorey, C.K.; Effect of dietary zeaxanthin on tissue distribution of zeaxanthin and lutein in quail. Investigative Ophthalmology & Visual Science 2002, 43, 1210–1221, .
Demmig-Adams, B.; Adams, R.B.; Eye Nutrition in Context: Mechanisms, Implementation, and Future Directions. Nutrients 2013, 5, 2483–2501, 10.3390/nu5072483.

Polutchko, S.K.; Stewart, J.J.; Demmig-Adams, B.. Integrative view of the nutrition of the eye; Bagchi, D., Preuss, H.G., Swaroop, A., Eds.; CRC Press/Taylor & Francis: Boca Raton, USA, 2015; pp. 407–417.

Bone, R.A.; Landrum, J.T.; Fernandez, L.; Tarsis, S.L.; Analysis of the macular pigment by HPLC: retinal distribution and age study. Investigative Ophthalmology & Visual Science 1988, 29, 843–849, .
Bone, R.A.; Landrum, J.T.; Hime, G.W.; Cains, A.; Zamor, J.; Stereochemistry of the human macular carotenoids. Investigative Ophthalmology & Visual Science 1993, 34, 2033–2040, .
Chung, H.Y.; Rasmussen, H.M.; Johnson, E.J.; Lutein bioavailability is higher from lutein-enriched eggs than from supplements and spinach in men. The Journal of Nutrition 2004, 134, 1887–1893, 10.1093/jn/134.8.1887.
Mortensen, A.; Skibsted, L.H.; Free radical transients in photobleaching of xanthophylls and carotenes. Free Radical Research 1997, 26, 549–563, 10.3109/10715769709097826.
Niedzwiedzki, D.M.; Enriquez, M.M.; LaFountain, A.M.; Frank, H.A.; Ultrafast time-resolved absorption spectroscopy of geometric isomers of xanthophylls. Chemical Physics 2010, 373, 80–89, 10.1016/j.chemphys.2010.01.019.
Hammond, B.R.; Wooten, B.R.; Engles, M.; Wong, J.C.; The influence of filtering by the macular carotenoids on contrast sensitivity measured under simulated blue haze conditions. Vision Research 2012, 63, 58–62, 10.1016/j.visres.2012.04.019.
Stringham, J.M.; Hammond, B.R.; Macular pigment and visual performance under glare conditions. Optometry and Vision Science 2008, 85, 82–88, 10.1097/opx.0b013e318162266e.
Ceravolo, S.A.; Hammond, B.R.; Oliver, W.; Clementz, B.; Miller, L.S.; Renzi-Hammond, L.M.; Dietary carotenoids lutein and zeaxanthin change brain activation in older adult participants: a randomized, double‐masked, placebo‐controlled trial. Molecular Nutrition & Food Research 2019, 63, e1801051, 10.1002/mnfr.201801051.
Wong, J.C.; Kaplan, H.S.; Hammond, B.R.; Lutein and zeaxanthin status and auditory thresholds in a sample of young healthy adults. Nutritional Neuroscience 2016, 20, 1–7, 10.1179/1476830514y.0000000138.
Mewborn, C.M.; Terry, D.P.; Renzi-Hammond, L.M.; Hammond, B.R.; Miller, L.S.; Relation of retinal and serum lutein and zeaxanthin to white matter integrity in older adults: a diffusion tensor imaging study. Archives of Clinical Neuropsychology 2017, 33, 861–874, 10.1093/acn/acx109.
Min, J.Y.; Min, K.B.; Serum lycopene, lutein and zeaxanthin, and the risk of Alzheimer's disease mortality in older adults. Dementia and Geriatric Cognitive Disorders 2013, 37, 246–256, 10.1159/000356486.
Nolan, J.M.; Mulcahy, R.; Power, R.; Moran, R.; Howard, A.N.; Nutritional intervention to prevent Alzheimer's disease: potential benefits of xanthophyll carotenoids and omega-3 fatty acids combined. Journal of Alzheimer's Disease 2018, 64, 367–378, 10.3233/jad-180160.
Slavich, G.M.; Understanding inflammation, its regulation, and relevance for health: a top scientific and public priority. Brain, Behavior, and Immunity 2014, 45, 13–14, 10.1016/j.bbi.2014.10.012.
Ashraf-ganjouei, A.; Moradi, K.; Bagheri, S.; Aarabi, M.H.; The association between systemic inflammation and cognitive performance in healthy adults. Journal of Neuroimmunology 2020, 345, 577272, 10.1016/j.jneuroim.2020.577272.
Fiedor, J.; Burda, K.; Potential role of carotenoids as antioxidants in human health and disease. Nutrients 2014, 6, 466–488, 10.3390/nu6020466.
Azzam, E.I.; Jay-Gerin, J.-P.; Pain, D.; Ionizing radiation-induced metabolic oxidative stress and prolonged cell injury. Cancer Letters 2012, 327, 48–60, 10.1016/j.canlet.2011.12.012.
Baselet, B.; Sonveaux, P.; Baatout, S.; Aerts, A.; Pathological effects of ionizing radiation: endothelial activation and dysfunction. Cellular and Molecular Life Sciences 2018, 76, 699–728, 10.1007/s00018-018-2956-z.
Yong, L.C.; Petersen, M.R.; Sigurdson, A.J.; Sampson, L.A.; Ward, E.M.; High dietary antioxidant intakes are associated with decreased chromosome translocation frequency in airline pilots. The American Journal of Clinical Nutrition 2009, 90, 1402–1410, 10.3945/ajcn.2009.28207.
Stewart, J.J.; Adams, W.W. III; Escobar, C.M.; López-Pozo, M.; Demmig-Adams, B.; Growth and essential carotenoid micronutrients in Lemna gibba as a function of growth light intensity. Frontiers in Plant Science 2020, 11, 480, 10.3389/fpls.2020.00480.
Zhou, X.; Wang, S.; Ding, X.; Qin, L.; Mao, Y.; Chen, L.; Li, W.; Ying, C.; Zeaxanthin improves diabetes-induced cognitive deficit in rats through activiting PI3K/AKT signaling pathway. Brain Research Bulletin 2017, 132, 190–198, 10.1016/j.brainresbull.2017.06.001.
Stringham, J.M.; Johnson, E.J.; Hammond, B.R.; Lutein across the lifespan: from childhood cognitive performance to the aging eye and brain. Current Developments in Nutrition 2019, 3, nzz066, 10.1093/cdn/nzz066.
Renzi-Hammond, L.M.; Bovier, E.R.; Fletcher, L.M.; Miller, L.S.; Mewborn, C.M.; Lindbergh, C.A.; Baxter, J.H.; Hammond, B.R.; Effects of a lutein and zeaxanthin intervention on cognitive function: a randomized, double-masked, placebo-controlled trial of younger healthy adults. Nutrients 2017, 9, 1246, 10.3390/nu9111246.
Demmig-Adams, B.; López-Pozo, M.; Stewart, J.J.; Adams, W.W. III; Zeaxanthin and lutein: photoprotectors, anti-inflammatories, and brain food. Molecules 2020, 25, 3607, 10.3390/molecules25163607.
More