Please check and comment entries here.
Definition
Being a member of nanofamily, carbon nanomaterials exhibit specific properties that mostly arise from their small size. They have proved as very promising for the application in the technical and biomedical fields. A wide spectrum of use implies the inevitable presence of carbon nanomaterials in the environment, thus potentially endangering the whole nature. Although scientists worldwide have conducted researches investigating the impact of these materials, it is evident that there are still significant gaps concerning the knowledge of their mechanisms, as well as prolonged and chronic exposure and effects. Thinking small can greatly help us improve our lives, but also obliges us to deeply and comprehensively investigate all the possible consequences that could arise from our pure-hearted scientific ambitions and work.
1. Introduction
Carbon has been extensively investigated, especially in the form of carbon nanomaterials (CNMs), and it seemed to behave like a magnet for the Nobel Prize (in 1996 "for the discovery of carbon atoms bound in the form of a ball,", and in 2010 "for groundbreaking experiments regarding the two-dimensional material graphene"). In the last four decades, carbon has expanded its family of novel nanomaterials, which now includes fullerenes, carbon dots (CD), nanodiamonds (NDs), nanohorns (CNHs), nanofibers (CNFs), nanotubes (CNTs), graphene, etc. Carbon nanomaterials usually do not consist of chemical individuals, but form complex mixtures of compounds that only slightly differ in molecular weight, structure, isomerism, etc. It is also known that some of these materials possess different properties and structures if they come from different manufacturers or are even from different lots. Hence, it is difficult to assess the properties of entire groups of materials; instead, group representatives are discussed.
Carbon nanomaterials, as well as their impact, are greatly defined by their physico-chemical properties [1][2][3]. Shape, size, solubility, charge, surface, and chemical functionalization of the nanoparticles are some of the properties that make the system more or less stable and prone to aggregation and self-assembly. By chemical transformation, CNMs can be successfully transformed into more polar or soluble derivatives, thus overcoming one of the greatest obstacles when it comes to the application in biological media. An inevitable consequence of the extensive production and widespread application of nanomaterials is their consequential presence in the environment. Before they are settled in soil or continue to flow within water sources, nanomaterials can be transformed as a result of different processes, thus changing their native properties [4][5][6]. Accumulation of nanomaterials in the soil and water makes these areas nanointoxicated and, as such, with the yet unravelled potential of causing various effects in plants, animals, fungi, microorganisms, and, consequently, humans. As nanotechnology has bloomed and still has a lot to go until reaching its zenith, the impact of nanomaterials is of utmost importance to be fully addressed. The possible risks and toxicity [7][8][9] of nanomaterials (Figure 1) have attracted the interest of scientists worldwide. Although a great amount of research has been performed so far, this venture is still in its infancy.
Figure 1. Pros and cons for the carbon nanomaterials (CNMs) use, original figure.
In this review paper, we have selected the most prominent members of the carbon nanomaterial family, briefly summarized their main characteristics and potential application, as well as described their toxicity following the in vitro and in vivo results.
2. General Properties of Carbon Nanomaterials
Hybridization and bonding between C atoms in carbon nanomaterials are some of the direct guides that classify materials within this group by their properties. For example, all the sp2-structured nanomaterials share similar properties such as conductivity, mechanical strength, and reactivity; however, size and shape also make differences among them. For example, C60 can be observed as easily soluble, among others, only slightly dispersible, carbon nanomaterials, which usually form unstable dispersions. Besides being sp2-structured, there is a group of nanodiamonds that are predominantly sp3-structured, and carbon dots that contain various ratios of sp2 and sp3 carbons [10].
Carbon nanomaterials have so far found their purpose in optics, medical implants, medical electronics, tissue scaffolds, and sensors, as well as in other biomedical devices and as a promising drug/gene/vaccine-delivery system [11][12][13][14][15]. Based on the dimensionality of their structure, carbon nanomaterials can be classified in one of the following groups: Zero-dimensional (0D), one-dimensional (1D), or two-dimensional (2D) materials (Figure 2).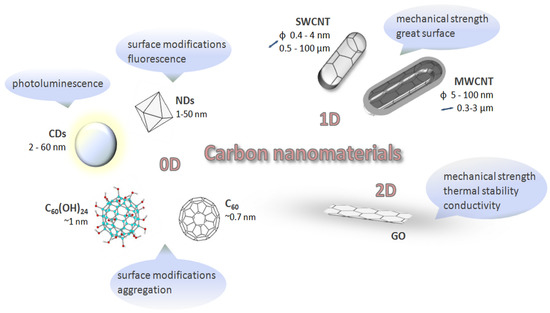 Figure 2. The main physicochemical properties of different nanostructures fullerene (C60); fullerenol (C60(OH)24); carbon dots (CDs); nanodiamonds (NDs); single-walled carbon nanotube (SWCNT); multi-walled carbon nanotube (MWCNT); graphene oxide (GO).
3. Biological Effects of Carbon Nanomaterials
Some excellent properties of carbon nanoparticles (CNPs) result in their wide application in different fields including biomedicine and cosmetology. For instance, CNPs might be used for drug delivery, regenerative medicine, and cancer diagnosis and therapy [16][17]. However, their unique properties might also cause adverse health effects (Figure 3).
Figure 3. Summary of the biological effects of carbon nanomaterials.
Consequently, as DNA damage, caused by CNPs, may initiate and promote carcinogenesis, impact fertility, or contribute to ecogenotoxicity, a genotoxicological [18][19] evaluation turns out to represent a vital area considering the health risk assessment. No less important is the fact that evaluation of the carcinogenic or mutagenic potential of new substances, and thus CNPs, is an important part of preclinical safety testing of novel pharmaceuticals, which is a necessity before moving on to Phase I/II clinical trials. In general, knowledge about the genotoxicity of the CNPs allows us to understand and then minimize the potential adverse effects [20] associated with them, in order to protect human health and the environment.
4. Conclusions
Carbon nanomaterials have found their place in various fields, some of which are electronics, optics, sensorics, and catalysis. Moreover, some of them proved to be potential nanomedicine assets behaving as nanodrug delivery systems, protectors, or bioimaging agents. For this plethora of use, carbon nanomaterials have to thank their physico-chemical properties and chemical functionalization. Despite being promising for the various applications, justified concerns on the impact of carbon nanomaterials have been raised. Research conducted on in vitro and in vivo models has claimed that some members of the carbon nanomaterial family, besides being genotoxic, also proved to induce oxidative damage, inflammation, and activate different cell signalling pathways that can result in different cellular responses. The size distribution, charge, different synthesis methods, and surface modifications play an essential role in deciding the fate of CNMs in in vivo systems. Although enormous research has been put into this issue, the real mechanisms of CNM toxicity are still missing, which is the main obstacle for their clinical promotions. Therefore, further research is needed to address the safety concerns over CNM applications. More in vitro studies, including biocompatibility assays, studies on ROS formation, and analyses of inflammation and genotoxicity on numerous healthy and transformed cell lines, will contribute to the essential body of work regarding CNM toxicity. Likewise, in vivo testing may further help in designing CNMs with desirable properties and high efficiency. Besides the frequently used rodent models, regular introduction of the zebrafish model into this research may improve the field, as this model has emerged as a reliable and powerful vertebrate model. Finally, all the efforts from in vitro and in vivo research will contribute to elucidate CNMs' biological impacts and to translate scientific research into medical practice, subsequently leading to the full potential of CNMs as drug delivery systems, cancer therapeutics, bioimaging systems, gene delivery systems, etc. In order to let the carbon nanomaterials use outweigh their toxicity effects, these powerful materials first ought to be widely assessed for safety in different conditions, doses, and on numerous models.
This entry is adapted from 10.3390/nano10081508