Please check and comment entries here.
Tenascin-C-Derived Peptide, TNIIIA2
Definition
Matricellular proteins harbor functional sites within their molecular structures. These functional sites are released via proteolytic cleavage by inflammatory proteinases, and the peptides containing these hidden functional sites have unique biological activities that are often not detected in the parent molecules. A peptide containing the functional site of tenascin-C (TNC), termed TNIIIA2, which is highly released at sites of inflammation and in the tumor microenvironment, has the ability to potently and persistently activate β1-integrins. Based on these activities, TNIIIA2-containing TNC fragments/peptides are involved in the acquisition of aggressiveness in cancer progression.
1. Instructions
Tenascin-C (TNC) is a multifunctional glycoprotein that belongs to a family of matricellular proteins [1]. It is highly expressed during embryonic development, but its expression levels rapidly decrease and are limited in normal adult tissues [1]. TNC is strongly re-expressed in particular environments such as inflammatory regions [2], tissue remodeling [3][4][5], and the tumor microenvironment (TME) [6], indicating a close association with pathogenesis. A high expression of TNC has been observed in various cancers including pancreatic cancer [7], gastric cancer [8], colorectal cancer [9], esophageal adenocarcinoma [10], lung cancer [11], breast cancer [12], and glioma/glioblastoma [6][13]. High TNC levels are correlated with poor prognosis in patients with various types of cancer, and its expression is therefore considered a poor prognostic factor. Besides cancer cells, other cells in the TME including fibroblasts, endothelial cells, and macrophages express TNC, thus contributing to cancer aggression [14][15].
2. Development
TNC has been shown to have both proadhesive and antiadhesive properties in a context-dependent manner [1]. These underlying mechanisms remain elusive but could be explained in terms of the considerable diversity of TNC's molecular forms. As shown in Figure 1A, TNC is composed of a central domain (assembly domain), epidermal growth factor (EGF)-like repeats, fibronectin (FN) type III-like domains, and a fibrinogen globe-like domain, which are capable of interaction with extracellular matrix (ECM) proteins, soluble factors, and cell receptors [6]. Moreover, human TNC contains 9 alternative splicing repeats in FN type III-like domains, and alternative splicing theoretically generates 511 possible splice variants [1], thus leading to the expression of TNC's multifunctional activities in a context-dependent manner [6]. ECM remodeling often occurs in the TME and inflammatory regions where bioactive functions are released via cleavage by inflammatory proteinases [16]. TNC can also be proteolytically processed by matrix metalloproteinases (MMP) a disintegrin and metalloproteinase with thrombospondin motifs (ADAMTS), and alternative splicing repeats within FN type III repeats are particularly cleaved by MMP, which in turn exposes the specific bioactivity of TNC [1][16]. Among the TNC variants, those containing the FN type III repeats A2 are highly expressed in malignancies [17]. Saito et al. previously found that FN type III repeats A2 of TNC molecules have cryptic sites composed of the amino acid sequence YTITIRGV (Figure 1A). Moreover, the 22-mer peptide TNIIIA2 containing its functional sites can induce the activation of integrin α5β1 through a lateral association with transmembrane heparan sulfate proteoglycan syndecan-4 (Figure 1B,C), which leads to the induction and potentiation of cell adhesion to the ECM [18]. This TNIIIA2-induced integrin activation is more potent and persistent than other known integrin activators [19]. Based on these effects, peptide TNIIIA2 was shown to influence various cellular functions[20][21][22][23][24][25][26][27][28]. Among them, the action of TNIIIA2 on survival and proliferation in stromal cells are interesting with regard to involvement in cancer progression. Peptide TNIIIA2 rendered NIH3T3 mouse nontransformed fibroblasts anoikis-resistant through integrin α5β1 activation-mediated prosurvival signaling [19]. Peptide TNIIIA2 also induced the platelet-derived growth factor (PDGF)-dependent dimerization of PDGF receptor (PDGF-R)β via the activation of integrin α5β1 to promote the PDGF-Rβ/Ras/mitogen-activated protein kinase (MAPK) signaling pathway, followed by the induction of hyperproliferation and the formation of dense multilayered cell aggregates—that is, transformed foci in NIH3T3 cells (Figure 2) [19]. These results suggest that TNIIIA2 has the ability to disrupt the normal cell phenotype. This raises the possibility that TNIIIA2-containing TNC fragments/peptides might be involved in oncogenic transformation and malignant progression[24][25][26][27][28].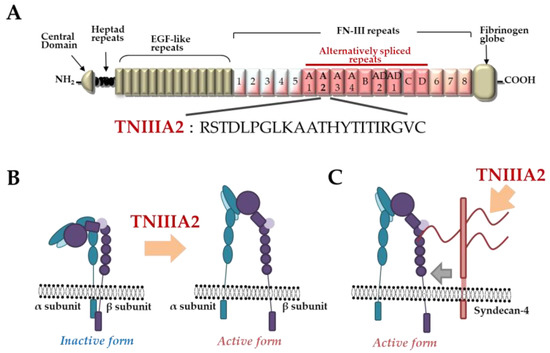 Figure 1. Tenascin-C (TNC)-derived TNIIIA2 fragments/peptides. (A) Schematic illustration of TNC and amino acid sequence of proadhesive peptide TNIIIA2. (B) Conformational shift of integrin activation by peptide TNIIIA2. (C) Lateral interaction of integrin with syndecan-4 ectodomain by peptide TNIIIA2.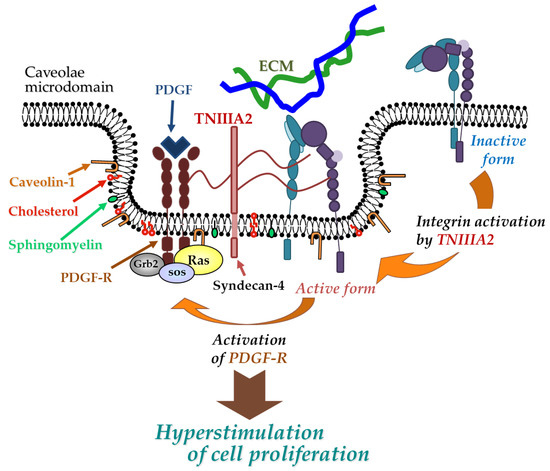 Figure 2. Physical and functional association between TNIIIA2-stimulated integrin α5β1 and PDGF receptor (PDGF-R). Peptide TNIIIA2 induces integrin α5β1 activation through a lateral association with syndecan-4, facilitating the formation of a molecular complex that includes activated integrin α5β1, syndecan-4, and activated PDGF-R in cholesterol- and caveolin-enriched membrane microdomains, which results in an enhanced activation of PDGF-R and leads to the hyperstimulation of cell proliferation.
The entry is from 10.3390/molecules25143239