Please check and comment entries here.
Bacterial Cellulose in Wastewater Treatment
Definition
Bacterial cellulose membranes have been shown to be efficient as filters for the removal of various contaminants, including biological and chemical agents or heavy metals. Therefore, their use could make an important contribution to bio-based technological development in the circular economy. Moreover, they can be used to produce new materials for industry, taking into consideration current environmental preservation policies aimed at a more efficient use of energy.
1. Introduction
Water resources are essential for industrial activities, energy production, agriculture, and life on earth [1]. In particular, the access to potable water and efficient treatment methods are essential for the prevention of various types of pollution and waterborne diseases [2]. It is possible to reduce the load of pollutants through the interconnection of different industrial sectors, so that their by-products are treated and reused, and waste production is minimized, with the perspective of becoming raw material in a new production cycle [3].
Industrial pollutants such as dyes, synthetic chemicals, heavy metals, oils, microplastics and others can have different origins and properties, and many of them accumulate in the environment over time, causing increasing damage [4]. According to Rajasulochana and Preethy [5], the methods of industrial wastewater treatment vary according to several factors, including volume, constitution of the effluent and limits imposed by environmental legislations. Increased research on renewable energy and energy saving technologies has favored the development of new processes and materials as alternatives to treat complex wastewater [6][7].
Many publications describe the application of membrane filtration for the treatment of wastewaters, especially the oily ones. Membrane technologies such as microfiltration, ultrafiltration and nanofiltration are increasingly used for the treatment and purification of wastewater and oily emulsions, as well as for the supply of clean water. However, the most commercially available membranes are made with synthetic polymers of fossil origin
[8]
[9]
, which require large amounts of solvents and chemicals. In this sense, interest is growing in the production of membranes based on natural polymers, especially those based on cellulose.
Among the possible new biotechnological materials, cellulose stands out, and in particular, vegetable cellulose (VC), which is the main biopolymer produced by plants. Although plants are currently the most abundant source of cellulose, several types of bacteria, mainly belonging to the genera
Sarcina
,
Gluconacetobacter
and
Agrobacterium
have also been found to produce it as an alternative source
[10]
[11]
. The potential of bacterial cellulose (BC) goes far beyond its existing applications, especially with a view to its large-scale production as a low-cost raw material to provide industrial functionality in various sectors in a sustainable way
[12]
. BC is highly porous and has a reticular structure with small pore size, which is ideal for fine filtration purposes. However, there is still a limited number of works in the literature on its use as a raw material for filtration membranes to be applied to water treatment
[6]
[13]
[14]
[15]
[16]
.
2. Water Resources and Energy Management
Water and energy consumptions can be closely linked (
Figure 1
) as they are both essential for industrial production. Water is essential for the production and refinement of various types of motor fuels and for the extraction of coal and oil, but it is also widely used in the cooling process in different sectors and in the generation of hydroelectric power generation, one of the most popular forms of electricity supply in the world
[17]
[18]
. Energy is essential for drinking water production, wastewater treatment, water transport and distribution to both industry and population. Therefore, the conscious use of water and energy is a global concern, which has led to the creation of new technologies, making wastewater treatment and use of clean energy essential areas for sustainable development
[19]
[20]
.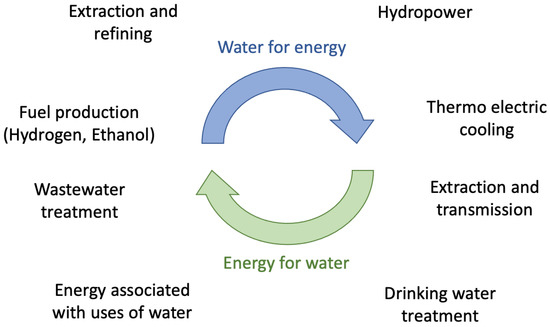 Figure 1. Water and energy consumption cycle.
3. Water Contamination
Over the years, mankind has produced a large amount of waste, resulting in a deterioration of life quality
[21]
.
Figure 2
shows how this damage to the environment has been caused by several factors including sediment, biological and chemical pollution
[22]
.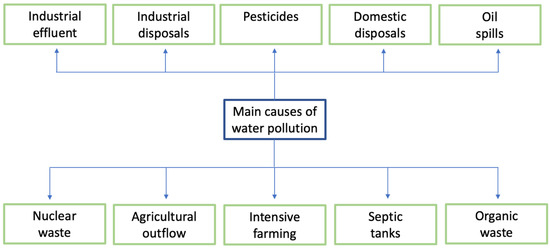 Figure 2. Main causes of water effluent pollution.
Oil, among these pollutants, is one of those that most pollute the environment and are most harmful to nature. Moreover, the residues of its derivatives contain significant quantities of mineral oil, which is highly resistant to biochemical decomposition. These pollutants can be found in their free form or as emulsions made up of complex mixtures of water, oil and additives including emulsifiers, corrosion inhibitors and anti-foaming agents. While free or suspended oils can be easily separated from the aqueous phase of these wastes by simple physical processes, emulsions are chemically stabilized and can only be separated by more complex, and therefore more expensive, separation methods
[23]
[24]
[25]
.
Chemical pollution has cumulative effects that cause enormous damage to terrestrial and aquatic life, as well as to the ecosystem and food chain
[26]
. The treatment and remediation of chemically polluted sites constitute one of the major barriers to be overcome, as in addition to taking time, they have a high cost
[9]
.
4. Filtration Membranes
This entry is adapted from 10.3390/en14165066
References
Del Borghi, A.; Moreschi, L.; Gallo, M. Circular economy approach to reduce water–energy–food nexus. Curr. Opin. Environ. Sci. Health 2020, 13, 23–28.

Ighalo, J.O.; Adeniyi, A.G.; Adeniran, J.A.; Ogunniyi, S. A systematic literature analysis of the nature and regional distribution of water pollution sources in Nigeria. J. Clean. Prod. 2021, 283, 124566–124602.

Mikulčić, H.; Baleta, J.; Klemel, J.J. Sustainability through combined development of energy, water and environment systems. J. Clean. Prod. 2020, 251, 119727–119762.

Chaudhry, F.N.; Malik, M.F. Factors affecting water pollution: A review. J. Ecosyst. Ecography 2017, 7, 1000225–1000228.

Rajasulochana, P.; Preethy, V. Comparison on efficiency of various techniques in treatment of waste and sewage water–A comprehensive review. Resour. Eff. Technol. 2016, 2, 175–184.

Galdino, C.J.S.; Maia, A.D.M.; Meira, H.M.; Souza, T.C.; Amorim, J.D.P.; Almeida, F.C.G.; Costa, A.F.S.; Sarubbo, L.A. Use of a bacterial cellulose filter for the removal of oil from wastewater. Process Biochem. 2020, 91, 288–296.

El-Gawad, H.S.A. Oil and grease removal from industrial wastewater using new utility approach. Adv. Environ. Chem. 2014, 2014, 916878.

Lee, K.P.; Arnot, T.C.; Mattia, D. A review of reverse osmosis membrane materials for desalination—Development to date and future potential. J. Membr. Sci. 2011, 370, 1–22.

Wang, J.; Lautz, L.S.; Nolte, T.M.; Posthuma, L.; Koopman, K.R.; Leuven, R.S.W.; Hendriks, A.J. Towards a systematic method for assessing the impact of chemical pollution on ecosystem services of water systems. J. Environ. Manag. 2021, 281, 111873–111882.

Cannon, R.; Anderson, S.M. Biogenesis of bacterial cellulose. Crit. Rev. Microbiol. 1991, 17, 435–447.

Rachtanapun, P.; Jantrawut, P.; Klunklin, W.; Jantanasakulwong, K.; Phimolsiripol, Y.; Leksawasdi, N.; Seesuriyachan, P.; Chaiyaso, T.; Insomphun, C.; Phongthai, S. Carboxymethyl bacterial cellulose from nata de coco: Effects of NaOH. Polymers 2021, 13, 348.

Amorim, J.D.P.; Souza, K.C.; Duarte, C.R.; Duarte, I.S.; Ribeiro, F.A.S.; Silva, G.S.; Farias, P.M.A.; Stingl, A.; Costa, A.F.S.; Vinhas, G.M. Plant and bacterial nanocellulose: Production, properties and applications in medicine, food, cosmetics, electronics and engineering. A review. Environ. Chem. Lett. 2020, 18, 851–869.

Wanichapichart, P.; Kaewnopparat, S.; Buaking, K.; Puthai, W. Characterization of cellulose membranes produced by Acetobacter xyllinum. Songklanakarin J. Sci. Technol. 2002, 24, 855–862.

Mautner, A.; Lee, K.Y.; Lahtinen, P.; Hakalahti, M.; Tammelin, T.; Li, K.; Bismarck, A. Nanopapers for organic solvent nanofiltration. Chem. Commun. 2014, 50, 5778–5781.

Carpenter, A.W.; Lannoy, S.-F.; Wiesner, M.R. Cellulose nanomaterials in water treatment technologies. Environ. Sci. Technol. 2015, 49, 5277–5287.

Sai, H.; Fu, R.; Xing, L.; Xiang, J.; Li, Z.; Li, F.; Zhang, T. Surface modification of bacterial cellulose aerogels' web-like skeleton for oil/water separation. ACS Appl. Mater. Interfaces 2015, 7, 7373–7738.

Calvin, K.; Patel, P.; Clarke, L.; Asrar, G.; Bond-Lamberty, B.; Cui, R.Y.; Di Vittorio, A.; Dorheim, K.; Edmonds, J.; Hartin, C.; et al. GCAM v5.1: Representing the linkages between energy, water, land, climate, and economic systems. Geosci. Model. Dev. 2019, 12, 677–698.

Vaidya, R.A.; Molden, D.J.; Shrestha, A.B.; Wagle, N.; Tortajada, C. The role of hydropower in South Asia's energy future. Int. J. Water Resour. Dev. 2021, 37, 367–391.

Xiong, W.; Li, Y.; Pfister, S.; Zhang, W.; Wang, C.; Wang, P. Improving water ecosystem sustainability of urban water system by management strategies optimization. J. Environ. Manag. 2020, 254, 109766–109774.

Zhai, S.; Li, M.; Peng, H.; Wang, D.; Fu, S. Cost-effective resource utilization for waste biomass: A simple preparation method of photo-thermal biochar cakes (BCs) toward dye wastewater treatment with solar energy. Environ. Res. 2021, 194, 11–720.

Taghizadeh-Hesary, F.; Taghizadeh-Hesary, F. The impacts of air pollution on health and economy in Southeast Asia. Energies 2020, 13, 1812.

Malik, D.S.; Sharma, A.K.; Thakur, R.; Sharma, M. A review on impact of water pollution on freshwater fish species and their aquatic environment. In Advances in Environmental Pollution Management: Wastewater Impacts and Treatment Technologies, 1st ed.; Kumar, V., Kamboj, N., Payum, T., Eds.; Agro Environ Media—Agriculture and Ennvironmental Science Academy: Haridwar, India, 2020; pp. 10–28.

Rocha e Silva, F.C.P.; Rocha e Silva, N.M.P.; Luna, J.M.; Rufino, R.D.; Santos, V.A.; Sarubbo, L.A. Dissolved air flotation combined to biosurfactants: A clean and efficient alternative to treat industrial oily water. Rev. Environ. Sci. Biotechnol. 2018, 17, 591–602.

Zouboulis, A.I.; Avranas, A. Treatment of oil-in-water emulsions by coagulation and dissolved air flotation. Colloids Surf. A Physicochem. Eng. Asp. 2000, 172, 153–161.

Demore, J.P. Aspectos Sedimentares do Estuário da Lagoa dos Patos e Sua Interação Com a Poluição por Petróleo: Subsídios Para um Plano de Contingência. Bachelor's Thesis, Fundação Universidade Federal do Rio Grande, Rio Grande, RS, Brazil, 2001.

Luo, F.; He, L.; He, N. Simulation and experimental study of working characteristics of an improved bioreactor for degrading oily sludge. Process Saf. Environ. Prot. 2021, 147, 1201–1208.

Silva, W.E.; Belian, M.F.; Lima, L.S.G.L.; Galembeck, A.; Alves, A.A. BR 10 2018 009736 9 A2–Filtros à Base de Membrana de Celulose Bacteriana Modificada; INPI: Rio de Janeiro, Brazil, 2018.

Lehtonen, J.; Chen, X.; Beaumont, M.; Hassinen, J.; Orelma, H.; Dumée, L.F.; Tardy, B.L.; Rojas, O.J. Impact of incubation conditions and post-treatment on the properties of bacterial cellulose membranes for pressure-driven filtration. Carbohydr. Polym. 2021, 251, 117073–117082.

Mo, X.; Ni, Y.; Liu, F. Preparation of different scale firous membranes and their filtration properties. Therm. Sci. 2021, 25, 1453–1459.

Gao, H.; He, W.; Zhao, Y.-B.; Opris, D.M.; Xu, G.; Wang, J. Electret mechanisms and kinetics of electrospun nanofiber membranes and lifetime in filtration applications in comparison with corona-charged membranes. J. Membr. Sci. 2020, 600, 117879.

Padaki, M.; Surya Murali, R.; Abdullah, M.S.; Misdan, N.; Moslehyani, A.; Kassim, M.A.; Hilal, N.; Ismail, A.F. Membrane technology enhancement in oil–water separation. A review. Desalination 2015, 357, 197–207.

Anis, S.F.; Hashaikeh, R.; Hilal, N. Microfiltration membrane processes: A review of research trends over the past decade. J. Water Process Eng. 2019, 32, 100941.

Cassano, A.; Conidi, C.; Ruby-Figueroa, R.; Castro-Muñoz, R. Nanofiltration and tight ultrafiltration membranes for the recovery of polyphenols from agro-food by-products. Int. J. Mol. Sci. 2018, 19, 351.

Qasim, M.; Badrelzaman, M.; Darwish, N.N.; Darwish, N.A.; Hilal, N. Reverse osmosis desalination: A state-of-the-art review. Desalination 2019, 459, 59–104.

Donini, Í.A.N.; Salvi, D.T.B.; Fukumoto, F.K.; Lustri, W.R.; Barud, H.S.; Marchetto, R.; Messaddeq, Y.; Ribeiro, S.J.L. Biossíntese e recentes avanços na produção de celulose bacteriana. Eclet. Quim. J. 2010, 35, 165–178.

Jardine, A.; Sayed, S. Challenges in the valorization of chitinous biomass within the refinery concept. Sustain. Chem. 2016, 2, 34–39.

Czaja, W.K.; Young, D.J.; Kawecki, M.; Brown Jr, R.M. The future prospects of microbial cellulose in biomedical applications. Biomacromolecules 2007, 8, 1–12.

Ramana, K.V.; Batra, H.V. Occurrence of cellulose-producing Gluconacetobacter spp. in fruit samples and kombucha tea, and production of the biopolymer. Appl. Biochem. Biotechnol. 2015, 176, 1162–1173.

Adrio, J.L.; Demain, A.L. Microbial enzymes: Tools for biotechnological processes. Biomolecules 2014, 1, 117–139.

Hussain, Z.; Sajjad, W.; Khan, T.; Wahid, F. Production of bacterial cellulose from indústrial wastes: A review. Cellulose 2019, 26, 2895–2911.

Galdino, C.J.S. Avaliação do Potencial da Celulose Bacteriana no Tratamento de Águas Oleosas. Master's Thesis, Universidade Católica de Pernambuco, Recife, Brazil, 2020.

Pecoraro, E.; Manzani, D.; Messaddeq, Y.; Ribeiro, S.J.L. Bacterial cellulose from Glucanacetobacter xylinus: Preparation, properties and applications. In Monomers, Polymers and Composites from Renewable Resources, 1st ed.; Belgacem, M., Gandini, A., Eds.; Elsevier Science: Amsterdam, The Netherlands, 2008; pp. 369–383.

Costa, A.F.S.; Rocha, M.A.V.; Sarubbo, L.A. Bacterial cellulose: An ecofriendly biotextile. Int. J. Text. Fash. Technol. 2017, 7, 11–26.

Costa, A.F.S.; Almeida, F.C.G.; Vinhas, G.M.; Sarubbo, L.A. Production of bacterial cellulose by Gluconacetobacter hansenii using corn steep liquor as nutrient sources. Front. Microbiol. 2017, 8, 2027.

Amorim, J.D.P. Obtenção de Celulose Bacteriana Aditivada com Extrato de Própolis Para Aplicação em Cosméticos. Master's Thesis, Universidade Federal de Pernambuco, Recife, Brazil, 2020.

Jin, X.; Xiang, Z.; Liu, Q.; Chen, Y.; Lu, F. Polyethyleneimine-bacterial cellulose bioadsorbent for effective removal of copper and lead ions from aqueous solution. Bioresour. Technol. 2017, 244, 844–849.

He, Z.; Song, H.; Cui, Y.; Zhu, W.; Du, K.; Yao, S. Porous spherical cellulose carrier modified with polyethyleneimine and its adsorption for Cr(III) and Fe(III) from aqueous solutions. Chin. J. Chem. Eng. 2014, 22, 984–990.

Wang, Q.; Asoh, T.-A.; Uyama, H. Facile fabrication of flexible bacterial cellulose/silica composite aerogel for oil/water separation. Bull. Chem. Soc. Jpn. 2018, 91, 1138–1140.

Wang, F.-P.; Zhao, X.-J.; Wahid, F.; Zhao, X.-Q.; Qin, X.-T.; Bai, H.; Xie, Y.-Y.; Zhong, C.; Jia, S.-R. Sustainable, superhydrophobic membranes based on bacterial cellulose for gravity-driven oil/water separation. Carbohydr. Polym. 2021, 253, 117220.

Hungund, B.S.; Gupta, S.G. Improved production of bacterial cellulose from Gluconacetobacter persimmonis GH-2. J. Microb. Biochem. Technol. 2010, 2, 127–133.

Zhijiang, C.; Ping, X.; Cong, Z.; Tingting, Z.; Jie, G.; Kongyin, Z. Preparation and characterization of a bi-layered nano-filtration membrane from a chitosan hydrogel and bacterial cellulose nanofiber for dye removal. Cellulose 2018, 25, 5123–5137.

Urbina, L.; Guaresti, O.; Requies, J.; Gabilondo, N.; Eceiza, A.; Corcuera, M.A.; Retegi, A. Design of reusable novel membranes based on bacterial cellulose and chitosan for the filtration of copper in wastewaters. Carbohydr. Polym. 2018, 193, 362–372.

Zhuang, S.; Wang, J. Removal of U(VI) from aqueous solution using phosphate functionalized bacterial cellulose as efficient adsorbent. Radiochim. Acta 2019, 107, 459–467.

Alves, A.A.; Silva, W.E.; Belian, M.F.; Lins, L.S.G.; Galembeck, A. Bacterial cellulose membranes for environmental water remediation and industrial wastewater treatment. Int. J. Environ. Sci. Technol. 2020, 17, 3997–4008.

Liu, F.; Chen, C.; Qian, J. Film-like bacterial cellulose/cyclodextrin oligomer composites with controllable structure for the removal of various persistent organic pollutants from water. J. Hazard. Mater. 2021, 405, 124122.

Jahan, K.; Tyeb, S.; Kumar, N.; Verma, V. Bacterial cellulose-polyaniline porous mat for removal of methyl orange and bacterial pathogens from potable water. J. Polym. Environ. 2020, 29, 1257–1270.
More