Please check and comment entries here.
Light-Activated Compounds in Cancer Therapy
Definition
Lack of selectivity and toxic side effects of cancer chemotherapy is a major drawback for designing clinical treatment regimes. To allow more potent and selective therapeutic interventions, the use of light for selective on-site activation of anticancer compounds is actively studied. Besides already established photodynamic therapy (PDT), two light-activated anticancer approaches are pursued, both however still in the experimental phase: the use of irreversibly activatable photoremovable protecting groups ("photocages") and reversibly activatable photoswitches. Despite its immense potential, light activation brings many novel challenges to the already complex drug development process, however the first in vivo results confirm the feasibility of the approach.
1. Introduction
Cancer chemotherapy is severely affected by a modest selectivity and toxic side effects of pharmacological interventions presently used
[1]
. Therefore, besides finding novel, efficient, targeted antitumor agents, developing innovative solutions for endowing cancer chemotherapeutics with a more selective, localized effect is of paramount importance. As a possible alternative, applying various internal (e.g., pH, redox environment, enzymatic processes) or external triggers (e.g., ultra-sound, magnetic field, light irradiation) for on-site activation of stimuli-sensitive drug molecules or drug delivery systems
[2]
[3]
[4]
has long been in the forefront of research interest. Of the potential physical stimuli, light is particular from several aspects, from its orthogonality with biological systems to the precise control over the wavelength and the irradiation dose. In this respect, the field could also benefit from the instrumentation developed for diagnostic purposes or photodynamic therapy (PDT). Moreover, light activation is independent of the properties of the tumor environment, allowing to target a variety of tumors. Light-activation based approaches made their way into clinical use already in the 1990s, with the approval of the first PDT regimes
[5]
. Additionally, two further light-activation-based approaches emerged, that are still in the experimental phase: the use of photoremovable protecting groups ("photocages") and photoswitches (Figure 1). The two approaches are conceivable either in the realm of small molecules, where a parent drug itself is rendered photoactivatable via structural modifications or for more complex drug delivery systems as well, by judiciously designing photoactivatable units into their structure
[6]
[7]
.

Figure 1
.
Photocaged vs. photoswitchable pharmacological agents, with the respective photoactivated transformations.
2. Irreversible Activation with Light: Photoremovable Protecting Groups ("Photocages") for Antitumor Applications
The first application of photoremovable protecting groups (PPGs) as experimental tools for biological studies dates back to the 1970s. The design rationale behind PPGs is to mask the biological activity of a given substrate by covalently binding the protecting group to a moiety critical for the action ("caging"). The activity can be restored on demand in a spatiotemporally controlled manner by removing the PPG with light irradiation, i.e., the absorbed energy is translated into a photocleavage reaction ("uncaging")
[8]
. The photoactivation in this case is irreversible, which is often considered as a disadvantage of the approach. The released active agent(s) might still lead to unwanted effects upon diffusion or excretion, whereas a stochiometric amount of the PPG would also be present in the media, raising further safety issues. On the other hand, several PPG families of different properties are now available (Figure 2), and from a pharmacological point of view the temporary deactivation of the parent drug by adding a PPG is typically more straightforward (vs differential activity of isomeric forms in the case of photoswitches) due to the often significant structural differences upon caging. Moreover, with appropriate designs, dual or sequential, wavelength-selective release of different agents could be envisaged as well ("chromatic orthogonality")
[9]
[10]
[11]
.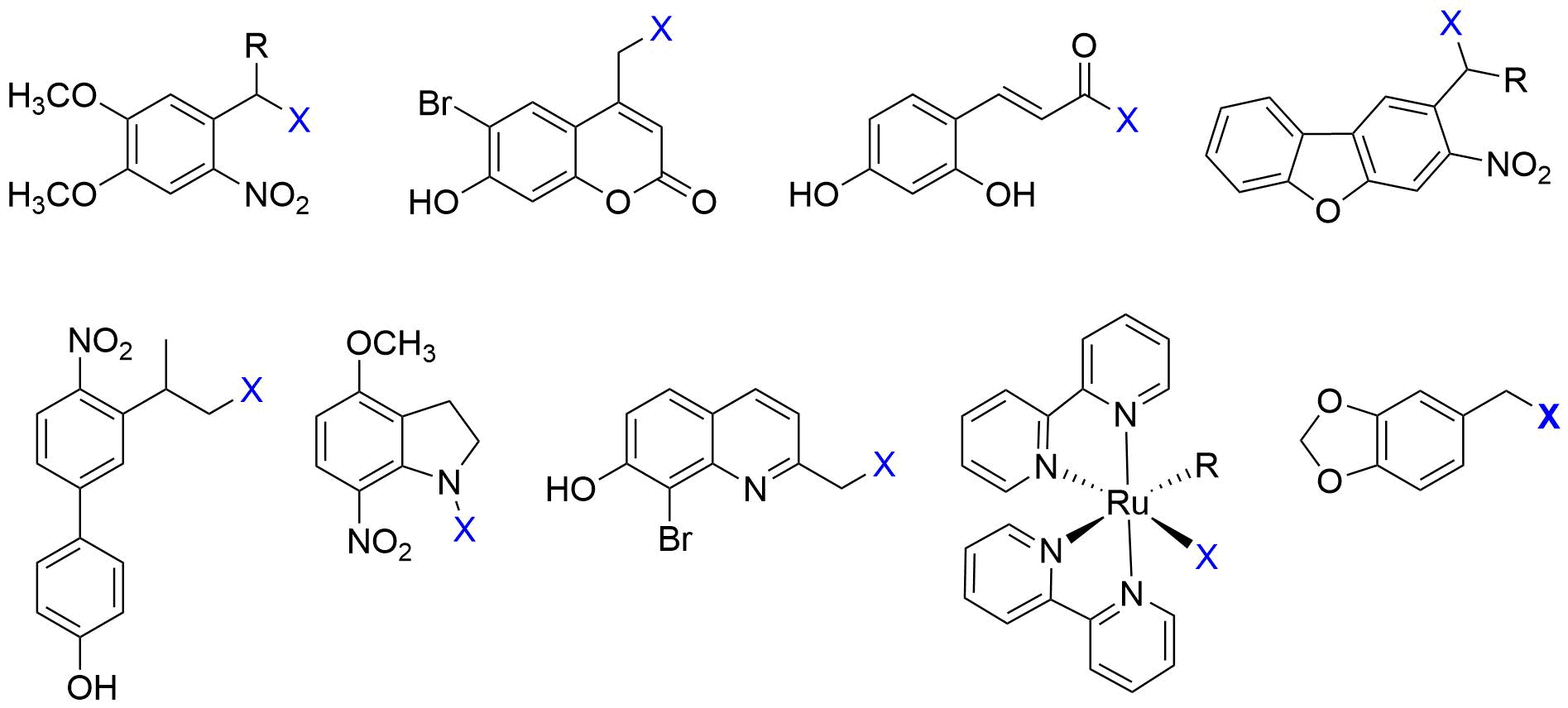 Figure 2.
Representative examples of photoremovable protecting groups.
Initially PPGs have found widespread application as experimental tools for studying dynamic processes, particularly in the field of neurophysiology
[12]
[13]
. Nowadays the number of studies on PPG-based light-activatable prodrug designs is steadily growing
[14]
, paving the way towards future therapeutic applications. The typical workflow for the rational design and evaluation of PPG-based antitumor agents consists of the following steps: (i) determining the key pharmacophore for introducing the PPG unit, so that either the key ligand-target interactions are disturbed, or spatial conflicts arise rendering the caged drug inactive, (ii) assessing the photostability of the parent drug, so that its activity remains intact upon the light irradiation used for the uncaging step, (iii) assessing the hydrolytic stability of the caged prodrug at physiological pH, so that the parent drug is released exclusively upon light irradiation, (iv) determining the pharmacological activity of the parent and the caged drug molecule, assessment of the efficiency of masking (e.g., target enzyme inhibition, cellular assay), (v) studying the photolysis of the caged molecule, determining the conditions necessary for uncaging (wavelength and intensity of light irradiation, irradiation time necessary for complete conversion), (vi) determining the pharmacological activity of the caged molecule in the absence of light and following light irradiation, assessment of the efficiency of restoring the pharmacological activity, and (vii) verifying the tolerance of the experimental system to the light irradiation applied. PPG-based anticancer approaches were tested on several pharmacological classes, such as kinase inhibitors (e.g.
[15]
[16]
), anthracyclines (e.g.
[17]
[18]
tubulin (dis)assembly inhibitors (e.g.
[19]
[20]
), DNA alkylating agents (e.g.
[21]
[22]
), poly (ADP-ribose) polymerase (PARP) inhibitors
[23]
[24]
, histone deacetylase inhibitors
[25]
[26]
, metal complexes (e.g.
[27]
[28]
), proteolysis targeting chimeras (PROTACs) (e.g.
[29]
[30]
) or modulators of p53 signalling
[31]
.
As the starting point of PPG-based approaches is often an already known pharmacological agent, it is not surprising that photoactivation of several key approved drugs has been already addressed (e.g. imatinib[15], vemurafenib[16], doxorubicin[17][18][32][33], paclitaxel[19][20][34], chlorambucil[21][22][35][36], talazoparib[24] or vorinostat[25]) (Figure 3). Additionally, controlled photorelease of the drug molecules could be combined with cell targeting to increase selectivity (e.g. via folic acid conjugates often used to target overexpressed folate receptors (FRα) on tumor cells[37][38]), or dual release of two pharmacological agents could be designed[32] for a synergistic effect.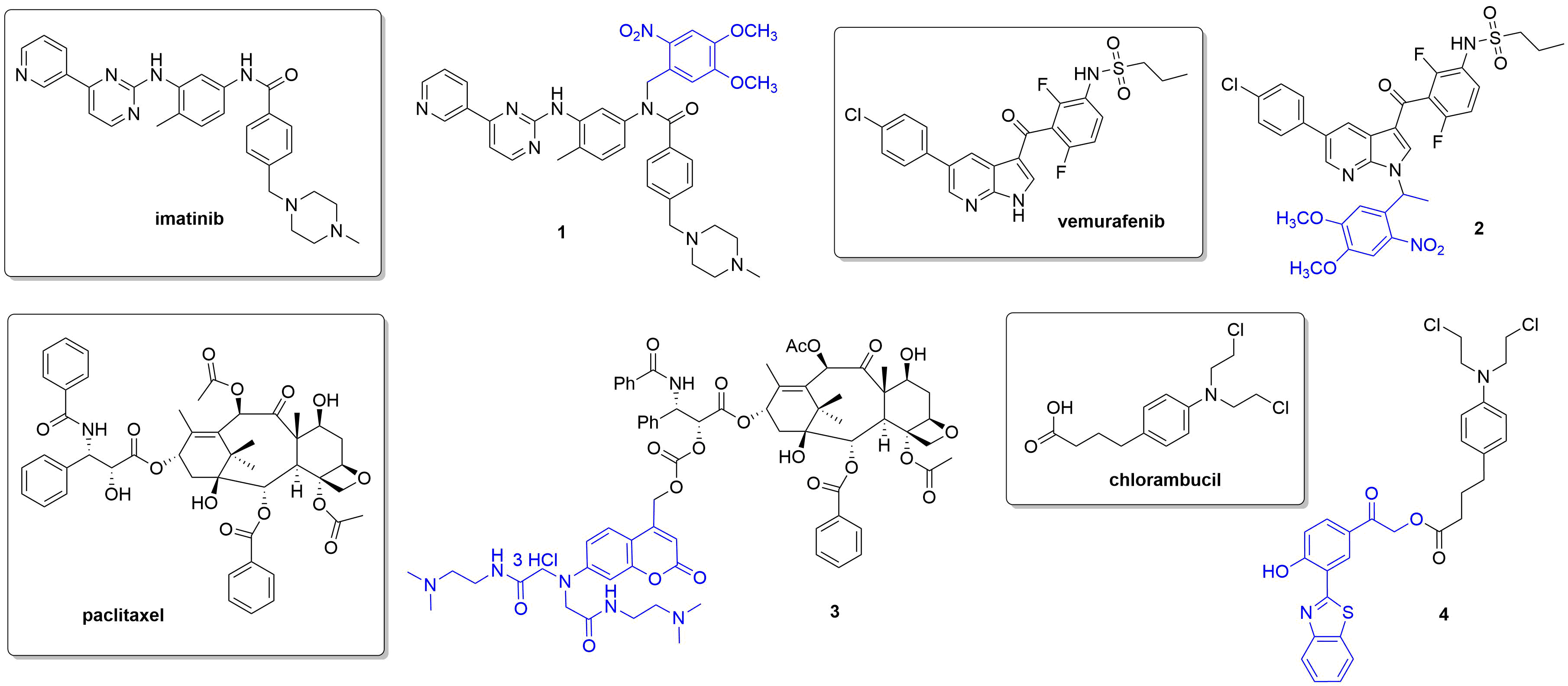 Figure 3. Examples of PPG-based photoactivatable analogues of approved anticancer drugs, with the structures of the parent drugs in the boxes and the PPG units indicated in blue in the photoactivatable versions, respectively (1[15], 2[16], 3[20], 4[36]).
3. Reversible Activation with Light: Photoremovable Protecting Groups ("Photocages") for Antitumor Applications
As the concept of photocages, that of photoswitches also dates back to several decades[39], however particularly the recent years have seen a surge of activity in the field (referred to as photopharmacology)[40][41]. The application of photoswitchable pharmacological agents is based on their two (or more) reversibly interconvertible isomeric forms that allow significant steric changes upon photoisomerization and, consequently, different pharmacological activity (Figure 4). The photoisomerization could proceed via two principal routes, trans→cis (E→Z) isomerization (e.g., azobenzenes and their heteroaromatic analogs, indigos, hemithioindigos, stilbenes, hydrazones, and iminothioindoxyls) or 6π electrocyclization of a triene system (e.g., diarylethenes)[42]. Of further types, spiropyrans, fulgides, and donor-acceptor Stenhouse adducts were exploited[43].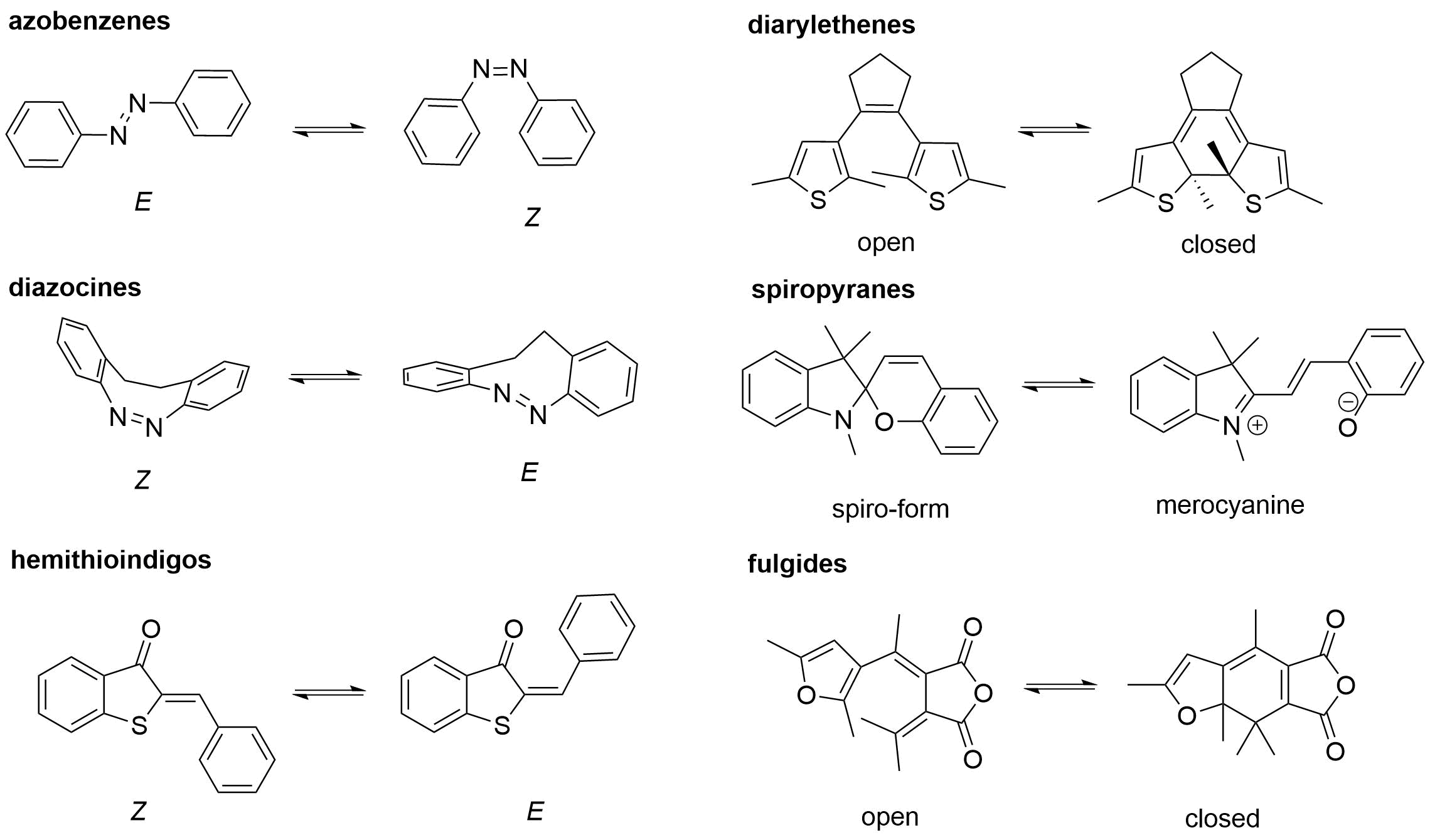 Figure 4. Representative examples of photoswitch scaffolds[42].
Although the reversible activation of photoswitches confers many advantages, it also adds further layers of complexity. Selective irradiation of the isomers is feasible in the case of appropriate band separation, and for further applications in living systems, the activation wavelengths should ideally be in the biological window. Furthermore, the probes should ideally have high photofatigue resistance, rapid isomerization kinetics, a photostationary state (PSS) sufficiently enriched in the active isomer, as well as a half-life of the metastable state in line with the planned application. Depending on the target and the probe's structure, different scenarios are possible (unlike the typically one-way turn-on activation of photocages). Both the thermodynamically more stable (dark) or the less stable (obtained upon light activation) form could have higher bioactivity. Typically, the sought-for scenario is where the active form is obtained upon irradiation (i.e., a turn-on activity); thereby, administration problems could be avoided or background activity resulting from incomplete photoisomerization. The active form could isomerize back to the inactive isomer thermally (T-type photoswitches, thermally reversible) or upon light irradiation (P-type photoswitches, photochemically reversible), therefore upon deactivation a more localized effect could be obtained. Besides the photophysical and photochemical properties optimised for the intended application, the novel probes should also comply with the criteria of pharmacological/therapeutic applications, as lack of ground state toxicity, feasible hydrolytic solubility and stability, or resistance toward reduction in biological media (e.g., by glutathione)[44]. Obtaining a balanced activity profile and at the same time appropriate photoactivation could be particularly challenging. The general design strategy for reversibly photoactivatable drug molecules is either to add a photoswitchable (often arylazo → "azo-extension") tag to the pharmacophore of the parent structure or to incorporate a (often arylazo → "azologization") photoswitchable unit into the pharmacophore. The latter strategy could be expected to alter less the overall structure, therefore having less impact on the pharmacokinetic and pharmacodynamic properties of the parent drug. Evidently, for both approaches besides a clinically validated target, detailed SAR and structural information are necessary of the target and the parent drug (family). From a practical point of view, synthetic accessibility of the novel probes, availability of straightforward methods for the desired structural modifications should also be duly considered.
Exploiting the available structural information, photoswitchable analogues of several approved anticancer drugs were prepared and tested (e.g. axitinib[45][46], vorinostat[47], methotrexate[48], paclitaxel[49], bortezomib[50][51]) (Figure 5). The choice of the parent drug is often guided by structural elements present in the molecule allowing photoisomerization themselves or upon modification (e.g. an activity difference was recorded already for the E and Z isomers of combretastatin A4 and a number of photoswitchable analogs were designed subsequently by replacing the central C=C bond with an N=N unit[52][53][54][55][56]). As for PPG-based probes, also for photoswitches a number of anticancer pharmacological classes were addressed (several classes were the target of both approaches), including kinase inhibitors (e.g.[45][46]), epigenetic modulators (e.g.[47][57]), antimetabolites[48], microtubule-targeting agents (e.g.[53][54]), proteasome inhibitors[50][51] or PROTACs (e.g.[58][59]). Of the pharmacological classes studied for both approaches[60][61], PROTACs emerged recently in the forefront of interest as a tool for inducing targeted protein degradation. PROTACs are bifunctional molecules that could facilitate binding between an E3 ligase and a chosen protein, thereby inducing protein degradation via the ubiquitin-proteasome pathway. With PROTACs formerly not druggable proteins could be addressed as well, including key players of oncogenic processes. The modular design of PROTACs also facilitates incorporating the respective photoactivatable structural elements.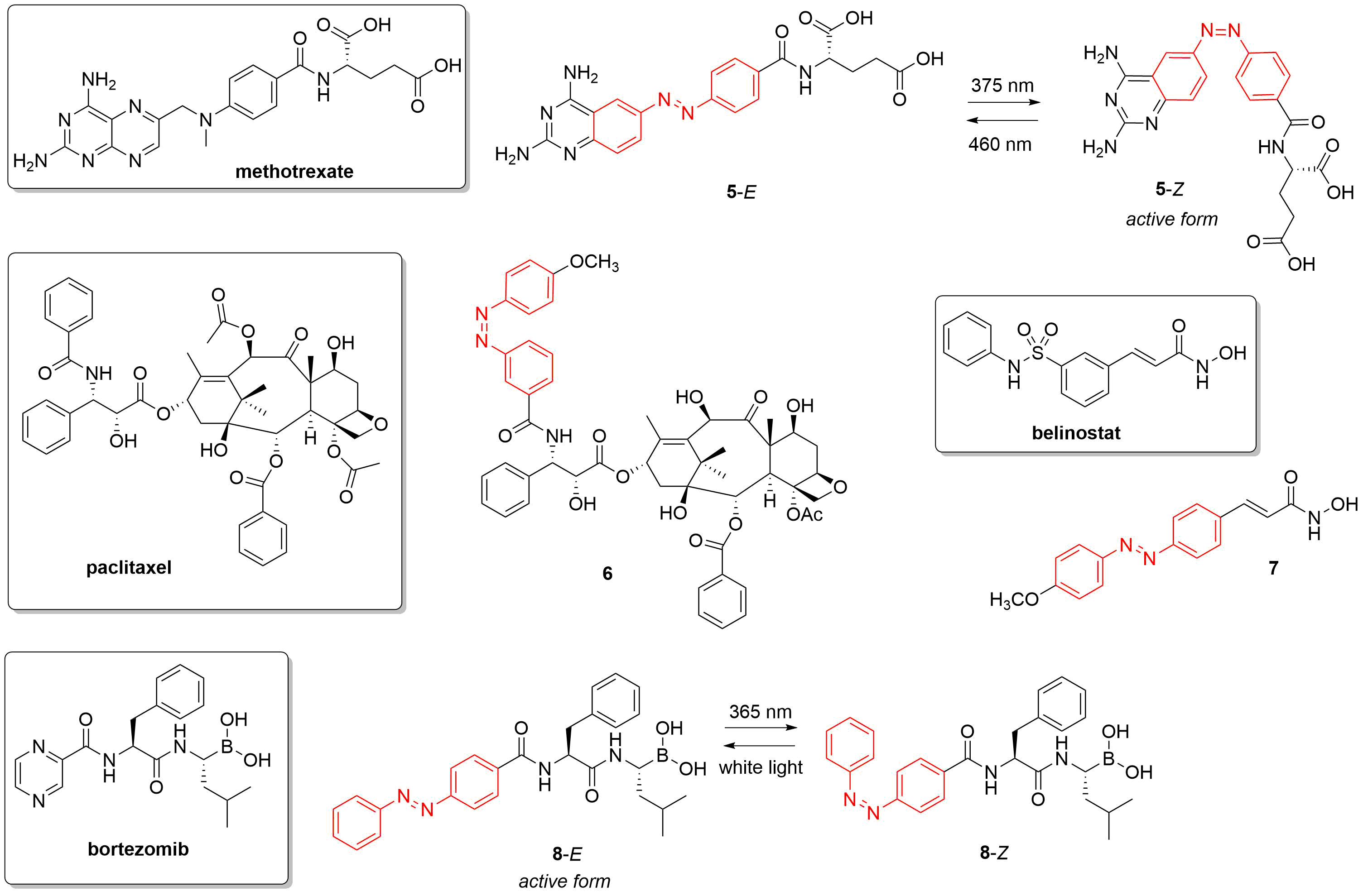 Figure 5. Examples of photoswitchable analogues of approved anticancer drugs, with the structures of the parent drugs in the boxes and the photoswitch units indicated in red in the photoactivatable versions, respectively (5[48], 6[49], 7[47], 8[50]).
4. Challenges and Future Perspectives for Photoactivatable Anticancer Agents
As any clinical drugs, reversibly or irreversibly photoactivatable anticancer agents should comply with a plethora of pharmacokinetic, and pharmacodynamic criteria besides having photophysical and photochemical characteristics optimised for the intended use. Many of the challenges that externally addressable drug delivery systems face (e.g. tissue penetration, delivery to and retention at the active site, control over activation signal in vivo, materials and instrumentation complexity, available translational models and safety[62]) are also relevant for the field of light-responsive (small) drug molecules (Figure 6).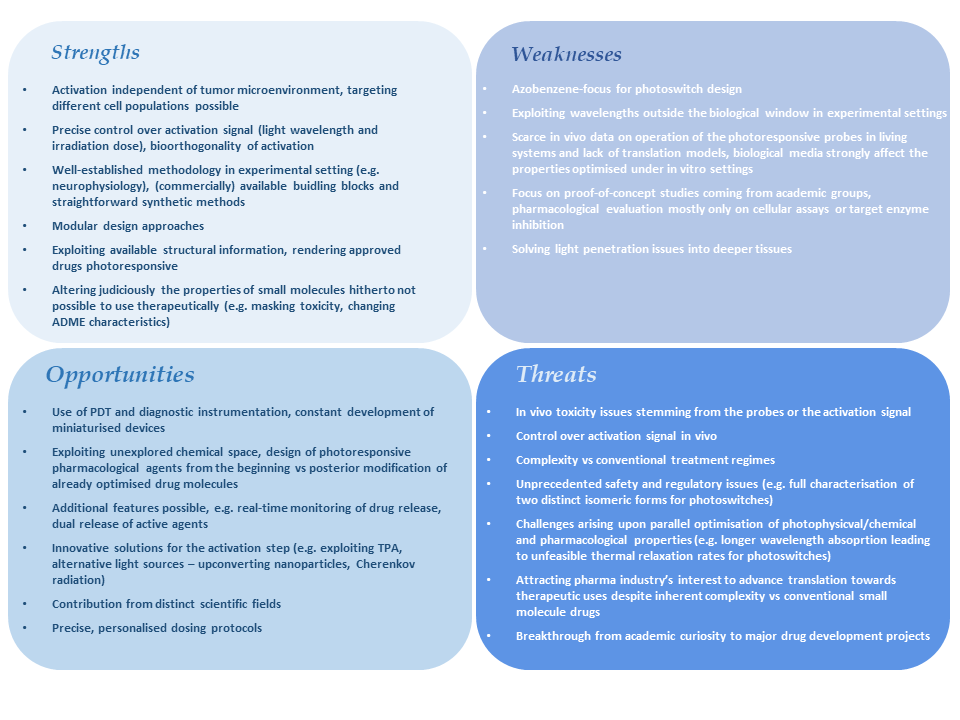 Figure 6. Challenges and future perspectives for photoactivatable anticancer agents.
A specific challenge is the wavelength required for the photoactivation and consequently the tissue penetration of the light trigger. In this respect, probes operating at higher wavelengths (red, infrared) or ideally in the biological window (λ = 650–1450 nm)[63] would be advantageous, and many efforts have been dedicated to developing such photoactivatable units. Optimisation of the photoactivation step should not impair however the other properties of the probes and a balanced profile should be attained. For instance, in the field of azobenzene photoswitches, longer wavelength absorption generally leads also to faster thermal relaxation; moreover, the relative stabilities of the Z and E isomers could be altered as well. A typical approach for shifting the absorption toward higher wavelengths is to prepare push-pull systems with appropriately positioned electron-donating and electron-withdrawing groups. Not all structural modifications leading to higher wavelength absorption are feasible however, if they lead to a construct beyond the drug-like size or to a high number of rotatable bonds. For obtaining small-molecule azo-photoswitches with red-shifted absorption and slow (s/min) thermal relaxation in water, altering e.g. judiciously the substitution pattern might offer a straightforward route[64]. Diazocines (bridged azobenzenes) offer complete switching in both directions, a red-shifted absorbance, and a thermal relaxation rate in the minutes range[65][66]. However, due to the cyclic structure, the Z isomer is the more stable one, which is typically the less sought-for option. In the field of photocages, for targeting the biological window examples of probes operating at long wavelengths, e.g., boron dipyrromethene (BODIPY) or heptamethine cyanine derivatives, could be cited[67][68][69][70][71].
To circumvent light-irradiation wavelength issues, using specifically designed probes both photoisomerization and photocleavage might profit from two-photon absorption. Two-photon absorption (TPA) is a nonlinear optical process, necessitating in practice the use of femtosecond pulsed laser systems. The simultaneous absorption of two low-energy photons (occurring only at high light intensity) leads to photoreaction. Especially in the field of photocages, a wide variety of two-photon activatable probes are already available, and work is continuously in progress for further derivatives with improved photophysical and photochemical profiles[72][73]. Next to modifications of the chromophore itself, specific formulations could also allow harnessing longer wavelength light, e.g., the use of upconverting nano-particles or alternative sources of light, as the Cherenkov radiation (i.e., a design based on internal co-localization of the light source and the photoactive agent)[74].
A major bottleneck at present is, that typically reports disclosing photoactivatable probes are based on in vitro assays (proof-of-concept studies). For future therapeutic applications, it would be highly needed to gain a better insight into how these systems could be operated under in vivo conditions. The most studied in vivo application of photoactivatable agents so far is vision restoration, a logical choice regarding the site of activation[75]. However, it demonstrates the applicability of the concept per se. For targeting tumors in deeper tissues, further obstacles still need to be overcome.
Regarding the future scope and potential of light-activatable agents, besides releasing the active (form of the) drug, further functions could be envisaged as well. Notably, photoresponsive probes could also offer in situ monitoring of the drug release (i.e., rational dosimetry). Typically for photocages, release or formation of a fluorescent species is a general approach for real-time monitoring of the photorelease. Particularly when moving toward in vivo systems, getting quantitative information on free drug concentration has tremendous practical importance. Particularly in the realm of nanodevices, light-triggered action could also be complemented with imaging modalities (i.e., theranostic construct designs)[76][77][78].
On-target activity requirements for photocages and photoswitches differ substantially. Photocages rely absolutely on the activity of the released compound, i.e., native ligand, which is usually a clinically used drug. Photocaging approach, however, also offers a possibility to use more potent (toxic) compounds, which cannot be used directly due to side effects or unsuitable physicochemical and pharmacokinetic properties. Additionally, the introduction of PPGs enables tuning drug-likeness of the prodrug (solubility, permeability, etc.). The on-target activity of photoswitches is a considerably more demanding task. Usually, photoswitchable moieties are relatively big and might substantially impair intrinsic binding. Nevertheless, several literature examples demonstrate the feasibility of the task. At this point, photoswitchable PROTACs are specific and successful examples offering a general approach to locating photoswitchable moieties as linker units or on E3 ligase recruiting ligand and not interfering with the protein recruiting part.
As the discovery of anticancer compounds (or novel APIs themselves) is a highly demanding task, adding another level of complexity raises several further concerns, such as regulatory issues, different pharmacokinetic properties of the isomers, the dependence of the photochemical properties on the (biological) environment to name just a few. Currently, we are in the phase where the concept of light-responsive anticancer agents is being developed and is focused on optimizing compound properties, while biological activity is mainly validated with cancer cell line assays (with the exception of a yet small number of in vivo animal studies[18][79]). Rapid development and constantly improved constructs are leading researchers into the stage that photoresponsive compounds will be evaluated in animal models, and proposed improvements in anticancer therapy will be thus validated.
The entry is from 10.3390/cancers13133237