Please check and comment entries here.
MAP-Kinases Interacting Kinases
Definition
The mitogen-activated protein kinase (MAPK)-interacting kinases (MNKs) are involved in oncogenic transformation and can promote metastasis and tumor progression, controlling the expression of specific proteins via eukaryotic initiation factor 4E (eIF4E) regulation, but also through other substrates. In hematological malignancies, which occupy the third place in the global cancer classification, MNK has been demonstrated to participate by regulating the transcription and expression of different proteins. Here is a short summary of the role of MNKs in hematological cancers based on studies conducted to elucidate the mechanism involved in their action, as well as the development of MNK inhibitors.
1. Introduction
Hematological malignancies as a whole occupy the third place in the global cancer classification, after lung and breast cancer. Among the several hematological cancer types, leukemias, lymphomas, and myelomas are the most frequent [1].
Acute myeloid leukemia (AML) is a genetically heterogeneous, malignant clonal disorder of the hematopoietic system that is characterized by uncontrolled proliferation of immature, abnormal blast cells and impaired production of normal blood cells [2]. In most of the published works, MNK has been demonstrated to be implicated in the pathogenesis of AML. MNK inhibition leads to a decrease in eIF4E phosphorylation levels, which entails antiproliferative effects, cell cycle arrest and an increase in cellular apoptosis mediated by high levels of cleaved PARP and decreasing MCL-1 (myeloid cell leukemia 1) levels. In addition, MNK inhibition has led to the design of new compounds such as MNKI-8e and 8i, pyrimidine analogs, MNKI-4, MNKI-57, merestinib, cercosporamide, BAY1143269, SEL201 or NUCC-54139 [3][4][5][6][7][8][9][10][11][12][13] (Figure 1).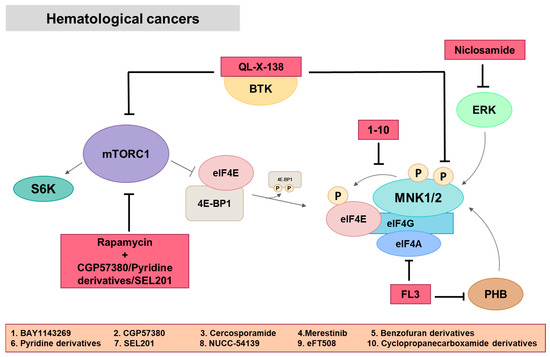 Figure 1. MNK in hematological cancers. Most of the MNK inhibitors act inhibiting eIF4E phosphorylation, although there are some exceptions. Niclosamide, an anthelminthic drug, affects eIF4E phosphorylation acting upstream ERK/MNK/eIF4E pathway. FL3 inhibits PHB affecting MNK/eIF4E and also eIF4A and therefore eIF4F complex formation. QL-X-138 targets BTK affecting PI3K/AKT/mTOR pathway and MNK1 phosphorylation. CGP57380, pyridine derivatives and SEL201 are also used in combination with rapamycin to enhance mTOR-targeted therapy. Red squares: inhibitors.
The World Health Organization (WHO) defines chronic myeloid leukemia (CML) as a chronic myeloproliferative neoplasm characterized by the presence of Philadelphia chromosome and the fusion oncogene Bcr-Abl. The inhibition of Bcr-Abl kinase by imatinib results in durable responses in early-stage CML patients, but less in late-stage disease, so patients can develop drug resistance. The joint inhibition of MNK and Bcr-Abl with the MNK inhibitor CGP57380 and with imatinib inhibits polysome assembly, decreasing proliferation and survival [14]. In patients who develop blast crisis (BC-CML), life expectancy is still less than 12 months [15]. The use of imatinib with MNK inhibitors prevents eIF4E phosphorylation in vivo with an antiproliferative effect that could help to combat late-stage disease and to understand other pathways and cellular processes that are dysregulated by Bcr-Abl [14]. In addition, pharmacologic targeting of MNK and mTORC1 kinases, employing rapamycin together with novel MNK inhibitors (MNK1/2 53–54 or MNKI-4 and MNKI-57) or niclosamide (an anthelminthic drug), abolished cell growth by triggering cell apoptotic death and abrogated eIF4E phosphorylation, which may offer a new therapeutic opportunity [16][17][18][19].
Acute lymphocytic leukemia (ALL) consists of the uncontrolled proliferation of an immature cell clone of lymphoid lineage (lymphoblasts) invading the bone marrow and infiltrates multiple organs and tissues. In this type of hematological cancer, it has been described that MNK1 overexpression and phosphorylation activates eIF4E, up-regulating downstream molecules such as MCL-1, c-Myc, survivin and the cyclin-dependent kinase (CDK) 2. MNK1 inhibition with CGP57380 prevents these events and can also overcome eIF4E activation induced by everolimus, sensitizing T-ALL cells to apoptosis [20].
On the other hand, pharmacological inhibition of the Bruton's tyrosine kinase (BTK) is effective against a variety of B-cell malignancies. In 2016, a dual BTK/MNK inhibitor called QL-X-138 was developed with anti-proliferative effects in vitro and in patient-derived primary cells but for the chronic lymphocytic leukemia (CLL) treatment [21].
2. MAP-Kinases Interacting Kinases in Hematological Cancers
Diffuse large B cell lymphoma (DLBCL) is one of the most common types of lymphoma and accounts for approximately 30%–40% of non-Hodgkin lymphoma cases. It is a fast growing lymphoma with a high proliferation rate and aggressive behavior with a 30% of patients relapsing or refractory to first-line treatment [22]. Most of the MNK inhibitors used in this type of hematological cancer also block eIF4E phosphorylation, as it happens in others. Recently, Reich et al. have discovered an MNK inhibitor, eFT508 that blocked eIF4E phosphorylation and pro-inflammatory cytokine production without affecting proliferation in vitro and in vivo [23]. This inhibitor is being evaluated in a phase II clinical trial in lymphoma. Likewise, Prohibitin (PHB) overexpression is associated with tumor aggressiveness. MNK inhibition by FL3, a synthetic flavagine and ligand of PHBs, determined antitumor activities in vitro and in vivo by inhibiting MNK-dependent eIF4E phosphorylation. This MNK1 inhibition reduced Bcl-2 and c-Myc expression, inducing apoptosis that would allow the treatment of rituximab resistant diseases [24].
Multiple myeloma (MM) is a malignant plasma cell disorder that is characterized by the presence of clonal plasma cell proliferation in bone marrow and over production of monoclonal paraprotein in the blood and/or urine [25]. In 2013, Mehrotra et al. established the regulatory role of MNK pathways as positive effectors in the generation of antineoplastic effects of type I IFNs in myeloproliferative neoplasms (MPNs)[26]. However, it remains to be elucidated whether other downstream effectors of MNK kinases apart from eIF4E are involved in the generation of IFN responses.
This entry is adapted from 10.3390/ijms21082967